Andy Parry's famous Tell a Friend Tour is back for 2023, and we're stoked to be supporting it for the second year running. The rail wizard himself, with the Line Skis crew, will be road-tripping around the US once again, travelling to some of the best ski hills the east and mid-west have on offer, dishing out swag, inspiration and a lot of pizza.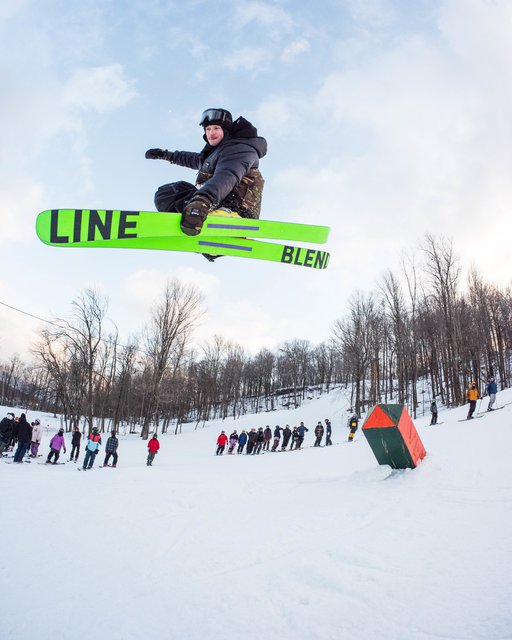 Line Traveling Circus legend, Andy, has been running the Tell a Friend Tour for over a decade now. He started the tour mainly to get kids stoked on skiing, but also to offer opportunities and events to the small ski hills, that are usually overlooked as a destination for these things. In true Line TC fashion, it doesn't matter where you're skiing, it's about getting creative and making the most of what you have. As long as you've got skis on your feet, a bunch of friends to shred with - life is good.
This year, we've teamed up with Andy Parry and TAFT, to offer two skiers the chance to WIN a full outerwear sponsorship from Planks next season! Firstly, Andy and the Line Skis crew will be picking one stand-out skier at the end of the tour. But if you're not in the US, don't worry, we're also opening up the opportunity internationally via Instagram. To enter, post a Reel to Instagram from your home resort or hill, showcasing your best skiing, using the hashtag #TAFTworldwide. Then make sure you also tag @planksclothing and @tellafriendtour. We'll be accepting entries until the 13th of March 2023. Good luck.
Check out the list of stops for 2023 below and get involved:
1/27 Welch Village, MN
1/28 Trollhaugen, WI
1/29 Buck Hill, MN
2/2 Rock Snow Park, WI
2/4 Pine Knob, MI
2/6 Holiday Valley, NY
2/7 Bristol Mountain, NY
2/8 Powder Ridge, CT
2/9 Mount Southington, CT
2/10 Ski Sundown, CT
2/11 Wachusett Mountain, MA
2/12 Killington, VT
2/13 Bousquet, MA
2/14 Whaleback, NH
3/4 Grouse, BC
3/12 Woodward Park City, UT
https://www.newschoolers.com/videos/watch/1062345/Tell-A-Friend-Tour---2022-Recap