VAL D'ISERE, France (Dec. 11) ? Reigning Audi FIS Alpine World Cup giant slalom champion Ted Ligety (Park City, UT) continued to dominate the discipline, winning his second straight GS – this one by over a second in Val d'Isere. Ligety won the Audi Birds of Prey GS less than a week ago in Beaver Creek, CO by a .82 margin. World Cup overall leader Aksel Lund Svindal of Norway was second, 1.05 shy of Ligety.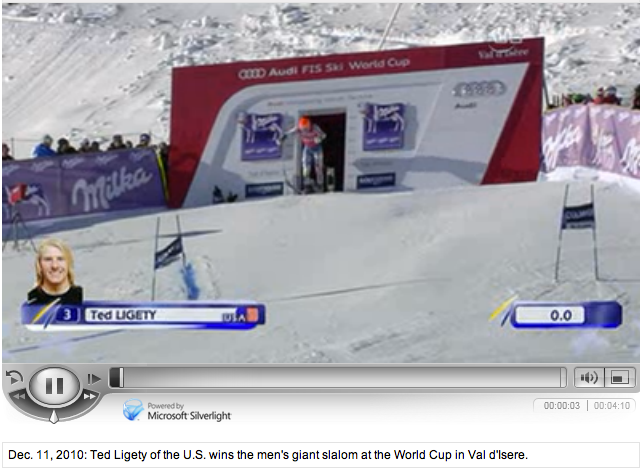 "It's a surprising day for sure. It's the hardest race I've had for a long time," said Ligety, who captured the GS bronze medal in Val d'Isere at the 2009 World Championships. "This years is quite a bit turnier even than in most years. Both runs felt like I had the E brake on the whole time, but they were relatively clean. I was kind of surprised at how fast I was."
"It was a clinic out there today, I'm a little bit dumbfounded," said U.S. Ski Team Head Coach Sasha Rearick. "It was a worker, both courses were very very turny and very tight. You just had to keep fighting all the way to the bottom. I've been coaching Ted a long time and I've never seen him find this kind of confidence. He did a great job winning the first run and then in the second run it was the same thing, just perfect execution ? true champion style."
On a picture perfect day in Val d'Isere, Ligety mastered the technical Bellvarde track that was responsible for 20 DNFs in the first run, then rocketed into the finish to arc his signature 360 for the crowd. The win marks Ligety's seventh career World Cup victory and boosted him to second in the early overall standings, 15 points behind Svindal.
"It was great snow all the way down – really similar snow to Beaver Creek in terms of preparation. It was a beautiful day, not a drop of wind, sunshine and not a cloud in the sky," said Rearick
In what was supposed to be the opening GS of the season in Soelden, Ligety was second after the first run when the race was canceled due to fog. Since then, he has led the opening runs in both Beaver Creek and now Val d'Isere en route to back-to-back victories.
"I've been close in a lot of these types of races before. This time around I'm just not making mistakes," he said, then gave a nod to his Head skis technician Alex Martin. "The Head skis seem to be running really well. Alex has been awesome. He's definitely a good tech to have."
Ligety had experienced similar synergy with his former technician Ales "Katzo" Kalamar, who helped him to both his World Cup GS titles.
"I had such a close relationship with Katso, it was tough to lose him," said Ligety. "But Alex has done such a good job stepping in ? he's such a great guy. I feel really lucky to always stumble into really good technicians."
Racing continues Sunday in Val d'Isere with slalom beginning at 4:15 a.m. ET. Universal Sports will stream the event live on http://www.UniversalSports.com.
OFFICIAL RESULTS
Audi FIS Alpine World Cup
Val d'Isere, France
December 11, 2010
Giant Slalom
1. Ted Ligety, Park City, UT, 2:26.26
2. Aksel Lund Svindal, Norway, 2:27.31
3. Massimiliano Blardone, Italy, 2:27.47
4. Carlo Janka, Switzerland, 2:27.81
5. Benjamin Raich, Austria, 2:27.92
-
Did not qualify for 2nd run: Tim Jitloff (Reno, NV), Tommy Ford, (Bend, OR), Warner Nickerson (Gilford, NH)
-
Did not finish 1st run: Bode Miller (Franconia, NH), Will Gregorak (Longmont, CO)
For complete results: http://www.fis-ski.com/