Introduction
The touring boot that can do it all. Everyone looks for it. It skips uphill on fairy dust. Downhill you're transformed into Candide; ripping turns, straightlining chutes, producing instabangers. I'm a cynic. There's no such thing. But every year we get closer. And the Tecnica ZeroG Tour Pro is a fairly massive step in that direction.
How big a step? The ZeroG Tour Pro (ZGTP)weighs 1300g in size 26. It's a claimed flex index of 130 (this is stiff!); skis well; and, as befits a boot this light, tours well. If this boot fits you; there's not much wrong with something that combines this much power in as light a package. The ZGTP comes in sizes 22 to 31 and is priced at USD 900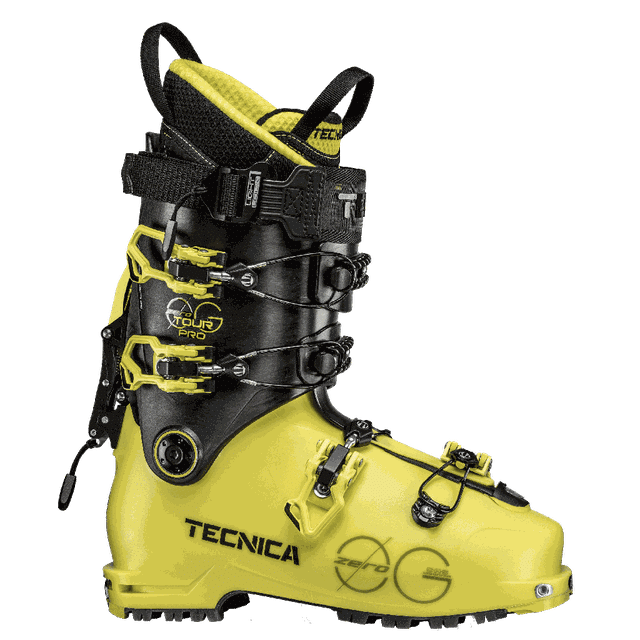 The Tecnica ZeroG Tour Pro aka ZGTP
Before going further here is some required reading about touring boots and why critical self-examination is the primary factor in boot shopping. All boots (and touring boots in particular) are about compromises. No boot can be the best at everything. Be honest with yourself in making the purchasing decision. Unless of course they are red; red boots are the fastest.
- A 2013 general article about what boots to buy (originally on TGR but craptastic TGR front page photo links are dead)
- A 2016 general article from Wildsnow about what boots to buy (and a super-useful dorkfest about boot plastics)
- AT boot comparative flex thread distilling collective input about AT boot flexes
- Discussion of the Tecnica ZeroG Tour Pro
About the reviewer
At just 160 pounds I am not a big guy but do spend 100+ days a season skiing, with most of those days in backcountry. I've had 55+ days on the Tecnica ZGTP in size 26.5 (bsl 302mm) with almost all of the days spent in either backcountry of Whistler, the Duffey and the B.C. Interior with some inbound resorts soft-skiing day. My skiing is usually in high moisture-content snow. Accordingly, my preference is for bigger skis and relatively stiff boots.
Other boots I own; Dynafit Vulcan and the Scarpa F1. For the longest time I've felt that I've needed to replace my old Vulcans which are now on day 300+. The ZeroG Tour Pro's are it.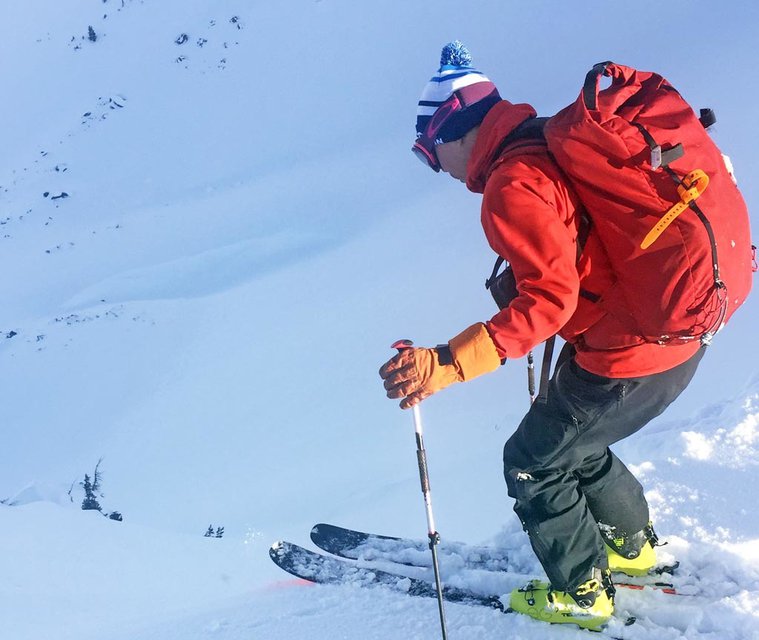 Pemberton backcountry
Specifications
ZGTP is a a completely new 4 buckle overlap boot from Tecnica. It perhaps shares a "similar" type of fit to last year's ZeroG Guide but other than that the only thing it shares is the name (more on that in the "Fitting" section below).
Some notable specifications
- 1320g (26.5) weighed with footbed, laces or spoiler.
- 130 flex rating (but I would rate it as 125); more on that in the "Downhill " section below
- 55 degree range-of-motion (45 deg forward; 10 deg back)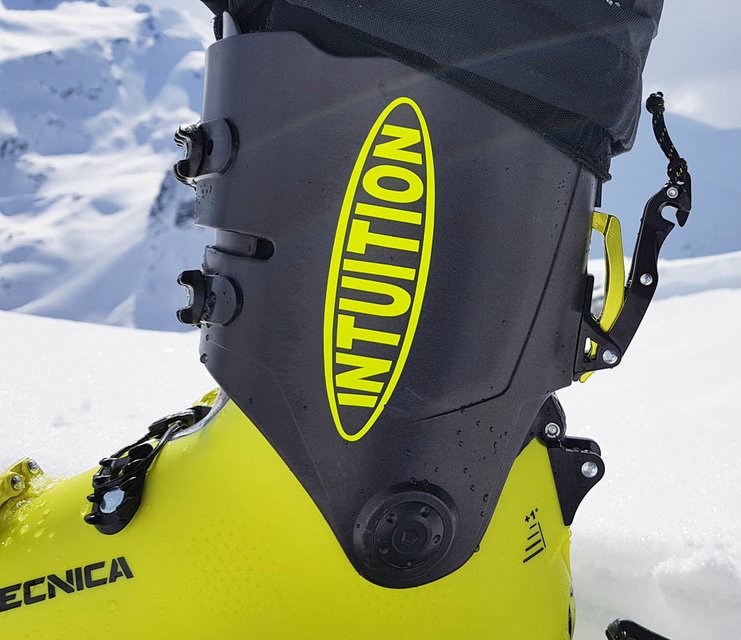 Decent amount of rearward lean (10 degrees)
- Massively beefy-looking two-stage walk-ski mechanism framing the boot's spine
- Adjustable forward lean (comes stock at 12 deg and is adjustable to 13 deg)
- Upper cuff is the wondrous magic of carbon-infused plastic. Lower cuff is Grilamid plastic.
- Last is 99mm; but eminently punchable for custom-fitting). Mine punched to 105mm easily
- Removeable bootboard. Awesome for custom fitting; unheard of in a boot of this weight)
- ISO 9523 (that's the alpine touring standard) soles. Non-replaceable but compatible with Shift, Tecton and all other tech bindings. Not compatible with Gripwalk and WTR bindings (more on that in this EVO article)
- Liner is made by Tecnica and is a featherweight 209g (comparable to the market-leading Intuition ProTour at 230g)
- Provided in-box are footbeds, laces and a velcro spoiler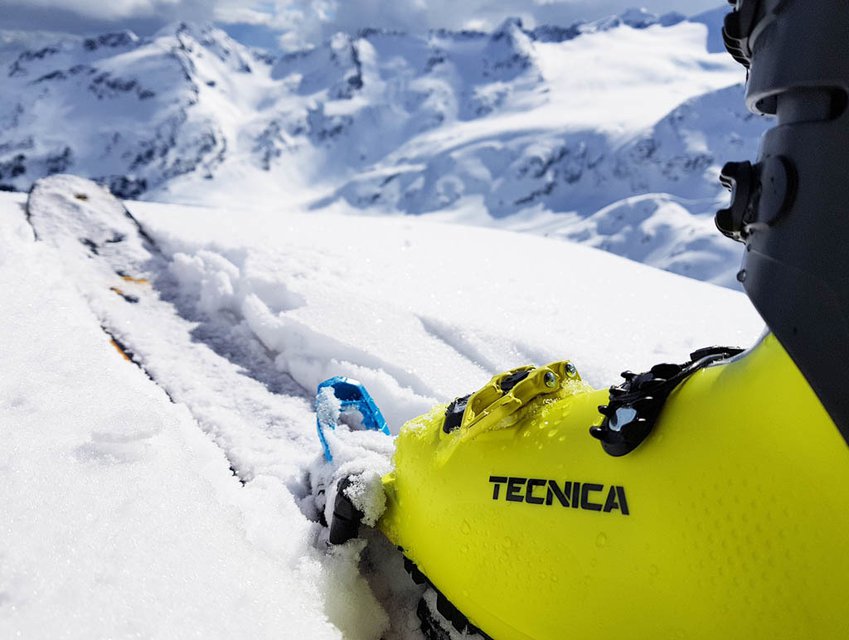 ZGTP is SHIFT-compatible
Weight
Now I don't mean to dork out about weight but I'm going to dork out about weight. This is because it's insanity of the highest mind-blowing order to get relatively stiff, high-performance alpine touring boots down to this weight. When I first weighed my pre-production ZGTPs I just about lost it when I saw that the boot came in at 1296g on the scale with the red Dynafit thingy and paper still in the liner. I've subsequently calmed down but this is still an amazing feat. How amazing?
Let's take a look at some boot weights. My 2013 Vulcans which were my old go-to boot are 1440g (no tongue; Intuition liner) and 1590g as stock. My 2015 Scarpa F1s which are my light-weight spring and covering long-distances boot are 1232g.
The production ZGTP is actually a bit heavier than my sub 1300g protos weighing in at 1348g. A breakdown of the weight is (i) shell 1111g (ii) liner 209g; and (iii) footbeds 28g. While advertised weight is 1315g that's probably without footbeds and most everyone is going to use a footbed. As you can see every part of the boot system is light. Even if you add laces (15g) and spoiler (16g) the ZGTP will be a sub 1400g boot.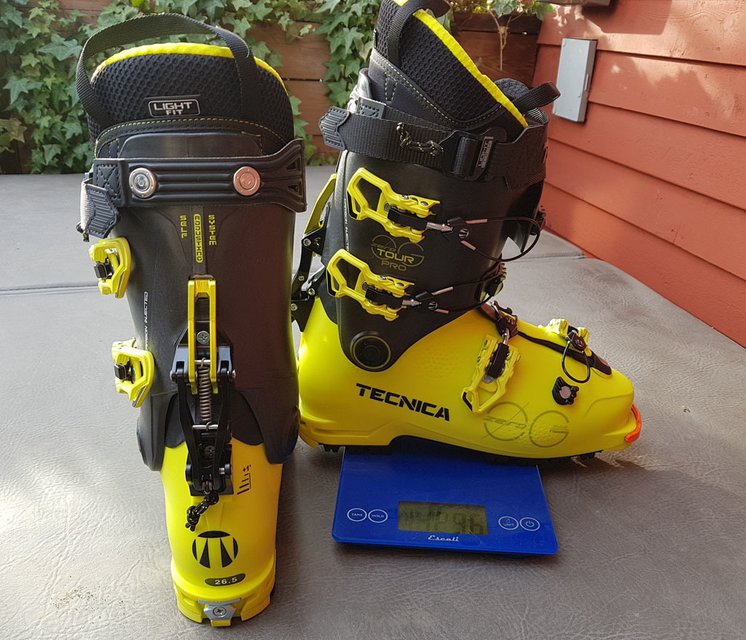 Say no more - 1296g. But actually 1348g in production version with footbed in the liner
Consider that most touring boots that could also be skied a meaningful amount inbounds without breaking used to be approximately 1500 - 1600g. Consider that my "light" traverse boots (the Scarpa F1 and before that the Dynafit TLT5) were 90g and 60g lighter (but far more fragile).
Let's take a look at some other boots for relevancy. In my opinion, two other boots that are in the running for one-boot-to-rule-them-all are Atomic's HawX Ultra XTD (1380g) and the Dalbello Lupo AX120(1707g); both weighed with stock liners replaced with Intuition Pro Tour liners. If you look at other Tecnica offerings you have last years ZeroG Guide Pro at 1508 gram and, the Cochise 130 at 1982 grams. There's no getting around this. The ZGTP is the weight winner getting really close to the weight of traverse boots with nothing else coming close in its ski performance class other than the Atomic HawX. Want to geek out on weight more? Either ask in the article questions or look at this Evo article and dive in.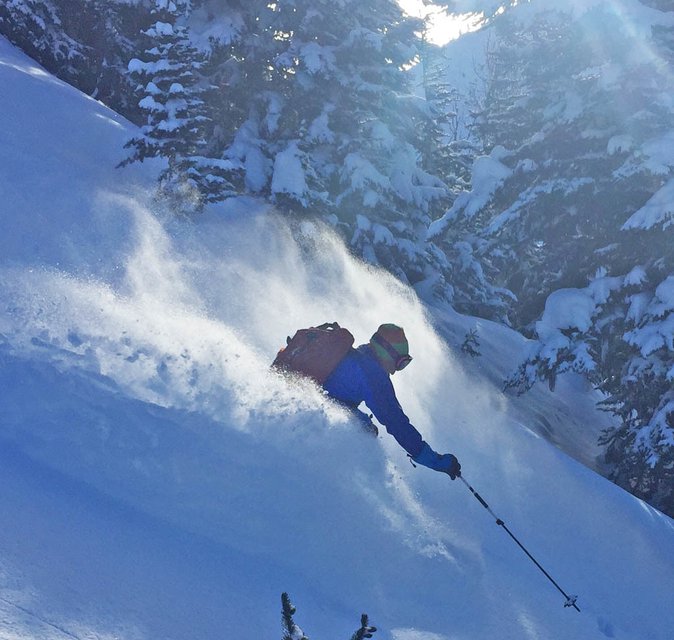 Somewhere under this blower pow is a ZeroG Tour Pro
Construction
The ZGTP is a standard four buckle overlap design. Notably the walk mode is intimidatingly beefy with reinforcements all the way up the shell's spine, idiot-proof, easy to engage with gloves, and mechanically very stiff. The beauty of overlap design is that it relies on the boot material's inherent properties to resist and control deformation/flex exerted by skiing forces without the sometimes abrupt notchy wooden feeling of using cuff-stops or other crutches. A well-executed overlap boot with a stiff ski-walk mech can accordingly have ski-feel tuned by cuff and shell materials. And that is how the ZGTP achieves its superior progressive feeling (more on this in the "Downhill" section below)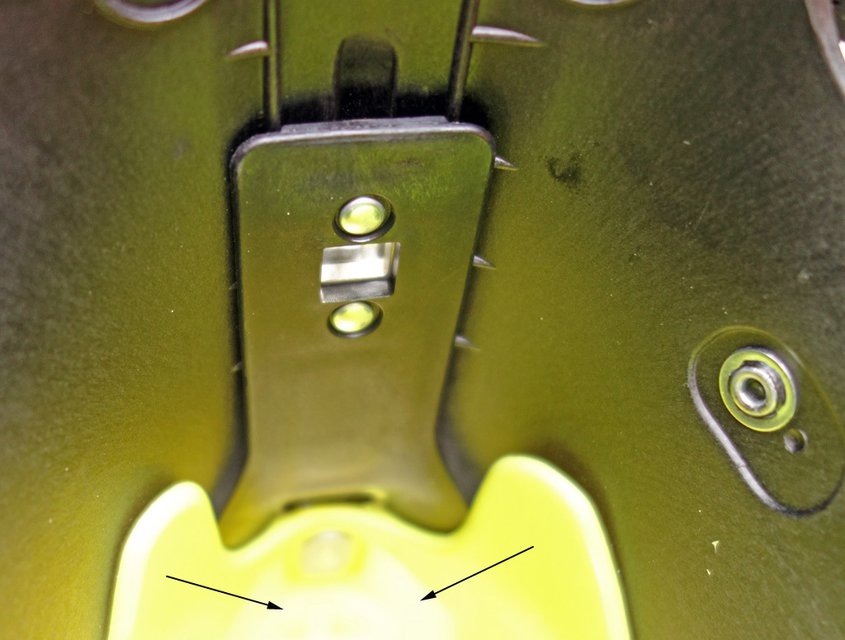 Boot interior is clean with recessed rivets and even more carbon-infused plastic for the boot's spine. As the bootshell articulates forward the boot's interior lobes are compressed inward; thus progressive travel
The ZGTP's upper cuff is carbon-infused Pebax plastic; the magic of carbonium making for exceptional stiffness throughout temperature ranges but also for highl cost. The lower cuff is Grilamid plastic; also known for consistency through temp ranges but in particular also for its lightness coupled with strength.. That high cost of these exotic plastics explains why lower end models of the ZeroG line have either the less-exotic polyurethane or polypropolene plastic construction. The lineup is as follows:
- Tour Pro: $899, 1315g and 130 flex. Carbon infused Pebax upper, Griliamid lower.
- Tour Scout: $799, ~1375g and 120 flex. PU upper, Grilamid lower.
- Tour (base model): $599 ~1500g and 110 flex with PU upper and PP lower.
The ZGTP has no cuff-canting as concession to weight-savings. As with any boot, standard fitting techniques can correct for misaligned feet (shimming bindings, boots etc).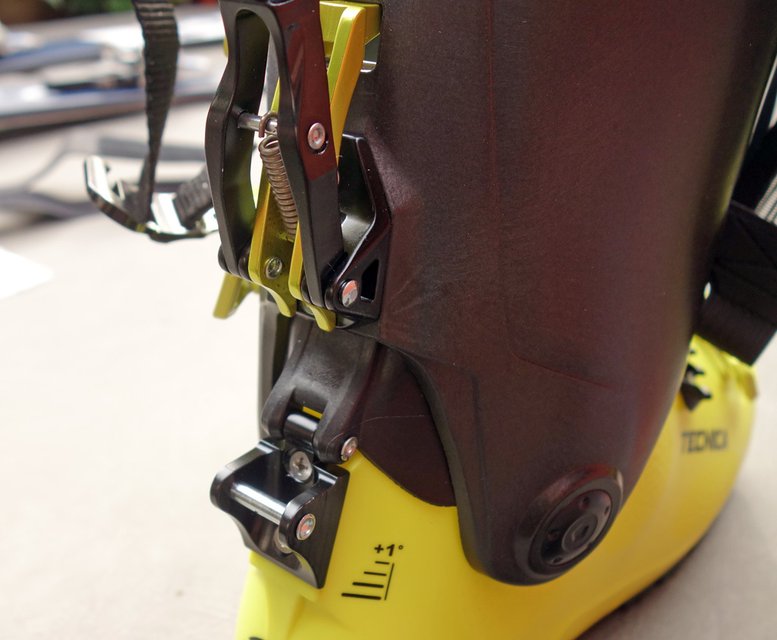 Two-part external ski-walk mechanism. This is NOT going to ice up. I've had 55 days on this and there's no perceptible wear so speculation that a long lever arm may be stressed is probably just speculation
All ZeroG models have the alpine touring standard sole (ISO 9523). The world of boot-sole ski binding interfaces is complicated so please reference this very useful EVO article in deciding what binding to marry to the ZGTP boot. ZGTP will work with any tech touring bindings including Kingpin, Tecton and SHIFT all of which have alpine-like heels. It will work with some but not all AT frame bindings (Warden, Marker Duke, Marker Griffon ID, etc.).
Unfortunately the ski industry has its collective head up its ass with respect to boot-binding interface so the bottom line is that things are constantly changing particularly with binding norms. Do not rely on any article and constantly work with knowledgeable retailers to check compatibility.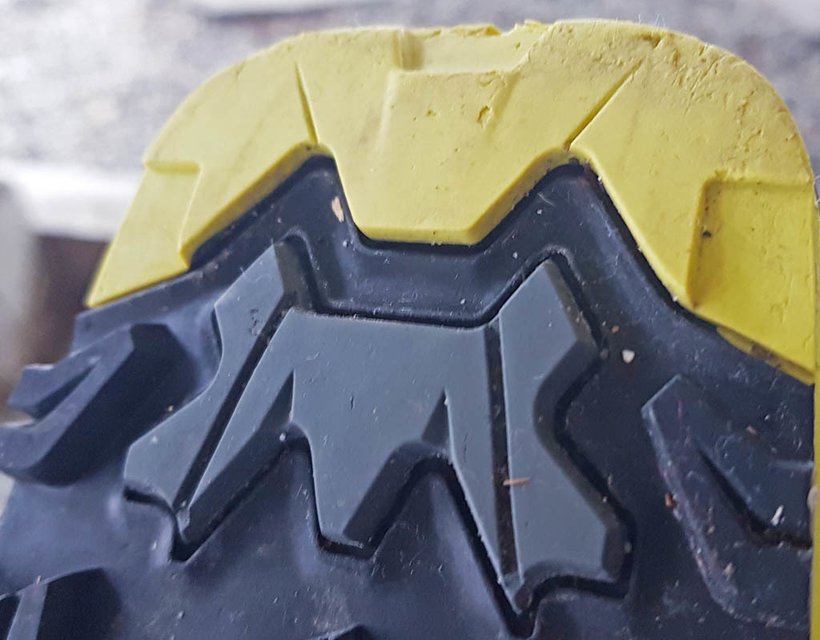 Bootsoles are vibram and show expected wear following 55 days of use. The lighter grey pad is hard rubber and aligns with the AFD on SHIFT, Gripwalk or WTR bindings.
The ZGTP's liner is now made by Tecnica itself. My previous experience with Palau-made Tecnica liners was to bin them and immediately switch over to Intuition as the old Palua-made liners fit poorly, had little preformed shaping and also wore out quickly. The new liners are much better. After 55+ days there has been some abrasion and wear at the toe-box but, despite being light and thin. the Tecnica-made liners are holding shape and are still fairly warm.
As a nitpick I'm somewhat surprised that the footbeds are not inserted into the liner in-box as the liners are so thin that you need either the OE footbeds or your own footbed. All in all I'm pleasantly surprised by the Tecnica liner and would recommend you give them a chance.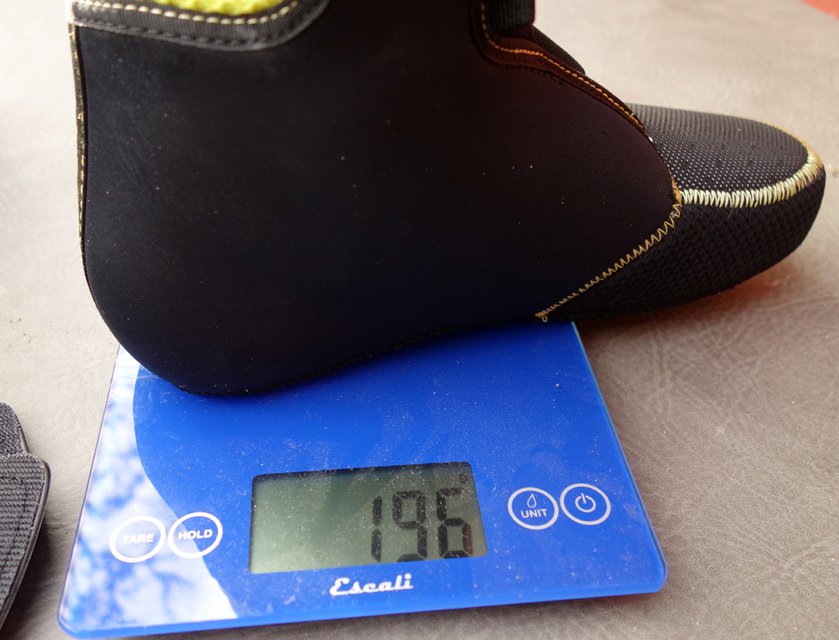 Pre-production ZGTP liners were sub 200g without footbeds. With footbeds they're 209+28g so comparable to market-leading Intuition Pro Tour liners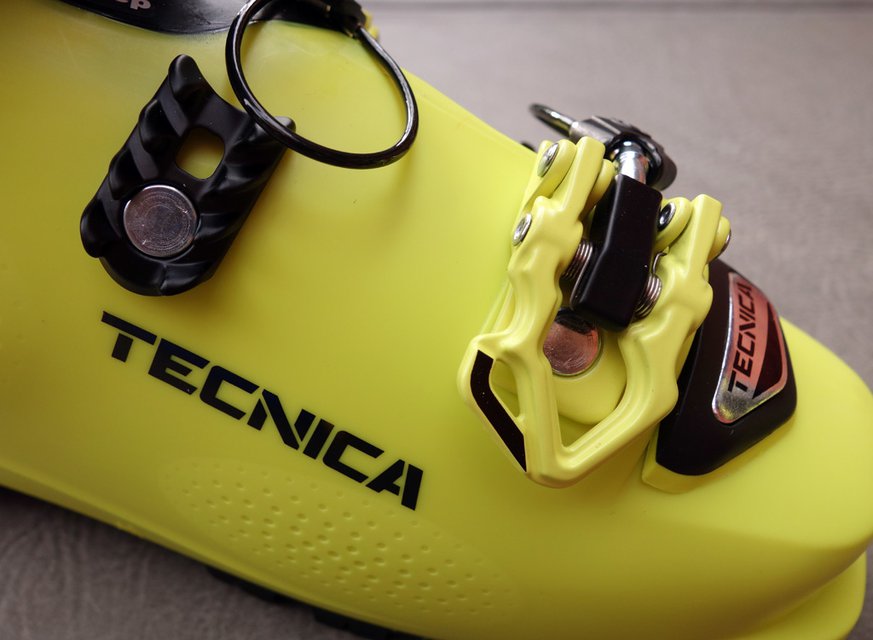 Nifty magnesium buckles with love-hate wire closures for weight-savings. For weight-weenies the lower forefoot buckle can be removed by punching out rivets and is vestigial (I barely tighten it). Remove it for 30g approx of weight-savings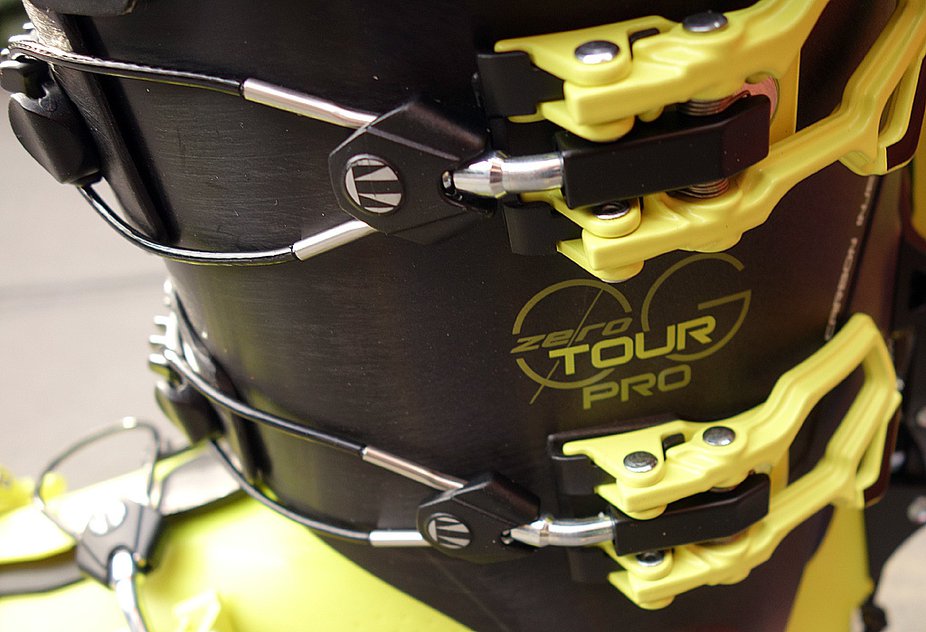 Wire closure closeup and carbon upper cuff closeup. All of the buckles are micro-adjustable.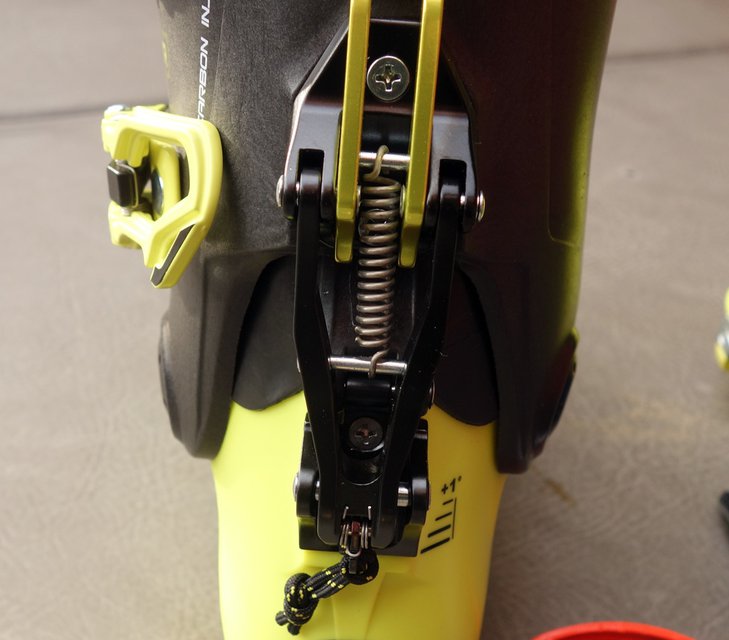 Closeup of the adjustment piece for forward lean. Simply remove liner and undo the two screws. From the insider of the bootshell pop out the silver female threaded insert, flip the insert (with the notch facing down) and pop the insert back into the shell. Then reattach external bracket with screws for a degree more forward lean. Shims under the bootboard or using spoilers will also add more forward lean
Comparison Pictures - ZGTP vs Dynafit Vulcan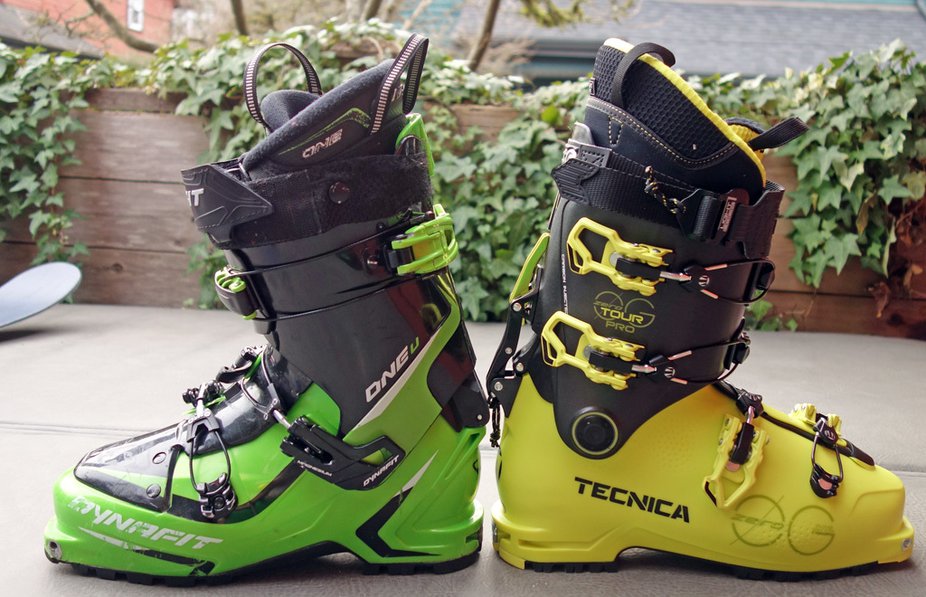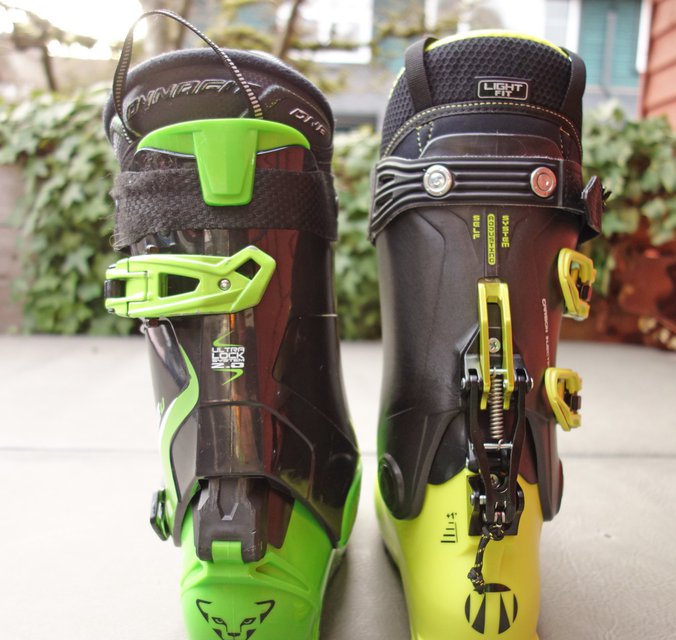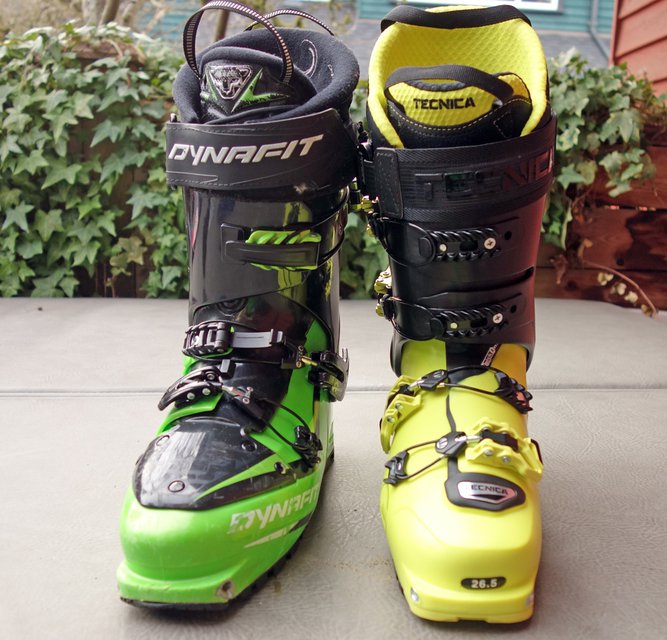 Comparisons are inevitable.
Fit
Fit is the most important thing for any ski boot. It doesn't matter how stiff, how light, or how red boots are. If they don't fit they're garbage. Either make sure the ZGTP fits you or work with a competent bootfitter to ensure they fit.
I have a generic Azn foot; ie no arch; a big tumour on the met and a splayed out forefoot meaning I need to somehow get 110mm of forefoot into a 99mm (26.5 size). As another fitting data-point I am a size 27.5 Dynafit Vulcan (even in the tiny volume TLT5) and a size 27.5 for all Scarpas. I am a size 26.5 in Dalbello, Atomic, Tecnica and Salomon. Despite the rather alarmingly large delta between my wide feet and the narrow-ish ZGTP I was able to get a comfortable, nice performance fit with aggressive forefoot punches and liner cooks.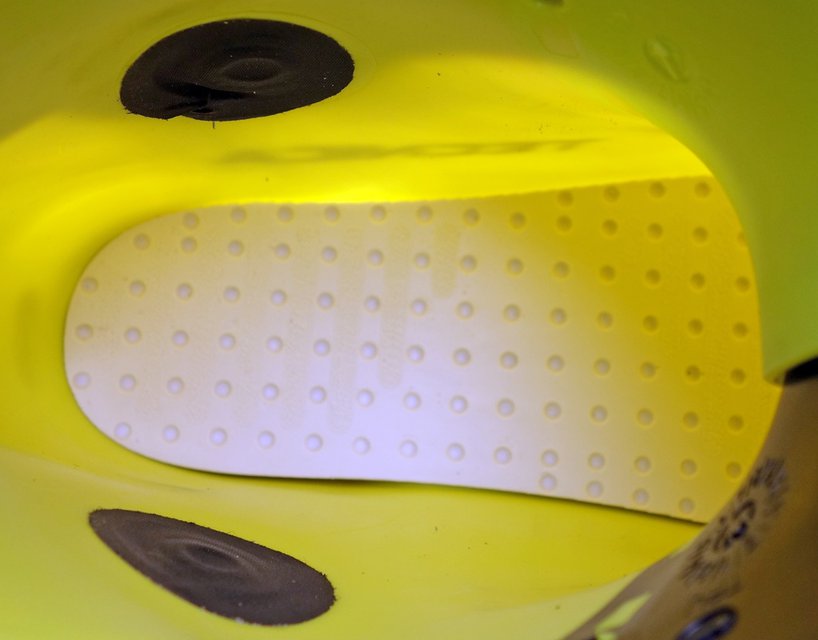 Removeable bootboard is rare for a boot of this weight - it helps a lot with custom bootwork
Here are some very general fit impressions. I would characteriz the ZGTP as having a narrow toe-box; a medium instep and a tight heel pocket. The ZGTP's instep is medium volume. For those that may have tried these on in a store and found the instep height overly high, just make sure you're trying them on with a footbed. The ZGTP has true anatomical shaping but since the shell is punchable and holds a punch well one should expect pressure points in-store. You may well need boot-work and/or a liner cook for the ZGTP to achieve a performance and touring fit (depending on individual preference).
I usually prefer to address boot fit comparisons in questions but because the three boots I've found to be the market leaders are still fresh in the mind here are some impressions. In terms of narrowness of toe-box I would characterize in order of most narrow to most wide - ZGTP, Hawx XTD, Lupo AX120, Vulcan. In terms of heel hold, from least to most volume - ZGTP/Hawx XTD, Lupo AX120/ Vulcan. However if you have questions about specific boots ask away.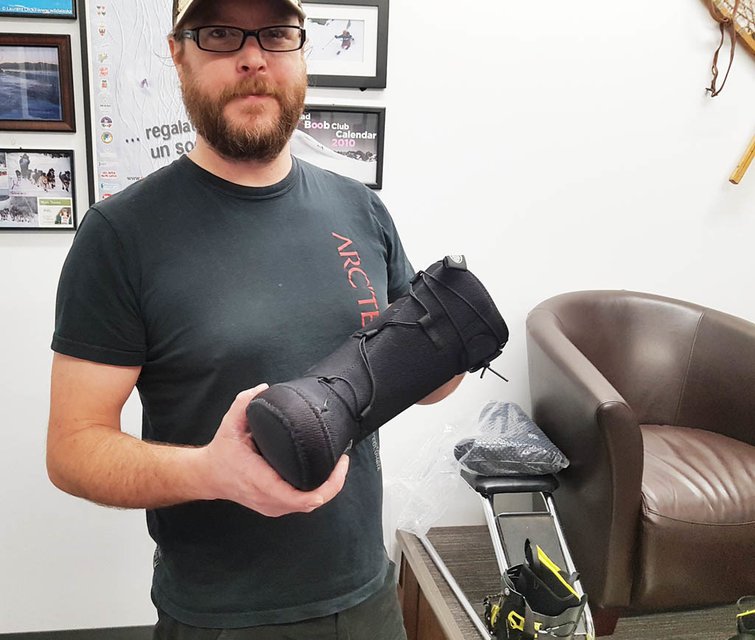 Go to Tom at Intuition liners for your boot needs
_____________________________________________
Uphill and Touring performance
The ZGTP tours wonderfully well. It's light. It's got superb ROM (55° range of motion breaks down to 45° to the front and 10° to the back). In my experience rearward mobility helps in flat approaches when there's a bit of kick-and-glide while forward mobility aids in going uphill to allow you to lengthen your stride.
For a boot in this category, touring is remarkable. I found performance to be best and the stride to be the least hampered when slackening buckles off all the way and loosening the powerstrap. Conversely ROM is reduced when buckles and powerstrap were in ski mode then simply loosened without being slacked off all the way). This does mean that transitions are additionally complicated by requiring the extra process of slackening buckles if one is to benefit from a free ROM.
There's not much fiddle-factor with transitions. I set and forget the powerstrap and the lowest forefoot buckle. The second and third buckles can be left unbuckled if your trek uphill is all uphill without impairing stride but if there's flat sections you'll want to loosen off those buckles. All in all - there's very little faffing around involved for transitions.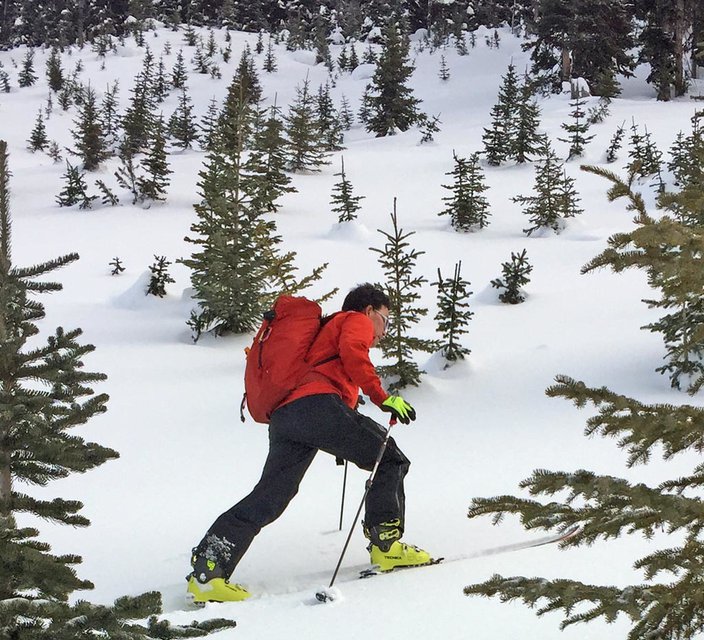 Breaking trail in the Pemberton area
Downhill
The ZGTP skis very well. I'd have been shocked if there was any other outcome. It's stiff; has a wonderful flex curve (no abrupt stops as the skier gets moved around) and is balanced and supportive both fore-aft and laterally. For those who are very aggressive or old-school or both, the ZGTP's forward lean is "only" 13 degrees. Use a spoiler or shim under the bootboard to get more forward boot lean angles.
I'm going to have to break a cardinal rule of not comparing boots in reviews and talk about just how well the ZGTP performs in the context of other boots I mentioned in this review (the Dynafit Vulcan, Dalbello Lupo AX120 and Atomic HawX Ultra XTD 130)
After about 20 days in the ZGTP I skied my Vulcans, the Lupo then the HawX. Keep in mind that my old Vulcans are clapped out (therefore have lots of play) and were skied without tongue. On this day I skied Prior Overlords (115mm underfoot) in inbounds powder which then became chopped up snow. My conclusion is that the ZGTP skis better than my tongueless Vulcan in terms of being stiffer and having better quality of "ski feel". The ZGTP is softer (not by much) then the HawX and comparable in stiffness to the Lupo. Compared to the Lupo it has better feel in that the Lupo feels very linear in its travel but my preference is for a progressive feel in how a boot ramps up.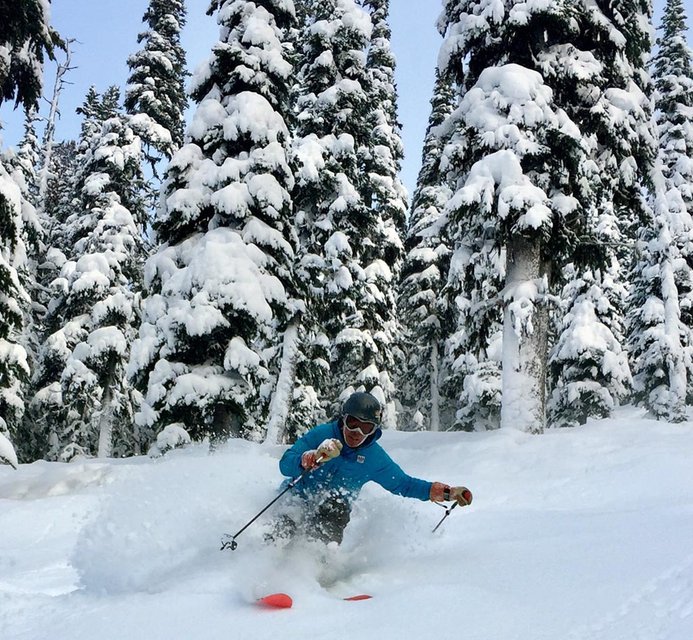 ZGTP inbounds
This impression is particularly evident on the Blackcomb Glacier which is a wide open 30 to 30 degree snow field where you can let skis run. The glacier has tons of traverse tracks which you hit on the fall line. Particular on the Vulcan I have to ski light on my feet and stay centred using vertical unweighting to fall line the traverse hits. This is where the Vulcan's tendency to hit a brick wall on fore-aft hits is most evident as you get bucked around otherwise. Skiing the ZGTP and HawX I can charge and drive the ski tips and get aggressive with the chopped up variable snow and traverse hits.
It's difficult to express downhill performance in quantitative terms so more on the skiing aspects follows in a stream of consciousness. A good test was in chopped up 10cms of fresh snow on 20cms of previous storm snow. I had the Vulcan, Hawx XTD and ZGTP on Prior Overlords 188 (RIP Chris Prior) mounted with Dynafit Beast 16s and pointed downslope through some traverse lines and then into Blackcomb Glacier. Trying to stay centred on the skis and letting the boots do their thing I was jostled around but could maintain fore/aft stability. When I had to turn I could get low and lean laterally into the ZGTP and let them do their thing; again maintaining stability but this time on the sideways plane.
Where all these boots perform well is with respect to lateral stability where they reward the more modern style of driving skis on their natural arc as opposed to driving from the tips. However, we are not all Hoji and sometimes get bucked around on imperfect snow so may require that fore/aft support crutch and that's where boots like the ZGTP which offer fore-aft stiffnes as well as progressive control really shine.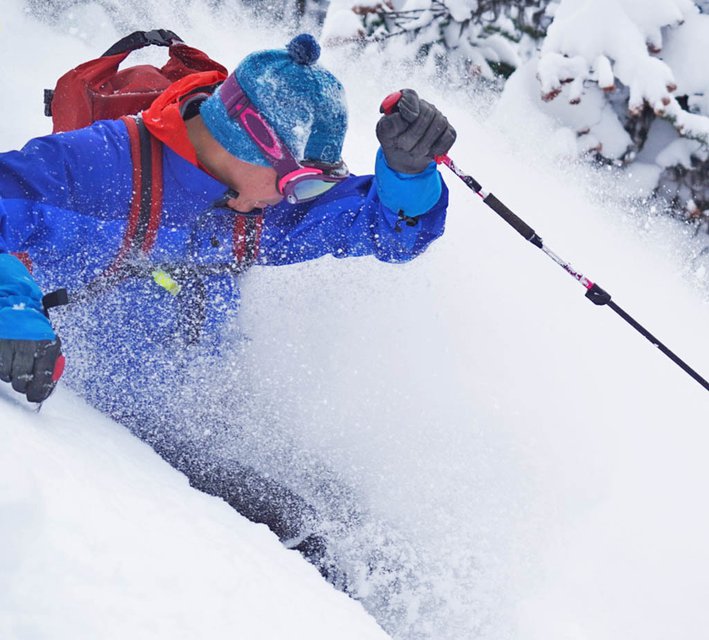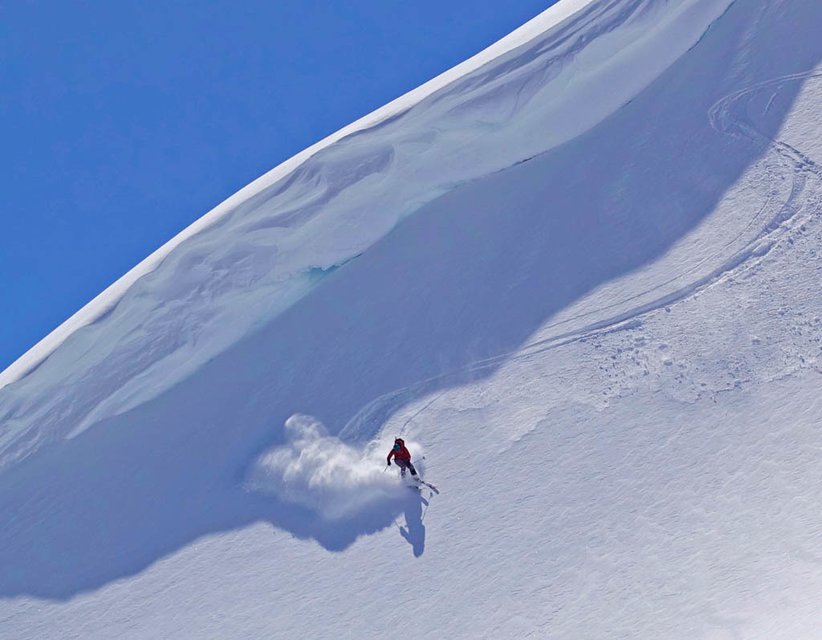 Do you know how hard it is to take a picture of a ski boot when skiing in powder snow? Joffre Lakes area