This week has been a busy one on Mt. Hood. The West Coast Session guys are all staying at Windells, and, well… you can imagine. Tanner Hall, Henrik Harlaut, Karl Fostvedt, the Inspired Media crew and Poor Boyz Productions have been hitting the Timberline parks hard this past week enjoying the unexpectedly sunny weather and above-par snow conditions.
The features emerging from the spring snow on Mt. Hood have made noise from this coast to the next coast. The West Coast Session line under the Stormin' Norman lift was insane, but the feature that had us squirming in our seats was the redirect at Skibowl by Pete Alport and Poor Boyz. I caught Darcy Bacha, 2012 Powder Magazine Photo of the Year award winner and Windells Camp photographer, on his way through to Superpark 16 to get some insight on the monster of a feature.
Angela Swain: So what are you guys calling this thing? We made a name for it in the office, but I'll leave that out.
Darcy Bacha: I guess we called it the redirect. It was a 15ft kicker to a 30 ft quarter pipe.
So who was behind this? It seems like it was a pretty extravagant build.
It was Pete Alport's idea. It's been done before but on a much smaller scale. Pete Alport is the main builder for Poor Boyz. It was great to work with Pete, he works really hard to make everything perfect. Everytime I work with Pete it's on another level.
How did the shoot go? Lose any good men?
We were sessioning it but as you can imagine, it was pretty gnarly for most of the guys. Tanner hit it, and Karl hit it a few times at sunset. It was pretty intimidating, but we got some great footage and everyone came out unscathed. There will be footage out soon.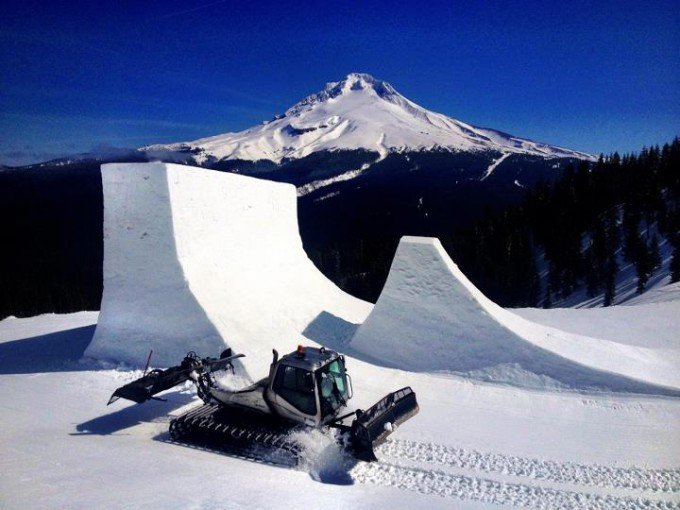 The excitement from this week is enough to carry us right into summer. Poor Boyz Productions is taking over Session 1, June 6-13th. The Poor Boyz athletes and crew will be on campus and on hill riding, filming, and having fun with campers.
So, the real reason we're here; your prompt to win! Names like "Inspired Media" and "Poor Boyz Productions" aren't just given. Somebody has to think it up and it has to stick. What would you name your crew?
Leave a comment and we'll pick a winner Friday afternoon, 5/11!