We're now three weeks into Movember, and Team Moleurz (Movember + Voleurz) is still going strong, both in the mustache growing and fundraising department, with $1,683 raised so far. Here's the weekly update on how their upper lips are looking...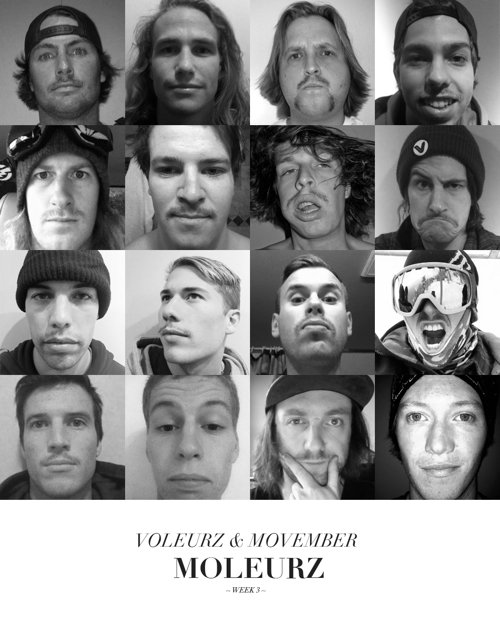 Team Moleurz consists of Newschoolers' very own Jeff Schmuck, pro skiers TJ Schiller, Josh Bibby, Mike Riddle, Matt Margetts, Joe Schuster, KC Deane, Cam Schuster and Jeff Boake, Voleurz' Bruce Giovando, Darren Rayner and his brother Michael Rayner, pro snowboarders Justin VDP, Braden Dean and Barry Hartman, pro skateboarders Tyler Holm and Billy Mitchell, Poor Boyz Productions' Charlie 'Chunk' Grinnell, Level 1 Productions' Drew Lederer, PYP's Pat Fucking King and Spencer Watson, AFP and Empire Attire's Brian Schroy, Push.ca's Jan Schuster, professional photographer and frequent Newschoolers contributor Dan Brown and the infamous Reed Speedman and Mathieu 'The Intern' Soumet.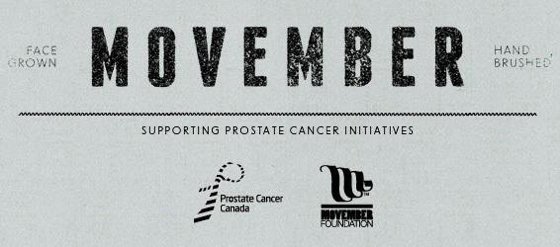 As always, be sure to click on any of the names from Team Moleurz above (or click here to see the entire team) to view their Movember profiles, and if you think cancer sucks and mustaches don't, please donate to the cause, as all donations go to the Movember organization's men's health partner, Prostate Cancer Canada. 
Voleurz' That's Fine Trailer
Also be sure to stay tuned for the online premiere of Voleurz' new film, That's Fine, which takes place tomorrow at 3pm PST/6pm EST right here on Newschoolers. And if you happen to be in Whistler right now, then come to the Longhorn Saloon tonight to celebrate opening weekend with the Voleurz Family at another wild premiere of That's Fine!