Words & photos: Ethan Stone
The South Korean freeskiing scene got a taste of the future last Saturday, January 24 when a crew of visiting American skiers joined up with the Phoenix Park Freeski School to offer a free park-skiing clinic.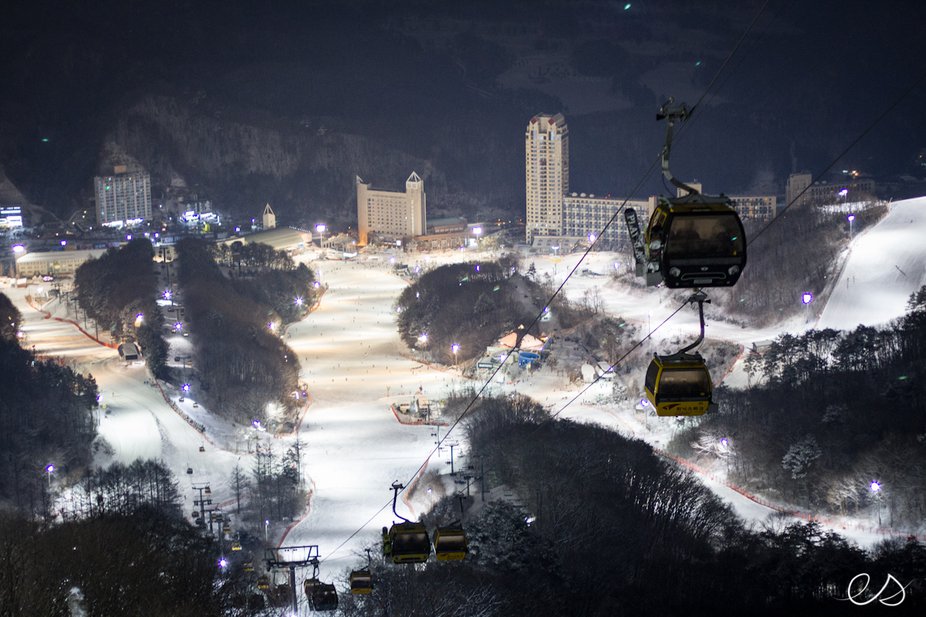 At Phoenix Park you can ski until 4 in the morning. Not too shabby.
Tucked into the mountains about three hours from the capital Seoul, Phoenix Park ski resort will host all of the freestyle events of the 2018 Pyeongchang Winter Olympics. So it's little wonder that the resort is going all-out to promote freestyle in Korea. Pheonix Park boasts one of the best terrain parks in the country as well as Korea's first freeskiing academy, founded and operated by the godfather of Korean freeskiing, Jooyong Kim--better known to Newschoolers as XDragon or just XD.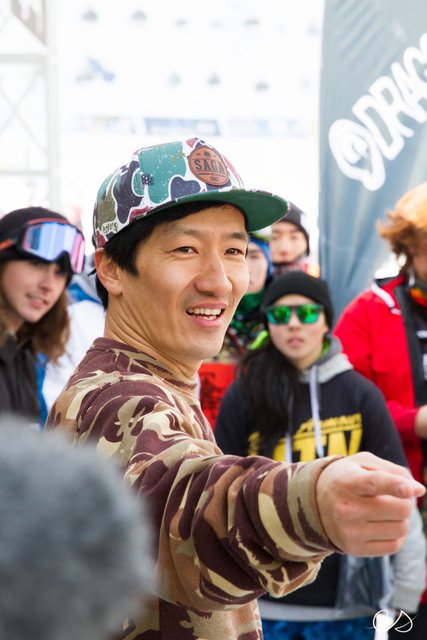 Jooyong Kim, aka XDragon, aka Korean Ski Boss, is the man to know in the Korean freeskiing scene
Last week XD and Phoenix Park played host to The Coterie, a start-up freeski film production company based in Salt Lake City, Utah that includes skiers Nicky Keefer, Mitchell Brower, Lupe Hagearty and Jonah Williams as well as filmers Jacob Callaghan and Boaz La Bleu. After two weeks of skiing in Hokkaido, Japan, the Coterie squad dropped by Korea to check out the scene for a week before heading home.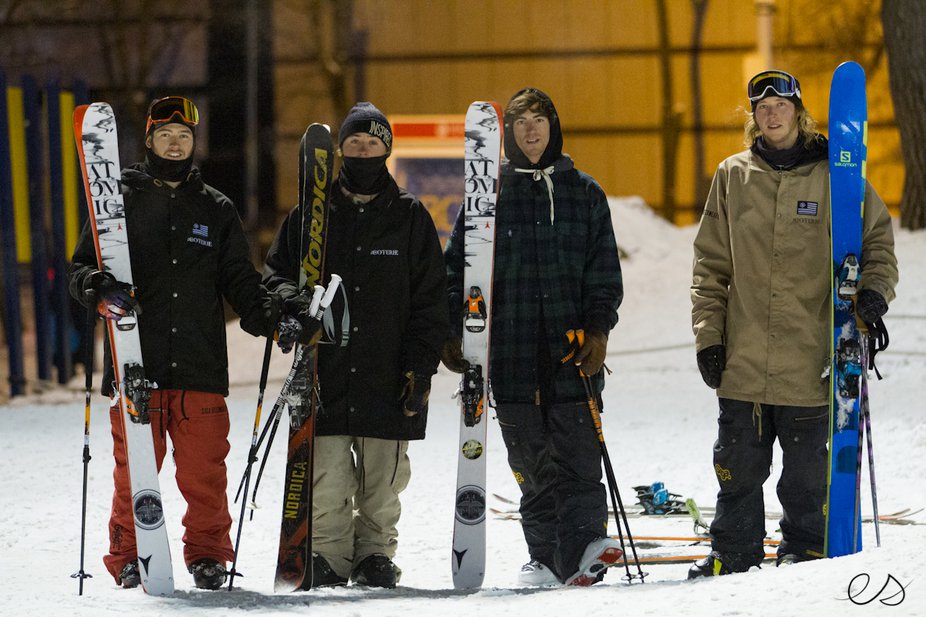 Skiers from the Coterie visiting Korea: (l-r) Nicky Keefer, Lupe Hagearty, Mitchell Brower and Jonah Williams
XD took advantage of the visiting talent and organized a one-day camp for Korean skiers to join the Coterie in the park and get an up-close-and-personal taste of what freeskiing looks like elsewhere in the world.
"In Korea we don't have freeski pros like in the U.S.A.," XD explained. "Korean skiers learn by watching videos online, but they don't get a chance to see it in real life. So when some guys come to visit us, it's a big opportunity for Korean skiers to learn."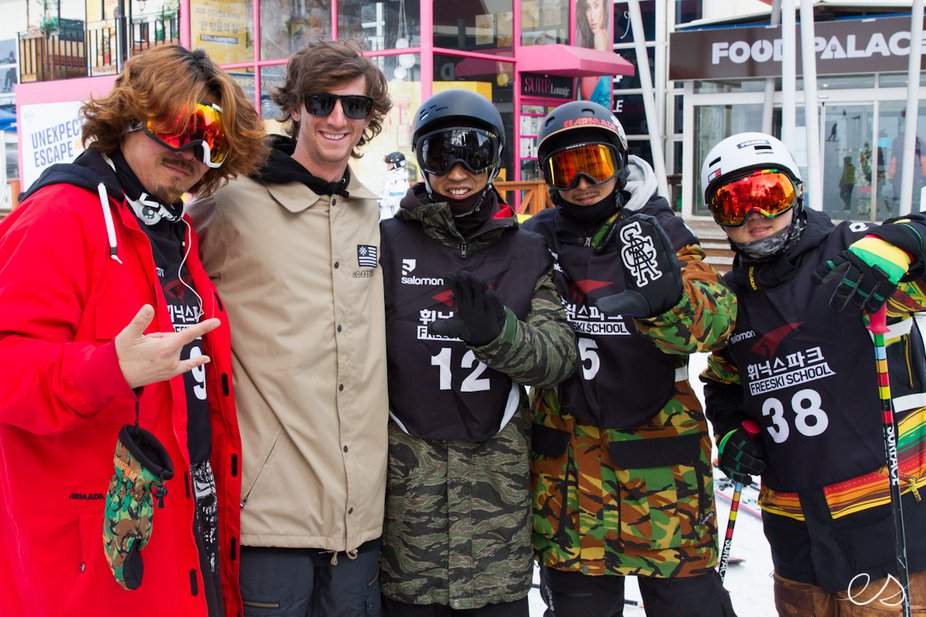 Korean-speaking skier and Level 1 Superunknown winner Mitchell Brower was a big hit with the locals.
On Saturday morning, a crowd of over thirty very enthusiastic Korean skiers greeted the Coterie squad outside the Freeski School headquarters at the base of Phoenix Park. The clinic participants were divided up into groups, with each Coterie skier leading six to eight Koreans through the terrain park.
Although the ability level of the participants wasn't the highest, their stoke factor was off the charts, and they wasted no time tossing themselves into the tricks that the visiting skiers demonstrated. Nicky Keefer taught his group nose-butter 360s on the knuckles of the jumps, while Mitchell Brower and Lupe Hagearty helped their groups learn some tricks on Phoenix Park's numerous fun boxes. Meanwhile, Jonah Williams' group was busy learning how to get the proper speed to hit jumps.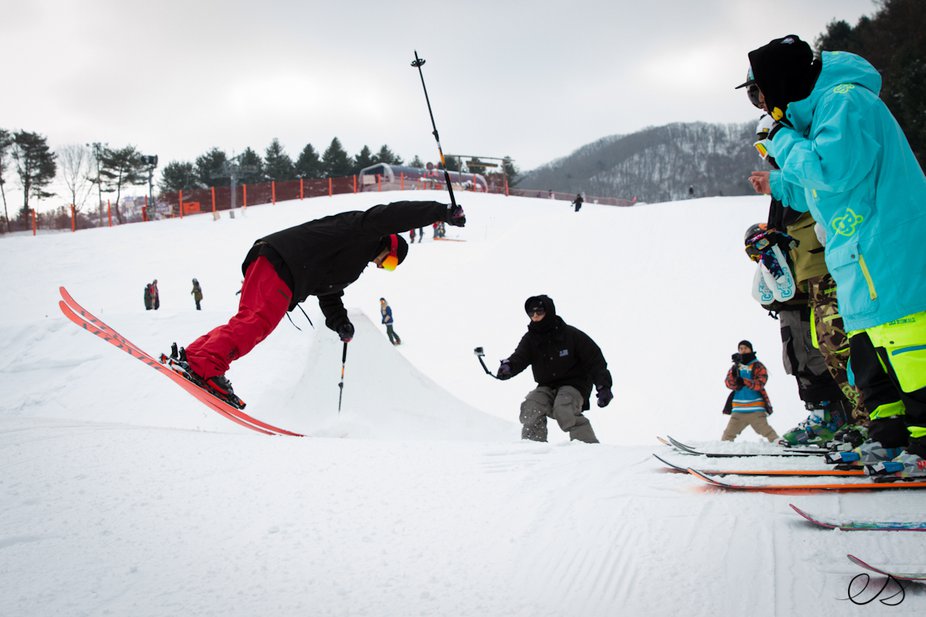 Nicky Keefer demonstrates the fine art of the nose butter 360.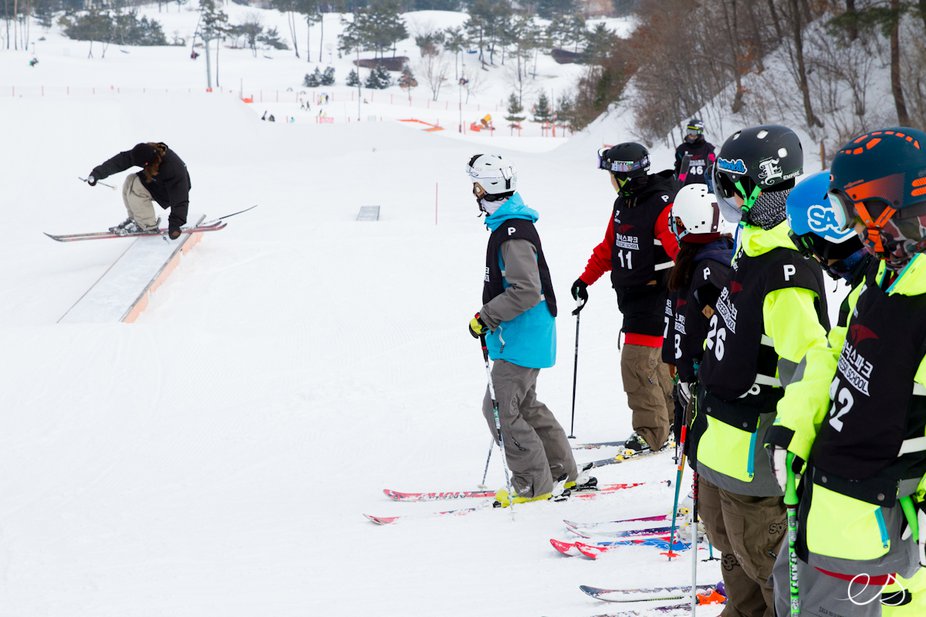 Lupe Hagearty shows his group how to ride boxes with style.
After lapping the park all morning, the camp repaired to the freeski school headquarters for a group photo and the mandatory product toss. Each coach picked out a skier from his group for a special prize from sponsors including Saga Outerwear and Dragon, and two lucky raffle winners took home a new pair of skis from Atomic and Salomon. The day wrapped up with fried chicken, Coke and beer in the day lodge, with plenty of time for camp participants to snap a photo together with their favorite skier.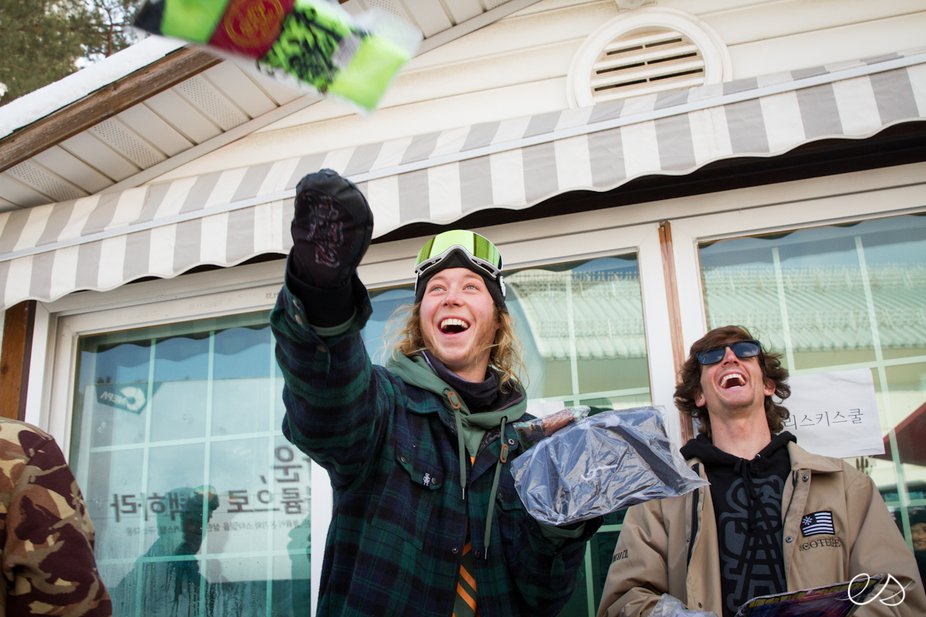 What's a ski camp without a product toss?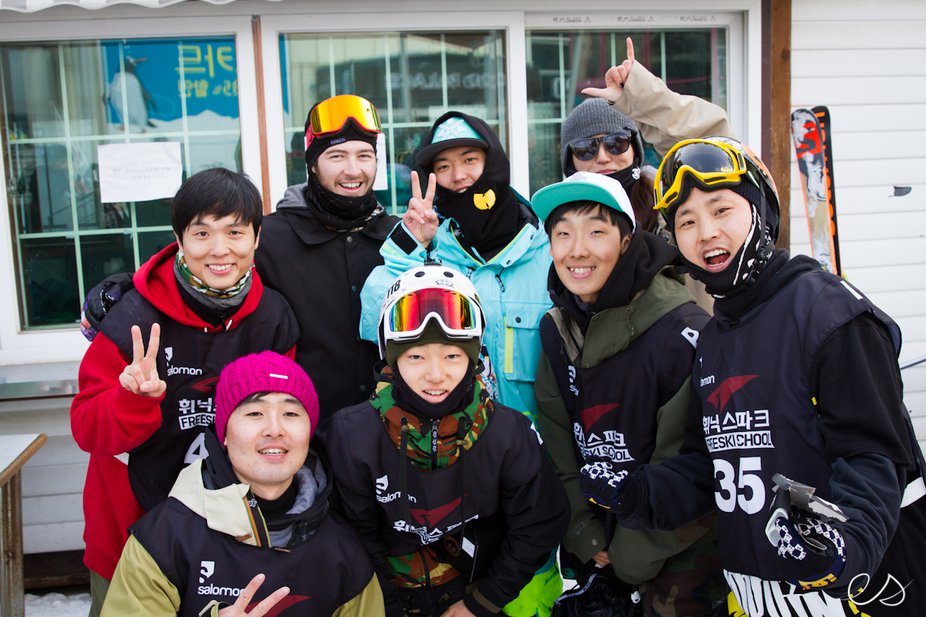 Keefer and his group.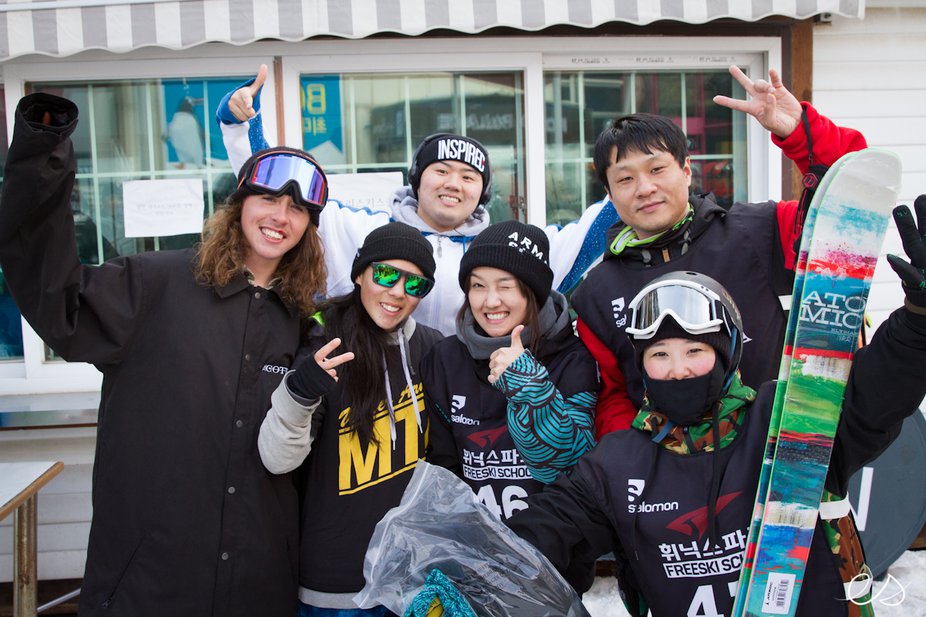 Lupe and his group.
"It was such a blast," said Williams, 19, of Odgen, Utah. "It was a great learning experience both for me and the crew I was skiing with."
"The riding level is lower than in the U.S., but it's cooler because much older people are into it," he continued. "I thought that my group was pretty young until I asked how old they were."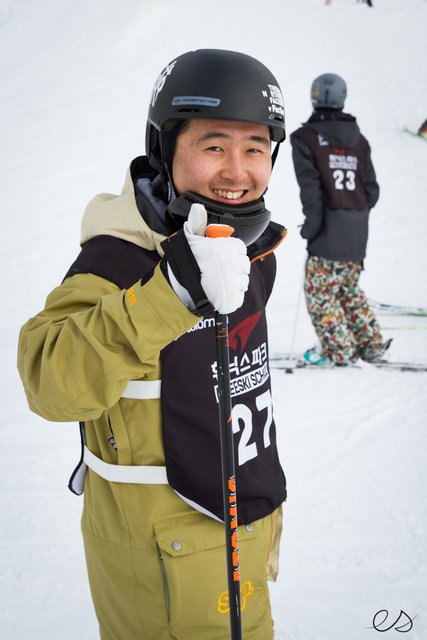 A stoked camp participant.
The vast age difference in the clinic showed that freeskiing has appeal for more than just the youth in Korea. The average age of the participants was 27.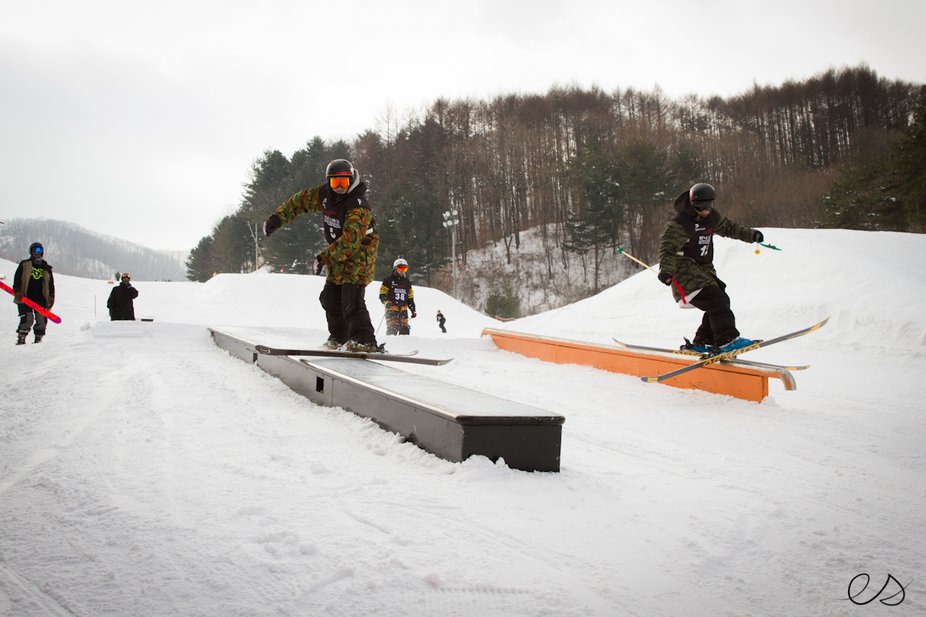 Campers showing their stuff on two of Phoenix Park's jib features.
"I am in awe," said Lupe Hagearty, 22, of West Hartford, Connecticut. "The stoke level of everyone and the diverse age group, from women with their husbands to 13-year-old kids... seeing them immerse themselves in ski culture was awesome. It's growing our sport more and more."
XD said he has plans to build a Windell's Camp-style freestyle facility at Phoenix Park. With the 2018 Olympics rapidly approaching, Korea is looking to develop competitive freestyle athletes in time for the Games.
Namki Kim, 29, drove from Seoul to take part in the camp. "I can see and learn directly from the people I see in the movies," he said. His favorite part of the day? "Learning nose butters with Keefer."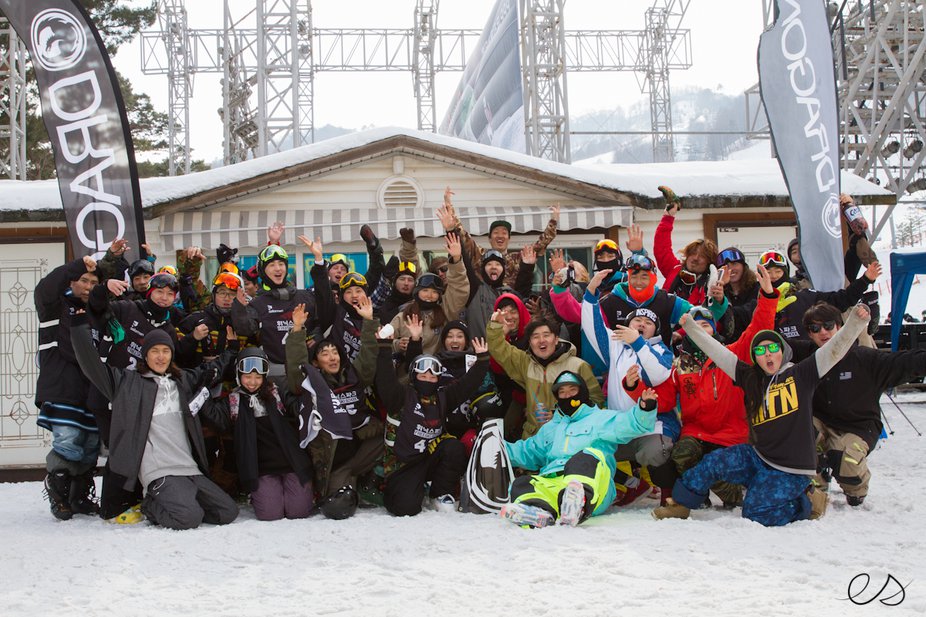 Thanks Korea, we hope to see you again soon!