Words & photos by Nadia Samer
This year was the inaugural year of the Tailgate BC freeride festival, an event which invites skiers, snowboarders and snowmobilers to come together in celebration of the mountains. Tailgate BC was held in Revelstoke, British Columbia this past weekend, which is perfect for providing multiple access options for participants, including heli-skiing, sled-skiing, and the nearby lift-accessed Revelstoke Mountain Resort. It has always been a dream of mine to participate in the Tailgate Alaska event, which is held every April on the Thompson Pass in Alaska, so I was extremely excited to attend this sister event which was much closer to home. I had been in Montana the week beforehand for a snowmobile shoot and literally flew home, did laundry and repacked and was out the door again in less than 24 hours.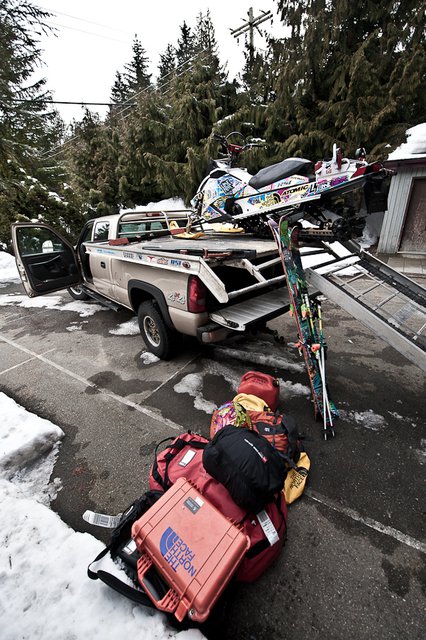 Loading up the truck for Revelstoke!
Tailgate BC headquarters and home base was situated at the Great White North restaurant on the side of the highway, just 5km outside of town. Across the street was the Peaks Lodge and snowmobile access to Boulder and Frisbee Mountains. On location was a heli pad, where Eagle Pass Heli-Skiing was flying out of daily. The event offered a special to participants of $1,000 a day for unlimited vertical, a deal that is hard to beat! Many of the participants chose to stay in true "tailgate" style however, sleeping in RV's or tents on location with access to sled-skiing or heli-skiing a short walk away from their pad.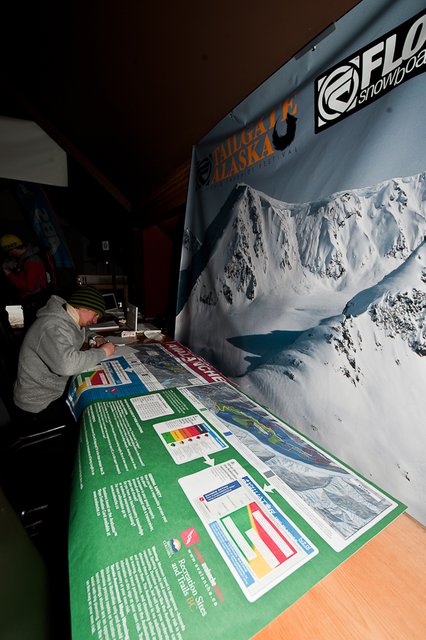 Checking in, grabbing credentials, signing waivers and releases.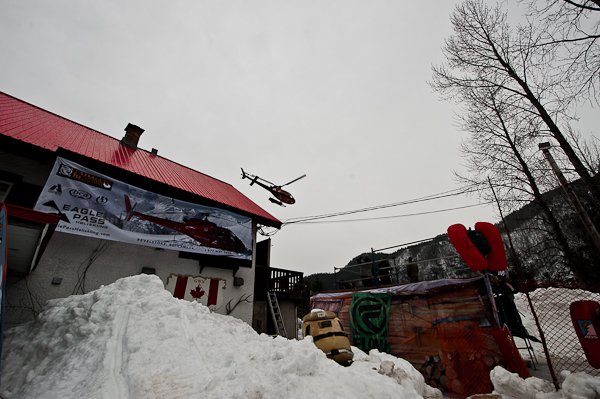 Another awesome feature of Tailgate BC was the heli landing pad in the backyard. Talk about door-to-door service!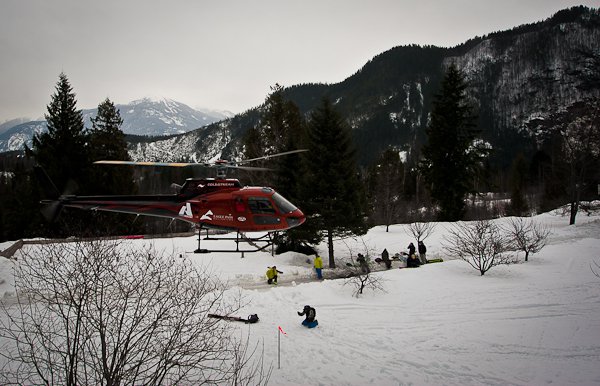 Stoked skiers and boarders loading up for a day of pillaging heli-accessed goods.
Another focus of the event was avalanche safety and awareness. Revelstoke is the home base for the Canadian Avalanche Association so there was no shortage of qualified guides and instructors for providing education and training. I had the pleasure of tagging along with Jeremy, who was an Operations Level 2 guide, and has over five years of experience teaching in the backcountry. We went over pre-trip safety checks, travel procedures, beacon checks, and went up Boulder Mountain to dig some pits and run some tests to see what the snow could tell us. The Avalanche danger was High/Considerable/Considerable that day, and changed to High/High/Considerable for the rest of the weekend, so with all the heavy snowfall we decided to stick to trees and mellow terrain to avoid being at risk.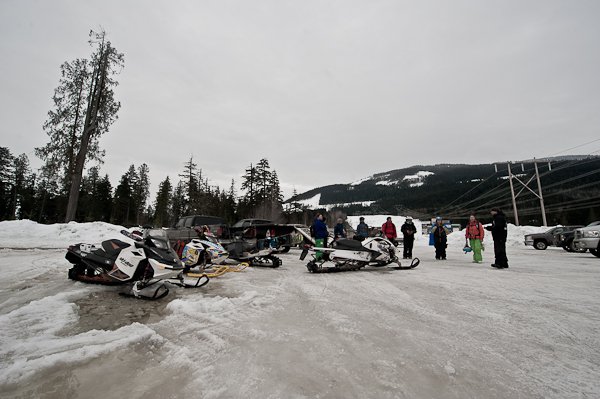 Tailgate BC participants gearing up for an avalanche course in the morning before heading out to shred.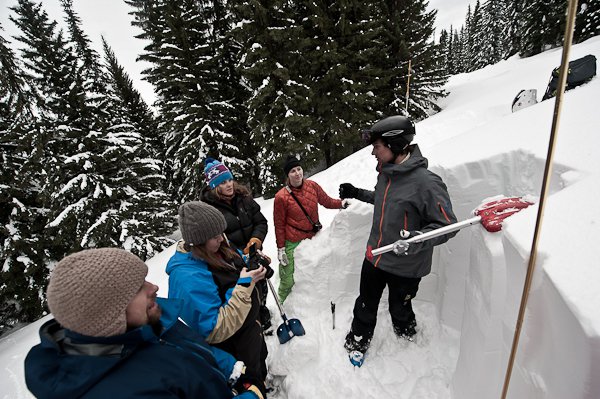 Going over compression test results with the group.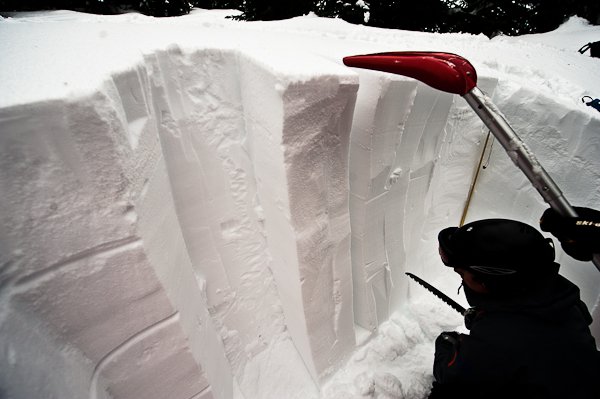 Another view of the results we got.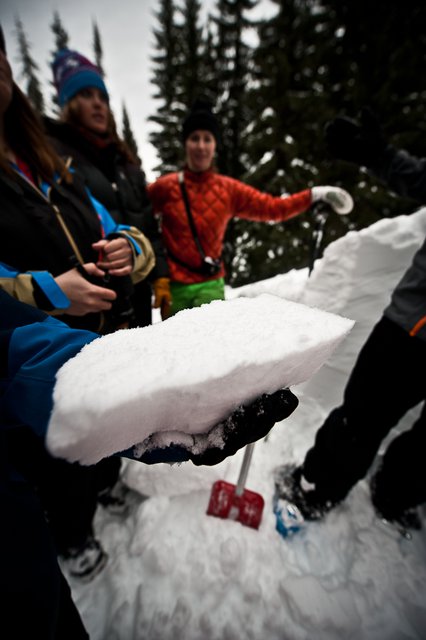 Taking a closer look at the buried Surface Hoar layer.
After doing multiple compression and propagation tests, I met up with fellow Whistlerite and professional skier and snowmobiler Dan Treadway, who was up Boulder for a family day with his wife Karla and daughter Lilly. This was a great example of how Tailgate truly embodies the mountain lifestyle; here we have skiers and boarders riding together, and families coming up to pass on their love of the mountains to future generations. Lilly was having so much fun riding on snowmobiles with her dad that she actually fell asleep on his lap while riding.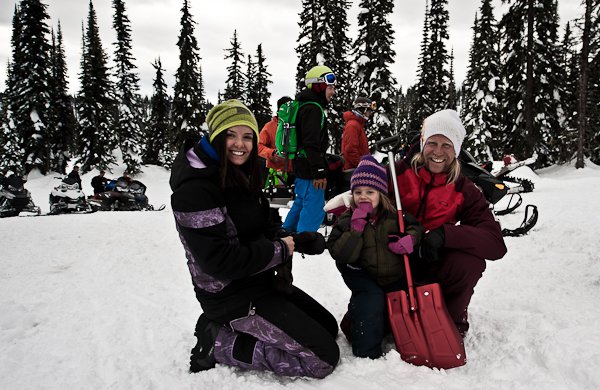 Dan, Karla and Lilly Treadway enjoying a family day up at the snowmobile accessed Boulder Cabin.
Professional skier and snowmobiler Dan Treadway spending a day sledding with his daughter, Lilly.
Another perk of attending Tailgate BC is the wide array of games, training and entertainment at the basecamp. There is never a dull moment, and you get to commingle with other like-minded athletes from around the world, all while forming new friendships over beers and/or a game of ping-pong. Tailgate BC holds avalanche training classes every afternoon, along with ping-pong tournaments and the infamous "Man Games" every night, which pits man against man in mountain-related games to win prizes. On one of the nights the "Man Game" was an axe throwing contest, in which we were given a small handheld hatchet to throw. Immediately a participant went in search of a more "manly" weapon to use, and soon located an axe with a two-foot handle. Much more suitable. The highlight of the games was watching man after man fail to stick the axe in the log, and only a handful of them successfully lodging it in the round, but nowhere near center. Then out of nowhere, Hannah Beaman stepped up to the plate and sunk the axe in the round, dead centre bullseye. There was an awkward silence for her fellow "men" to take in what just happened, followed by cheering and jeering. Who knew that Hannah Beaman was better at throwing axes than Mr. Mountain Man himself, Dan Treadway?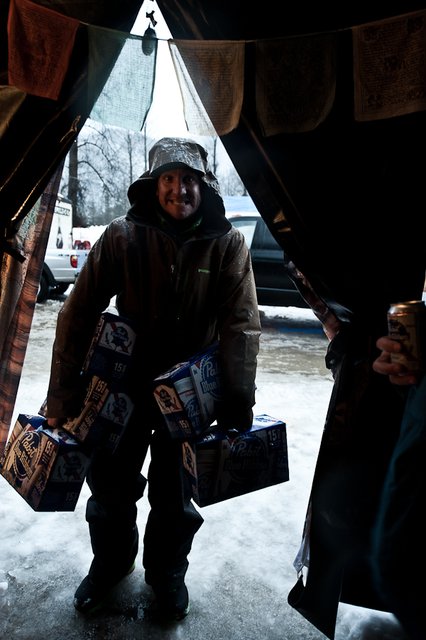 Your Tailgate BC all access pass includes unlimited beer every afternoon.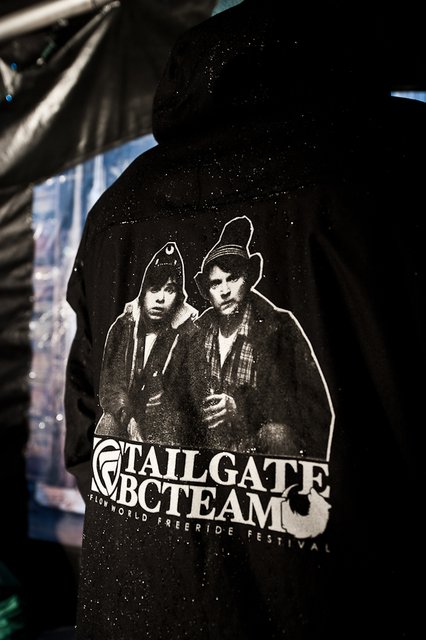 Staff jackets in true Canadian style.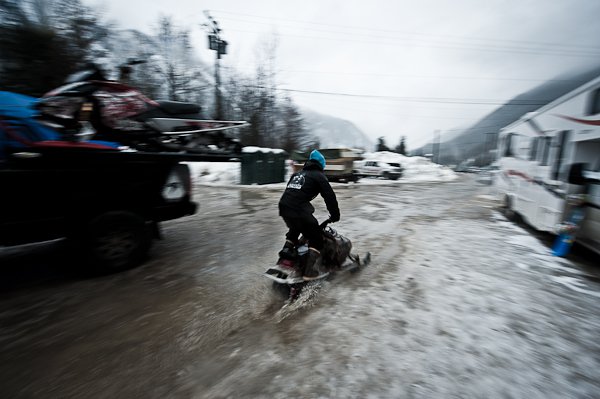 A Tailgate BC staffer making the best of a rainy day at base camp.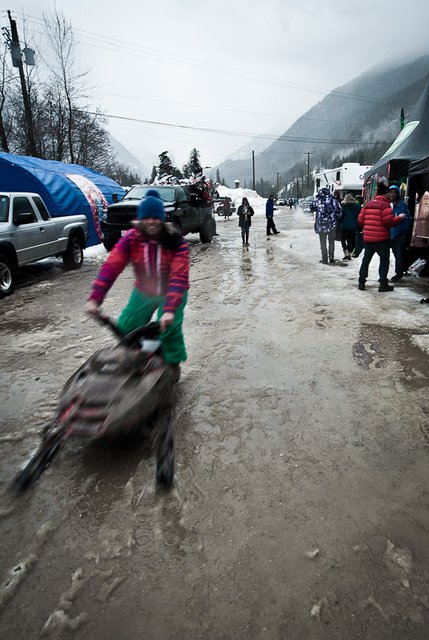 Yours truly on one of the mini snowmobiles kicking around at base camp.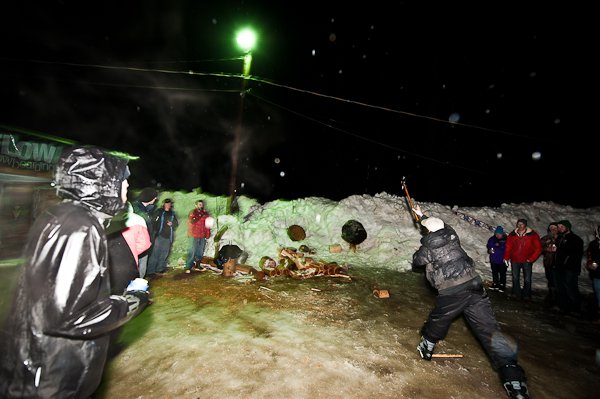 One of the nightly "Man Games" events, this round featuring Axe Throwing.
It may have been raining down at basecamp, but that means it was puking snow up higher in the mountains! One one of the days, I had the pleasure of meeting up with Dave Basterrechea, the owner of Cheetah Factory Racing, which is a local Pemberton company that make ski and snowboard racks for snowmobiles. CFR make it possible to access a lot of the big lines you see in movies, and are an athlete favourite back home in Whistler. We were also joined by Natalie Langmann, a staff writer for Transworld Snowboarding. Natalie had won the grand prize the night before at the Eagle Pass Heli-Skiing party, which was a mini RC Helicopter. Let's just say she was more than a little stoked. It was an awesome experience to meet up with longtime industry professionals who have been bagging some of the gnarliest, complex lines in the backcountry for years off of snowmobiles. Here is an event where participants can rub shoulders with professionals who have years of experience and valuable knowledge to pass on, in the safest of settings. You can't put a price on that sort of experience.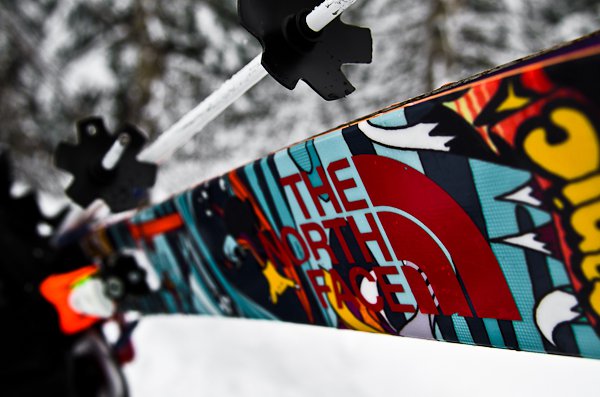 If you can't afford a heli, Cheetah Factory Racing racks are the next best method of getting your skis up the mountain on your sled.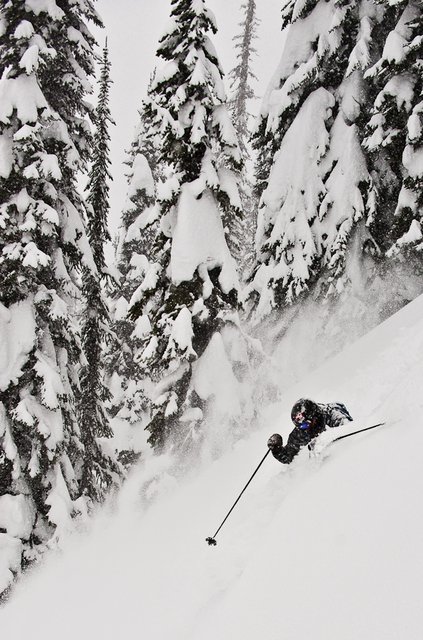 Rain in the valley = snow up top!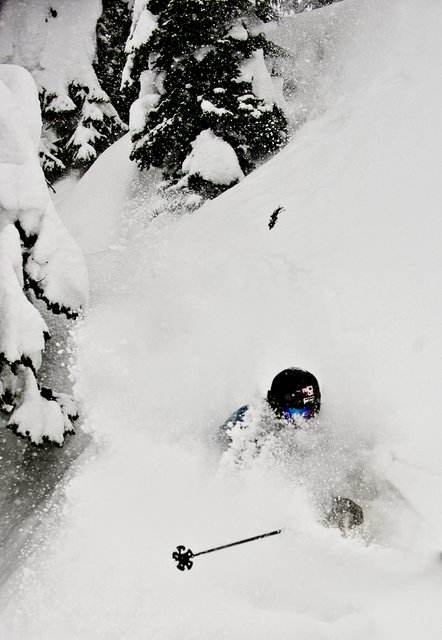 Faceshots are always free.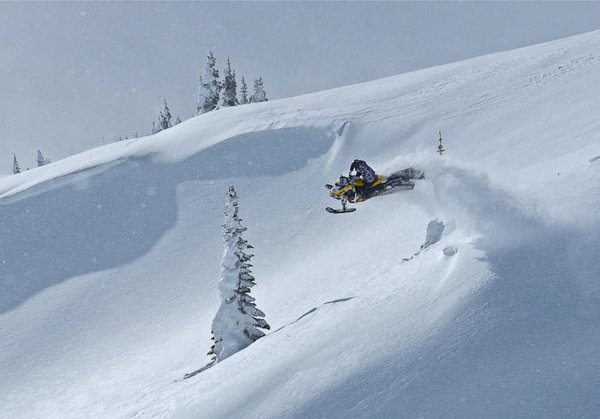 Revelstoke local, Slednecks rider and owner of The Log Chalet Rob Alford sending it on his new 2013 Ski-Doo prototype.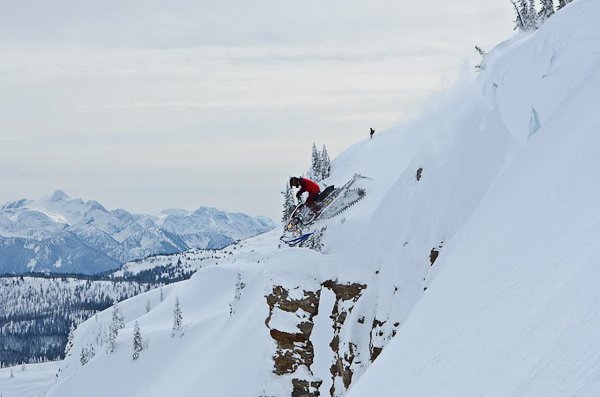 Dan Treadway sending it in the Revelstoke backcountry.
Tailgate BC sent many participants home with experiences they will never forget, smiles that leave their faces aching and new friendships that will last a lifetime. For those who are interested, Tailgate Alaska is happening this April 1st - 12th on the Thompson pass near Valdez. For more information check out http://www.tailgatealaska.com.