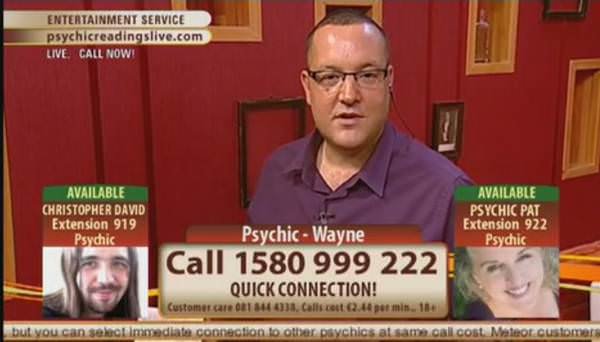 After seeing hashtags for a TV show featuring a "Psychic Wayne" all over Twitter, Irish student Alan Rice decided to see what all the fuss was about. Of course, within a few minutes he had already decided that the show was, in his words, tripe. But after watching a little while longer he noticed something else: the photos of the other off-air "psychics" that people could call looked a lot like stock photos.
A screenshot and Google search later showed that he was right:
Calls were about 3 minutes apart to Wayne himself and during those minutes he?d say that tonight was busy and that some of the other psychics were free right now but would soon be taken again. To me their photos looked like stock photos online and after several more minutes I decided to take a screenshot and reverse image search one of the psychics. Guess what? It?s not often, but I was right! You can see Pyschic Pat here.
Psychic Pat was in fact a bought stock photo! I quickly tweeted about this and from that I was pointed to the boards.ie thread about the show where I posted the same photos. Things certainly took off from there and some wonderful people there started finding pretty much all the psychics listed on their website from various places around the internet including, from what I gather, a personal Flickr photo. It really begs the question who are you talking to? And in some cases from what I?ve read you only get through to a hold message.
That's right, it turns out some very expensive psychics, about $3.00/min expensive, also happen to moonlight as stock models (among other things)… well, either that or the whole thing was a big scam. If you want to learn more, check out the whole post complete with videos of the show and a full list of "psychics" and the Flickr or stock photos they pose under.
Con artists working on national television (via Boing Boing)