Since the new format for NS with the news feed open for everyone to use, I've thought it would be a great place for TR's. Even though NS is more park oriented, I've always thought there can be room for good old fashioned TR's. I mean, why let TGR have all the fun? So, this is my first TR, I usually utterly fail at taking pictures and just forgo the whole TR thing.
Alright, so it was my friend Steve's birthday, he was gifted a nice retro one piece and figured the best way to enjoy it was to spend a night at the Asulkan Hut at Rogers Pass. We met up Sunday morning at the trail head parking lot and started the long slog up to the hut.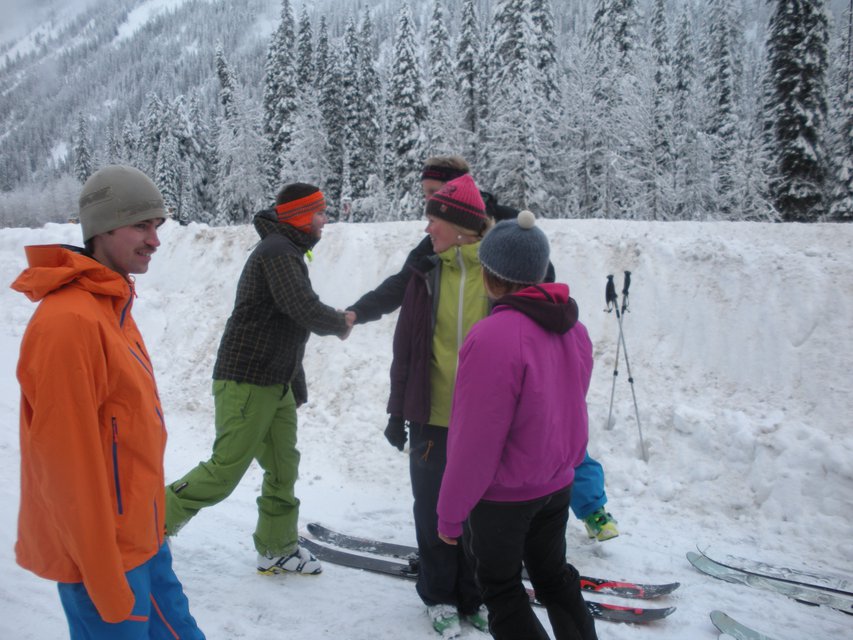 Morning meet and greet. Met a lot of new people over two days, lots of new friends for fun adventured in the mountains.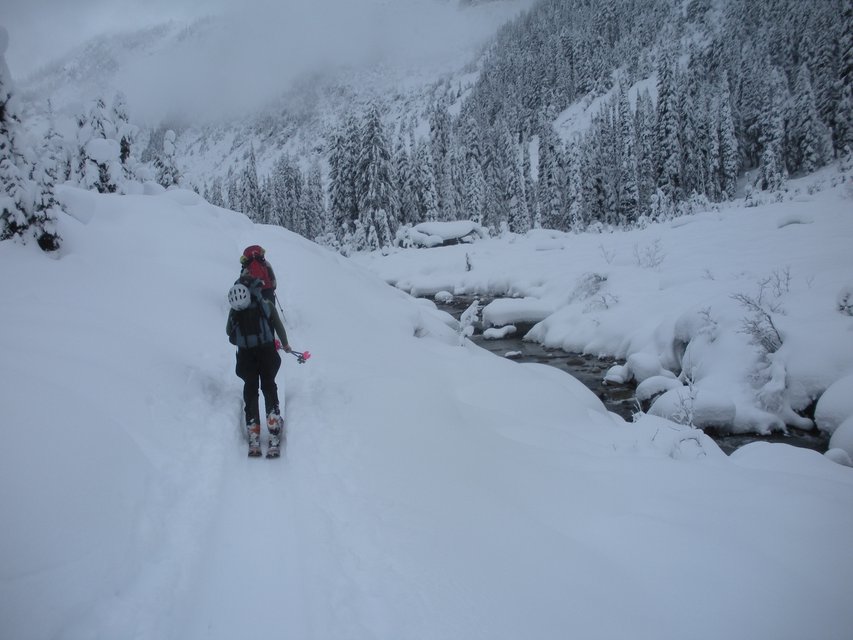 The long approach. It's about 7km or so from the trail head to the cabin with a 900M elevation gain (most of which is done near the end).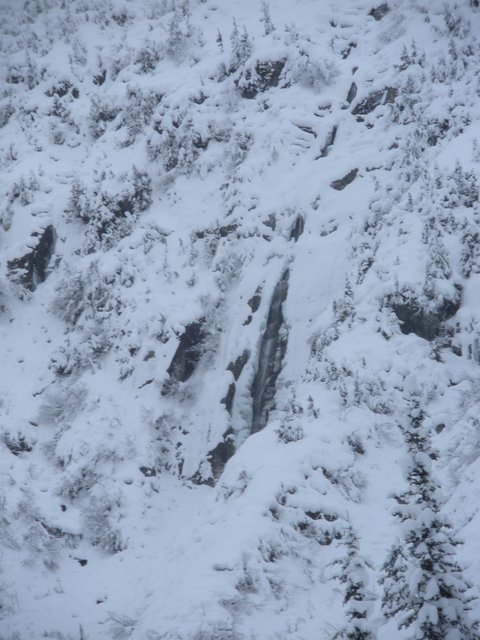 We took a water break by this little waterfall. Normally this is the end of a sweet run (you can pretty much ski anything and everything at the pass), but anything below 1600M is hurting for snow right now, so instead it's just a waterfall.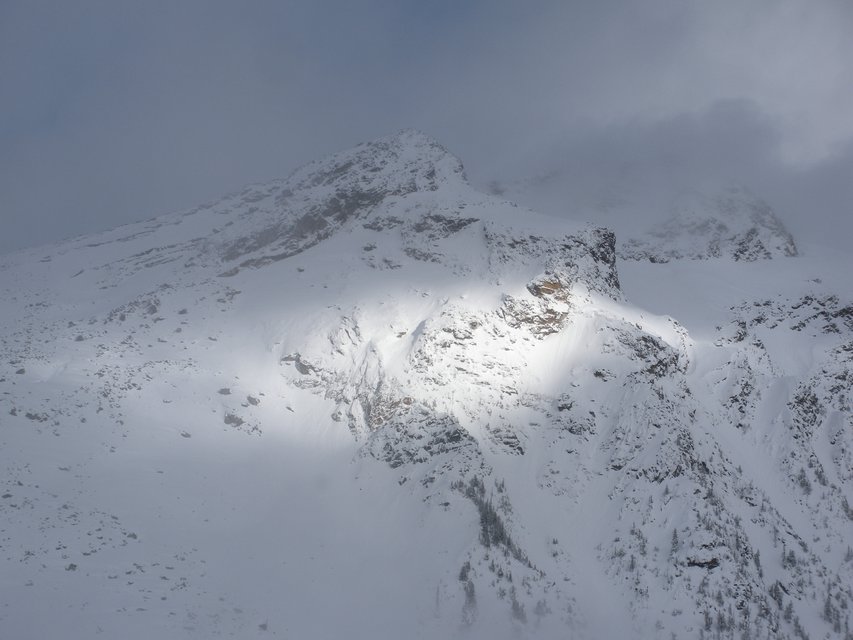 I was treated to this nice view when we got to treeline. It was socked in for almost all of Sunday, but this was a sign of things to come.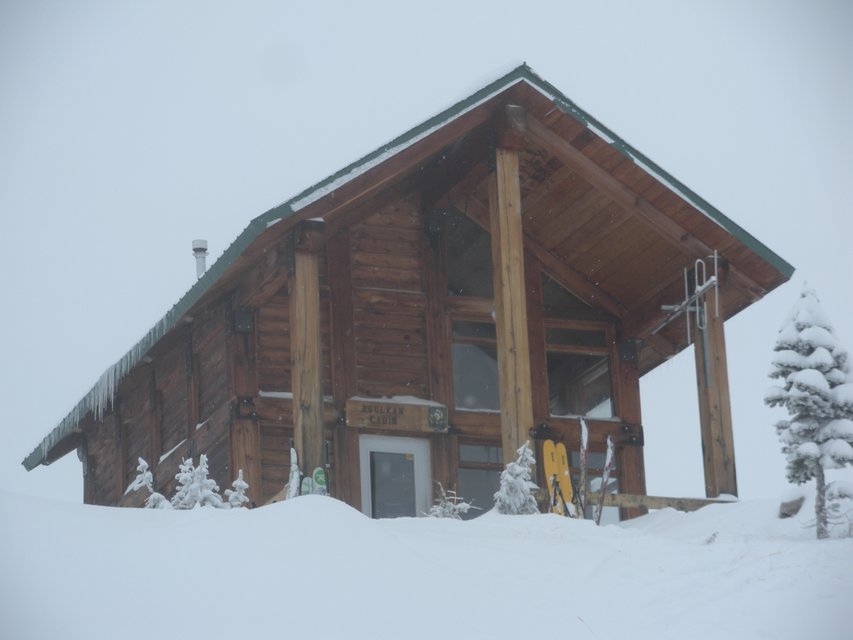 The cabin. 4 hours after leaving the parking lot we finally get to take our heavy packs off and have a rest. This place is really amazing. Situated at 2100M surrounded by glacier covered peaks from 2800M to 3300M, just one of the corners of Rogers Pass.
After a quick break at the hut, we went for a ski before the sun went down for the day. With a tree run below us, and glorious alpine above, we got lured up by a sucker hole in the clouds, the visibility was far from awesome.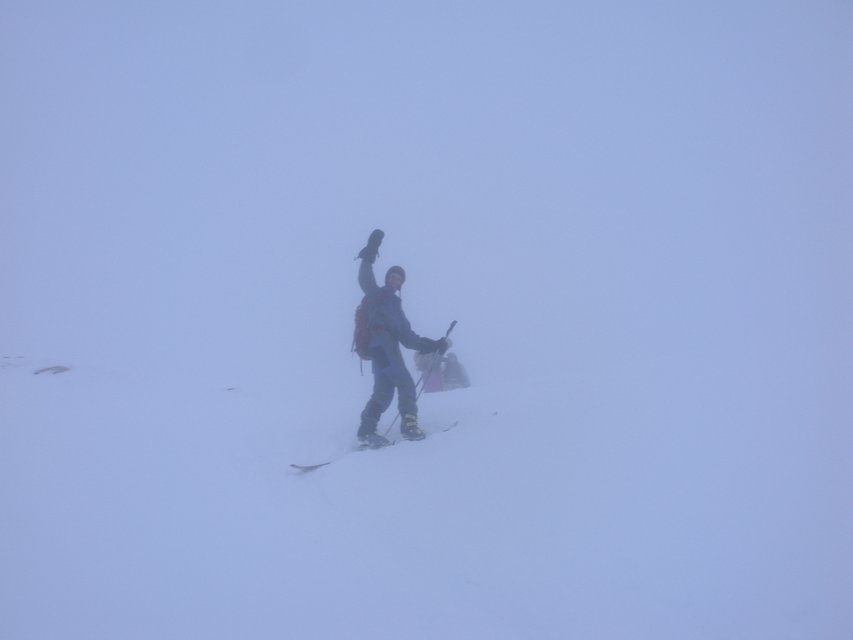 "LETS GO UP!" Says Brace. Yeah, good idea...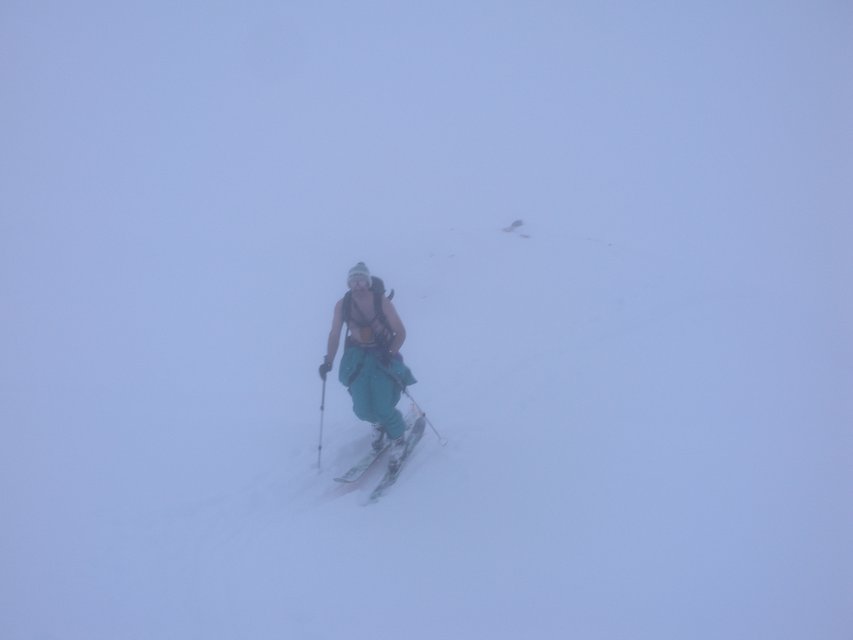 Steve the birthday. Who needs a shirt when you have a one piece? There's no pictures of the ski down because it was straight up braille skiing. Being my first turns of the season, it wasn't great, but a bad day skiing is better than a good day working, or however that saying goes. Right, moving on.
The Asulkan Hut sleeps 12, by the end of the night we had 17 or so in there (a bunch of people showed up throughout the night). It got loose, very loose.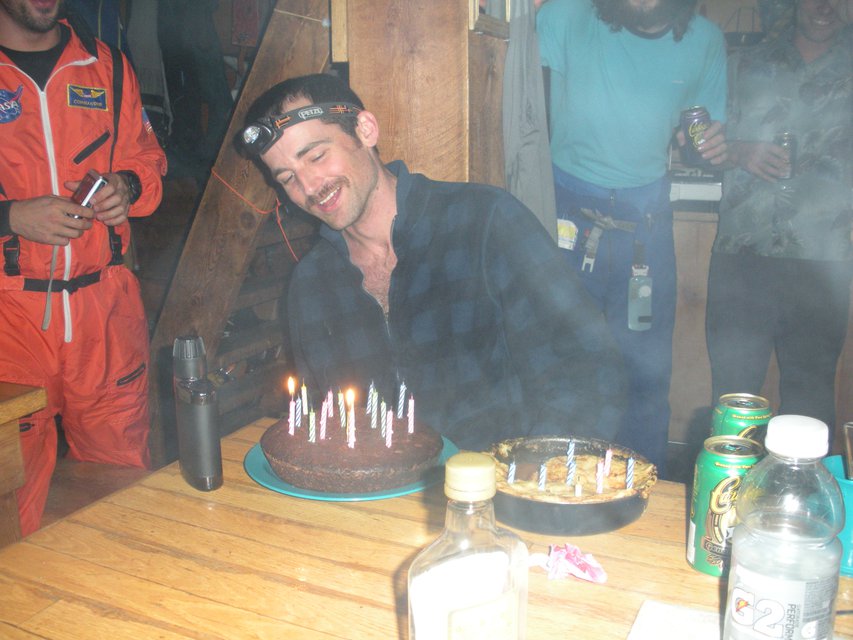 What's a birthday without cake? Yeah, we baked a cake up at the hut, what's up?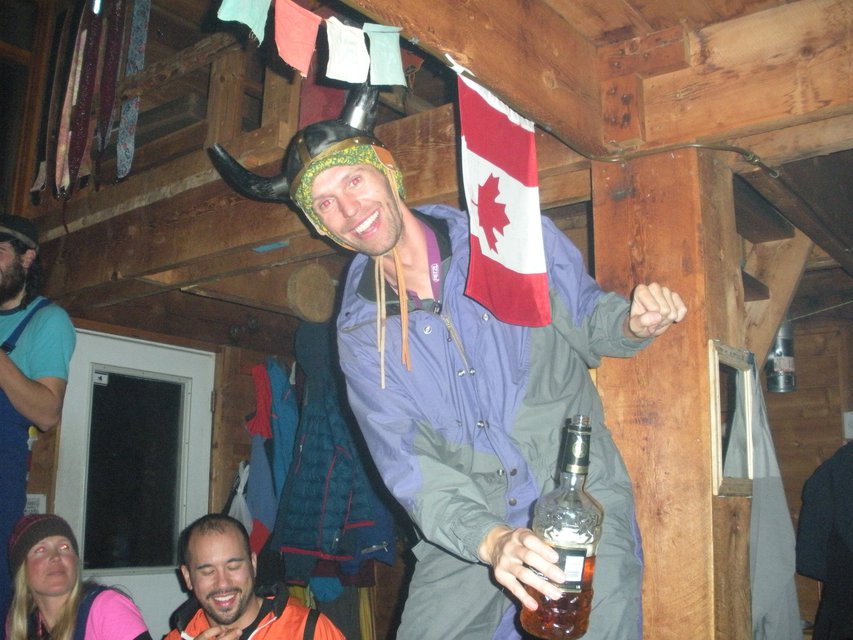 Brace in his viking helmet and one of the many bottles we polished off.
As I said, we got a little loose. Loose enough for ski boots to be a suitable bed for the night. Oh dear.
The moon came out around midnight and a few people went for a night ski. I wasn't feeling it and went to bed. It took them two hours to do what should have been about a 30min lap due to being too drunk to keep their balance on the kick turns while skinning back up to the cabin after their run. Oh dear.
Nothing can cure a hangover like waking up to a bluebird day and you're already at treeline in the middle of awesomeness.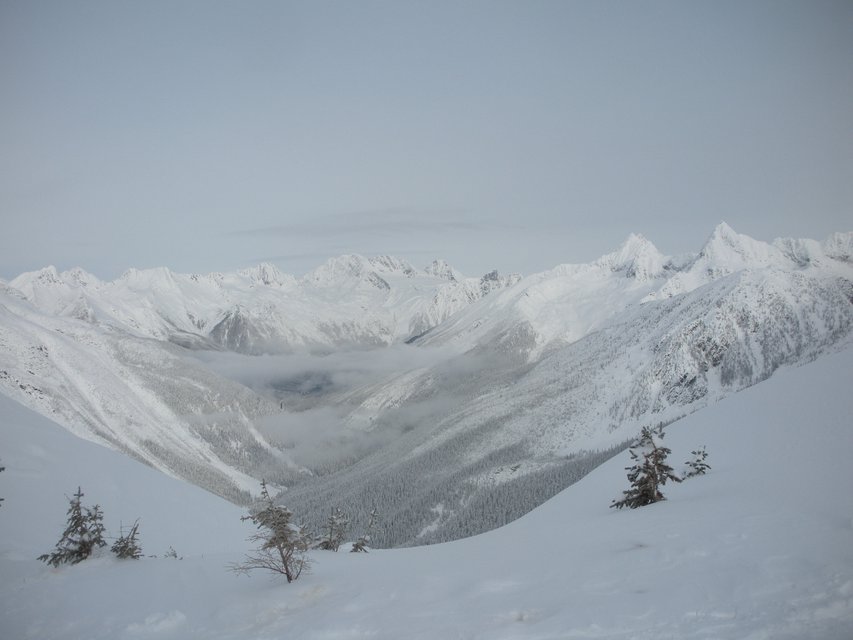 Looking down the Asulkan Valley towards the highway from the hut.
http://www.newschoolers.com/watch/586142.0/DSCN1220-AVI
A quick panorama video of the Upper Asulkan around the hut.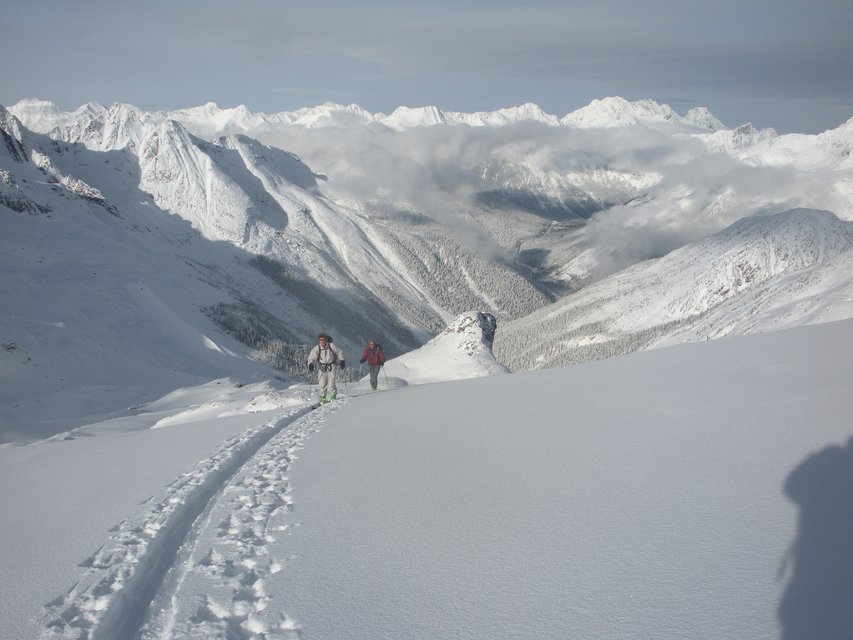 Heading up for our first run of the day.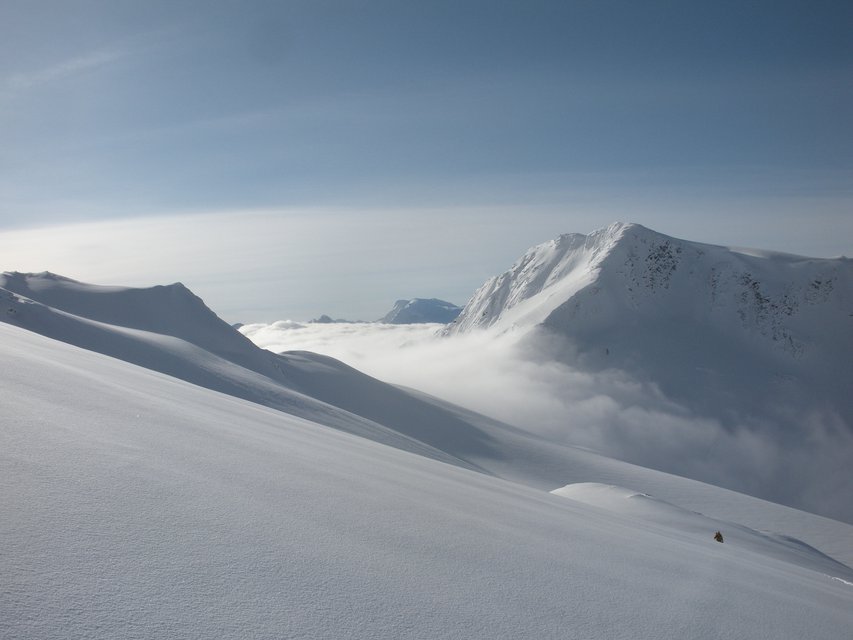 "It's getting pretty scenic up here"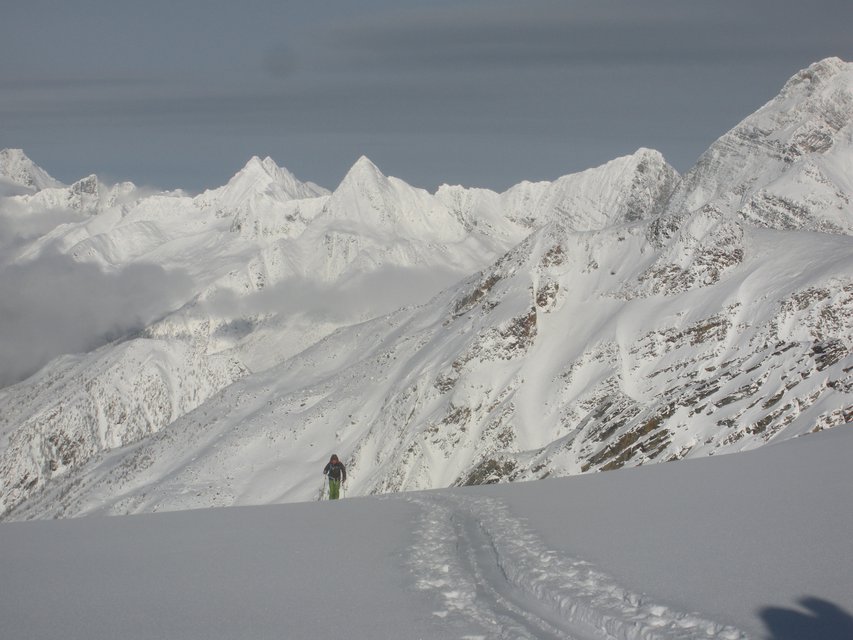 This is Liam. It was his first tour, ever. While driving up Sunday morning from Revy we thought I was a bit silly for doing the Asulkan for my first tour of the year. When we found out Liam was touring for his first time ever, we were super stoked for him. He did good, I know I was impressed.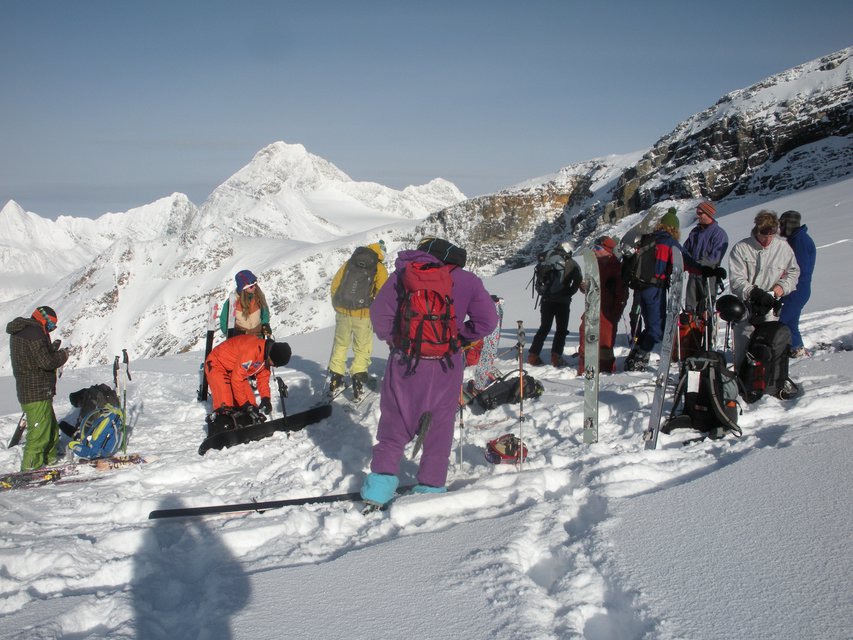 Most of the crew transitioning over. This far exceeds the largest group I've been in the backcountry with. The other groups in the valley during the day must have thought we were crazy (ok, maybe we were a little crazy). A bunch of us wanted to get to the top of Youngs Peak and attempt this chute called Forever Young, but for us to get up the top headwall in a safe manner would have taken an hour or two, not to mention the chute probably only has room for 3 or 4 people, not 15. Some friends from Revy were behind us on the skin track and ended up getting Forever Young by the end of the day. I ran into them on the ski out and was quite jealous.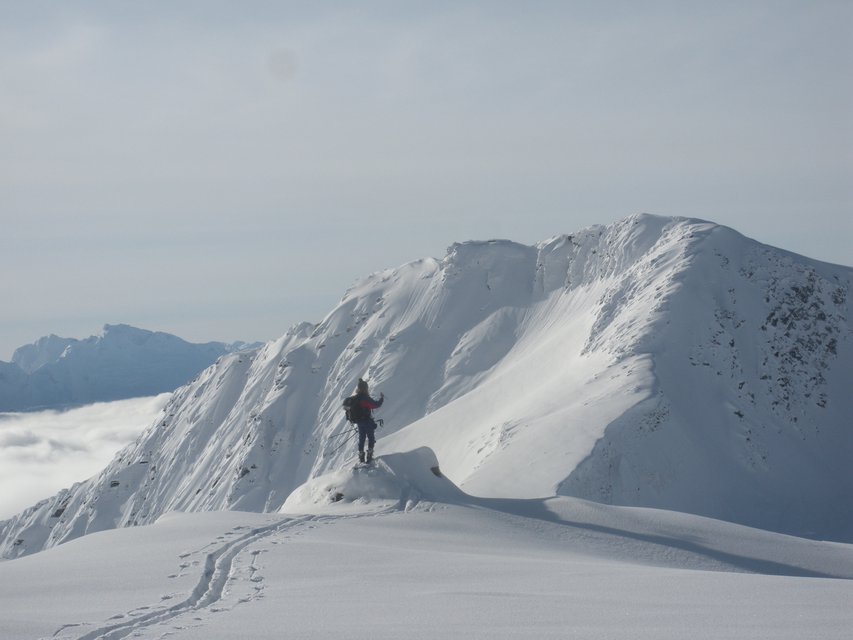 Scenic as shit.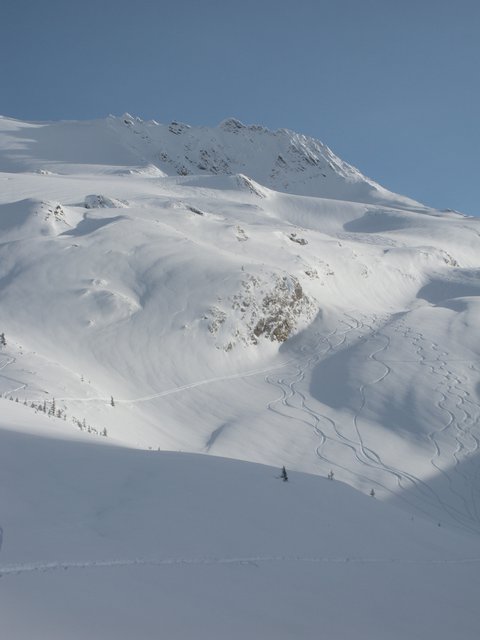 Looking up at Young's Peak and our tracks from our first run.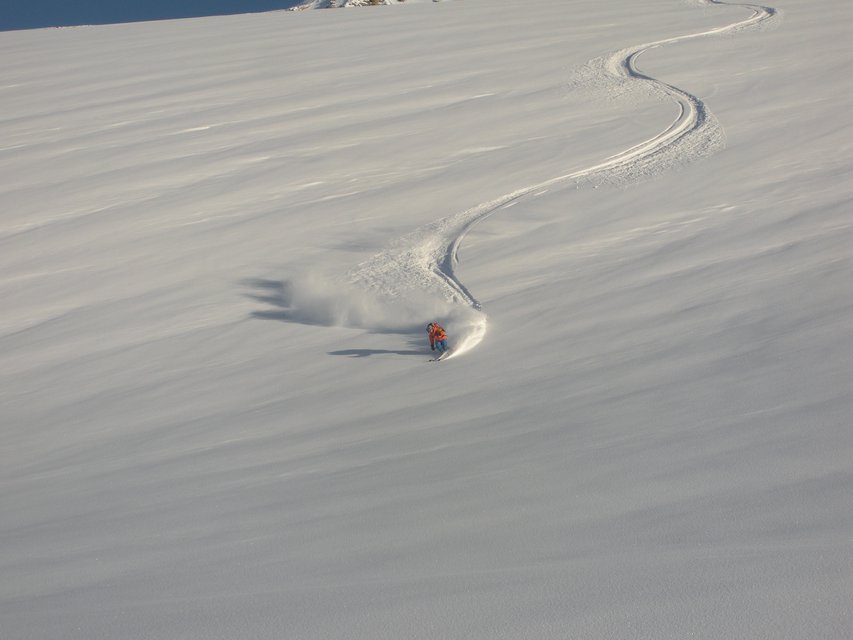 "The powder, it's just so skiable" Kelsey getting some first tracks. I suck at taking actual skiing shots so on our next run I didn't climb the last bench so I could actually get skiing shots. Too bad there's no horizon on this shot or it could have almost been a half decent picture. Oh well, no photography career for me.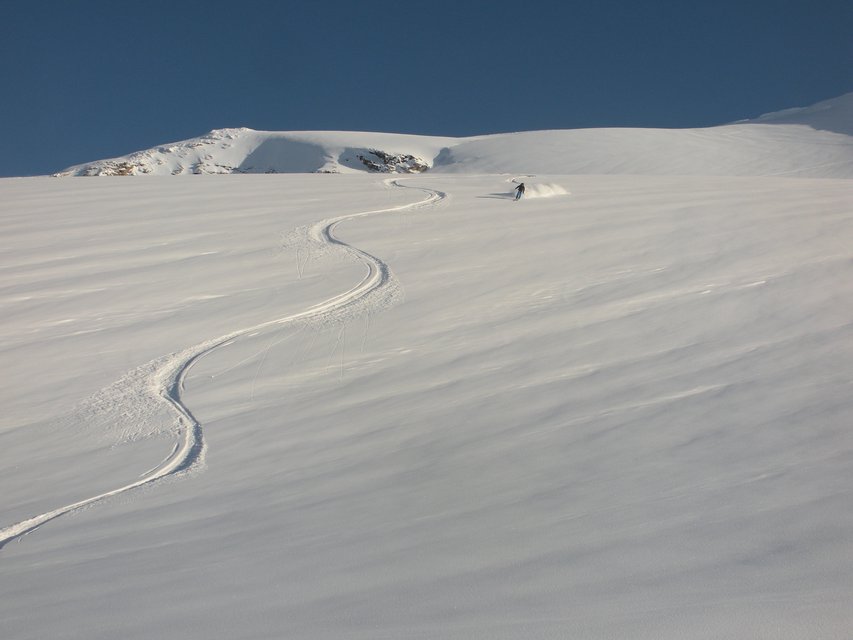 Par following suit.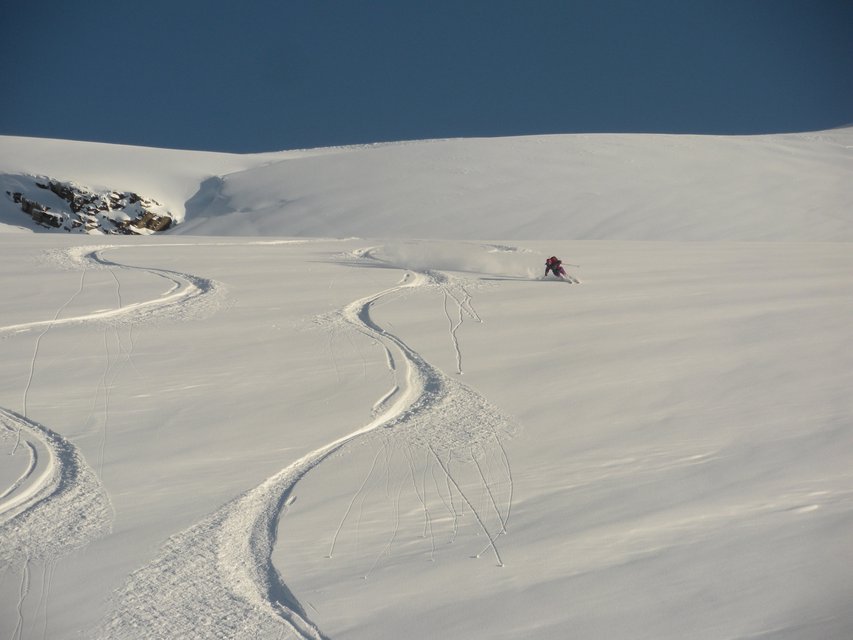 "Rando Race" Brace. He's a machine on the up. Seriously, this guy has drive.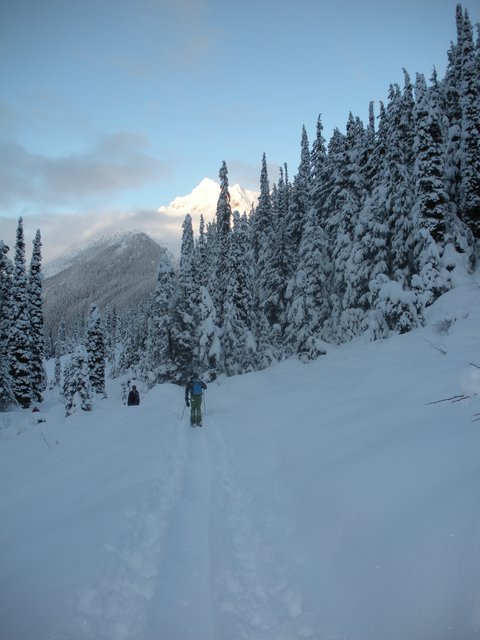 The ski out back to the car at sunset. Next stop, apres beers and half price pizzas at the bar. Thanks for reading this, just sharing the stoke.