PRESS RELEASE
ORAGE EUROPEAN FREESKI OPEN BY SWATCH 2009
TOP ACTION AT THE CRAP SOGN GION IN LAAX: TITLES IN THE SLOPESTYLE FOR CANADIAN KAYA TURSKI AND SWEDISH HENRIK HARLAUT. TOM WALLISCH FROM SALT LAKE CITY SECOND.
(LAAX, SUI – March 20, 2009) – The first decisions at the 4th Orage European Freeski Open by Swatch in LAAX are made: Kaya Turski from Canada and Henrik Harlaut from Sweden are the 2009 Slopestyle Champions after showing amazing performances at the 2200 m high Crap Sogn Gion mountain in LAAX.
Winter is back: Freezing temperatures and cold winds were the difficult conditions for the semifinals taking place in the morning with a mix of invited seeded riders and amateurs from the qualification. For the finals of the best 12 male and 12 female riders the sun came out and the wind calmed down. The innovative slopestyle-course presented itself perfectly consisting of 7 obstacles: The guitar-jib right at the start followed by two quarterpipes, 3 huge kickers and a c-rail at the end.
The women started off showing amazing tricks like Switch 720, 540 and cork 3-6. Winner got Kaya Turski, who came to LAAX for the first time. After her 3rd place at the X-Games 2009 she took away the title at this 50.000 US Dollar event. Keri Herman from the USA came in 2nd. She and the 3rd placed Eva-Maria Patscheider from Austria are "open-riders", who had to go through the qualifications making it to the podium.
Showing a high-level of riding the men's finals enthusiasted the crowd. Henrik Harlaut from Sweden got the highest score from the judges showing a combination over the kickerline with a rightside 720 nose, leftside double cork 1260, switch leftside 9 nose mute. After the prize giving the 18 year old European Freeski Open winner from Are said: "I'm so excited. To win here means a lot to me, now I am one of the best riders in the world. I felt pretty good the whole day, and I am really glad that I landed on top of the podium at this event." Riding for Amplid 22-year old US American Tom Wallisch was ranked 2nd. His team manager Peter Bauer celebrated some podium places in snowboarding here in Laax himself back in the early 90s and was very proud of his rider. Thomas Dolplads from Norway got 3rd.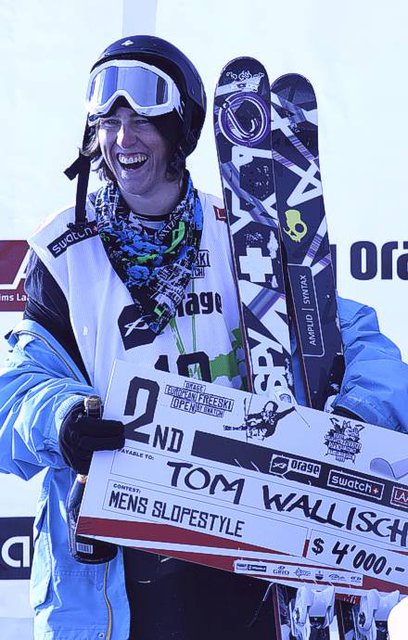 Tomorrow will going to be exciting again when the super-stars like 3-time winner in Laax, swiss girl Virginie Faivre, X-Games Winner 2009, Xavier Bertoni and Worldcup Overall Winner and World Champion 2009 Kevin Rolland will drop in the superpipe. Also the big names Simon Dumont (USA) and Jossi Wells (NZE), who missed with the positions 9 and 8 the podium today in the slopestyle, will take revanche in the halfpipe competition at the 2009 Orage European Freeski Open by Swatch.
Results Slopestyle Finals, March 20, 2009, LAAX:
Women
1. Kaya Turski/CAN – Salomon
2. Keri Herman/USA – Spyder
3. Eva- Maria Patscheider- Atomic
Men
1. Henrik Harlaut/SWE – Ninthward
2. Tom Wallisch/USA – Amplid
3. Thomas Dolplads- Nike