Words & interview by Skye Darden
The Swiss are known for their chocolate, their cheese, and most notably, their timing. Anyone who has been to Switzerland, one of the most beautiful countries in Europe, can't help but seeing ads for their watches, mostly Rolex and Swatch, along with their handy Swiss pocket knives (although I would take a Leatherman over them any day, just saying...). But the Swiss are also steeped in mountaineering history, and as a result, the evident rise in freestyle and big mountain athletes is not a surprise.
Nicolas Vuignier, from Crans Montana, Switzerland, is not your typical pro skier.  The 20-year-old is extremely soft spoken and poses some of the same kind of skills that you'd find in a computer analyst. I'm not calling him a geek, but he is very smart and creative, two traits he demonstrates time after time when working on the profession that is his life, the sport of skiing. And it's when he clicks into his skis that he begins to really show just how creative and stylish he can be.  Switzerland is home to a group of new and up-and-coming stylish skiers, a trait reinforced by one of its own, and one of the true godfathers of style, Mickael Deschenaux, who hails from Morgins, Switzerland.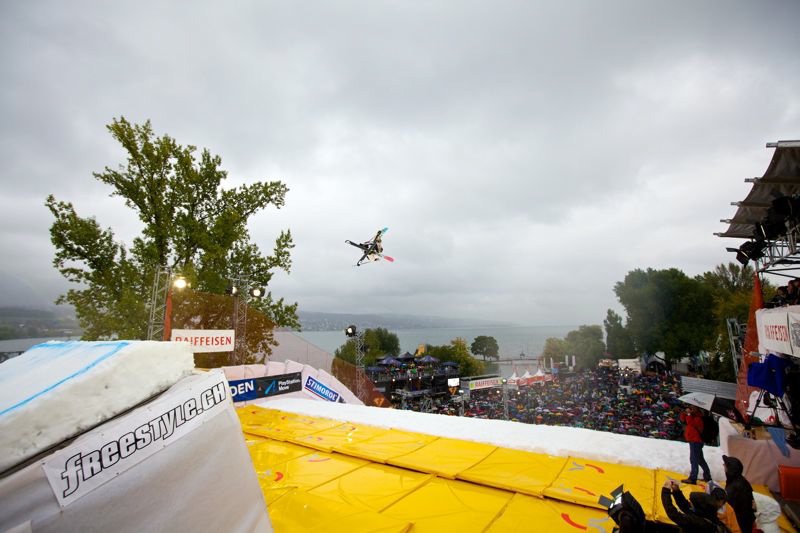 Freestyle.ch in Zurich, Switzerland
I remember as a team manager back in the day, at Freestyle.ch in Zurich, Mickael told me to keep an eye out for this then 16-year-old talent. Already Nico had been one of the first riders to start doing a shifty at the end of his tricks, instead of opening up to control his landings. I'm not saying that he was the first to do it, but I truly believe that his were some of the best on the scene at that time, and ended up influencing some of the world's best riders who were there competing against him.
It was clear to see that the Swiss skiing and snowboarding scene had a profound effect on Nico, his brother Anthony, and the Crewstacez and Awone Film crews that he shoots and rides with. Since those earlier years at Freestyle.ch, I have gotten to know Nico well and have watched this very talented young man progress. I recently had the chance to ask him some questions about his style, his influences, The Survival of the Fittest event he helped put on, and much more...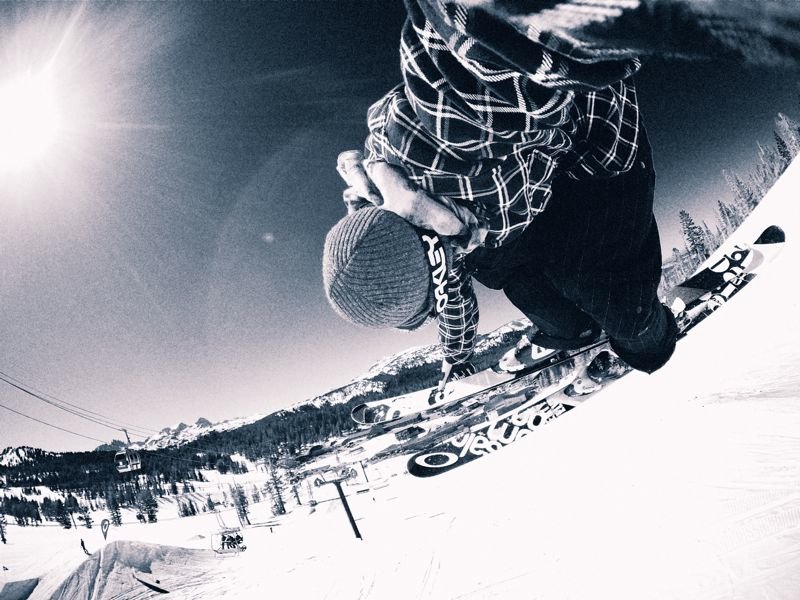 Mammoth, California
You were at JOI this year. How was that experience?
I had such a good time in Åre, it was really cool to hang around with everybody out there. The whole week was pretty much a party! Because of the bad weather, we couldn't hit the jump as much as we were supposed to, so we ended up spending more time eating burgers and partying than we did skiing (laughs).
I'm not trying to set you up, but you are a very style-focused skier, so I'd like to get your true opinion about all the triples that went down in Åre.
It was pretty unreal to see triples after only 40 minutes of training, and what amazed me most about it was seeing some of the guys just go for it and having the balls to try it. But to me triples are a bit too much. The line between aerials and freesking is getting blurred with that kind of technicality. I think triples are something that you can try once to push your limits, but it should stop there. I just hope it doesn't become the next trend, because to me that kind of stuff is a whole other sport than the one I do.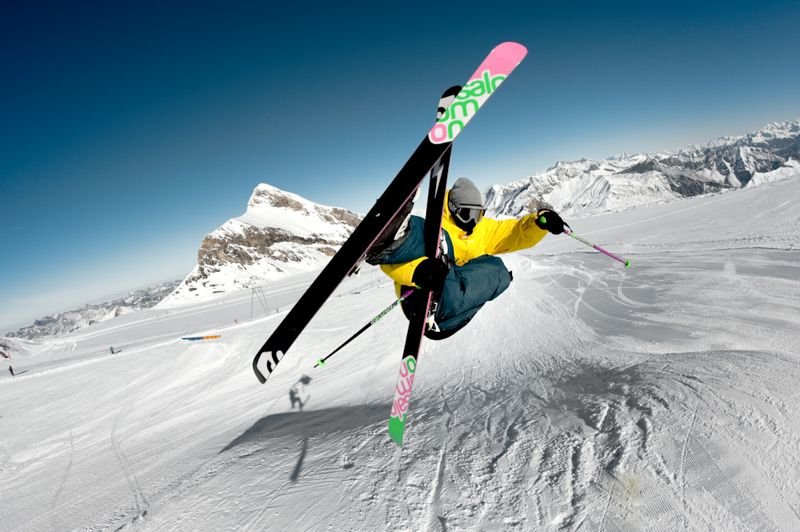 Les Diablerets, Switzerland. Photo by Cordey Michael
With the Olympic inclusion of both halfpipe and slopestyle skiing, how does this affect the opinion of the average Swiss skier about our side of the sport and its lifestyle?
It hasn't changed a lot yet, but I think it will soon. The Olympics are still a few years away, so there haven't been any big changes yet in the average Swiss skiers' opinions, but I think they're going to start caring a lot more about it one year before the Olympics, because it's going to get much more presence in the mainstream media, so it will definitely shake things up a bit. The Swiss Ski Federation has put together a great team in charge of the Swiss freeski project, with mainly people from the scene, and they even hired me as an intern for the winter. The ski federations have a big influence on the mainstream media, as they pretty much decide what they want freeskiing to be in their country, so I think the direction the Swiss Ski Fedeation is going in is a really positive thing for the sport.
The videos from The Survival of the Fittest comp were super sick, and I know you were helping with that event, so in your opinion, what makes that contest so different than the others?
The format is one of a kind, with 15 riders at the start and after each run the two worst riders get eliminated, until there are only three riders left for the two final runs. You can't do to the exact same trick twice, and you have to land every run. The whole concept was based off of the Theory of Evolution by Charles Darwin.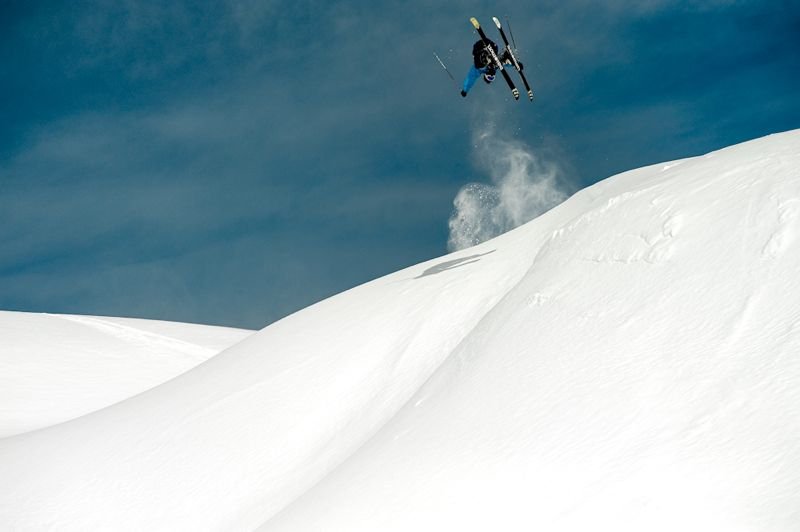 Crans Montana, Switzerland. Photo by Cordey Michael
What was the vibe from the riders like in Crans Montana when the event was going on?
This year we tried to invite some different riders that you're not used to seeing in comps. We didn't want to do just another big air event with the same riders who always get the money in the end. The vibe was great, and everybody had fun, so that was all that mattered.
Crewstacez, your film crew, has been around for a few years now and is considered one of the first crews of that sort from Switzerland. Tell us more about them.
Crewstacez is something we started back in 2004. We always wanted to create a filming crew, but didn't want it to be too serious, so we came up with a totally lame name, created a website and started making edits. And since last year we associated ourselves with our friends from Awone Films to create a movie, and we're planning to do the same this year.
The Mixtape 2010 from CREWSTACEZ.COM on Vimeo.
It seems that your brother Anthony has had a huge impact on your career. How has he influenced and helped you and your skiing?
Since we were kids we always skied together; he thought me how to do a 360 when I was eight years old (laughs). One day my uncle showed us a report about the New Canadian Air Force on TV. From that day on we knew that was what we wanted to do and we kept on progressing together. If he wouldn't have been interested in freeskiing I'm sure I wouldn't be where I am now, so I owe him big time!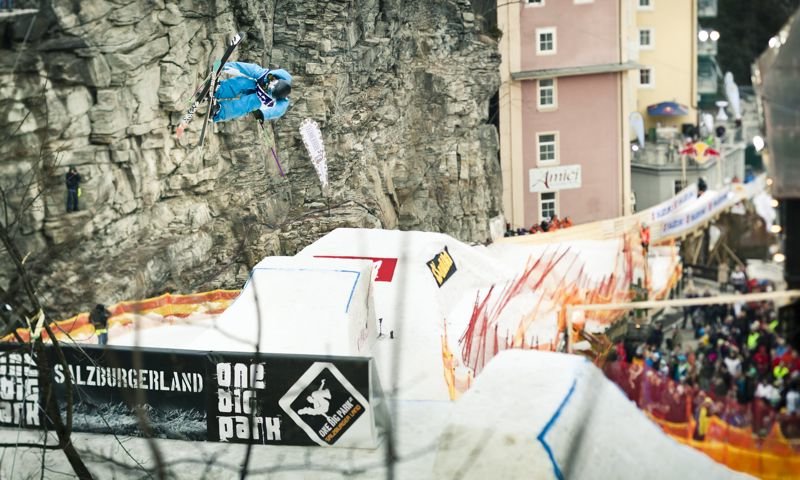 Red Bull Playstreets. Photo courtesy of Red Bull Content Pool
What direction would you like to see skiing head in the future?
I would like to see more creativity, and more individuality. These past couple of years we pushed the technical side of the sport so high and so fast. In terms of tricks, we are now at the same level as snowboarding, which started 10 years before freeskiing, so I feel there are some essential things that we skipped during that process. I think the Olympics will shake things up a bit, so I'm curious to see what's next, and I think there will be a lot of positive things coming out of this.
Any shout-outs?
Shout out to my family, my friends, my sponsors and all the people that support me! Also check out my website at http://www.nico.vg.
Nicolas Vuignier shredding Mammoth from CREWSTACEZ.COM on Vimeo