Words by Christine Wüthrich
Photos by Ruedi Flück
21 riders, including up-and-coming talents, demonstrated a true display of talent and skill in the Snowpark at Glacier 3000 in Gstaad, Switzerland this past weekend at the Glacier 3000 Invitational. Each of the participants fought hard to get the most points possible during the slopestyle competition, which is now recognized as an Olympic sport and was a significant factor for those riders looking to compete in the Olympics one day. The event, which took place on natural snow, opened the winter season in Europe and gave riders a chance to see how well they were performing compared to others at the start of the season.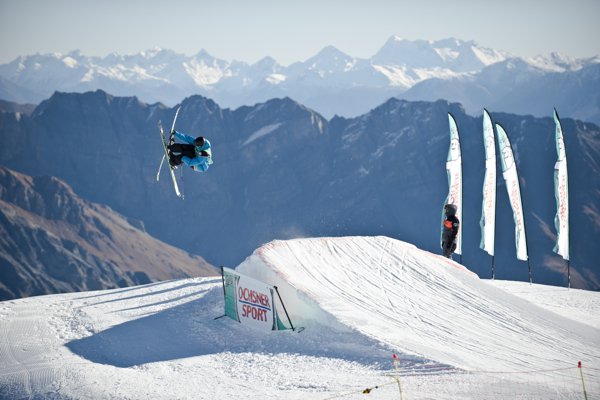 Nicolas Vuignier
Prior to the event, the Swiss Freeski Open (which is part of the Swiss Ski Federation's National Tour) went down, where the top 12 riders (lead by Christian Bieri, who won the event) qualified for the Invitational.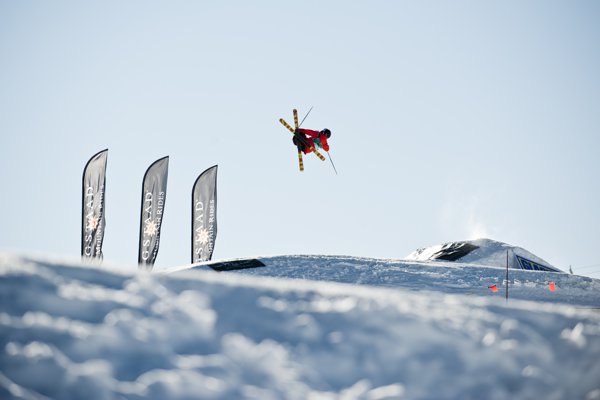 Christian Bieri
The contest was carried out in two runs, and in the end, it was Elvis Eidsvold Harsheim from Norway who received the most points from the judges. The 20-year old rider performed brilliantly with a switch 900 tail grab in his run, which helped earn him the title of "King of Glacier 3000" and 3,000 Swiss Francs in prize money. "I am super happy," said Harsheim. "The first final run was almost perfect and the weather and well-shaped park were great." Second and third place went to Swiss riders Laurent de Martin and Christian Bieri, respectively.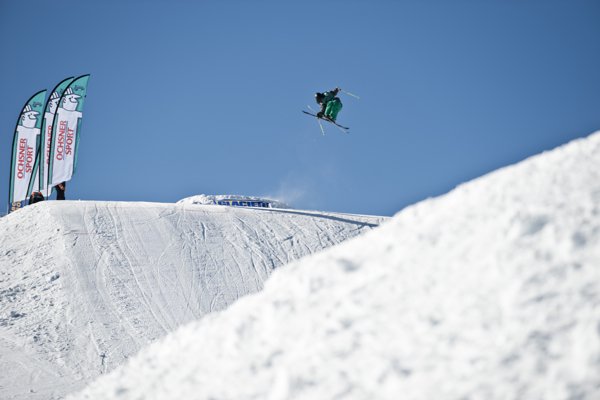 Elvis Harlsheim
Organizers of both events were very pleased with how well the competitions went at Glacier 3000. Conducting these two events at the same time drew in a great mix of riders, ranging from experienced professionals to young rookies. Especially well liked by the riders was the length of the park line, which gave them the chance to demonstrate the various aspects of freeskiing, and the spectators the opportunity to enjoy a fantastic show in this beautiful alpine setting.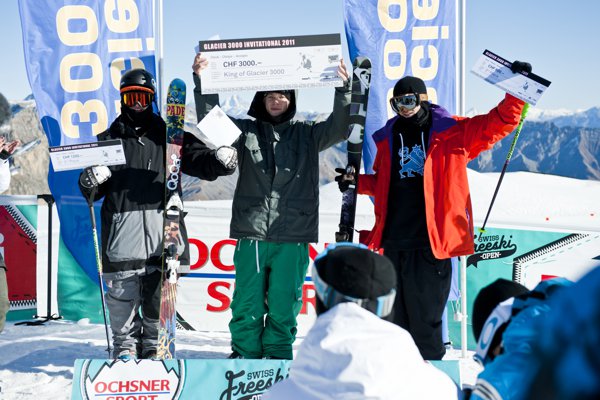 Glacier 3000 Invitiational Results
1) Elvis Harsheim
2) Laurent de Martin
3) Christian Bieri
4) Yannic Lerjen
5) Cyrill Hunziker
6) Fritjof Fredricsson
7) Jeremy Pancras
8) Alexandre Neurohr
9) David Ortlieb
10) Nicolas Vugnier
Swiss Freeski Open Results
1) Christian Bieri
2) Laurent de Martin
3) Alexandre Neurohr
4) Yannic Lerjen
5) Rico Schuler
6) David Ortlieb
7) Cyrill Hunziker
8) Alex Chabod
9) Till Matti
10) Sami Ortlieb
11) Alessandro Jossen
12) Bastien Barmaz
13) Manuel Manca
14) Thomas Barnier