http://www.newschoolers.com/watch/744168.0/Suzuki-Nine-Knights-and-Suzuki-Nine-Queens-Trailer
Since 2008 the simple idea behind this media event has remained the same. Carving out a life-size snow castle creating a unique obstacle in a breathtaking surrounding and inviting some of the world's best athletes, photographers and film makers for a week long super session.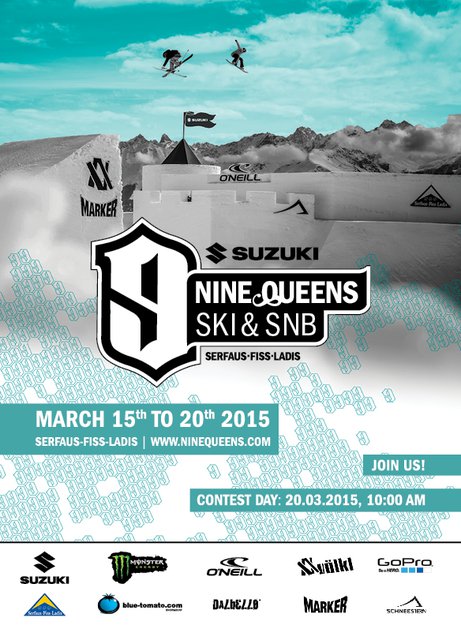 Suzuki Nine Queens Ski and Snowboard
Serfaus-Fiss-Ladis, Austria
Dates: 15th – 20th of March 2015
Public Contest Day: Friday 20th March 2015
The 5th edition of the Suzuki Nine Queens will see an elite crew of female skiers and snowboarders session the giant setup in the picturesque setting in Serfaus-Fiss-Ladis in Austria, from the 15th-20th March 2015. Sunset and sunrise shoots during the week, will lead up to the Big Air Contest on Friday 20th of March, a day not to miss.
More information on www.ninequeens.com and on facebook.com/ninequeens.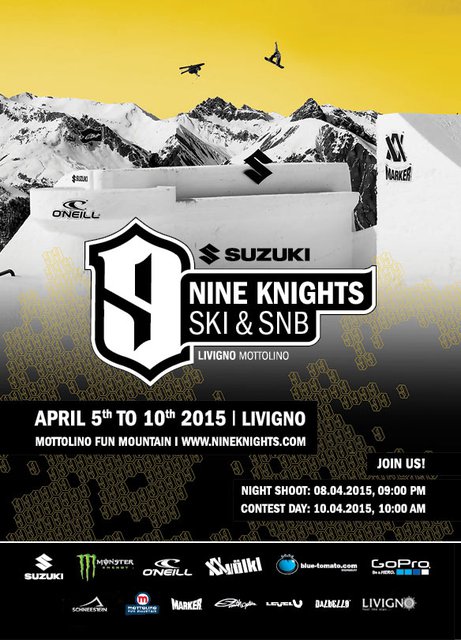 It's official, the Suzuki Nine Knights will for the first time see snowboarders ride side by side with the skiers at the infamous "Il Castello" on Mottolino Fun Mountain in Livigno from the 5th to the 10th of April 2015. The multifaceted feature will again push the boundaries of snow construction, and surprises are to be expected. The public night session is set for the 8th of April, last year saw 4000 spectators climb on top of the mountain to watch the lit up spectacle. The Contest Day, a true battle royale will take place on Friday the 10th of April.
More information on nineknightssnow.com and on facebook.com/nineknights
Part of the event series is also the summer time Suzuki Nine Knights MTB, featuring top level freeride mountain bikers during a week 31st August– 5th September 2015 on Mottolino Fun Mountain, Livigno, Italy.