Blogging to let everyone know that we have locked on dates for the SURFACE X SKULLCANDY WEEK here at Windells Snowboard, Ski and Skateboard Camp. This week will celebrate and promote a new line of collaboration skis, poles and of course, headphones that they have been working on all spring. Put these dates on your calendar and spread the word…!!
SESSION #6 which is July 26th – August 2nd (entire week will be loaded with on and off snow events, contests etc.)
FRIDAY JULY 30th is the main event featuring a legendary Bay Area rapper.
Additional News Below.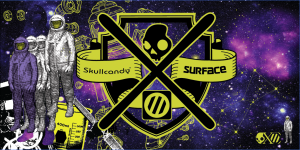 Salt Lake City, Utah – Jun
e 2010 http://www.surfaceskis.com/skullcandy
Surface Skis, the fastest growing brand in freeskiing, which is the fastest growing segment in all of snow sports, is pleased to announce their partnership with Skullcandy, leader of core audio products. The partnership consists of three co-branded snow skis, poles and matching Skullcandy Icon 2 headphones for each ski graphic. An official launch party will be held this coming July at the Windell?s Ski/Snowboard camp in Mt. Hood, Oregon.
Surface Founder/President, Mike Schneider commented, ?Watching Skullcandy evolve the last few years has been a huge inspiration to our brand. We are honored to have an industry leader like Skullcandy choose us for a collaboration of this magnitude. This collaboration is the first of its kind in the ski community and we are excited to see what emerges from here.?
Follow Surface and Skullcandy the entire month of July while they are Mt. Hood promoting the collaboration with daily updates on Skullcandy.TV, Twitter and an official launch party at Windell?s Ski/Snowboard Camp featuring a surprise-guest hip hop artist the last week of July.
Look for SRFC x SKDY products at your local Skullcandy or Surface dealer or contact: skullcandy@surfaceskis.com
View the SRFC x SKDY products at http://www.surfaceskis.com/skullcandy
"Skullcandy was born on a chairlift – This collaboration with Surface was just meant to be.. We are beyond excited to partner with a company that shares our same beliefs and passion for the snow. We hope everyone else enjoys the hard work that has gone in to this project as much as we will this winter."
Dan Levine ? Chief Merchandising Officer, Skullcandy
No related posts.