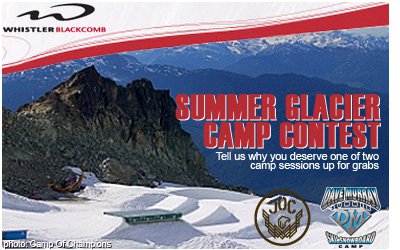 WHY YOU DESERVE A SUMMER GLACIER CAMP AT WHISTLER BLACKCOMBWhistler Blackcomb, Camp of Champions & Dave Murray Summer Ski & Snowboard Camps are giving away the farm this summer, offering up 2 free summer glacier camp sessions for the Newschoolers.com users who can pony up and tell us why they should be at a summer glacier camp this summer, and show us just how desperate they are to get there.Check the official contest page here!With record breaking snowfall this winter and a huge snow base still chillin' on the runs, glacier camps on Whistler Blackcomb's Horstman Glacier are pretty much going to rule it this summer.It's the place to be. The birthplace of cool. And not just the kind of cool you're thinking of—though there's plenty of that. It's more the kind of cool that comes with getting a jump on the newest tricks and trends, year after year. From riding and learning with the hottest pros in the sickest summer parks on the planet. From chilling out in the sun when it's sweltering in the valley. And with this season's monster snowfall to top things off, no other resort will come even close to our summer conditions. That's a whole lotta cool. Over 10 camps to choose from. Check us out June 4 to July 29.HOW TO WINTell us why you want to be here and how desperate you are to win, and if we pick you, you're one glacier camp richer. Dang meng, joo gonna pass that up? There's 2 sessions up for grabs – from Camp of Champions & Dave Murray Summer Ski & Snowboard Camps.Write, photograph, record, sing, rap, draw, film – whatever floats your boat. Email Newschoolers.com your entry, and every week we'll be featuring our favourite picks. The sooner you get it in, the time you have to hype it in the forums and the longer it'll be featured. Contest ends May 7th, 2007. Be creative, keep it clean, and don't beg. Lets see some quality antics.Simply send your entries to iwannagotosummercamp@newschoolers.com. Attach your photos, audio clips, text, or whatever else you can shove in a max 20 MB e-mail and presto, you're entered! Don't forget your NS username too! FEATURED CAMPSWhistler/Blackcomb is home to some of the best summer snow camps in the world, and the following two have ante'd up with a free camp session for our contest winners!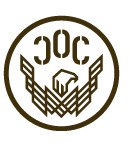 Camp of ChampionsCamp of Champions is the camp that started it all. Since 1989 we've been obsessed with taking your skills to the next level and building the best summer terrain park possible. Coaching freestyle snowboarding, new school skiing and now downhill mountain biking, the Camp of Champions has the largest, private summer park in the world. In 2006 pro skiers and coaches commented that it was the "first summer park to feel like a winter park" with more lines and flow than any other summer camp's park. World famous pro coaches, lift accessed jumps, rails, and private pipe, including free after riding activities like paintball, wakeboarding and Skatepark tours. No other camp comes close to the ultimate camp experience that is The Camp of Champions.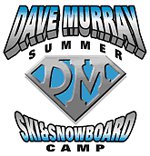 Dave Murray Summer Ski & Snowboard CampsThe Dave Murray Summer Ski and Snowboard Camp is North America's longest running and constantly evolving ski and snowboard camp. It is the original Snow Camp in North America and been the model for all others, offering snowboard, ski race programs, and "New School/freestyle" skiing. To do this, we have included amazing terrain including, pipes, a progressive terrain park for all ability levels, and groomed race lanes. The madness doesn't stop off the hill either with the largest suites in whistler and over 30 free activities including bungee jumping, mountain biking, paintball and wakeboarding.RULES & REGULATIONSFor full details, eligibility, rules & regulations, click here.