This spring, as the last flakes fell on a memorable winter of deep pow, I traveled back to Boulder, CO as I always do to prepare for a summer working in the "desert" heat.  Despite many good reasons for being depressed, I managed to hold onto a thought that worked to keep my spirits high:  I would once again be able to press ahead with my unfinished mission to ski all 34 Indian Peaks.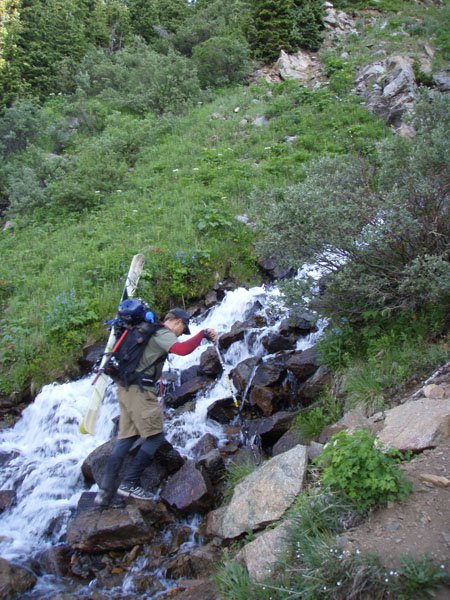 Crossing a Stream Down Low
In the winter, the Indian Peaks can be truly vicious.  Due to wind speeds that were often recorded well over 200 mph (second to only Mt. Washington in New Hampshire), treacherous avalanche conditions, and relative remoteness, few people attempt any ski descents.  My season usually starts in May at a time when the weather can be much more reasonable and the snow has been consolidated for the first time all winter.  Soon thunderstorms and rock fall become much more of a concern than avalanches and frostbite.  What doesn't change with the season is the unavoidable distance one has to travel by foot in order to access any of these lines.
Hiking up  Arapahoe Pass
Many of the Indian Peaks are accessed from the Brainard Lake trailhead.  In the late spring the road leading into the park will be clear of snow, but still closed to motor traffic.  I have walked the 2½ mile stretch of flat paved road many times…frustrated I could not roll along on some sort of wheeled mechanism.   This year I finally did something to solve the problem.  I realized that bicycles are the way to go.  Or better yet, chopper swing bikes!  It's all about enjoying the approach, after all.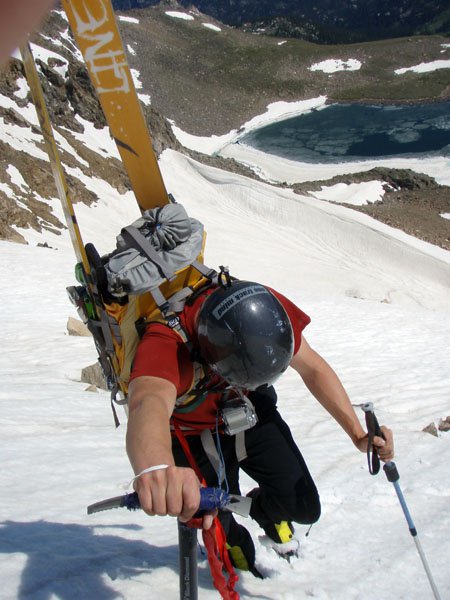 Jeff Bootpacking Up Nieva Peak
Local riders may notice that not all the lines in the video are shot in the Indian Peaks.  Regardless, every one represents a huge undertaking with an average of 12 miles round trip.  Distance and weight are the challenging factors when skiing these lines.  I'm all about getting as gnarly as possible but sometimes going and returning without incident is enough.  Falling or getting hurt is not an option when the snow turns to dirt six miles from the car.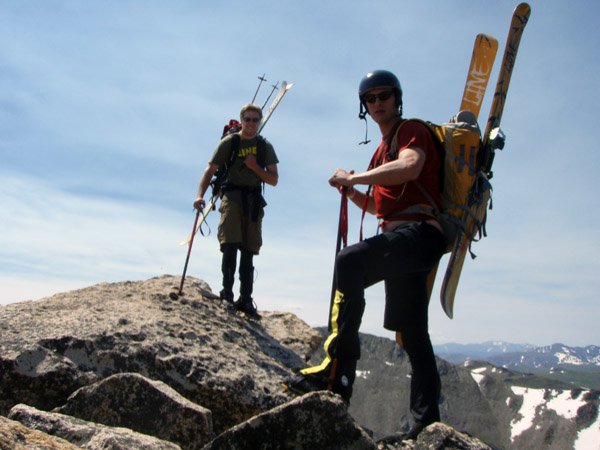 Zack and Jeff on the Summit of Nieva Peak
I had a realization as I got closer to accomplishing my goal and began to look at skiing the more obscure peaks.  The only way to ski some of them is to be there in the early spring after a relatively heavy snowstorm.  The snow base is at its highest point in March, well before the safety of the spring set.  When working through the many challenges of a wintertime ski descent, the hardest part can be finding a partner that is willing and able to go.  This year I relied on the help of Jeff Barnow, Austin Porzak, Bo Burris, and JC. Without their companionship none of these mountains would have been skied.  We were also privileged to have mountaineer Glenn Porzak (a pioneer of the Indian Peaks wilderness and the rest of the world) show us the ropes on a few of these climbs and explain to us how weak our ski efforts were compared with what he and his buddies did back in the 70's.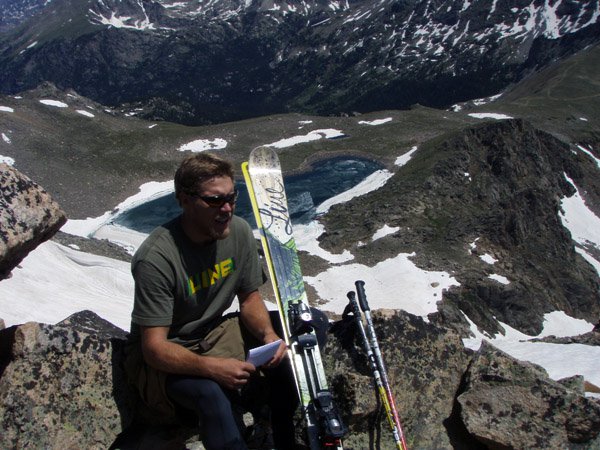 Zack on the Summit
While I've managed to ski many of the largest peaks in the range, I still have over half to go.  But like a good book I'm not really looking forward to the end.      
-Zack Giffin
Check out the video: http://www.lineskis.com/#/skiers_union/videos_and_stories/55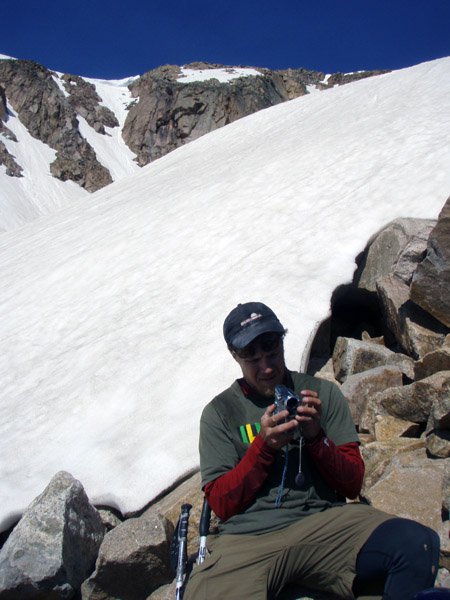 Zack checking out the Footage