Words by Jeff Schmuck
Photos by Jeff Schmuck & Jason Mousseau
Sun, sun, sun and more sun. That's been the name of the game in Whistler since summer began as the Horstman glacier has been blessed with some of the best weather in the history of summer camps.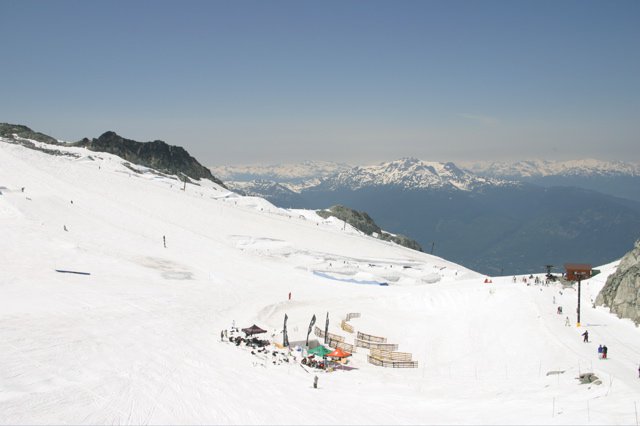 Session 1 at COC and Momentum is in the books with session 2 now in full swing. The village of Whistler is jam packed with stoked campers and needless to say, they're out in full force on the hill, where the sun has put everyone in a more than jovial mood, most notably on Canada Day, where good times were had all around both on and off Blackcomb.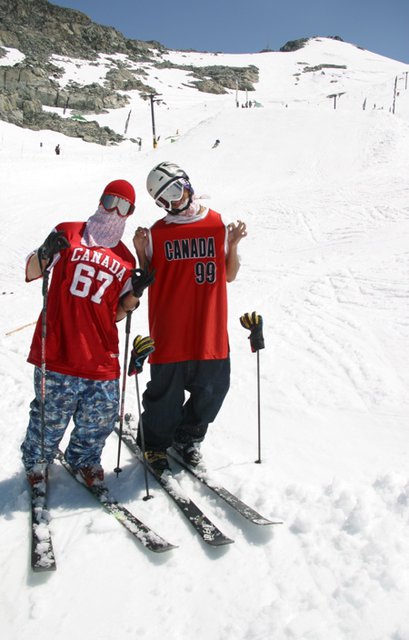 Justin Dorey and Ian Cosco repping the best country in the world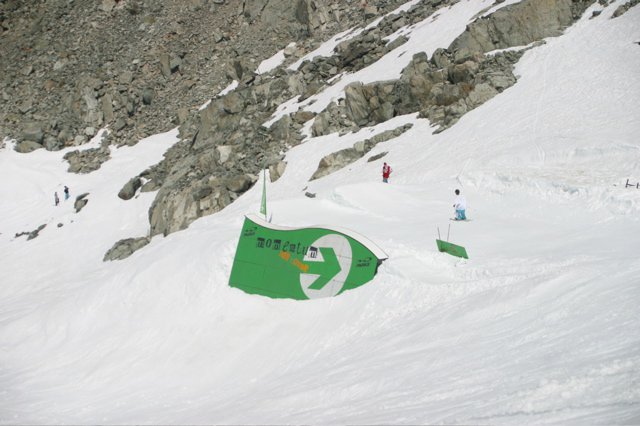 the legendary wallride is ready to be slayed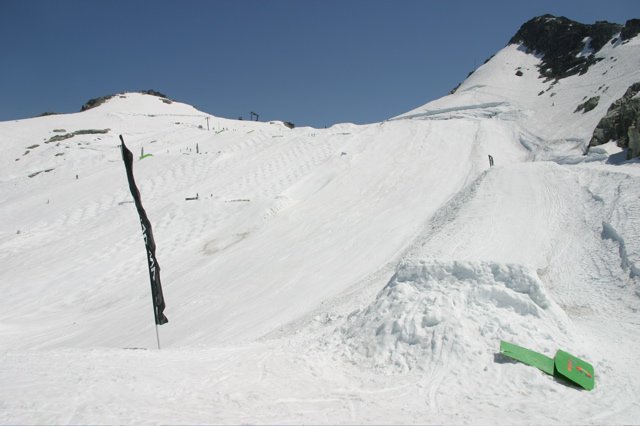 the jump line
Momentum has their wallride up and TJ's jumps have been sculpted to perfection, and as expected, many a sessions have been going down on them in the old High North lane under the advice, guidance and direction of camper favorite and the man, the myth, the legend, Chris Turpin.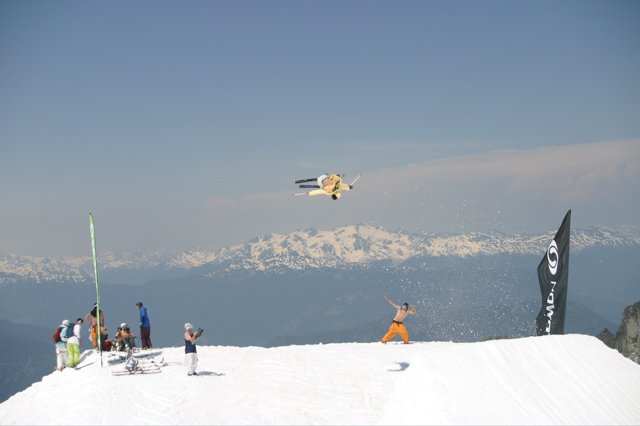 Dane Tudor's finesse, Chris Turpin's muscles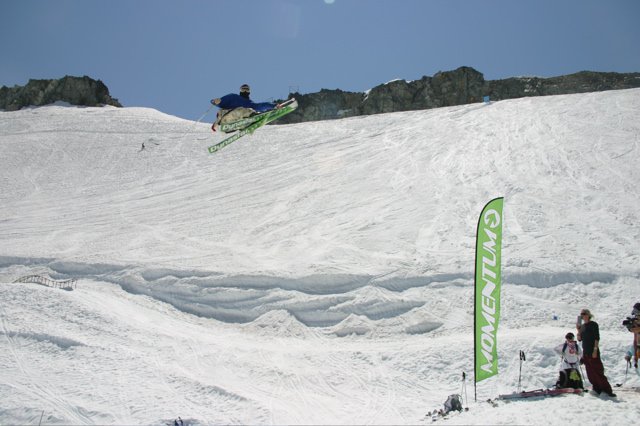 style = Jon Brogan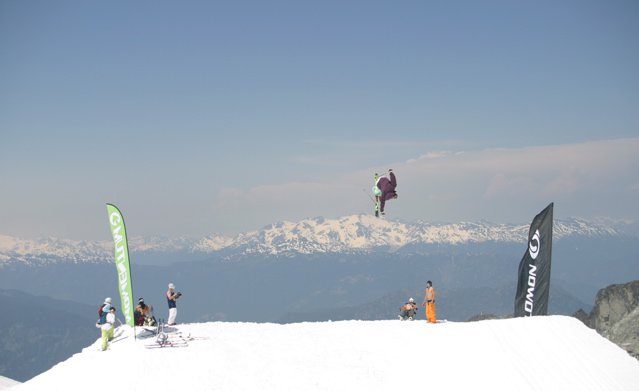 Momentum camper and future force to be reckoned with Alex Berg
And speaking of TJ, one of the brightest sights on the glacier was seeing him back on skis after being sidelined all winter with a torn ACL.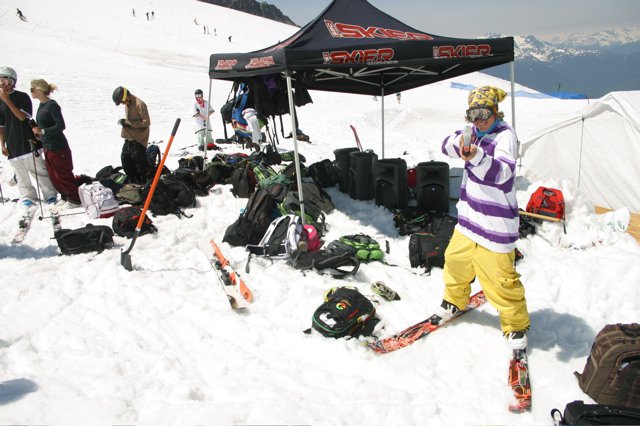 Welcome back TJ!
Momentum saw two very special guest coaches this week in none other than the infamous Peter Olenick and the character of all characters, Mr. Colby James West.
Colby on his old stomping grounds
The two High North alumni were super stoked to be back on the glacier with the kids and admitted that although it feels a bit odd that High North is gone, they're pumped on Momentum's picking up of the slack.
"It is a little weird to look over there but it's good to see Momentum taking care of what High North use to be and creating something that's been so much fun to ride on," says Pete. "I'm just so stoked to be here. It's been sunny the whole time which is unbelievable because I've never seen that here in all the summers I've been. So we've just been having so much fun on the hill and off the hill with going to the lake, hitting on girls, skiing our brains out and just having tons of fun.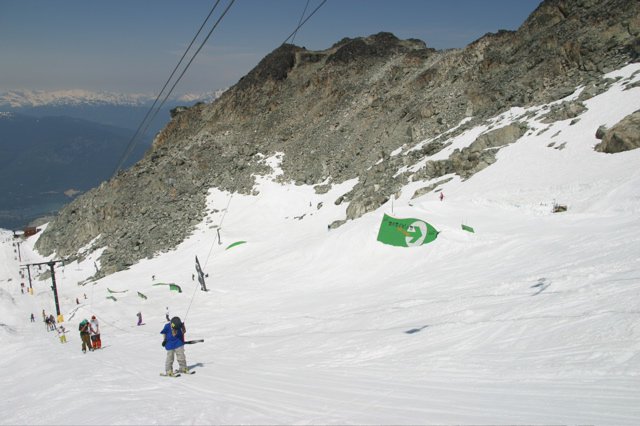 Momentum
Equally stoked is Momentum's head coach Trennon Paynter, who called this year the best summer in recent memory.
"Camp is going awesomely, spectacularly, stupendously, wickedly great. Everything is awesome. The wallride is up and the jump line has been lined up perfect with the big super stepdown into the stepover. People have been going crazy on it. I saw Colby 180 the stepdown and it was one of the sickest things I've ever seen. Everything this summer has been pretty much just jammed packed full of goodness."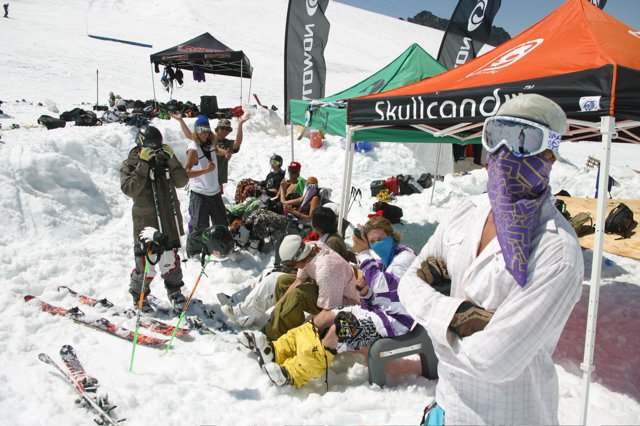 Trennon and his crew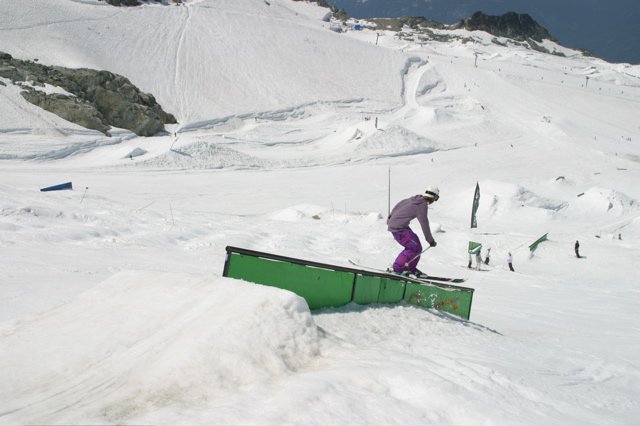 Guess who else is back...Kaya Turski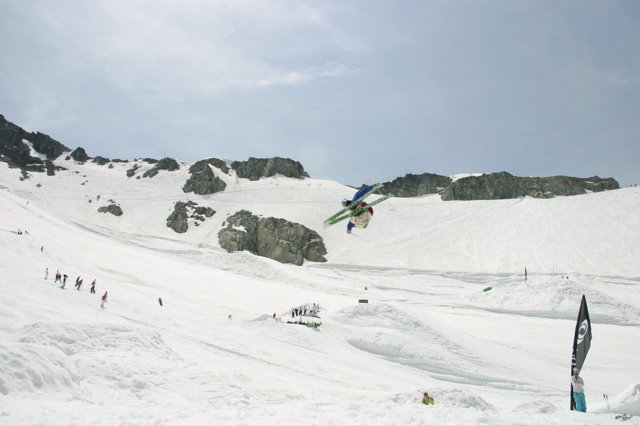 more Brogan, because seriously...why not?
Meanwhile, over at COC things are going off like a Motley Crue concert at the Whiskey A Go-Go circa 1986.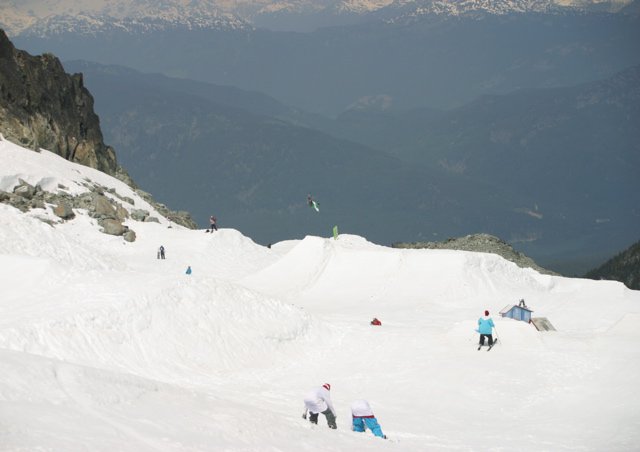 COC's badass lane and Wiley Miller's badass flatspin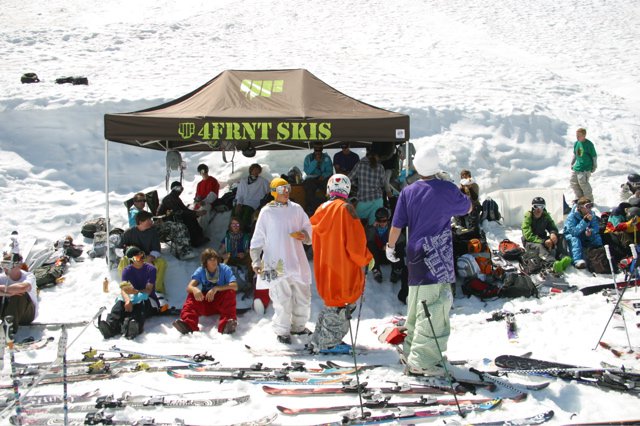 lunchtime at the 4FRNT tent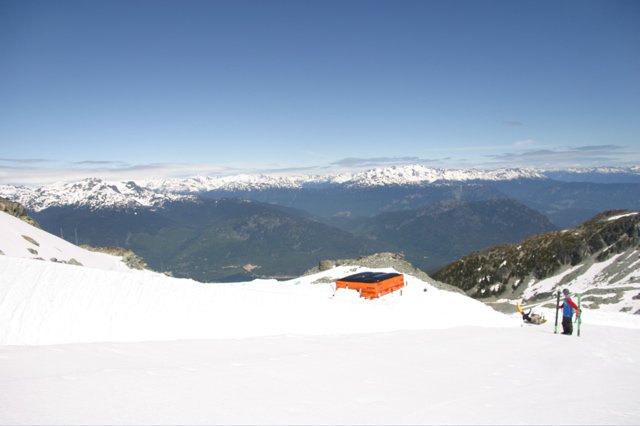 the jump bag
The jump bag has arrived and people have been sessioning the dickens out of it, while the multitude of massive jumps and creative rail set-ups seem to more and more pristine as the days go on. Props to all the COC diggers for their tireless amount of work.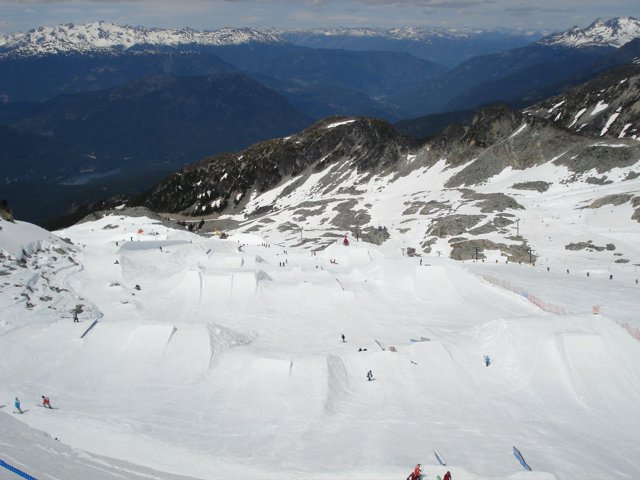 COC: Jumps. Rails. Friends. Sun. Does it get any better than this?
"This has seriously been the best year of camp ever," says Ken Achenbach, owner of COC. "We've got the sun, the tent, the park, and the accomodation. And with the dorm it's fun not to be the loudest person in the neighborhood anymore (laughs). Just seeing all the coaches and campers go off extra hard this year has brought a smile to my face every day. It's just been wicked."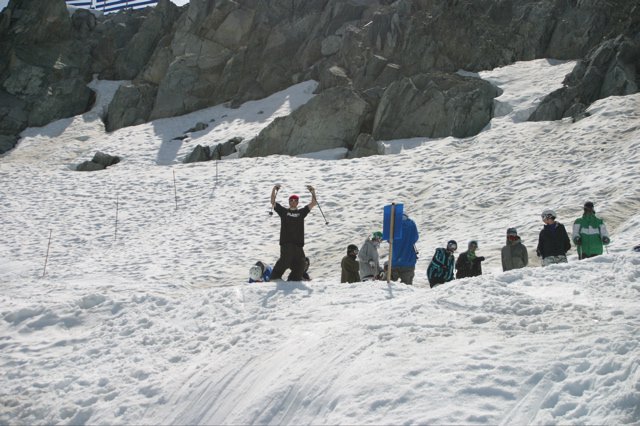 No day on the hill in Whistler is complete without an appearance by Matt Margetts...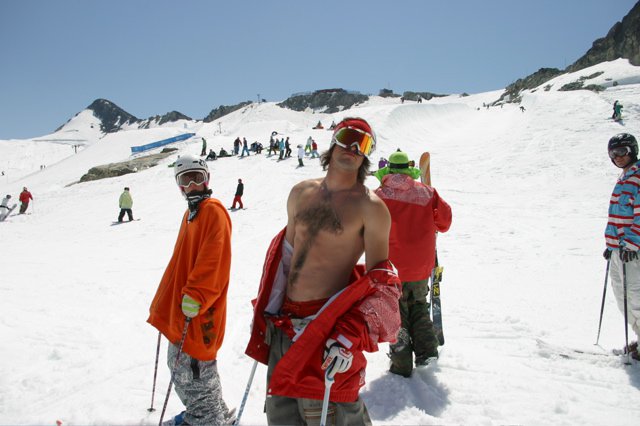 ...or Luke Van Valin, who's been sporting his new Onward chest hair design, which will be available at Paul Mitchell salons across the world soon
Luke Van Valin, Wiley Miller, Joe Schuster, Matt Sterbenz, Jess Cumming and the rest of the top notch coaches have been keeping the goggle-tanned campers constantly smiling from ear to ear with their A+ brand of coaching, shredding and ridiculous stories.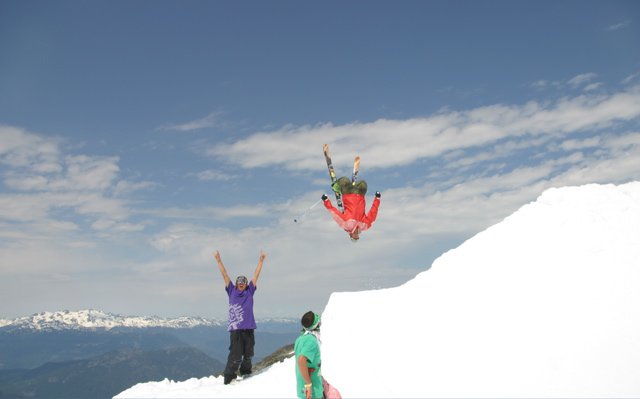 Joe claims Sterbenz's backflip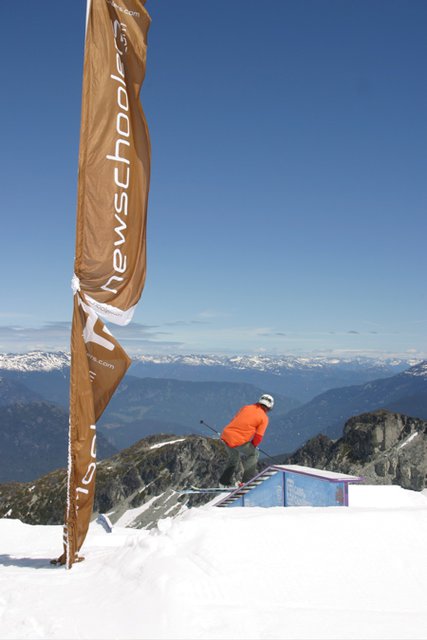 Cedric Tremblay-Fournier waves the flag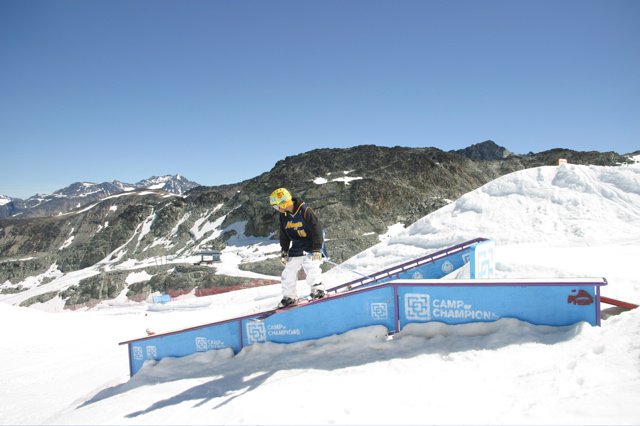 wunderkid Gus Kenworthy gets metal
Head coach Sterbenz has also been providing daily advice by giving intense and hilarious tutorials on the importance of being able to throw a backflip off any and every jump (not just the 'backflip jump') before going home and claiming that you learned how to do backflips at camp.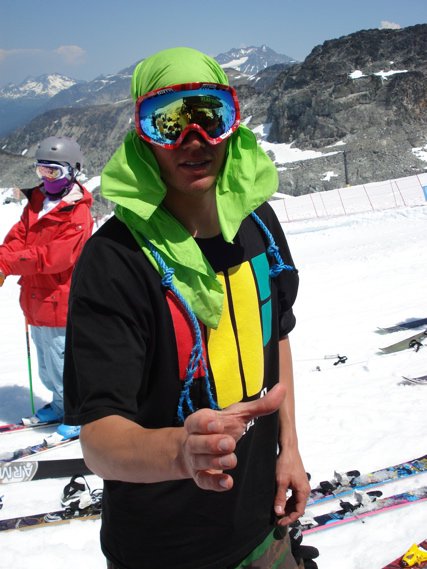 Sterbenz...mid backflip speech
This week at COC is Oakley week, and yesterday saw the arrival of Tanner Hall, Sean Pettit, Cam Schuster and a host of other O athletes who have begun ripping the best park on the planet a new one.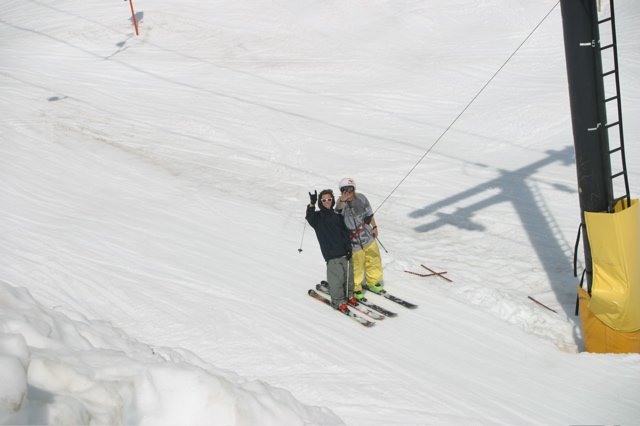 Sean 'Shane' Pettit & T-Hall on the T...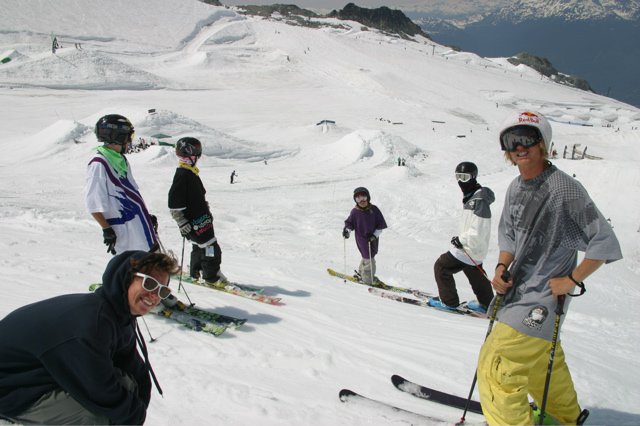 ...and with some real stoked kids.
Stay tuned to the site for a full report on Oakley week, plus a fun-filled interview with Tanner on how his season went, how he feels about the summer scene, and at long last, his thoughts on the photoshop Tanner Hall thread.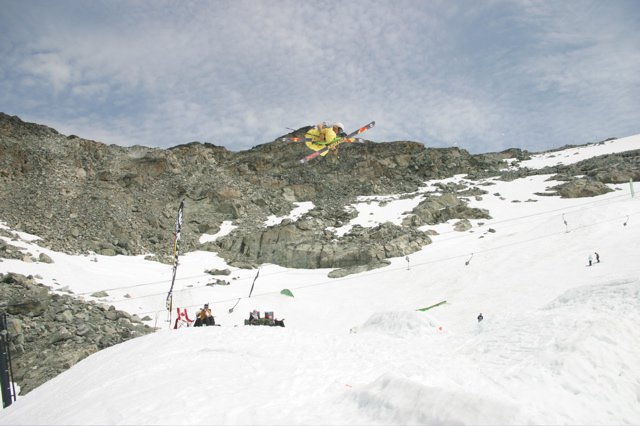 Tanner...nuff said.
And of course here at the NS house in the COC dorms we've been holding it down, selling tall tees and giving out stickers to anyone who knocks on the door of room 410 in building 5 (translation…come on by anytime!). We had a spot of shipping trouble and are eagerly and impatiently awaiting the arrival of the rest of our swag, including t-shirts, scarves, bandanas and lanyards, which we'll be dishing out like medicine in Africa the second they arrive, which may have happened by the time you read this…hopefully.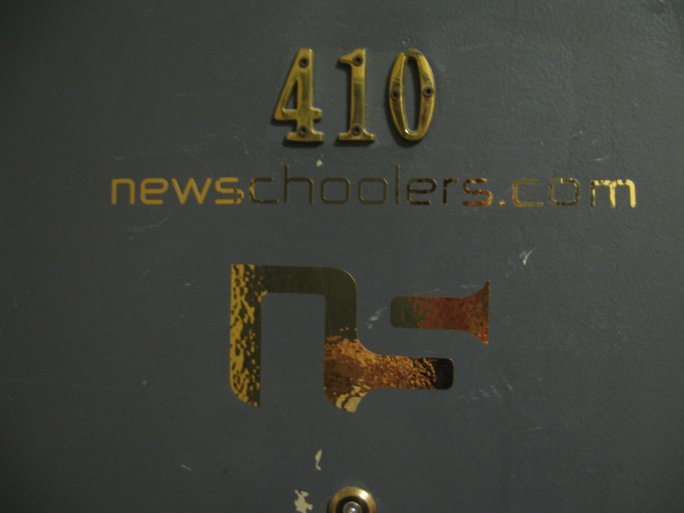 And much to our delight, a few of our beloved mods have begun cramming into our pad for a week of good times, including Cedric (quebecfreestyler), Dan (maximumsushi), JD (JD) with more on the way.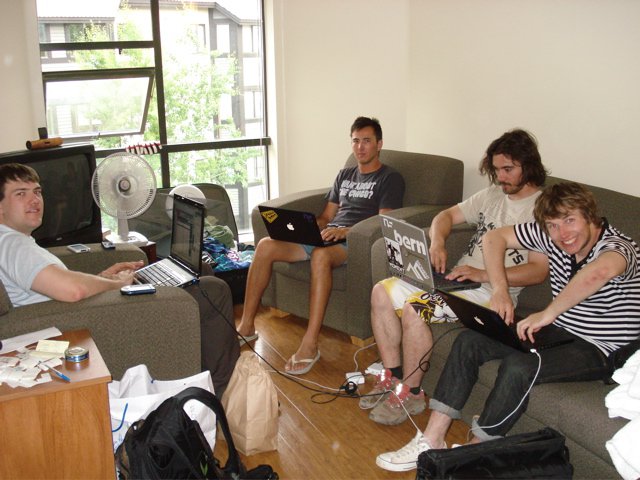 The Mods
The NS Bitch contest has been a huge success, with last week's bitch happily slaving away for us, the COC staff and coaches (most notably Joe 'I'm a pimp' Schuster) and any of our friends who ask. Both this and last week's bitches have done a fine job of regularly cleaning up TJ Schiller and Josh Bibby's apartment at their request, doing push ups whenever we ask, skiing their brains out at COC and because they've been conveniently of age, partying like junior rock stars on our tab while we force them to spit nasty pick-up lines to girls at the Maxx Fish and Savage Beagle, while reaping (or being destroyed by) the benefits of TJ and Pete Olenick's creative drink choices, while the two of them have done their damndest to show them the ropes with the ladies. For those of you who were foolish enough not to enter one of the four contests, here's a little video of what could have been you…
 
As the summer goes on we'll be keeping you updated on what's going down in Whistler, via an update or two per week in the news and the daily COC stories in the park update section, which you should all be watching like a hawk given how hard Jason 'Moose' Mousseau has been killing it on them.
See you on the hill!