The halfpipe has seen many changes from it's humble beginnings to the biggest snowsports events in the world. An explosive growth in the mid 90's as well as an equally fast decline only a decade later.
It's not surprising that the first snow halfpipes would come out of the birthplace of skateboarding as there is apparently nothing to do in California but surf, skate, snowboard, and ski. But for pipe lovers, it's move from a core place in the backbone of snowboarding to a sideline spot clinging to the fringe has been an icy transition.
Many things have changed since pipes were the standard of terrain parks. Snowboard only signs disappeared helping the massive freeskiing movement. Pipe standards grew to 18', then eventually 22' thanks to the Zaugg. With rails continually growing in popularity, many mountains simply couldn't justify the absurd amount of time, money, and snow it takes to build/maintain a pipe. A few well built jumps and a bunch of rails, and you can have yourself a solid park on a much smaller budget. Pipes continued to grow in size, and shrink in number. The average park rat may never ride one, or be too keen on sliding rails to spend much time in them.
Many contests have moved away from traditional pipe or slopestyle courses embracing weird creative hybrids. These events have been growing in popularity and forcing some changes in the mainstream. Last year we saw the 2018 Dew Tour at Breck drop a modified pipe contest, looking far more like the peace pipe and other events than a traditional pipe contest.
As snow becomes more of an issue, it will certainly be interesting to see where the future of pipe riding will go. As the number of pipes and those riding them continues to drop, will these newer takes on pipe contests be the savior? Either way it's refreshing to see something different break through the long standing, nearly unchanging form of the halfpipe.
1979 - The Tahoe City Pipe
Mark Anolik discovered something resembling a halfpipe at the dump in Tahoe City, CA. The spot was sessioned by snowboarders and even some pro skaters.
1982 - Donner Pipe
Eddie and Cary Hargraves began riding another natural 1/4 pipe near Sugar Bowl ski area.
1983 - First Halfpipe Contest (World Championships)
Tom Sims organized a halfpipe contest at Soda Springs Ski Resort in CA. The pipe wasn't anything like those of the modern day, but it was a start.
1986 - World Championships move to Breckenridge, CO
1988 - US Open Adds Halfpipe
An east coast event loosely started around racing in 1982 added it's first pipe contest at Stratton. This event would go on to be one of the longest running and most important pipe contests in snowboarding. Legendary riders like Craig Kelly and Terje Haakonsen would take home early wins here.
1990 - The Pipe Dragon
Doug Waugh, a farmer/engineer took his understanding of machinery to build the first pipe cutter. Before this halfpipes were dug by hand and often inconsistent. Doug was an expert at cutting pipes with his machines. He was hired to cut, pipes, train operators at resorts, and even brought to the 1998 Olympics in Nagano to cut the pipe. With a machine that could cut a consistent pipe, and a massive growth of snowboarding, halfpipes exploded across the resort world.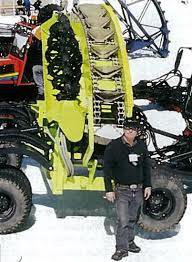 1994 - Zaugg
A Swiss Manufactured began selling it's own version of a pipe cutter. The Zaugg uses a technology more similar to a snowblower(Which the company also builds). The Zaugg left a cleaner cut, and was less prone to breakdowns than the older pipe dragons.
1998 - Double Michalchuck
Mike Michalchuck started throwing a sort of double backside rodeo in the pipe. A decade ahead of it's time.
1998 - Halfpipe makes it's Olympic debut
In 1998 the Olympics in Nagano, Japan added snowboard halfpipe
2001 - Heikki Sorsa Launches 30.5' Method
The record took place at the Arctic Challenge in Norway.
2007 - 32' feet Terje Haakonsen BS 3
At the Arctic challenge in Oslo, Norway
2008 - Simon Dumont 35.5' Cork 9
In the spring of 2008, skier Simon Dumont scorched the world record with a 35.5' Cork 9 out of a quarterpipe at Sunday River. Still one of the gnarliest sends to date, and a record that would ultimately stand the test of time.
2011- Cubed Pipe
Simon Dumonts dream becomes a reality at Squaw Valley CA.
2012- Peace Pipe
Danny Davis and friends put a new spin on halfpipes with the Peace Pipe at Northstar.
Peace Pipe, Northstar California
2012 - First Holy Bowly
Happoone Resort in Hakuba Japan.
Holy Bowly 2017 at Timberline, OR.
2014 - Ski Pipe Makes it's Olympic Debut in Sochi, Russia
Thanks to the efforts of skiers like Sara Burke and others, the dream of getting ski pipe into the Olympics was realized.
Sarah Burke at Winter Xgames
2014 - B&E Invitational
Phil Casabon and Henrik Harlaut dream up a new contest held in Les Arcs, France.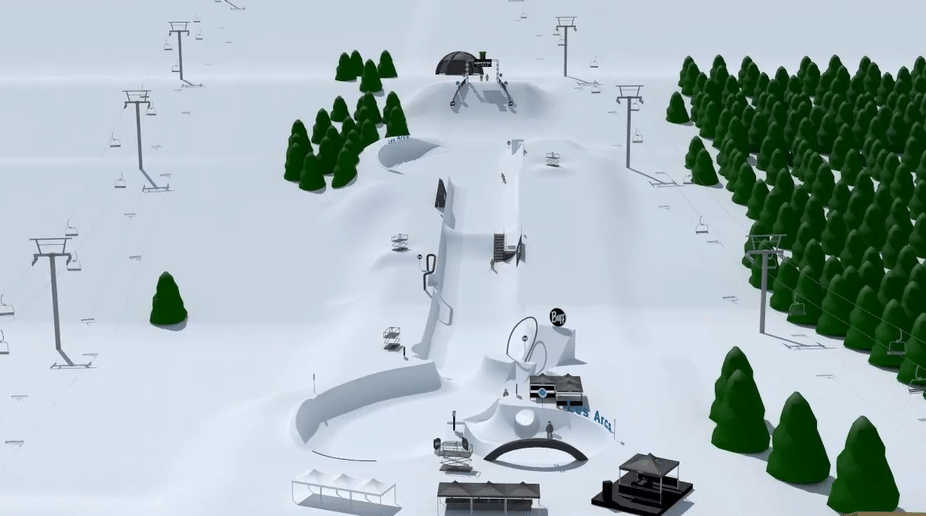 2015 - US Open Adds 1/4 pipe take off to Slopestyle.
For the US open in Vail, CO a jump with 1/4 pipe side options was added to the comp. A trend that would be seen in future US Opens, Xgames, and other major contests.
2018 - Liz Swaney Dazzles The World
In an attempt to set women's skiing back in time, Liz Swaney competed in the 2018 Olympics in Pyeongchang. If nothing else, this spectacle made every drunken Jerry to ever touch a pair of skis better than at least one Olympian.
2018 - Modified Superpipe at Dew Tour
Modified superpipe made it's debut at the 2018 Dew Tour in Breckenridge, CO. This event was the first major pipe contest to switch out from the standard, somewhat stale pipe contest. As viewership and general excitement for pipe riding went down over the years, the Dew Tour looked toward something new to shake things up a bit.
This was the best timeline I was able to put together.
What things do you think I should have added?
What are your thoughts on pipes past, present, and future?
Does your local hill still build one?
There are still a few small mountain hold outs keeping the pipe dream alive. There are even 2 Midwest pipes at Buck Hill MN, and Spirit Mountain MN. Some mountains are dusting off the old pipe cutters and bringing them back to life for 1/4 pipe features or even giving the halfpipe another nostalgic whirl. Turoa, NZ just built a pipe this summer for the first time in several years. Is there a chance of a comeback for smaller pipes?
Cool video about Doug Waugh(Inventor of the Pipe Dragon)
https://www.youtube.com/watch?v=Z4coJ5IWgbI