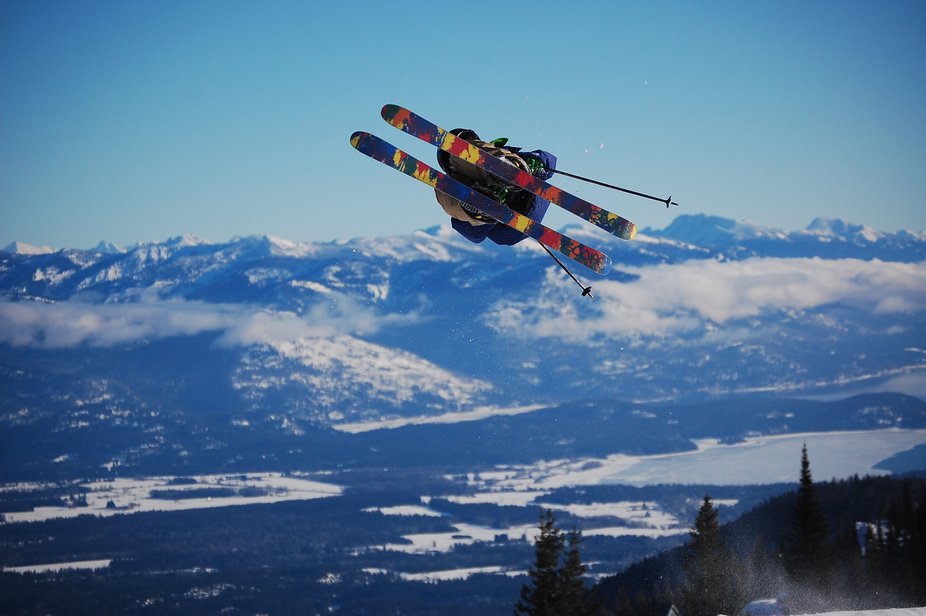 Pictured above: BOONE Flow-Team rider Jasper Gibson riding Magic Sticks
It all started when Scott (Pollman), me (Jamie Melton), Garrett (Jurach), Erik (Boone), and Kolby (Ward) decided to go up to Idaho from Tahoe and check out Boone's hometown of Sandpoint and hit up the Stomp Games.  We thought the trip would be straightforward but evidently not, as Scott and I (Jamie) just about killed ourselves within the first hour of our trip. Driving 75 down the 80 Freeway near Truckee, Scott's tire blew up as we were rounding a steep corner with a precipitous cliff on the other side. 
You can see Scott's surprise at our survival above.  We showed up to Sacramento about 7 hours late (around midnight) to meet BOONE and jump in his Expedition to carpool the remaining 20 hours north to Sandpoint...ouch. The road trip was boring but we survived and finally made it to Idaho.  But not before we hooked up all the bums we saw along the way with nutritious foods like Lucky Charms...
Once we arrived at the BOONE homestead on Thursday night, Erik got to work prepping skis...notice the use of the deer antler - redneck ski tool I guess.  Boone drove back to Spokane and scooped up Kolby Ward who flew in from Telluride and we were all set for the Stomp Games.
Friday afternoon, we headed up to Schweitzer and the set-up looked pretty legit. 
Unfortunately for our us, the Slopestyle was on Saturday and Sunday - and we only enjoyed this weather on Friday and Sunday morning.  The Slopestyle included a cannon box up top followed by a 45' table, a 65' table and a short inrun (think X Games/Aspen Open) into a mini 65' money booter at the bottom.  The approaches were a little sketch as were the narrow widths of the ramps but hey, we're not complaining.
Things quickly got started for the Rail Jam Friday evening with Garrett "G-Money" Jurach seen above hustling up the hill for another run.
Jasper caught a snap of an unsuspecting Erik Boone pictured above - who was on the scene making sure we all had what we needed - from filing our edges to last minute wax.  Yeah, that's a D-Structure hat - those guys are super cool and a favorite retailer of ours.
Above L-R: Scott Pollman, Garrett Jurach and Kolby Ward.
The Rail Jam heated up quickly as the temperatures dropped as the sun went down.  Kolby was throwing 6's on...
 
While Kolby Ward was impressing the judges on by hitting clean tricks on every feature, Boone riders Scott Pollman and Jaime Melton started stomping backflip disasters into the darkness on the flat-down box.
Above: Scott Pollman Below: Jaime Melton     I offered to  buy the judges some glasses after the results...
After a ridiculously competitive rail jam, Alex Schlopy edged out Kolby Ward for 1st and Kolby finished second. In the Amateur division, Ian Hamilton of Missoula, MT won himself a pair of BOONE Skis by finishing first and also got himself a sponsorship deal!  Sunday the weather was a little better for the AM Team riders and Boone Team rider, Garrett Jurach, picked up another podium for the team by finishing 3rd in the Slope! 
On Saturday, the weather didn't cooperate for the pro-slopestyle and the course endured freezing rain, hail, rain, and snow flurries mixed in with thick fog - ouch!! It was miserable, but Sandpoint's own BOONE crew member Jasper Gibson and Will Start (Soul Crew) showed us around between runs and we had a great time checking out their stomping grounds...These guys are super cool and Jasper and Will even made a little edit to share since our weather for filming didn't turn out as hoped.  We're looking forward to filming with Will - the Soul Crew makes some good high def stuff and definitely have a touch of comedy in their production as well which is tight.  Check out the little edit highlighting some of the season's fun Jasper Gibson had up at Schweitzer - we like the Poncho Villa impression Jasper but you need a mustache to go with the outfit. 
The NS "Embed Code" Tool isn't working so kindly click on the link below to check out Jasper's little Schweitzer edit!
http://media.nscdn.com/uploads/member/videos/1243434711Boone_Promo_Low.mov