The 2011 Stereo Cable Jam at Turncable kicked off the Stereo Open Series this Saturday with some of the most impressive riding we have seen to date!
With Turncable?s unique twin cable set up, the riders got to show their skills on both the regular and goofy cable in the qualifying round. Nine riders advanced to the Semi-Finals, knowing that they had to ski their absolute best to earn one of the six spots in the Final.
Lukas Gütling impressed everyone with his ?snow-ski-like? rail riding and the cleanest grab?s of the day, and ended up in forth place. European Champion and top seed into the finals, Sebastien Coll (FRA), pulled out some huge air tricks, including a very impressive S-bend, which earned him the third spot. Turncable local, Nico Meitinger (GER) was the big surprise of the day. With both spins and inverts of the kickers, air tricks and super stylish rail riding, he showed the judges that he can do it all, with style, and earned himself second place. In the end it was the laid back Scwandorf local and Stereo International Rider, Chris Böttcher (GER) that grabbed first place and a paid trip to the US Wakeski Open in Orlando in September. ?It was a really though call, because we saw some of the most impressive riding we have ever seen, in this final. Chris had the most complete run, utilizing all parts of the cable, which is why he won today? says the judges. His run included three air trick variations and stylish glide of the kicker that we have never seen before. Congratulations Chris!
Sebastian Coll won the Red Bull best trick contest for his S-Bend to Blind in the Semi-Finals, and got two VIP tickets to the Taubertal Festival.
Final results
1. Chris Böttcher (GER)
2. Nico Meitinger (GER)
3. Sebastien Coll (FRA)
4. Lukas Gütling (GER)
5. Jan Schädle Ubeda (GER)
6. Christian Gollhofer (GER)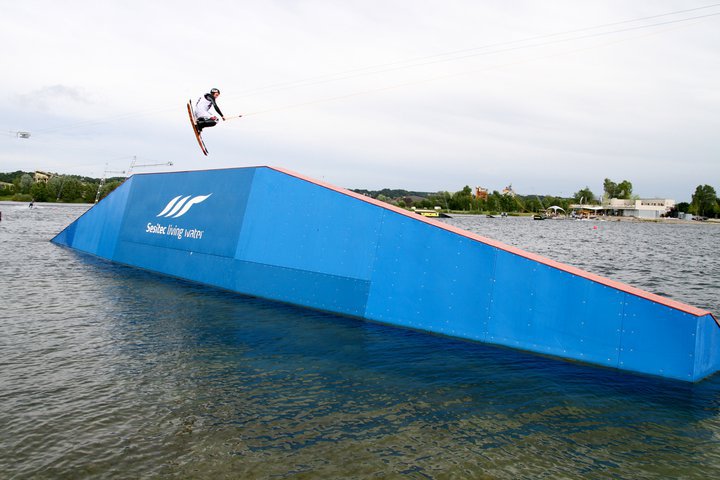 The day was rounded of with a Stereo Jam After Party, one of Turncable?s specialties.
A special thanks goes out to Roy and all of his Turncable crew. We would also like to thank Red Bull Germany, Mari Sander and Tobias Hammer for their support during this event.
Next event: Stereo Wakeski Jam // US @ Orlando Watersport Compex ? July 9th