Summer setup build with little1337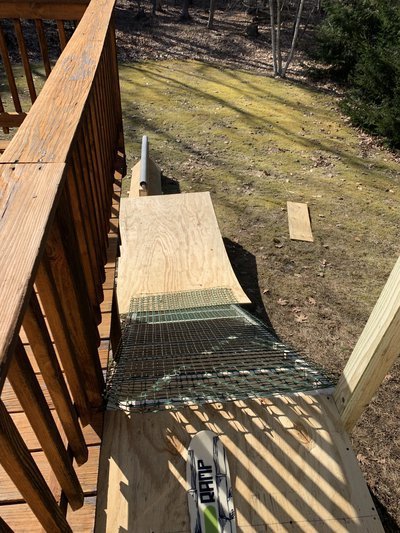 How long did it take you to build? What kind of materials did you use?
"It only took about 4 days of building and like 4 pallets, some plywood, and a few 2x4s. Most of the stuff we had laying around except the plywood and turf which I got at Home Depot for around $70."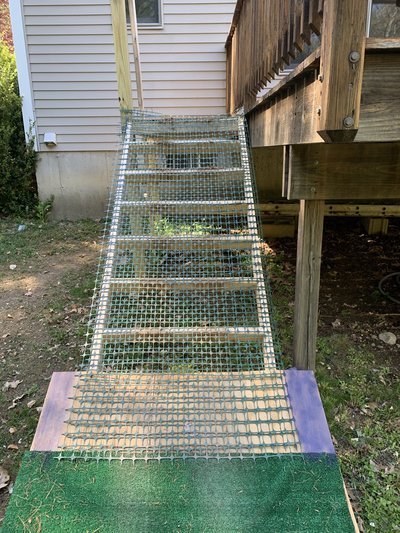 Do you like the way it turned out? Anything you would have done differently?
"Yeah I'm super happy with how it turned out. The only thing is I might have made it a little taller/steeper for more speed and could have made the rails lower to the ground a little but other than that it's perfect."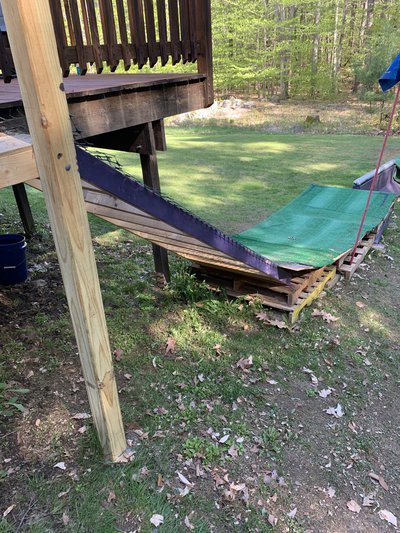 Have you learned any new tricks? Got anything currently in the works?
"Yeah I just finished an edit today actually and posted it. The edit pretty much progresses with how I progressed if that makes sense. Going into it I really only had done front swaps, back swaps, front 2, and back 2, so the k-fed, fs front 2, and the double front swaps were new tricks."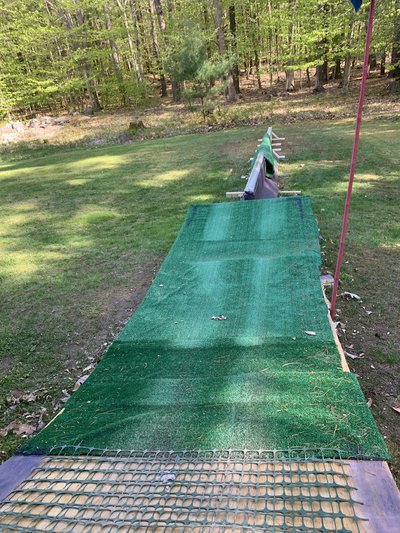 Any advice to people thinking about building their own summer setups?
"My advice is to get as much free stuff as possible. You'd be surprised at how many pallets/extra 2x4's/plywood people will give you for free if you just ask, especially home depot and construction sites."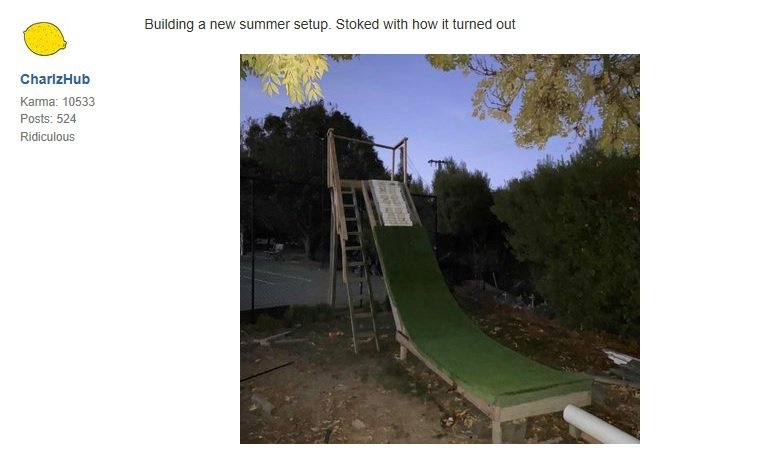 Another summer drop in with CharlzHub
How long did it take you to build? What kind of materials did you use?
"I built my first one when I was 14 and it was absolute garbage. It took a few weekends of work and I just used all kinds of scrap wood that we had lying around at home. Dad does a lot of woodwork in his spare time so I was able to find everything I needed pretty easily in his shed. So it cost nothing.
Over the past years my brother and I have been making small improvements every so often to the point where the drop in actually ran really good. These improvements included making it wider, adding rollers to the top to add speed, replacing the turf on top, etc. But even after doing all this stuff it was still really unstable and kinda shit because I'd made the entire frame pretty badly when I was a little grom."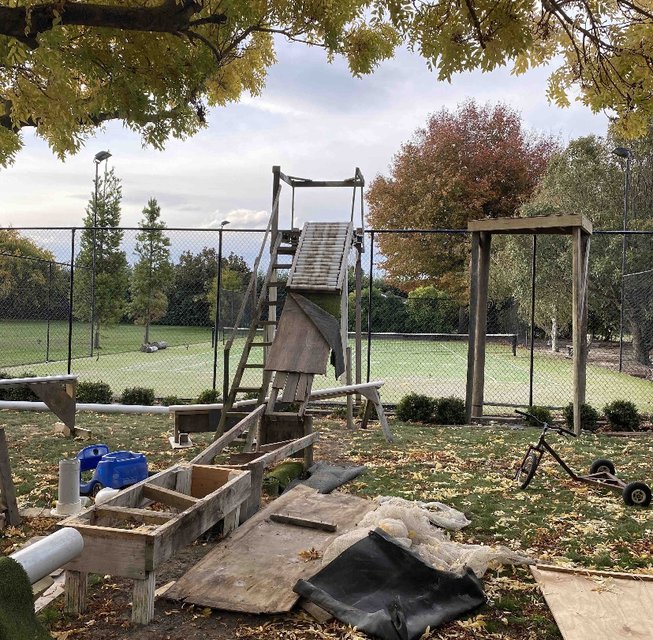 Do you like the way it turned out? Anything you would have done differently?
"So this year during lockdown my brother and I tore down the old one and built a new one which is super sturdy, less sketchy, wider, and faster. Just better in every way. We used ply 2x4's, and 2'x6's. There's nothing I would have done differently with the new one because we learned all that from the old one."
Have you learned any new tricks? Got anything currently in the works?
"Over quarantine I learned how to unnatural k-fed and some swap variations I hadn't done before like surface ones and pretzels out and stuff so that was pretty fun."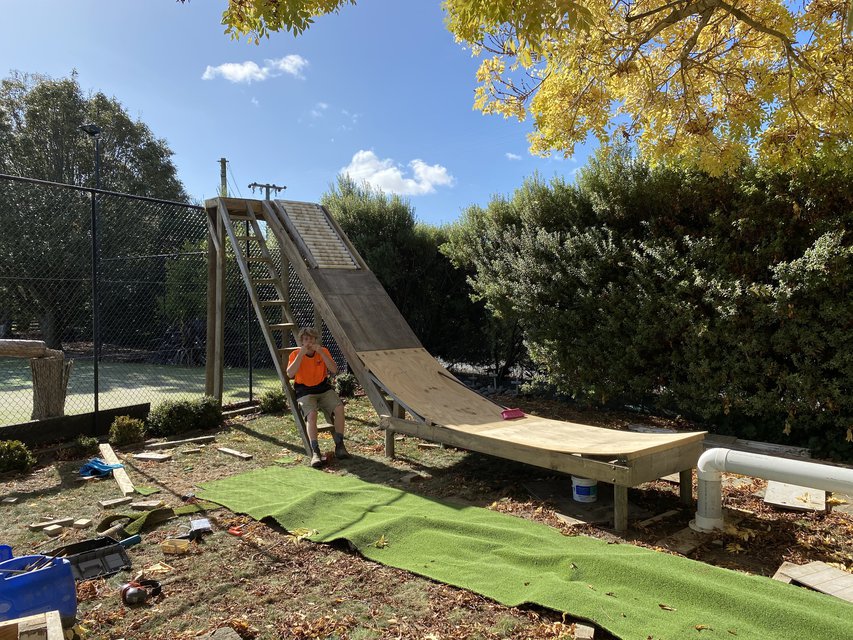 Any advice to people thinking about building their own summer setups?
"Advice to other people. If you have a hill at your place I'd definitely use that because then you won't have to build as high and you'll save materials and stuff. Also make sure you do your research into how you want to build it. There's heaps of threads and vids on NS that help heaps. You don't want to build it and then decide you'd have done it a different way."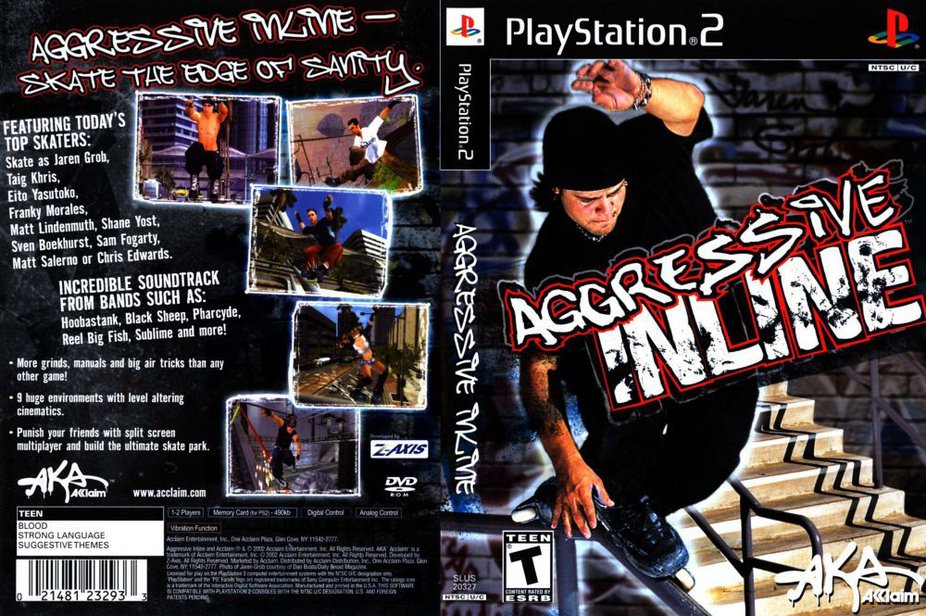 A little insight into the world of inline with TheSkiingBlader
How long have you been blading for?
"Going on almost 3 years. I would say the first few months was really focused on getting comfortable cruising around and learning the basic grinds (soul, acid, mizou, pornstar, frontside/backside) I think where most bladers make the mistake is similar to skiing. You have to actually get comfortable riding before you can hit a rail comfortably with control going 10-15 miles an hour. Spend some time getting comfortable rolling and you'll really start to see the time you invested in yourself pay off later down the line."
Do you do a lot of ski tricks/how has it helped your park skiing?
"Yes, but you have to advance beyond what you know how to do on skis. Everyone you skate with will be super impressed with your ability to frontside 270 out any downrail, but most skier/bladers I feel like use it as a sport to just practice their spins and kfeds vs. trying to actually learn the differences of blading. Embrace the new maneuvers and the soulplates as you'd be surprised how many tricks you can bring over (ie. fastslide/backslide)"
Any recs for people looking to get into the sport to stave summer time boredom?
"Them 908s/909s, Roces M12, or Razors Cults will all be a solid entry level skate for under $199. I personally ride the USD aeons flat (with 8 wheels) and I found that made all the difference in my sweving ability."
https://www.newschoolers.com/videos/watch/964754/Forever-Soon---Full-Film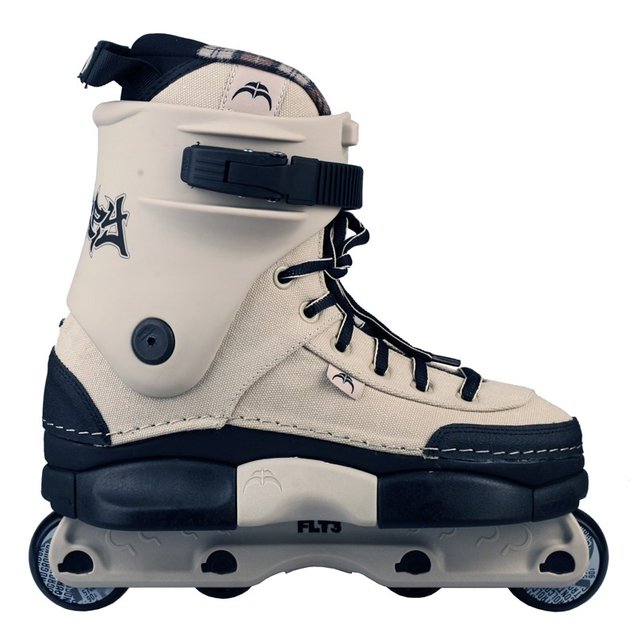 Some more blading with FruitBootPro. If nothing else, that sounds like a friggin name you can trust.
How long have you been blading and what got you into it?
"I've been blading since fall of 2018, so about a year and a half. It's kind of a long story, but basically I was super into downhill longboarding in the summer of 2018 and got acquainted with this shop in my college's city that sold some longboards, but mostly inline and roller skates.
One day I was talking to the owner about getting some inline skates, because I knew how to skate through doing hockey in middle school, and the last time I tried some rec blades I had a lot of fun. The owner told me about aggressive inline skating among other things and I said I was interested in trying some grinds because it seemed like skiing, and one day I decided to use these Razors skates I had from a garage sale and go to the local skatepark. The rest is history."
Do your practice any of your skiing tricks/have you notice an improvement in your skiing?
"I'm not great with skiing tricks in the first place; I can slide a rail naturally and straight air some grabs and that's about it. I actually learned to get consistent with sliding rails on skis via learning to frontside on blades, but frontside is not a trick I like that much, ironically, because it requires more body movement than a soul based grind and is much more punishing and scary if your wheels touch the ledge or rail. I generally find soul based grinds more interesting because it's something you CAN'T do in skiing, so I view it as a bit more complex."
Any recommendations or things you want to add for NSers on the fence about buying a pair and getting down with the fruit boot lyfe?
"To NSers on the fence: Do it. It's super fun and if you are good at freestyle skiing you will immediately have a head start and it should feel natural. I knew a guy who was pretty good at park skiing; when he started blading, he was pretty much immediately able to frontside and backslide flat/down ledges and rails, 270 out, and 360, and 180 a 5 stair. Within a little while he could also soul grind, safety grab makio grind, mizou grind, and even did a 540 on a mini ramp.
Also, aggressive inline desperately needs new and young participants, and if the skiing community starts getting interested in it, it would be great for the sport. That being said, if you end up not liking it or end up preferring skateboarding, I would never want to convince somebody to do something they don't enjoy that much."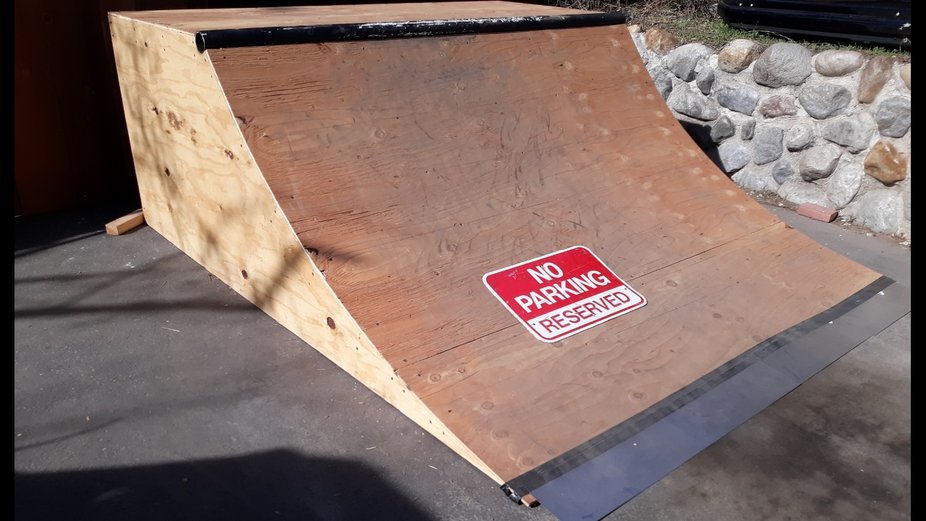 A skate ramp with yours truly theabortionator
After a month of being laid off from terrain parks and being insanely bored, I decided to build a 1/4 pipe. The budget was tight but I figured it would be worthwhile to have something to skate in the driveway and stay active. Lumber at the local store was expensive and it cost around $250 with the second layer of ply. Couldn't find anything useful for free around here at the time.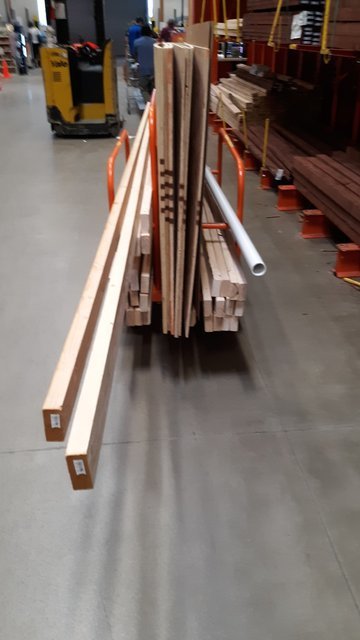 Eventually wanted to build more, and my driveway kind of sucks anyway. Decided to build a full mini. Since I'm moving eventually and already had 1 qp built I decided to build the mini using the existing qp and build the other side independent as well. I'm hoping that when I move I can sell the qp's individually or at least move the whole thing fairly easy. The original was only 6' wide to fit in the driveway but I wanted an 8' wide ramp.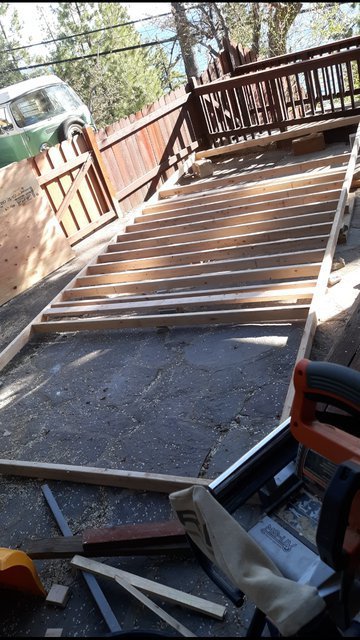 Found some free lumber in scrap piles around the neighborhood and built a 2' wide extension to sit next to the 6' and make it full width. Also found a piece of 2" steel I was able to chuck on the 6' side so half the ramp has metal coping, the other has pvc.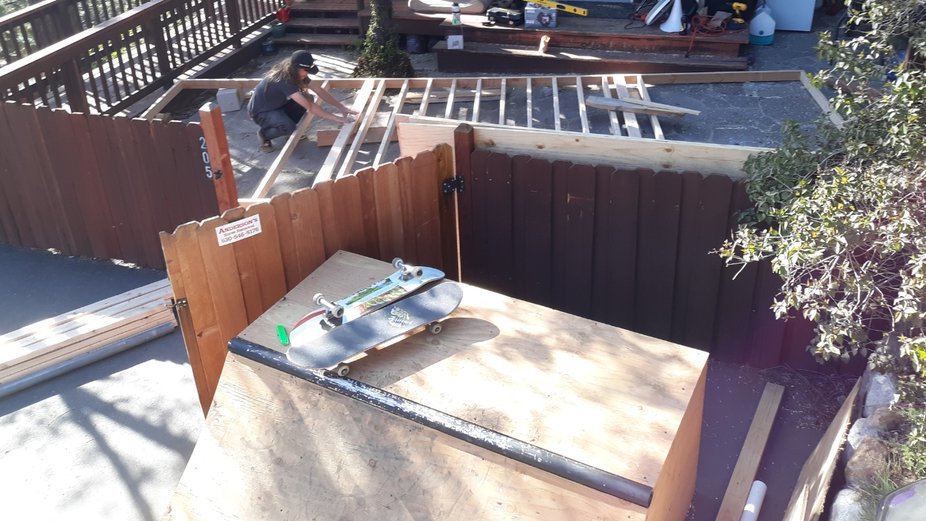 Total cost was around $625. Could have been done cheaper if I bought all the wood at Home Depot originally but still pretty cheap for a solid mini with 2 layers of ply and Masonite on top. It took a good chunk of 3 days with a friend helping me.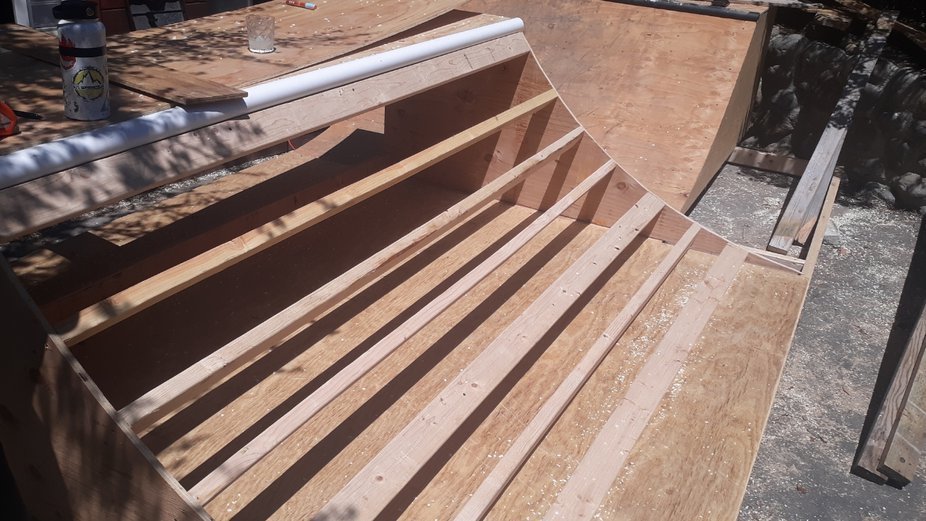 I really just needed a project to keep from being bored and going insane. After debating the cost for a while I just decided to do it. Stopped drinking, borrowed a friends car, and drove to home depot to stock up. 30 8' 2x4s in the suby, a bunch of ply and masonite on the roof, and some 20' 2x4s for car jousting made an interesting ride. I had so many ratchet straps on the roof that the buzzing noise to serenade my windy, anxiety riddled drive home still haunts me to this day. We made the journey safely, and the ramp got built. It's currently snowing but otherwise I've been skating every day. I still suck but I'm getting better and it's awesome to have the ramp 4 feet out my kitchen door.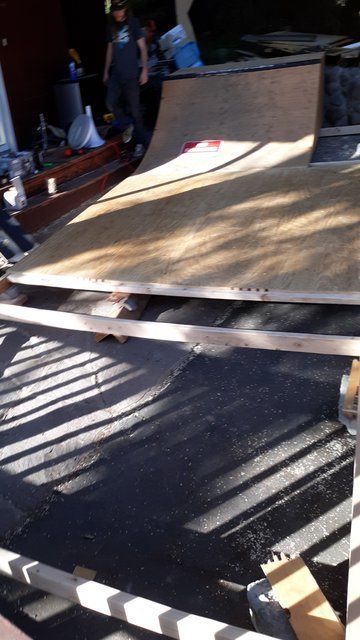 It took a while to figure out how to make the ramp fit the way I wanted it. Was able to swap the 6' qp and turn the frame at an angle, and put the extension where the rock wall sticks out. Got a full 8' wide, 8' flat bottom, and good sized decks. Hoping to keep learning and having fun. Regardless it was a good experience, and something to get my brain fired up. It's been 17 years since I've built any kind of a ramp, but it was great getting back into it. If you're thinking about building one get sendy and do it!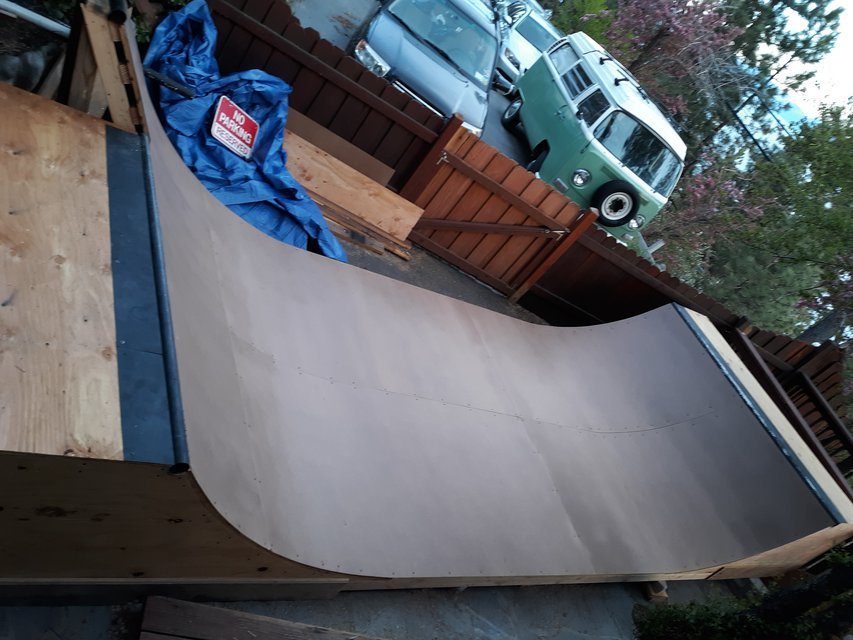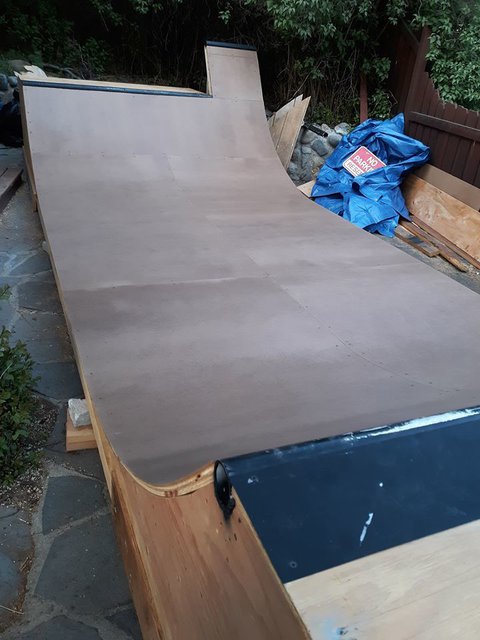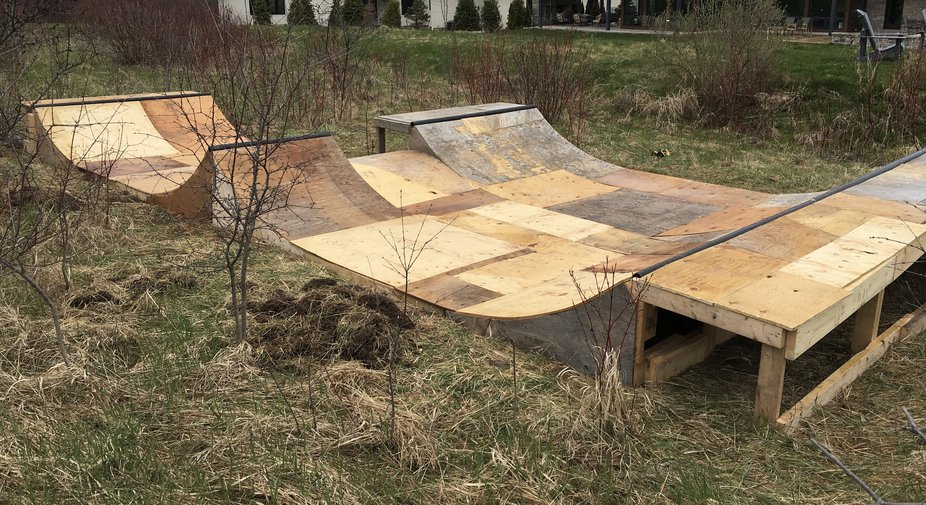 How sick is this friggin thing? For $70 bucks? Way to go Stu!
.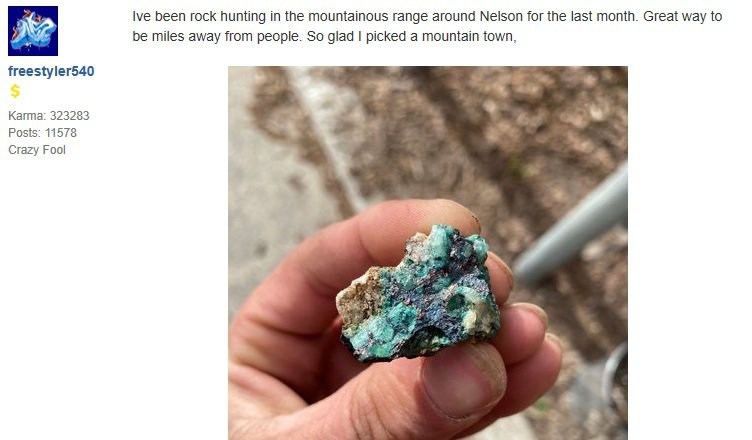 Rocks are chill

12 ounce curls to stay fit

Fruit booting is lyfe
Lastly everyone's favorite Skiierman has been arguing with people on the intrawebz and taking long walks on the beach. Actually that isn't even true, where the hell are you Skiierman? Are you there? CAN YOU HEAR ME?!?!?!?
Anyway Corona is wild, and summertime can be boring, but there's plenty of stuff you can do to stay in shape, learn some tricks, waste some time, and ruin your parents yard. Hope you're all doing well out there! Now go outside and build something!
https://www.newschoolers.com/forum/1453/Build-A-Jib-101
https://www.newschoolers.com/news/read/Build-rail-Andy-Parry
http://www.diyskate.com/mini_03.html