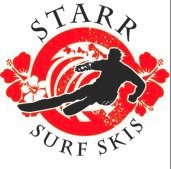 Starr Surf Skis celebrates first skied waves at SIA, launches Project Rip Waves
'First person to get barreled on skis wins,' says Starr.
First-time SIA Snow Show exhibitor Starr Surf Skis is using the occasion of the annual snowsports industry gathering in Denver to celebrate the wild successes skiers had in 2009 pioneering an entirely new type of terrain — waves — and to announce plans to continue pursuing this new frontier for skiing.
Founder Jason Starr has been working for more than a half decade to invent and develop the sport. In 2009, he supplied a group of athletes on both coasts with downhill water skis and supported them as they took to the surf to be among the first to use waves as a force for skiing. During a three-month period in the fall when the Atlantic hurricane season was popping and the El Nino-fueled Pacific surf season was just getting started, the skiers made first descent after first descent on big Hawaiian waves and moderate waves on the East Coast.
There was even the first whitewater run on stand up skis.
"The most exciting aspect for me, aside from realizing the dream of skiing down and turning on the face of waves, is the different disciplines that are emerging from these efforts," Starr said. "Telemark-style touring on the ocean, skiing rapids and standing river waves, slashing the endless wake wave, kite-skiing — our equipment opens the door to all these pursuits."
The tow-in wave skiing sessions in Hawaii that were featured on the web series Salomon Freeski TV in December were certainly the most spectacular part of the season. The footage reverberated through both the ski and surf industries. Freeskiers Mike Douglas and Cody Townsend carried the torch during their trip for all skiers who have dreamed of skiing big waves, and they laid a solid foundation for what skiers can accomplish in this arena.
Starr notes that for skiers without the logistical prowess to pull off a jet ski-aided big wave tow-in session, his company's Stand Up Paddle skis allow skiers to paddle into waves under human power.
"Everything is new right now and we'll see where the sport takes us," Starr said. "While we will continue to pursue big waves, we also are continually working to make the sport accessible. Some of the initial feedback is that kite-skiing and Stand Up Paddle skiing may be the disciplines that have the brightest futures."
Starr Surf Skis will unveil the world's only quiver of wave-skiing equipment at the SIA Snow Show in Denver. It will also showcase unreleased footage from the Hawaii big wave sessions.
"We're attending the show to celebrate this moment in skiing — the moment people showed that skiing in this new realm is something that can and will be done," said Starr. "We're also using the occasion to officially launch Project Rip Waves, our effort to spur a global chase for that first tube ride on skis. We see it as a team effort among skiers and also a friendly challenge. First person to get barreled on skis wins."
For more information, visit http://www.starrsurfskis.com or contact Starr at (802) 881-4905 or jstarr@starrsurfskis.com. Visit Starr Surf Skis at the SIA Snow Show at booth No. 3423.