SPONSORED CONTENT
Born from the mountains of Utah, Stage is a rapidly growing upstart company offering customizable goggles and accessories. These startups seem to be a dime-a-dozen nowadays with an entrepreneurial generation seeking to turn their passion into a livelihood. Stage brings a novel and refreshing take to the ever more crowded ski industry, with customizable options, very reasonable prices, and a program that gives a whopping %50 of MSRP to organizations like the Utah Avalanche Center, and the National Ability Center.
Stage has been formulated by a team who have called the backcountry and resorts around Salt Lake City home for decades. The brand officially launched in 2011 after operating ski rental shops in SLC for a few years. Frustrated by the price of high quality goggles and the lack of options in price-point offerings, the crew sought to create their own. They described the brand to me as "small enough that we're not being told what to make, we decide what to make." You as customer don't have to be told what your options are either, with thousands of combinations available on the custom STUNT platform, all for less than $100. The STUNT goggles feature: spherical lenses, mirrored coatings, triple layer foam, anti-slip straps, anti-fog treatment, as well as the Love Your Lens Guarantee which states "within 90 days of purchase, you can exchange the lens that came with your STUNT goggle for any other lens of equal or lesser value."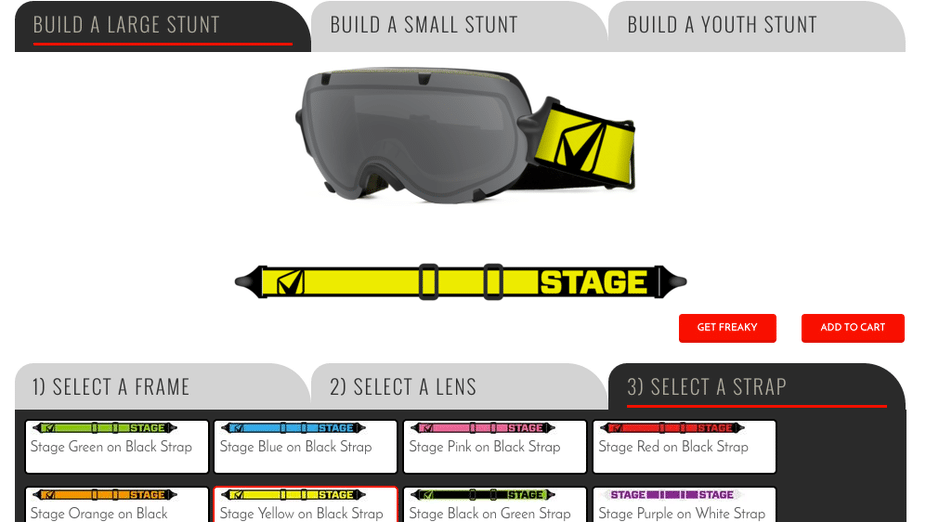 The options don't stop with goggles for individuals, with Stage offerings even more customization to clubs and groups. To quote the website, "these custom goggles [built on the STUNT platform] can be sold by you, sold by us, or even used to support your RallyMe campaign with a unique swag item for donors." This gives a pretty cool option to those groups, or club looking to raise money, or rock a unique look, and it's definitely a lot more accessible with a small brand like this opposed to the big brands. With this option you can go all in creating your own designs, and not have to be limited to the thousands of custom combos that anyone can create.

While there are a handful of companies out there giving back, The Goggles for Good Guys program Stage offers goes a step beyond simply because of the size of the donation per pair, $20 of the $40 sale price, that the company passes on to it's supported causes. Here's the lowdown I got on the program, "we decided that giving 'a percentage of profit' or something minimal to these groups would take too long for a small brand like ours to really make an impact. In our opinion, the only way to truly get this program going was to offer something a bit more extreme to both the customer as well as the non-profit. We thought half of the retail price would get us there, and we wouldn't lose too much making it happen. If we can maintain the growth we've had the past few years we'll probably be able to increase the % we currently offer them even more!" Current partners in the program are the Utah Avalanche Center, and the National Ability Center.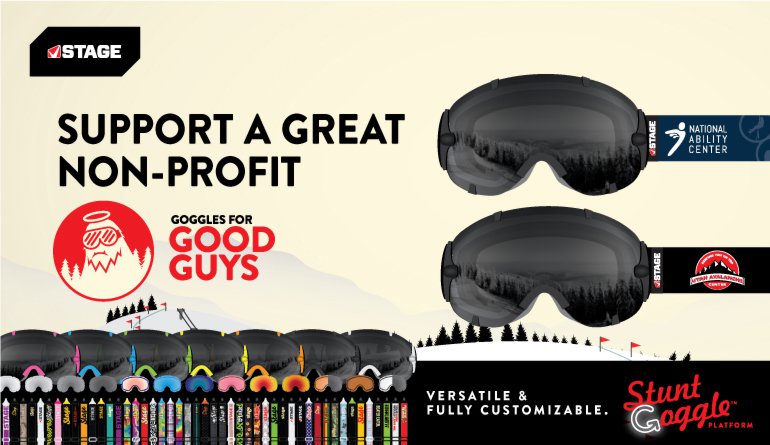 While skiers are often pretty loyal to their preferred brand of goggles, it's pretty cool to see these new companies going out on a limb to try and create something new and different. Stage definitely has some good things going at a very reasonable price point, with a ton of custom options and a strong focus on giving back to the community.
Check out more from Stage and build you own goggles at their website: