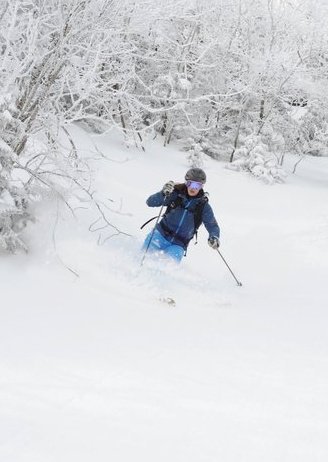 Wait...what's my title, what am I suppose to do...ahh yes, Ski!
This spring we?ve been putting together Staff Profiles for our reader and shoppers to show them what gear we at Skiershop.com use and why. Here is our latest installment? – Erme
Name and Title: Mar Muth, (Merchandising Manager?? Token Shop Girl? Sales Associate… I don?t really have a title).
Originally From: Doylestown, PA.
How long have you worked at Skiershop: About 1.5 years.
Why Stowe? Why NOT Stowe!? I love it here; the town is full of friendly people with skiing on the brain, the mountain has the best back and side-country terrain in the East, and you can always find a buddy in the bar after a day of shredding! Oh yeah, and in the summer there's hiking, mountain biking, disc golf, and creemees. Sweet, delicious creemees. Does it get any better?
Ideal day on the hill? Well gosh, I don't know, maybe a beautiful bluebird day after a 2 foot powder dump?? That would be nice, and let's add my 3 favorite ski buddies, some pocket chocolate for the lift ride, and… well actually that's enough for me to have a great day! Oh, and perhaps a pizza and some Buck Hunter at the Horn afterwards!
Gear:
Ski ? 181 Surface Live Life
Bindings ? Look PX12
Boots ? Dalbello Krypton Storm ID
Outerwear ? Mammut Sophora Jacket/Vail Pant
Goggles ? Smith IO/S
Summertime activity and tool of choice? Mountain biking on my Giant Cypher. We've got access to some great singletrack here in Stowe, and more trails are being built every year. It's the way to go!
Après location of choice? The bar obviously! I like the Matterhorn, it gives you the option of sushi on the days where you want to feel a little classy. Plus they have Mountain Ale on tap, which is key for any Stowe après experience.