Rate This Person Entry Here
Home Mountain: Sugar Bowl, CA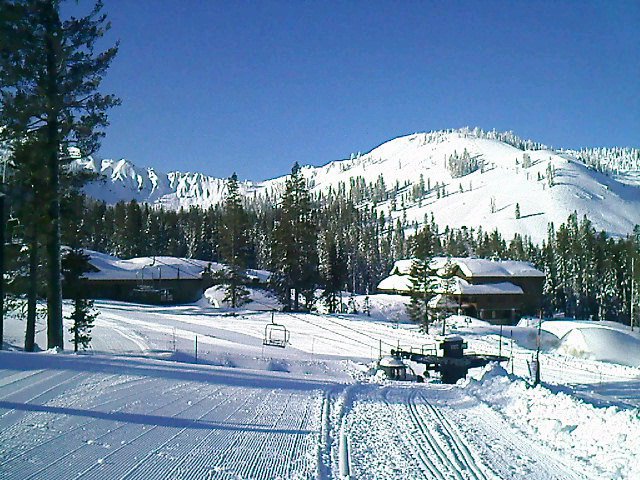 I feel my heart beating all the way thru my long underwear and fleece and waterproof jacket. The beat gets louder, blood rushing up my neck, the thumping of my heart louder than tunes already pumping in my ears. I stop to breath in the crisp air of another pristine blue bird day- Latitude, Longitude 39.288476, -120.326235. I have a 360-degree view atop this mountain, it graciously demands respect by just looking at the views. It gives snow to all that love it, my mountain, for it is my home. For some reason, everyone slept in today so I get to ride the palisades with three other damn lucky friends + a handful of other lucky blue birders.
I am shaking with anticipation ? our group of four traverses westward high lining to our favorite spines and chutes. We get to the wind shaped breaking ?snow waves? and it?s time. My eyes widen like a goggled cartoon character as I take in the pitch. I drop in, and my stomach drops out like I am on the crux of a rollercoaster ride. When my edge hits the snow, prismatic sparkles of each flake spray everywhere catching the light of the sun making it all seem so surreal. The intensity of the rush comes rushing out in a top of the lungs, ?whoooo-hoooo!!!? I am sucking in snow spray as I move fast and blind down my line. Hoots and hollers are heard all around, people dropping in on their own favorite space out here. For the moment, there is enough fresh snow for all partaking.
When we get to the bottom, everyone is wearing a powder moustache smile and it?s high fives all around. The rush fulfilled until the next run. The wonderful ectasy of enjoying a great day on the snow with friends is a feeling like no other. As we look up at the love we just rode, all of us claim best powder day ever?till the next one.
Thank you for all the great days, Sugar Bowl, CA. Sometimes the love is tough I must admit. It is supposed to be summer up here, yet you are still blanketed in so much snow on this day in June. XOXO

Rating: 0.0/10 (0 votes cast)

Tweet