W3rds : Brian "bp" LandriganPh0t0s: Erick WalquistV1d30: Brian Landrigan Spring Jam this year was definitely a 15 on the fun-o-meter this year. In usual fashion the Midwest showed up ready to play.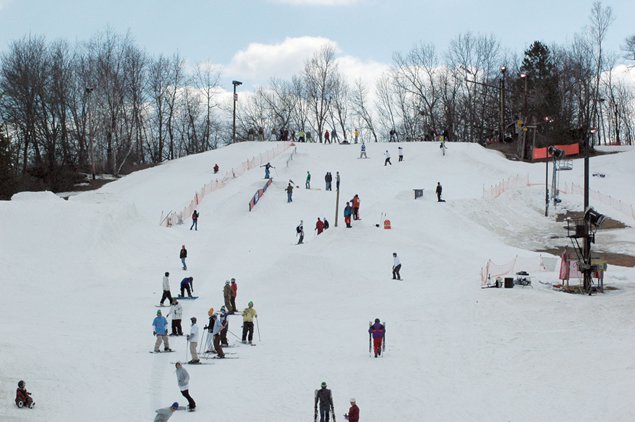 Day 1:I started my morning early, left Milwaukee at 7, got my coffee and was on my way to pick up the troops, we are all riding along, making perfect time to get to spring jam just in time, when my friend Chris starts yelling "Cop, Cop!" a quick glance to the speedometer, I was going well over 85, that's when our luck ran out, The Jefferson County ate up a half hour of our time, and a good portion of my wallet. (Kids: Drive the Speed limit!) We rolled into Tyrol casually late, got our passes (special thanks to Tyrol for hooking NS up!), and we're off for the day, the morning started off early as the snowboarders had the spotlight, so I met up with the Minnesota kids to get some last minute filming in, and some one on one interviews with "Steve." From the first run of the day it was clear even though the Man brought me down this morning, it was going to be a vary good day.Even though the snowboarders had their fun competing for the morning, The Skiers had their own fun for the day in what quickly turned into the unofficial Midwest NS hostile takeover, I called out tricks, and handed out EC Headwear hats as prizes (special thanks to mattyb.), there was a Cossack Competition, a Shifty Comp, and everyone's favorite, the spin to win, which was won with the most penciled out 1080 ever. Almost everyone walked away a winner. Then we hit up the Trains, and to prove that Wisconsin is easy-going, the management was yelling at us, they were yelling " That was awesome guys, keep 'em going", gotta love Wiscompton. Then came our chance at glory, the Skier's rail jam, everyone threw down on what had to be one of the most impressive late season rail jams the Midwest has ever seen. Urban D to DFD, Rainbow, to Flatbox, everything was so smooth, and without a doubt Legit! Today however Wisconsin was not in the house, as the podium was filled with Minnesotans.Rail Jam Results:Tony SeffyerAndrew FeatherstoneAlex SeffyerDay 2:Sunday started out great, I was on time, and ticket free, and well nourished, so it was straight into another day of aggressive alpine skiing, Sun burnt, and groggy from the last day, I strapped on my skis, and forced everyone to get last minute filming in while the snowboarders played on the Medium-Small Air Jump. We had a good flow going in the park; every skier there was pulling absolutely crazy skis stunts! Everyone was getting pumped for the Medium Air comp that afternoon until the lift gave out, (My Sympathy goes out to the 30 or so stuck on it). That's when the fun started out for the people lucky enough to be on the ground. Everyone came out to session the flat bar at the base, it definitely became a showdown, of who could pull the best trick out of their cache. Then it came time for the Skier's Medium Air comp, everyone was pulling out the best tricks they could. This however did not prove to become a spin to win competiton, as some really stylish, and tech-y tricks came out, (check out the video for what was to be seen).Medium Air Results:Simon MontgomeryFat John FeatherstoneAndrew FeatherstoneSpecial Thanks: The Staff at Tyrol, The State of Wisconsin Highway patrol, the Mt Hoerb McDonalds, and Fat John for not breaking my skis.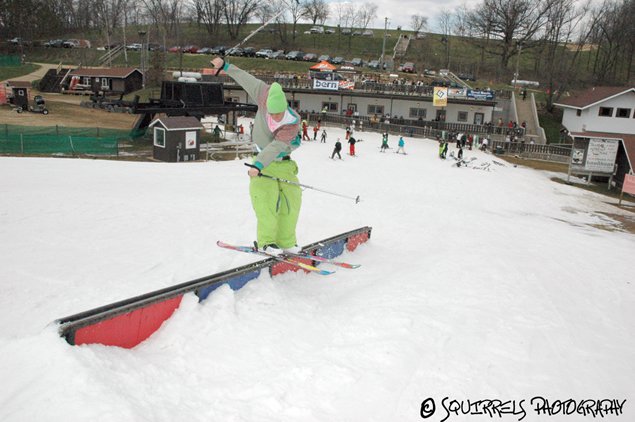 Steve Janisch representin' the 80's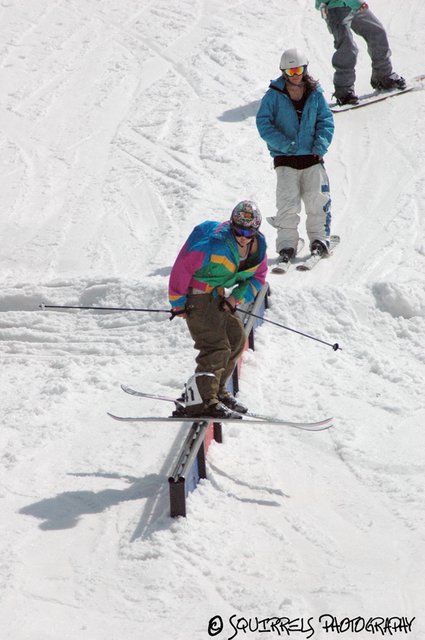 Rail Train!
Hey , Steve. Wants your number!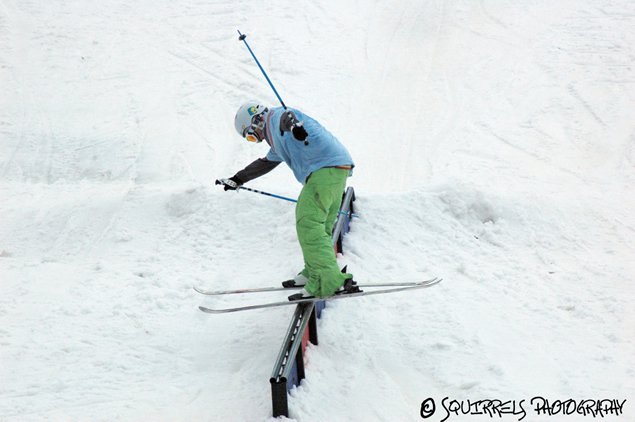 This Turned out to be one really sick Pretzel (see video)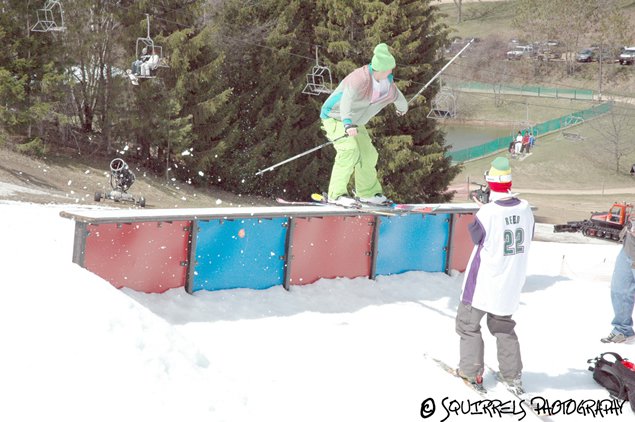 Steve agin on the flat box, check out the gaper with one Fujative, and one Chronic, (Thanks Fat John!)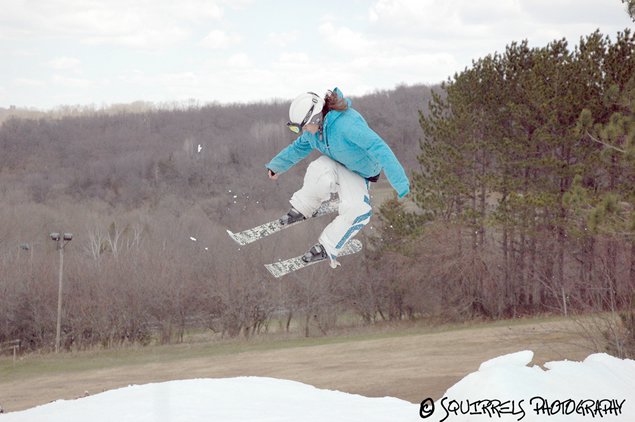 The Female Tom Wallisch.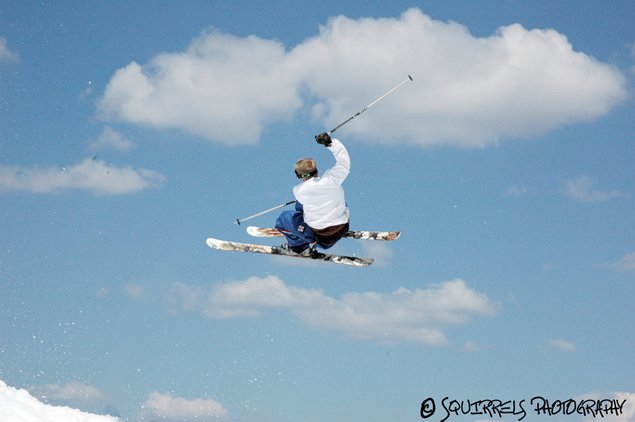 Tony Seffyer making it look easy.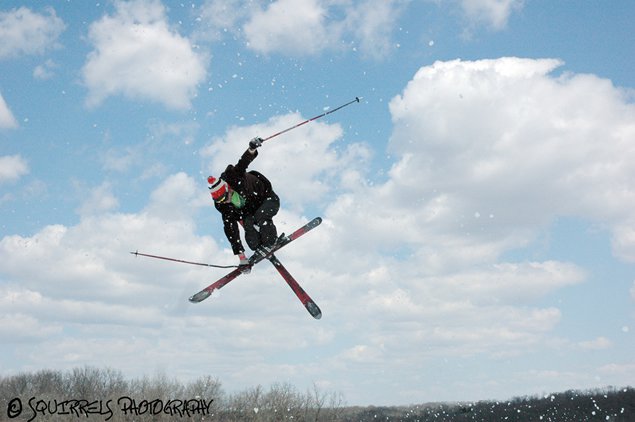 This Guy is Insane! Pulling some of the sickest baccky's I've ever witnessed.
WEEEE!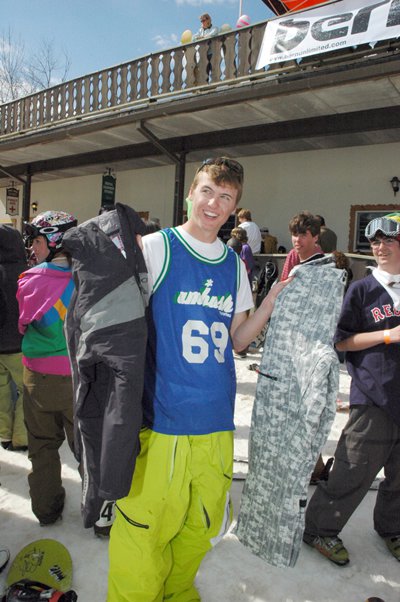 Simon Montgomery, 1st place Air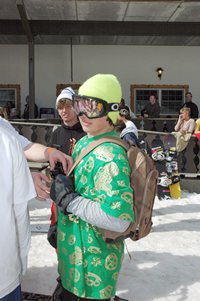 Fat John, 2nd Place Air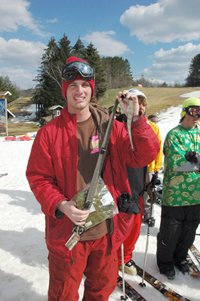 Andrew Featherstone, 3rd Place air VIDEOhttp://media.nscdn.com/uploads/site/news/11783233909338/SpringJam.mov