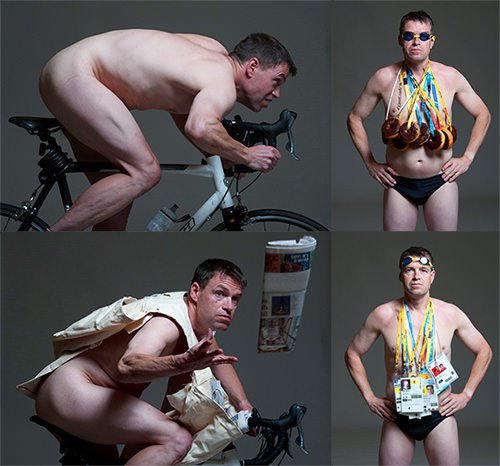 Every year, ESPN releases a special Body Issue in which athletes pose nude — an edgy, artful response to Sports Illustrated's Swimsuit Issue that focuses instead on the power and form of athletes' bodies. Last summer, a sports writer stripped down for an interview with two NHL players, a turning of the tables on sometimes awkward locker room interviews. This year, ESPN columnist and senior writer Jim Caple stripped down for his own body images by sports photographer Rod Mar. Caple poses as nude Lance Armstrong, a doughnut and press pass version of Michael Phelps, plus some other memorable sports photographs.
Caple's hilarious, yet insightful commentary ensues:
It was hard accepting these photos. I've always sympathized with the way women are judged on their bodies. I've long been a proponent for women's sports. I've written extensively about women athletes all over the world. I consider the strength and confidence women gain from sports perhaps even more important than what men gain. But I never fully appreciated their feelings about being judged on their bodies. Now I do. I also get the popularity of fad diet books.
I hesitantly showed the images to my wife, worried over her reaction. I half-expected her to be horrified and insist I kill the project. Instead, she laughed. I was relieved.
And then she, too, commented that I looked chubby.
After I expressed concerns about my flab to Rod, he emailed back a new image, writing, "I don't think you look chubby." He had performed skillful photoshop liposuction, which is the only thing I noticed in the image. He also gave me muscle-bulging, vein-crossed biceps and Hulk-like forearms, but I didn't notice that at all. All I focused on was the reduced belly; it was all I was concerned about. (Unfortunately, my editors went with the original photo. Ethics!)
Read the rest of Jim's column on espnW.
Is being seen naked really that scary? Um, well … [espnW]
Image credit: Photographs by Rod Mar/espnW