https://www.newschoolers.com/videos/watch/738675/Southern-Alchemy
If Voluerz taught us anything, its that skiers and boarders can be friends.
I have been the video intern at Camp of Champions for the past two summers. This project was sparked by countless generic t-bar conversations there that usually resulted in people asking me what I was doing on snow, or if North Carolina even had any skiing once we exchanged names and where we were from.
To answer the question once and for all, yes. We do have skiing, we have some really fun mountains, sick parks, and we have some riders that deserve more recognition than they get. The goal of this project was to draw some attention to the under appreciated scene in NC and the riders that make it what it so special. In keeping with the local theme, all music used is from local artists. I also had a lot of help from Tanner Sinclair (T-Sin, the guy behind the Project Flex edits), who filmed and made the ski park segment.
The project was filmed using magic lantern raw video, which was in its infancy when I started filming this. At first, footage was plagued with glitchy frames, audio recording wasn't yet possible, and the only way to convert the footage to something usable was via command line. But over the past year, the guys behind ML have worked wonders and made raw video into a very stable feature, added audio recording, and continue to improve the code to allow for increases in resolution and frame rate. I've also written a script for batch processing the files and learned about developing for magic lantern. In the end, I found myself with roughly 250,000 raw photos (each frame of video is saved as a raw photo) and ~1 terabyte of footage in total. I think the results were worth it.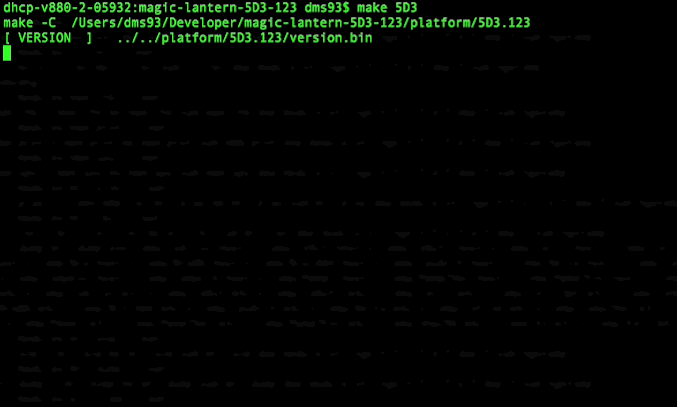 "I don't even see the code anymore" - Magic Lantern compiling
I could talk about this process for a long time, and maybe I will sometime in M&A if theres interest, but I suspect most of NS would rather just see sick shots from the film like this: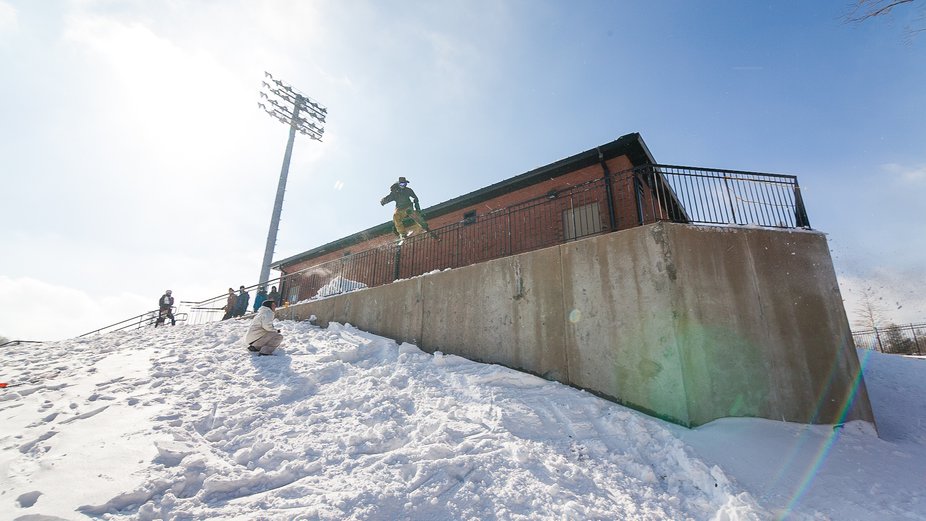 Joseph Toney setting a spin
Or maybe something a little more press-y, like this: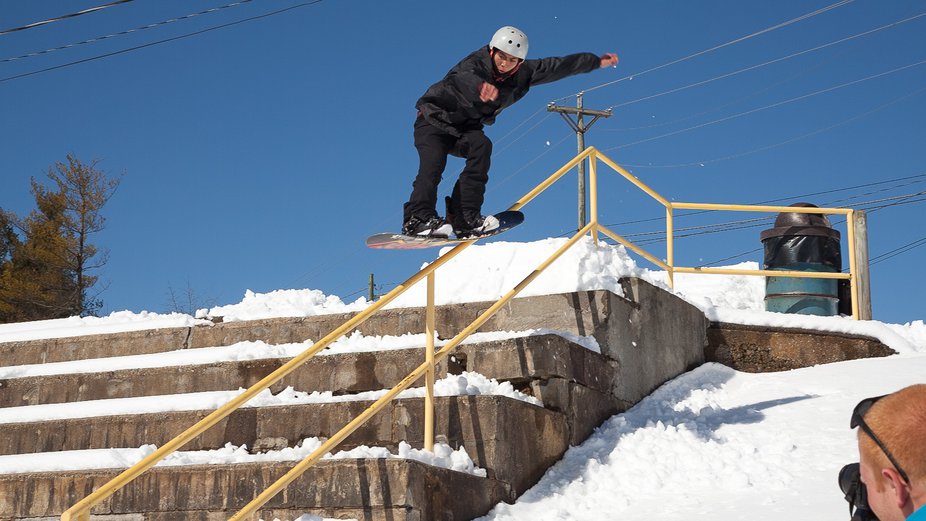 Julien Passajou doing some kind of wheelie or something
This urban segment was super fun and exciting to make. The guys at Appalachian State (where most of the street was filmed) had been scouting rails since their freshman year, but hadn't gotten enough snow in 4 years to make many of them happen. We knew a big storm was in the forecast so we started making tentative plans. The polar vortex had already given us little tastes of what might be in store this time. On the day the storm was supposed to hit, I got out of class and headed to the library. I got maybe one problem done before I looked out the window and saw that it was dumping snow in Chapel Hill. I knew that it must be even worse farther west and that if i didn't leave then, I probably wouldn't make it, so I left for Boone before any classes were canceled.
You may question why I think I wouldn't be able to make the drive. After all, it is only 4 inches in Chapel Hill and it had just started snowing. Let me respond with a picture taken in Raleigh, NC that afternoon.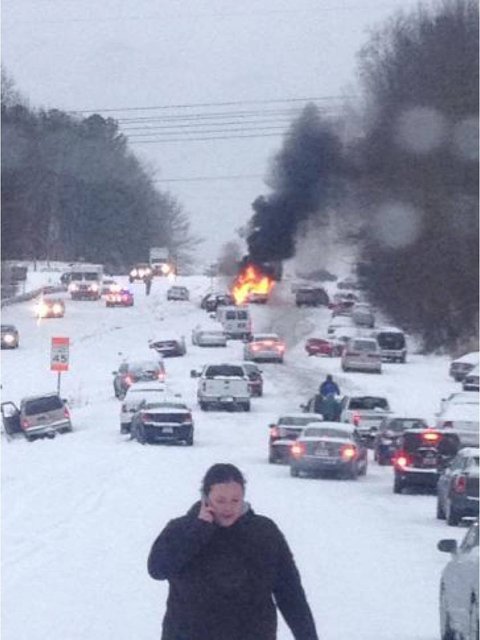 Enormous cluster fuck on I-40
I can attest to the accuracy of this picture. It took me 6+ hours to make a 3 hour drive because I had to navigate around multiple scenes like this. Luckily, classes did get canceled at App and UNC for the rest of the week, so we spent the next 3 days putting in 12+ hours a day getting shots and hitting 15 different spots.
SIDE NOTE:
Did anyone notice when Garrett tried to eat a fry through his face mask? You better believe that shit made it into the film.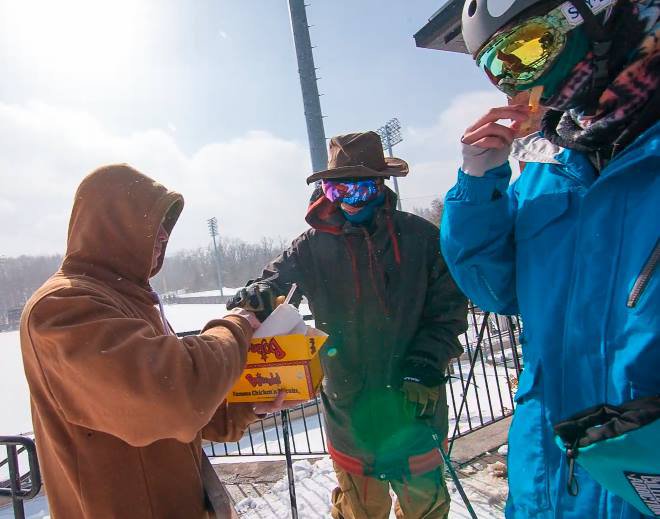 BACK TO FILMING STUFF:
Let's talk about how Cory managed to rip so hard with such little snow. I did it. Its not at all as easy as he makes it look.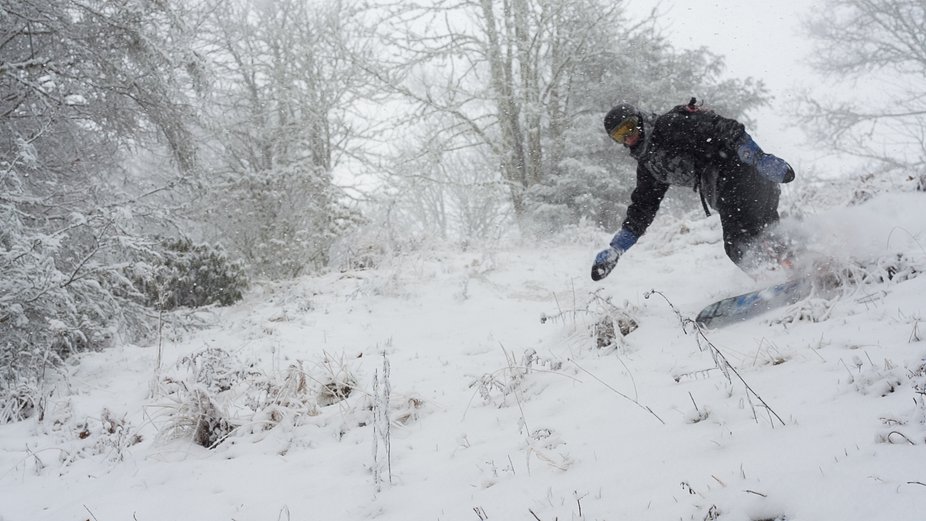 Cory Haberstock on Thunder Bolt Knob
This, too, was an awesome adventure to go on. A completely spontaneous mission that was prompted by getting blasted by the formidable snowmaking power of Cataloochee.
The same storm that gave us the opportunity to hit street at ASU gave Cory the opportunity to do some more "back country" on his own. In a couple days, he racked up thousands of feet of vertical skinning up trails and nabbing what I'm sure was a first descent on every run he took.
After a lot of delays and countless hours spent editing this summer and fall, the finished product came together. Because of the huge file sizes, the film took 14 hours to render out. I'm pretty happy with the result. I think the experiment with raw video was a success and I did a pretty good job of documenting this side of the NC skiing experience. I have to thank all my friends who helped and supported and gave their input. Especially Garrett for letting me stay on his couch so many weekends this winter.
Words & Photos (Except the I-40 cluster fuck) - David Stanley