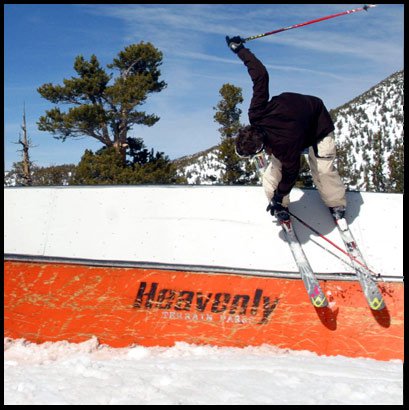 By Jason Tross
South Shore Soldiers set up camp at Heavenly at Lake Tahoe, California for the third consecutive year March 8-27. Local snowboarder and three-time X-Games gold winner Jimmy Holopoff led the charge with nearly 20 of his loyal minions fighting the battle to party and progress the sports of skiing and snowboarding more than ever this spring break.
More than 80 campers enlisted to push their limits on and off the snow. Pro riders Tanner Hall, C.R. Johnson, Matt Sterbenz, Luke Van Valin, Chris Hernandez, and many others came to demonstrate and assist coaches with their recruits. The hazing didn't stop there: four nights of private parties, V.I.P.s up in da club, and an entire conference center had the Soldiers waving the victory flag against kindercamps. According to Holopoff, "South Lake Tahoe is the place to be.�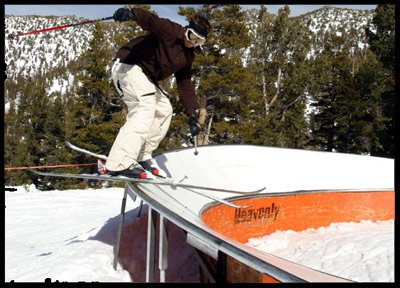 "I want our camp to be another great spring break destination like Mexico, Panama City, and others,� he added.
While most camps are aimed at the younger rider, South Shore Soldiers is aimed at the spring break crowd of college students and adults over 21. "I was a little surprised to see more people my age here,� said Benjamin Garnas, 25, of Alberqurque, N.M., a second-session camper.
Shane Chandlee, former Windell's head coach, has returned for the second year. As the first ski coach at Soldiers, he has seen his fair share of campers pass through. According to him, the atmosphere of a night-life of partying in the hottest spots after the best days of skiing all year puts campers in a better position to succeed.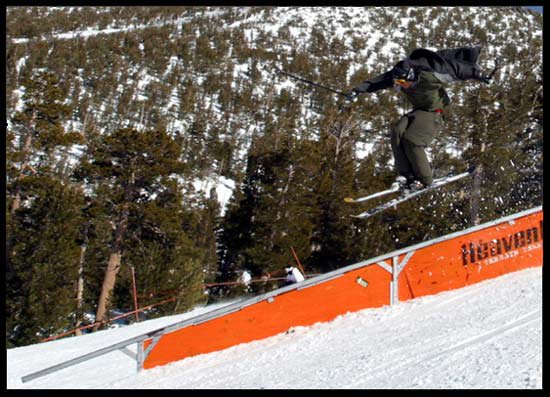 "Every day we ride hard. At 3:30 each day we download our campers to play hard at the hottest spots in town to live it up soldier-style,� he said.
"It's great having this atmosphere with the party night-life,� said Garnas.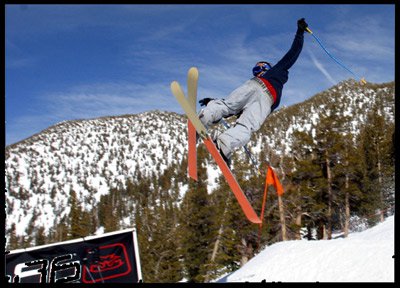 Just a more than a week ago Ben's skiing was limited to intermediate mountain skiing with no park skills. After a little switch incident with a lift pole and two more days of practice, he was sticking stylie 180s and 3s.
According to Ben, "If you want to improve this is the place to be. Whatever you want to learn they will teach you and then take you out on the town.�
Jump in the South Shore Soldiers custom cammi '63 Cadillac Limmo to the Altitude Club at Harrah's Casino or Ceaser's Palace Club Nero on the lake shore at the bottom of the Heavenly Gondola. Jimmy and the Generals reserve the V.I.P section to watch topless dancers and pound all the drinks they can hold down 'til whenever o'clock in the a.m. Nevada has no last call; that's right, no last call.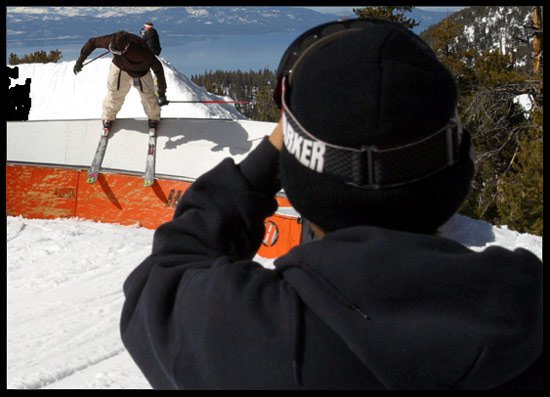 Thursday nights are set aside for bloody battle at the bowling alley. Recruits and commanders bowl and booze for the glory.
According to Holopoff, Lake Tahoe's legendary riding, round the clock night-life and unbelievable scenery were untapped and still lie that way. He and fellow founding father Head Coach Ed McClain decided to start Soldiers to bring all these together in an environment where riders could get together in an effort to progress. "We just took a look at our surroundings here at South Lake and saw the perfect place for all of this,� Holopoff said.
McClain is certified in PSIA, ASASA and USSA and is currently the head of Heavenly's competitive snowboard team. He has hand-picked 16 coaches to take campers' goals and help them reach them.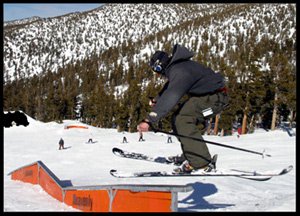 South Shore Soldiers is growing at a fast rate; triple the campers since the first year. The Generals are looking to increase those numbers and they're looking for you to serve your sport.
$649 gets you five nights at the Super 8 in South Lake Tahoe, four days skiing at Heavenly, four days coaching, five nights of partying at the sickest spots in Tahoe, entry in raffles and free stuff. For all the Tahoe locals with Heavenly season passes you're in luck. They offer a Local's Day Camp for $165 which gets you all the goodies without the stay at the motel. If you bring friends you get a discount. If you recruit 10 or more soldiers you camp for free. For more information check out http://www.southshoresoldiers.com.