My experience with binoculars has mainly revolved around visits to motor sports, surf carnivals and performances like musicals or opera.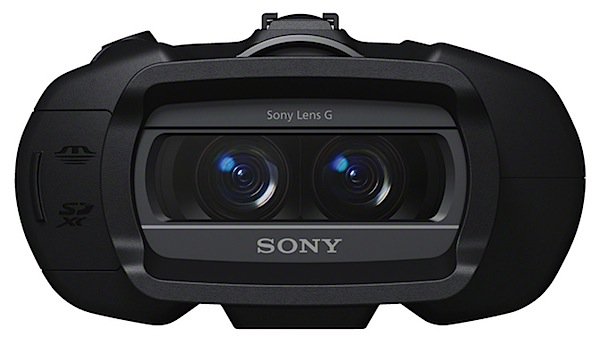 So I can, without fear of contradiction, say that we can safely discount use of the DEV-5 in theatres and the like: for one thing you'd quickly get tired of sitting it on your lap or wrapping it around your neck ? it weighs over a kilo and is nearly the size of a shoe box; for another, it looks suspiciously like a recording device ? for stills and video ? which of course, it is!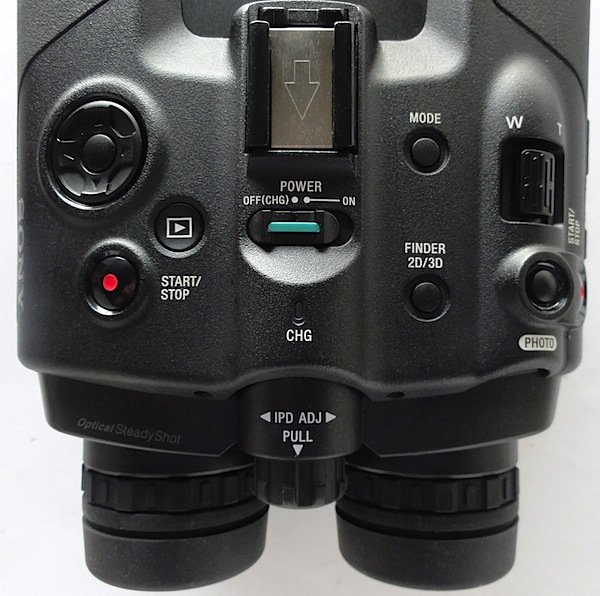 Outdoors? Ideal! And, because the gear looks like high end binoculars you may evade the piracy police!
Sony DEV-5 Features
The DEV-5 is/are the world?s first digital binoculars with Full HD video recording (in AVHCD), zoom, autofocus and SteadyShot. And, of course, 3D movie capture.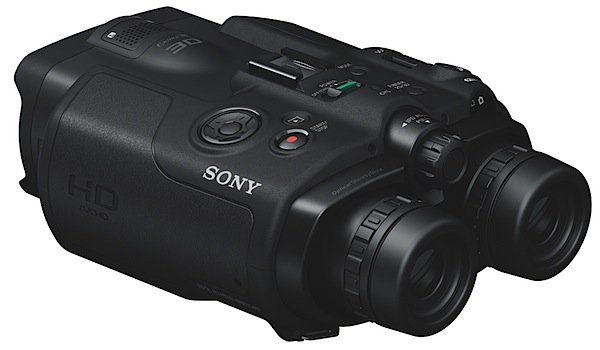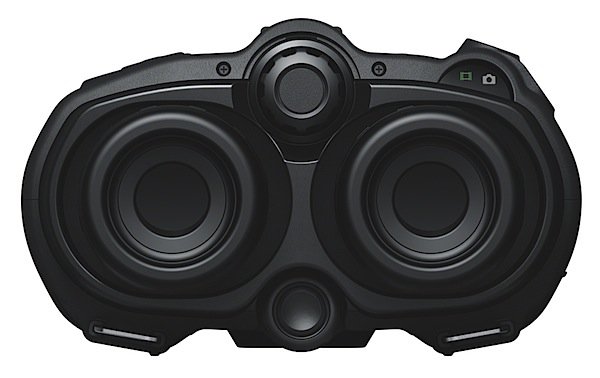 You can also capture stills up to a maximum size of 3072×2304 pixels, or as a 26x20cm print made at 300 dpi.
The DEV-5 offers an on-board GPS receiver that automatically geo-tags video clips when on the move. Tagged clips and images can be viewed after shooting on online maps (using compatible software).
The binocs rely on a ?stealth? design, the outer covering using an elastomer material which gives a reassuringly firm handling. Most external controls are over-sized, so gloved hand operation is not a challenge.
As I said, the gear is heavy and bulky but well-balanced in the hand. One of the first things I did was to remove the plastic twin lens cover ? it became an annoyance every time I put the DEV-5 down. Removing it made life a lot easier.
Memory card loaded, the power was applied and the binocs quickly came to life in about a second. The power slider is set amidships and clearly picked out in green.
First: I needed to set the local date and time, using the viewfinder menu. Done.
Using the finder display and a set of cross lines I next adjusted the interocular or inter-pupillary distance. This is easily achieved and you then just hope that any co-users have the same eye-to-eye distance! Following this you need to adjust the dioptric setting separately for each eye.
As you will most likely spend much of your time with eyes glued to eyepieces be thankful the control points are easy to find finger-wise: choice of mode (stills or movies) and shoot buttons are at the right with the zoom lever slightly for'ard; a second shoot button is found at left, suiting southpaws right down to the ground.
Possibly a pre-production unit, the review DEV-5 was hobbled to a degree by an inability to shoot stills ? only movies.
In rough figuring, at a distance of about 12 metres you could pull in a tight head shot. Initially, I was a little disappointed at the image quality in the eyepiece: whilst sharp, it was murky. If you're an inveterate binocs user, you may find the DEV-5 heavy going, become annoyed at the display and find pleasure only in its shooting abilities. If so, you may be better off using a digicam with an eye level finder: just view and shoot mono not 3D!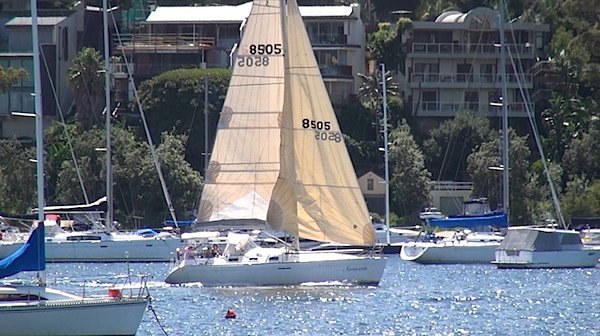 The task of writing this review was a tricky one: to investigate such matters as the menu options I soon tired from holding the DEV-5 upright and pushing my eyes into the viewing eyepieces, so I resorted to mounting it on a tripod next to my desk.
Charging is a accomplished by hooking the binocs up to mains power; a separate stand alone charger is an optional extra.
Apart from the supply or non-supply of a stand-alone charger, another question I had was: why is there additional space and an additional terminal in the battery compartment?
The answer is to allow fitting of a larger capacity battery, able to run the device for 390 minutes, as against the supplied cell which has enough power for 195 minutes.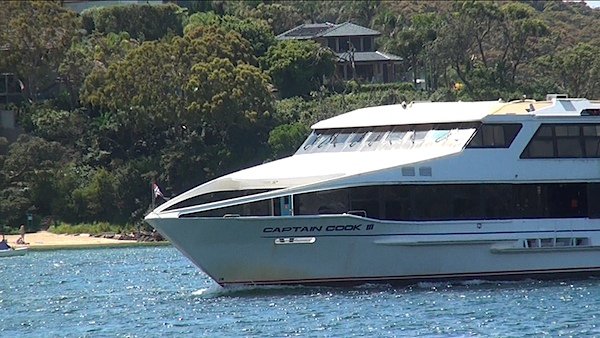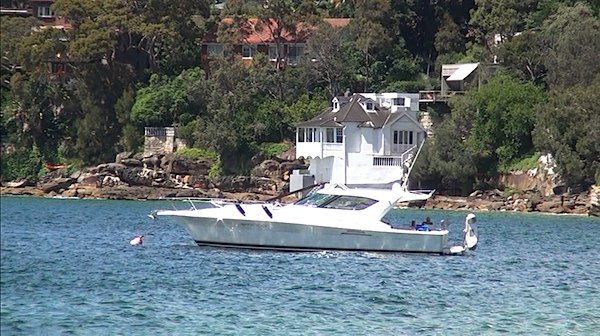 Sony DEV-5 Verdict
Quality: I could shoot only video but the frames I took looked OK ? nothing brilliant, sharpness adequate but perhaps a little subject to flare (the test shots were made in backlight).
Why you?d buy the DEV-5: you get binocs plus a digi camera.
Why you wouldn?t: too heavy; menu difficult to navigate.
You may also need to buy a separate charger if you want to use the binocs and charge a second battery at the same time.
I feel there is a major flaw in the DEV-5′s design: the viewfinder menu should be accessed via an external LCD screen (just like a digicam!), perhaps sited on the top deck.
I also feel the sensor capture figure should be higher, maybe 10 megapixels minimum; this way you could crop worthwhile images to a still reasonable size.
Sony DEV-5 Specifications
Image Sensor: 7.1 million effective pixels.
Metering: Auto.
Lenses: Twin f1.8-3.4/23.7-660mm (35mm equivalent).
Sensor: 4.5mm Exmor R CMOS.
Stabiliser: Optical SteadyShot.
Minimum Illumination: 11 lux (1/60 sec shutter speed: 60i; 1/50 sec 50i).
Interpupil adjustment: 55-75mm.
Audio: Dolby Digital two channel stereo.
Memory: SD/SDHC/SDXC and Memory Stick PRO Duo cards.
Image Sizes (pixels): Stills: 3072×2304 to 640×480.
Movies: 1920×1080 (AVCHD), 1440×1080 (MPEG4xxx).
Viewfinder: 2×1.1cm LCD (1.23 million pixels).
File Formats: JPEG, AVCHD.
Interface: USB 2.0, HDMI mini, composite/component/S-Video AV, headphone, microphone, DC.
Power: Rechargeable lithium ion battery, DC input.
Dimensions: 219x155x88 WHDmm.
Weight: 1.2 kg (body only).
Price: Get a price on the Sony DEV-5 Digital Recording Binoculars at Amazon
Post originally from: Digital Photography Tips.
Check out our more Photography Tips at Photography Tips for Beginners, Portrait Photography Tips and Wedding Photography Tips.
Sony DEV-5 Digital Recording Binoculars Review