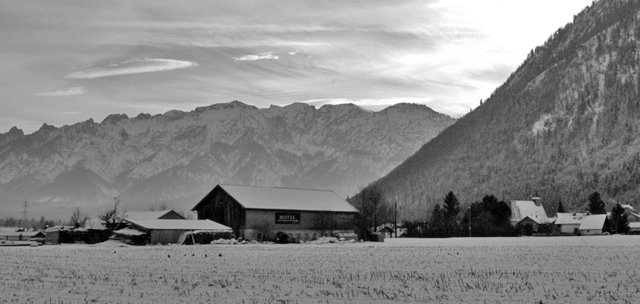 words and photos by Ethan Stone
Conception of a ski story: I am hurtling on the Autobahn through the cold night into the middle of nowhere in Bavaria. You may have heard things about the Autobahn (no speed limits) and maybe even about Bavaria (green hats, Oktoberfest). I assure you, it is all this and more. The lights of civilization fade as we drive into the darkness and soon I am standing in the deep, cold night in the yard of a German farmhouse.
What exactly am I doing here in the middle of nowhere in Bavaria, you ask? To be honest, I'm not really sure. This is hardly your typical ski destination: there's not even a town here, much less a ski resort. Just a meager collection of barns and farmhouses somewhere in the rolling German countryside. I half expect to see a pigtailed blonde in a Dirndl come skipping down the driveway with a glass of Grandfather's goat milk in hand. All I've got is a tip from a friend of a friend that this is supposed to be one of the better backyard rail parks this side of the Atlantic.
Then Heise, who's been fussing with extension cords and tripods in the darkness, fires up the generator, and as the lights come up, everything becomes very clear to me.

The term "backyard park" really doesn't do this setup justice. Each rail is built from a single log notched regularly for simple log uprights, hand-planed, and covered with a narrow strip of PVC. The set-up is not for the lighthearted, with each jib at least five feet off the ground and over 30 feet long. Obviously, someone has put a lot of time and care into this.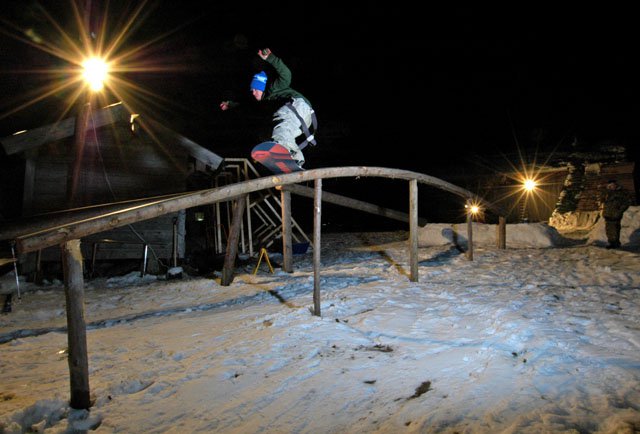 That someone turns out to be Stefan "Heise" Markhauser, a member of the Amplid Research Cartel and one hell of a friendly guy. He has hand-built every feature in his backyard with a passion for perfection that is amazing even here in Germany, land of Formula 1 fans and BMW fanatics. Most North American backyard jibbers are satisfied with the basics: a flat rail, a kink or two. Not Heise. He's built a drop-in ramp off the top of the barn that accesses a scary-looking log gap, rainbow, six-foot high flat log, up rail, and a sizeable collection of concrete, wood and metal miscellany. In the field past the barn there's the biggest trap rail I've ever seen anywhere, hittable only with a snowmobile tow-in, and behind the shed (against which leans the skeleton of a half-built wallride) there's a 60-foot flat rail and a double-stage rail gap set up through a barn—both also big enough to be sessioned only with engine-powered propulsion assistance.
All but one of the riders I'm shooting tonight are on boards made by Amplid, a German ski and snowboard company based just a few kilometers from here, at the base of the Alps and a pretzel's throw away (a real pretzel) from Austria. In fact, it was Amplid co-founder Peter Bauer who had tipped me off to this place. The name might not ring any bells with the Newschoolers crowd, but Bauer was an original member of the Burton European team and a famous snowboarder back in the days of hard boots and directional boards. In 2005, he was approached by an old friend, Bavarian freeskier Anian Thrainer, who was getting his fledgling ski company off the ground, and together they created what they call the first rider-owned and operated ski and snowboard company.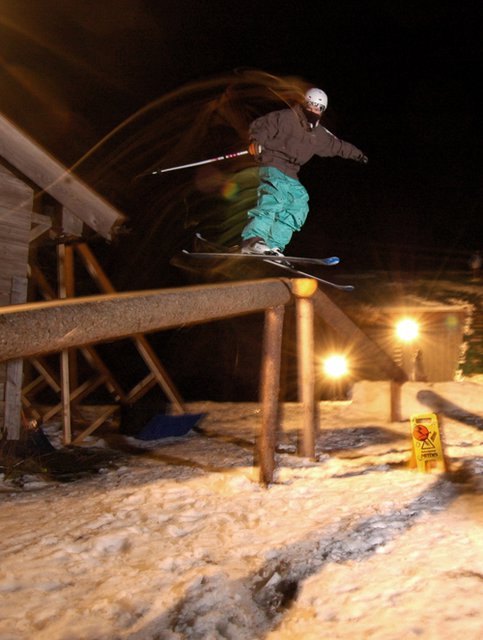 Wasti Huber
Amplid is based in a little dorf with the unassuming name of Fischbachau, just down the road from Heise's place. Actually, his sponsor and his jib park have a lot more in common. Like Heise, Peter and Anian have painstakingly constructed their enterprise from the ground up, taking on all of the work themselves as the company's only full-time employees; and also like Heise, they know how to keep it real. Amplid produces both skis and snowboards, placing equal emphasis on both and refuting anyone who thinks that the term "core ski and snowboard company" is oxymoronic. The park operates on the same principles: one board or two, it's all the same as long as you're putting good wood to good use. Once we're done with our ski session here, Heise says the Isenseven snowboard crew will be coming to session.
And also like this Bavarian wunderpark, which under constant construction and expansion, Amplid is growing slowly but surely. They've jumped the pond with distribution in North America this season, and the new team members or, if you will, Research Cartel members Tom Wallisch, Steve Stepp, Alex Martini and snowboarder Luke Thorington are making sure that word gets out about the new player on the field.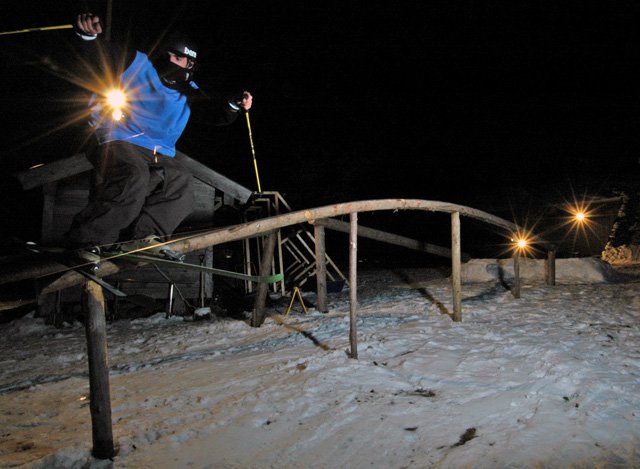 Stefan Beranek
There is something special about driving hours into the middle of complete nowhere in a foreign country and finding, hidden among century-old barns and rolling countryside, a tight group of brethren pursuing the same ski dreams as any grom at Keystone. To me this is not only testament of how quickly skiing's new ideas have caught on and spread, but much more a reminder of skiing's long-shared heritage. Taking skiing seriously is nothing new in the Alps, and that passion has simply been carried over in a new generation of riders. That partly explains why Heise, Wasti, Stefan and Dennis (pictured below) slay these logs like they've been doing it every day all winter long. The other part? Well, okay, they have been doing it all winter long. Who wouldn't, with this in your buddy's backyard?
Dennis Ehlert, bs switch-up over the log gap
We only shot one night at the park and then got rained out on plans to photograph the larger features, so the other jibs I'll have to leave to your imagination for the time being. Not Amplid, however—you can check out their line at amplid.com. I mean, if ogling nice-looking new skis is your thing.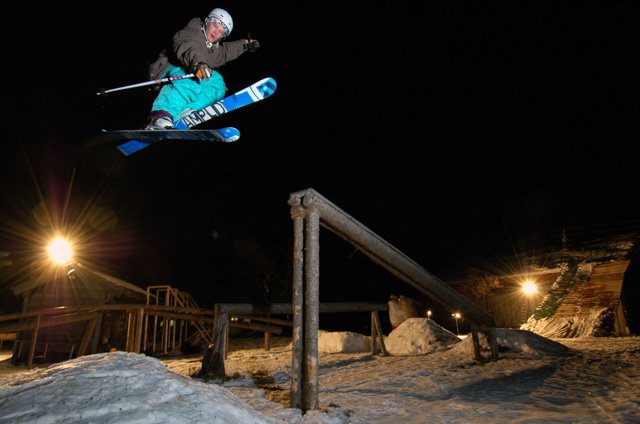 This up-box is definitely one of the more fun features in the park. Wasti Huber demonstrates.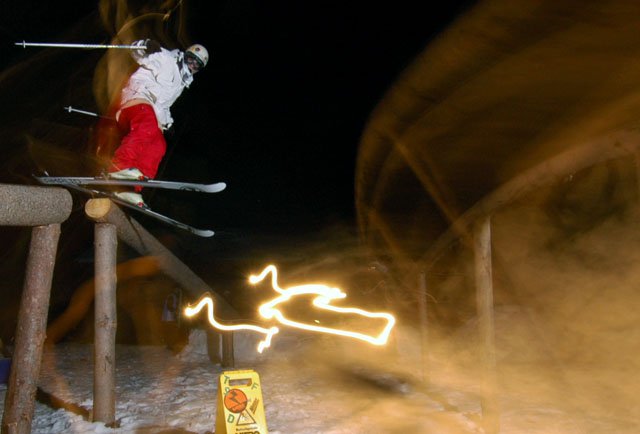 A note to aspiring ski photographers: Saving your ass and your camera is ALWAYS more important than your long-exposure shot! Keep them both intact, so you can get the shot the next time.