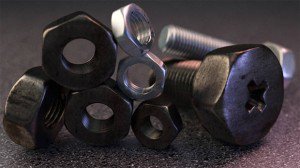 Photographer Mark Meyers just wrote up a nice enough story aimed at driving awareness fear in professional photographers … fear about the future of their career, their well-being, their jobs.
Depicted in that article this image at left, which was completely generated by the author of the post using an emerging 3d modeling software called Blender. The quote that stands out from the article is this one:
"If you are a photographer that makes a living shooting still-life photos, this should scare you…"
Bullshit. Unless of course…
You take the kind of photo that actually requires no personal vision…or
you're unwilling to evolve with the industry…or
you're somehow deluded that photography should be bound to wait for it's sectors that can't evolve…or
you're unable to comprehend the definition of photography expanding into new horizons.
In which case it SHOULD scare you because you should be replaced.
Because whether the camera is 6 megapixels or 60, it's a point and shoot or a dSLR, or … gasp…the "camera" is a dude sitting at a desktop computer…these tools are JUST TOOLS and cannot create compelling content without a human driver, a storyteller, a visionary at it's helm. And those photos are the only photos you should be aiming to create…unless of course, you're ok being replaced by a lower priced pork belly.
This might seem like tough love if you're hearing this for the first time. Apologies. But, get used to hearing no. If you're an aspiring amateur or new pro, it's fair to be disappointed, frustrated, or to find yourself in a position where what's sitting in your lap is something different than you thought you signed up for. But it's not smart for any of us to feel entitled — to complain about an evolving creative marketplace or desire to freeze an entire industry in time. Whether we like it or not, all industries march on.
Consider this your prime opportunity to start (or continue) to differentiate yourself, your work, your vision from that of your peers.
—-
(via petapixel)