***Disclaimer: These are only my personal experience. I am not reporting on any events at the games and I am writing under no influence or authority of anyone else. I have only been asked that I obtain permission for any photos of people I post pictures of, to not report on events, and to not give away any information that could compromise security.***
I finally feel like I'm in Russia. As volunteers, we were given the opportunity to watch the opening ceremony rehearsal. I can't comment on what I saw, but I can say that it was absolutely beautiful and a site to see. And for once! the nose bleed seats rival the front row for best view. Sochi is a confusing place; It's filled with palm trees, rain, and a coastal atmosphere. I knew it was considered "sub-tropical," but I still thought it would feel more Russian. Even after my Russian reading lessons and learning how to order a beer, I still wasn't feeling it. Then the rehearsal--now it feels like Russia and I'm finally satisfied.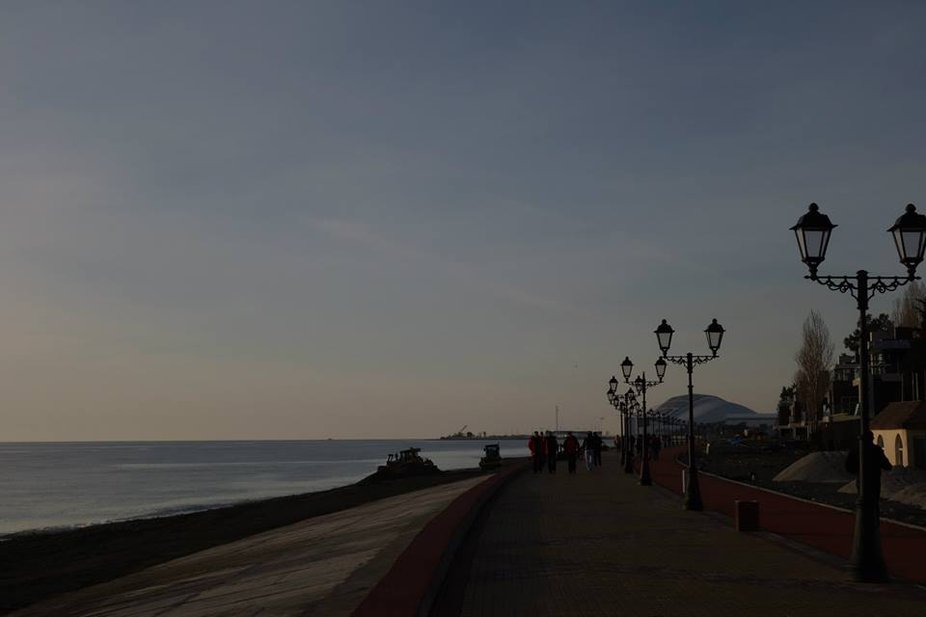 (Black Sea with Olympic Park in the distance)
This week has been exceptionally dull or exceptionally awesome, I can't entirely decide. There is NOTHING to do at the press centre yet. I pretty much just sit at a desk and watch ski movies. This is a half-assed complaint since I suppose I could find a small web job to do or work on learning to code, but I'm trying to feel more like I'm on "vacation." Doing as little as possible is important. I've been filling as much down time with learning Russian as possible. I can read and write in Russian now. I don't know what I'm reading or writing, but it is the first step. A lot of words are surprisingly close to many English words until you say them with a Russian accent, so it's really beginning to help. I have also figured out an important word--Kacca. Said Casa, it mean's tickets. Mostly unrelated, my roommate has trouble with the word "shift" and says things like, "My shit ends at 9." It's quite wonderful.
More exciting, I had a chance to view the Laura venue. Biathlon isn't my thing, but my coworkers wanted to ride the cable way (the gondola). Is it normal anywhere to call it a "cable way?" I've never heard that term before until I came here and they all say it. The venue was pretty neat and I got my first olympic rings photo. I won't be back to that venue, so it was neat to walk around. I discovered a lot less people speak English there. Good luck English speakers!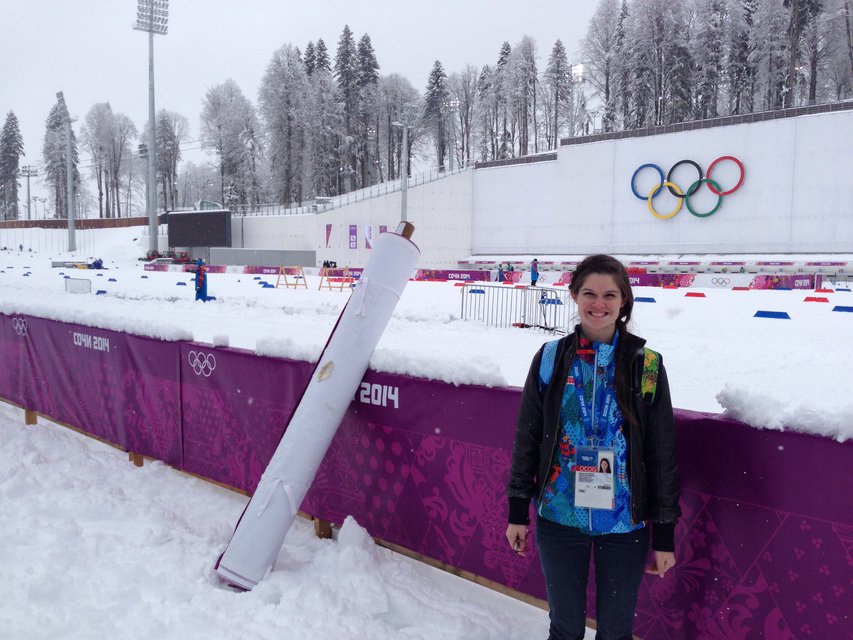 (Laura)
The most exciting part of the week was that I finally went skiing in Russia. Skiing on 3 continents this year; it feels amazing. Perhaps I can find a reason to head to South America this summer and we can make that 4. I have so much envy for professional skiers who live this way as a career. But at the same time, I suppose they don't often get to spend time seeing the sites and it's more so going to France and only seeing Chamonix. I'll have to think more about this later. Skiing was fantastic. I did my first 180 off a lip into powder. Landing backwards in powder is a lot more challenging than I anticipated. I landed it but fell on the turn around. Bonus points came for doing it under the chairlift. There was a hot Russian avy control worker that I wanted to impress. He didn't speak a word of English, so we told him he had beautiful eyelashes and various other awkward compliments. I really hope he didn't speak English.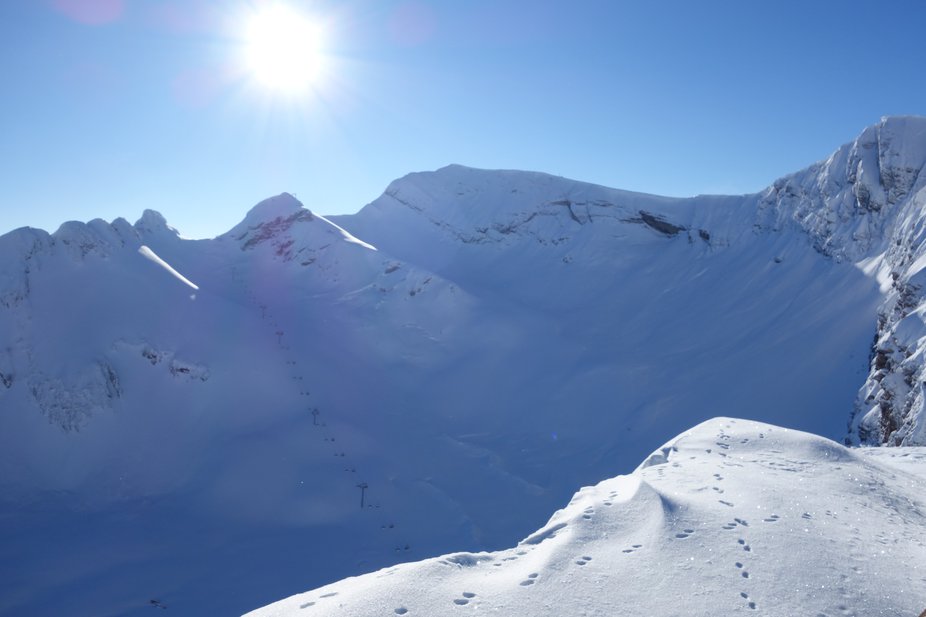 (I really wish this chair had been open! The terrain is amazing and there are no crowds)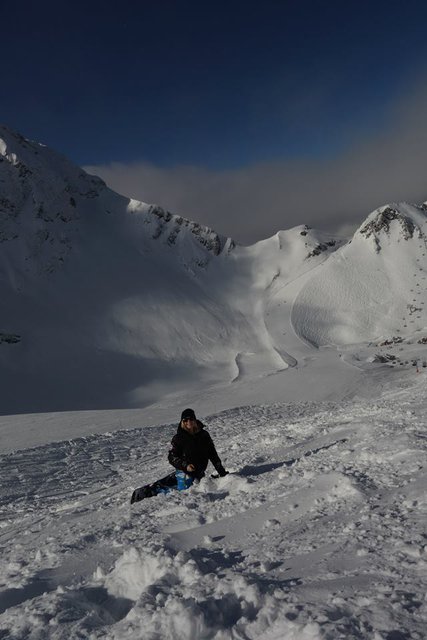 (My roommate's first time in "powder" - It was choppy, she did well)
Aside from that, I've had a lot of down time and my roommate suggested joining Tinder. It has to be one of the most sleazy phone apps thus far, but hey, if it helps me find something to do tomorrow night, I'll deal. The side affect I wasn't expecting is the amount of N.American and European athletes on this app. I'm pretty sure I have now been matched with the entirety of the Sweden freestyle ski team. Let's not talk about my age, but only the fact that I find it odd that they are "liking" me. 1 year away from statutory is too close for me. I am now taking screenshots of athletes. Perhaps a great first submission to Buzzfeed for the opening ceremonies. More on this to come.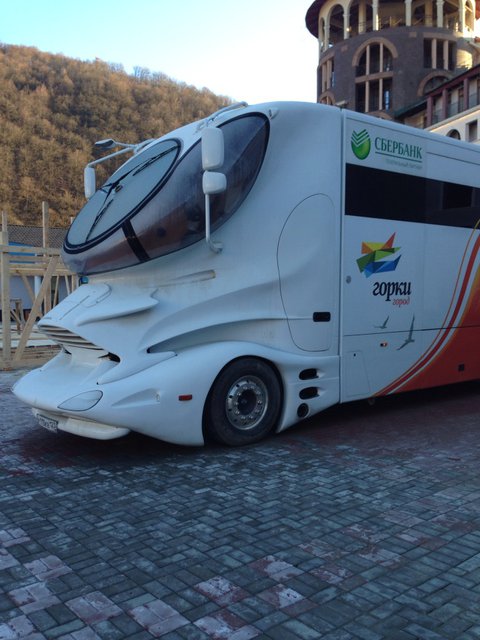 (The bus that I can't explain)
On an alternate awesome note. I was contacted by the Wall Street Journal for an interview on cellphone usage while traveling internationally. Never thought I'd be the subject of an interview for them, but it makes me sound sophisticated or something, so that's Kpyta (crueta = cool).
Now maybe I can make something interesting happen with Tinder.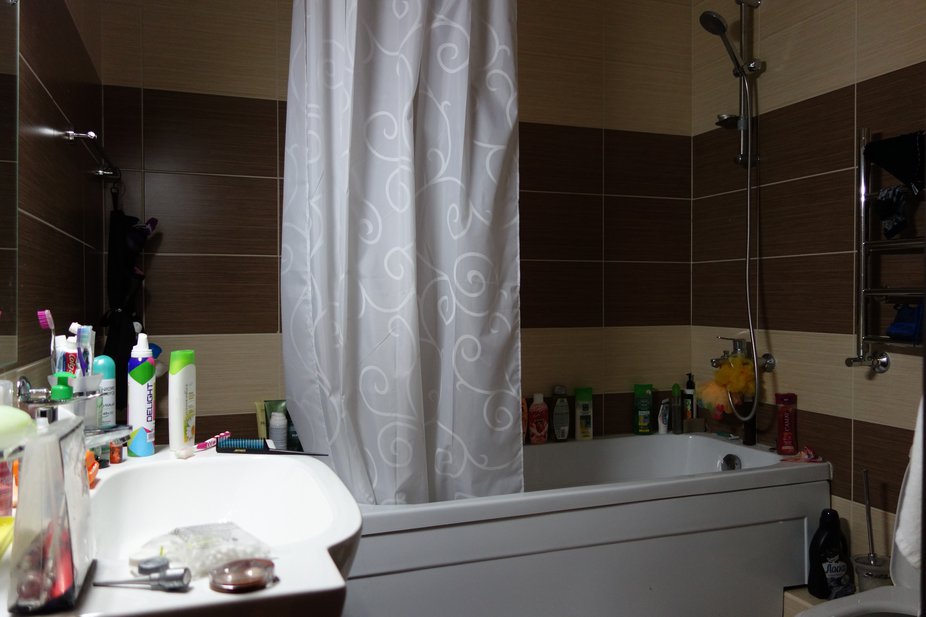 (The shared bathroom of 8 females - I'm worried what it will look like in 3 weeks)