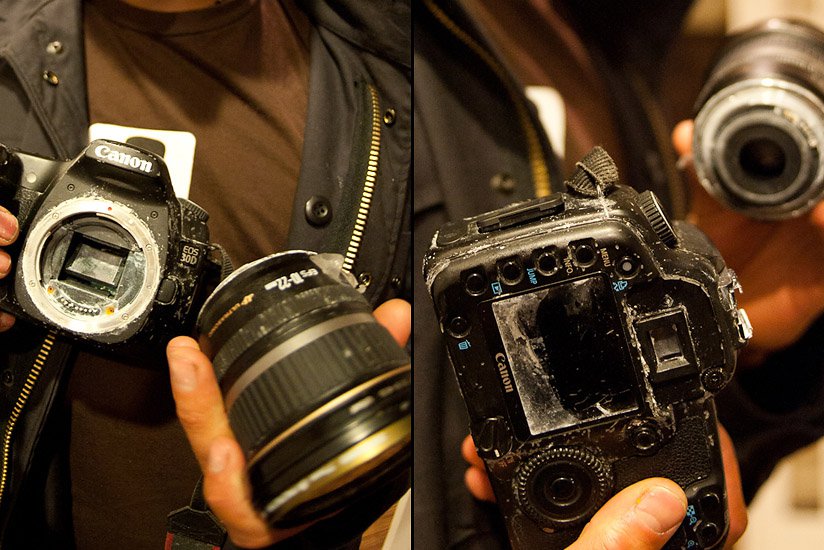 This is not a welcome sight. Like it or not though, it's a reality. It may have started as a hobby and the cameras and lenses were more like toys, but if you are reading this chances are it's turned into at the very least, part time work. That means cameras and accessories have gone from toys, to your tools to work. This means a few things. One, your old toys are now going to take a beating, not matter how well you try and take care of them. It also means you are going to buy more, and more, and more. You were worried about accidently dropping the camera but with your collection growing you need to worry about the collection of gear getting stolen, hammered by the use, hammered by the weather, or just bad luck. It's time to think about protecting your investment.
I'm writing this because I get asked about business insurance for photographers quite a bit and I figure it's time I put this up here. I've had my equipment and business insured for somewhere around 8 years now and it's now saved my ass twice. Interestingly enough it's been in the same year. Call it bad luck or carelessness the insurance saved my ass. We put our equipment in harms way all the time. Just using the cameras in the outdoors is one, but add in the travel, and possibly being in sketchy locations you are putting your equipment at risk. Having your equipment covered is a no brainer but what you may not have known is some locations require liability insurance for you to use their site for shooting photos. In most normal situations most photographers won't run into this issue however if you shoot skiing or snowboarding it's unavoidable these days.
Most major resorts now have policies in place to not let you shoot on their property (or leased land) without having 2-4 million dollars of liability insurance, with proof of that. If you work with professionals then you'd really never have a problem and neither would the resort. However the problem is when you don't. You have no idea what some athlete is going to pull if they get injured. You could get sued, the resort could get sued. I'm in America, everyone sues everyone to make up for their poor judgement.
There are a few ways to go about insurance. If you are just a part timer and not really making much from your photography, then you are possibly covered under your renters or home owner's insurance policy. You may have coverage for your personal property for something like theft, however there's a possibility you won't be covered for accidental damage to your equipment. With that being said if you aren't covered fully by the renters/home owner's policy then it's probably time to look into business insurance. You'll have a better time dealing with the resorts if you are a ski or snowboard photographer, and potentially with other locations. For all you people out there shooting something like skate, bmx, or shooting urban ski/snowboard then in some situations when you try to get permission to hit an urban feature, liability insurance could also get you that permission. I say COULD, because it hasn't happened to me much, but it has helped a few times. Just another consideration.
So, enough about the reasons that you should have insurance, lets talk about where to get it. I'm sure there are plenty more than the three places I'm going to talk to you about but the three I know of have policies for photographers. These three are also American insurers. If you aren't an American, well just start calling your local insurance agents that cover business and you should be able to find one. I'm currently insured through Trustco in Salt Lake City, Utah and Jon Dunn is the person I've been dealing with. Trustco is a group of agents that uses Traveller's Insurance Company for their photographer policies. Thomas Pickard and Associates is another agency and they have been working with photographers for years. They have had a pretty good reputation and come reccomended from the people over at http://www.sportsshooter.com. There are more sports photographers insured through TCP (Thomas Pickard & Assoc.) than you can count. TCP is a group of agents that uses Fireman's Fund Insurance for their photographer policies. Lastly (there are plenty more I'm sure, you just need to find them) there is State Farm Insurance. Just find your local State Farm agent and let them know what you do, and what you are looking for. Remember when you are talking with them to make sure to bring up accidental breakage. Chances are 50% of the time you are putting a claim in, it's going to be for something that was damaged while you were out shooting people doing some really stupid shit. You probably had to do some stupid shit yourself in order to get to said stupid location to take photos of said stupid shit and probably put your gear at risk to pull it off. Make sure you are covered for every potential reason for loss.
Some of you may also not have insurance just simply because you think it's too expensive. When I first started, my policy cost me $500/yr. I'm not around $700/yr, but I also have about double the amount of equipment than I did when I first became insured. It's not that much. Knowing your gear is covered makes it a lot easier for me to put my camera equipment at risk and get it where it needs to go. Something happens? Well, you're covered. Breathe easy. Your gear my be broken but you got the shot right?
Jon Dunn
Trusco, Inc
801.278.5341
Tom Pickard & Assoc.
800.726.3701
State Farm Insurance
Find your local agent on the front page of their website.