Photo: US Freeski Team
While the Olympic qualification process for US halfpipe skiers is a crowded race, slopestyle remains wide open heading into this weekend's Grand Prix in Snowmass, CO. The weather cleared up a bit from the fog and snow of the halfpipe qualifiers providing nice weather. The men's field was split into foour heats, with the top four skiers from each heat advancing to the finals.
Heading into today, no American skiers have yet qualified for the Olympics, Maggie Viosin and Nick Goepper have both secured one of two podium finishes required to qualify for Team USA by the objective criteria. There are four Olympic spots for each men and women.
In today's qualifier, none of the top 5 American men qualified for finals. That means we will not be seeing Nick Goepper, Alex Hall, Gus Kenworthy, or Cody LaPlante in finals. However, Americans Willie Borm, Quinn Wolferman, and Mcrae Williams did qualify, looking to up their positions in the Olympic race. Also notable, defending Olympics gold medalist Joss Christensen returned to competition for the first time this winter, placing 11th in his heat.
On the women's side, Devin Logan and Maggie Voisin both advanced to finals.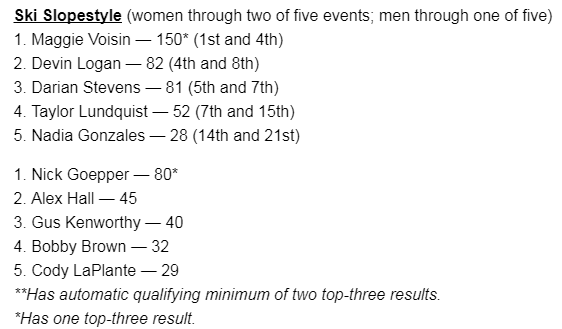 Qualifying Results:
Mens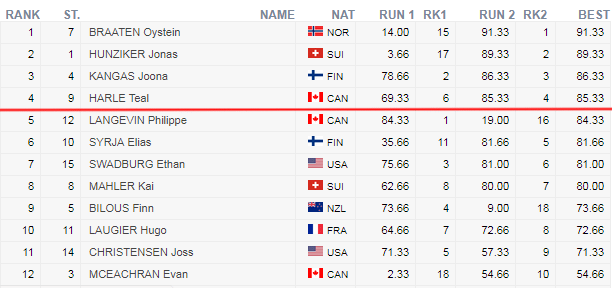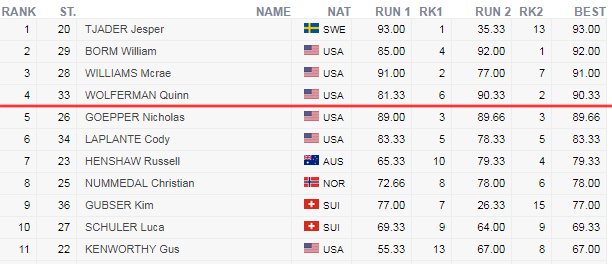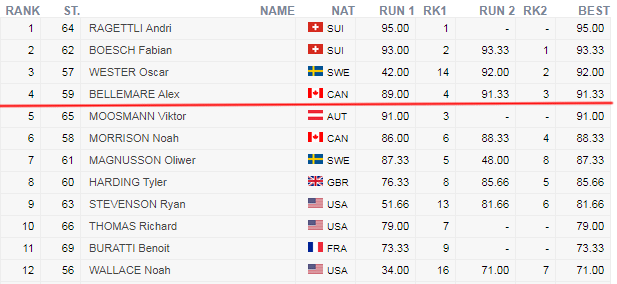 Womens