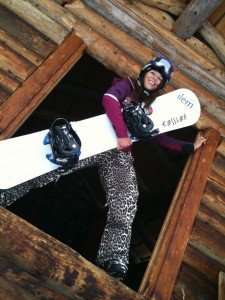 Y'ever heard of French beauty snowboard-cross phenom Oceanne Pozzo? Well, you'd be excused if you didn't: she was named to the official 2010 French Olympic Snowboard Team and was slated to race snowboard cross in the Olympics, but unfortunately had to pull out due to injury.
Last year she was 6th in Wold Cup in Telluride and won top honors in the Junior World Champs.
Not familiar with snowboarder cross? Check this great POV video…
We recently caught up with her and found that she has had great successes of late… she wrote in an email (roughly translated from French):
Hello everyone,
My return to the circuit was quite smoothly! I got a respectable A 7th place at the first race of the World Cup! With a crash in to the nets with the Swiss Sandra Frei in the semifinals, I finish second behind French Deborah Anthonioz who took 4th place.
"I tried to go beyond, to win my place in the final but my board just didn't manage the soft snow! More fear than harm, I'm doing pretty well. Unfortunately, the Swiss girl had a broken arm and needed emergency surgery. "
The second day of competition was pretty tough, with fatigue and knee pain. So I took 11th place in this second stage and third best French racer .
I am currently 8 th overall in the World Cup.
"I'm really happy to be back after my injury (ruptured cruciate ligament) and I will give everything to get on the podium now. My good results were a nice reassurance for me that I'm on the right track. We leave tomorrow for the USA, for the next stage of the World Cup in Telluride. "
See You Soon!
Océane Pozzo
And if French is your bag… here ya go en francais.
Bonjour à tous:
Après 2 jours d'entrainements aux 2 alpes, me voici à Lech Am Arlberg en Autriche pour la 1ère étape de la Coupe du Monde qui aura lieu le 7 & 8 décembre.
Vous pourrez suivre la course sur Eurosport 2, le 7 décembre à 17h30 et le 8 décembre à 11H30 et 12H30.
Le programme sur eurosport 2 http://www.programme-tv.com/chaine/08122010/323/programme-television-EUROSPORT-2.html
"Je me sens prête, le boarder à l'air vraiment sympa, physique (le parcours est long).
Un beau boarder malgré le manque de neige. Beaucoup de passage à plat, il va donc falloir glisser!!!
La station est très accueillante, courchevel de l'autriche. Vivement demain pour les entrainements dans le parcours, j'ai la niak! J'ai envie de tout déchirer, après mon break obligatoire suite à ma rééducation du genou."
Un grand merci à tous mes sponsors et à tous ceux qui me suivent!
A très bientôt
Océane Pozzo
Related posts:Shredder Places 3rd in Skier Cross World Cup Shredder Sasa FARIC placed 3rd in the Ski Cross World...
French Shredder Marion Josserand Takes Bronze at Vancouver Olympics On Tuesday, February 23rd, Shredder Marion Josserand from Séchilienne, France...
Shredder "Naku" Lands Coverage Again Cruisin' around, riding the best mountains in the world, getting...
Related posts brought to you by Yet Another Related Posts Plugin.