This is one review I am excited to write. I have been a fan of Smugmug for years and years, paying for their Pro account annually and enjoying the ease of use on the site. I am also a recent iPhone convert and have enjoyed playing with various apps as I become accustomed to the device. One area of interest has been photography apps and I was quick to download the Photographer?s Ephemeris and a decent Depth Of Field (hyperfocal) Calculator. I then played around with various camera apps and found some useful and some lacking.
Then Smugmug sent me an email stating they had released their Camera Awesome app last week. Curious, but a little tired of trying new apps that did a lot of the same things, I downloaded the free app and gave it a whirl. What I found was a camera app that I really enjoy using for various reasons. Let me step through some the basics and show you why you might enjoy this app as well.
Getting Started
Camera Awesome is easy to use and this starts with the main interface. Most of the screen is given to image space with the vitals hidden away, easily accessed with a single touch.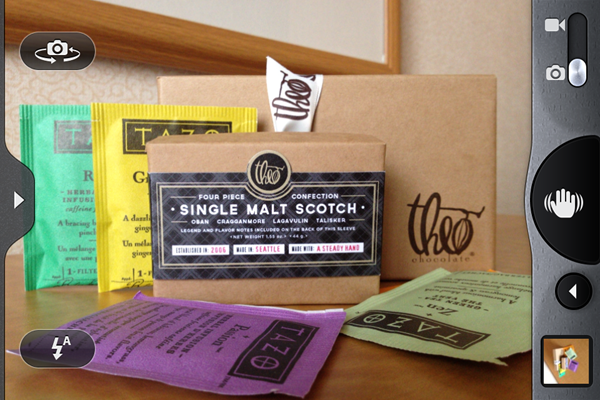 The top drop-down menu brings access to a number of composition overlays and a horizon tool for ensuring perfectly level photos each time.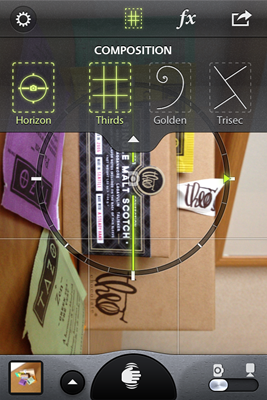 Next are the preset effects (fx for short). We?ll get into these in a moment, but just remember they are there if you find one you like one and want it applied to all your photos (handy for some, but not so much for me).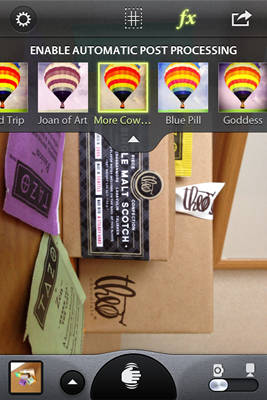 Lastly is the automatic share feature on the right side. The good news is you can set Camera Awesome to automatically share your photos with a slew of popular social sites. The downside is you can only choose one at a time (although by choosing to instantly upload to Smugmug, you can choose to have Smugmug then share out to other sites). A bit of time is needed the first time around to set up the sharing capabilities for each site as you must authorize Smugmug to post accordingly.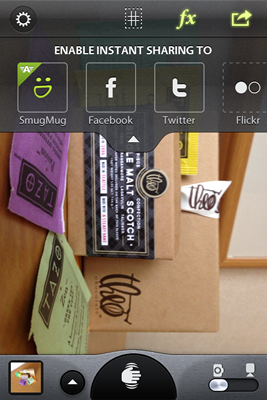 The settings tab on the left side (that gear icon) allows for control over Camera Awesome?s core features. Such as, if Camera Awesome will export to the iPhone camera roll automatically, or archive images to Smugmug?s servers (and it defaults to a hidden gallery on Smugmug if you sign up for the service). This is also where you will set up individual accounts and where you can find the ability to restore purchased items (filters and the like) should you ever switch phones or need to completely reset your iPhone for some reason.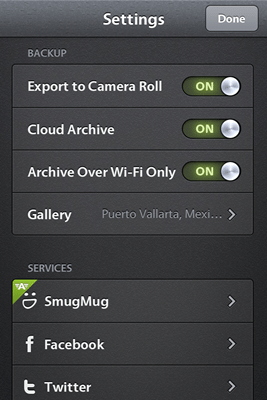 Taking Photos
Unlike the default camera app that comes with the iPhone, Camera Awesome allows for separate focus and metering points. This is similar to using the exposure or focus lock on a DSLR and recomposing, without the need to recompose. Some other camera apps have this feature and it?s nice to get it in a free app.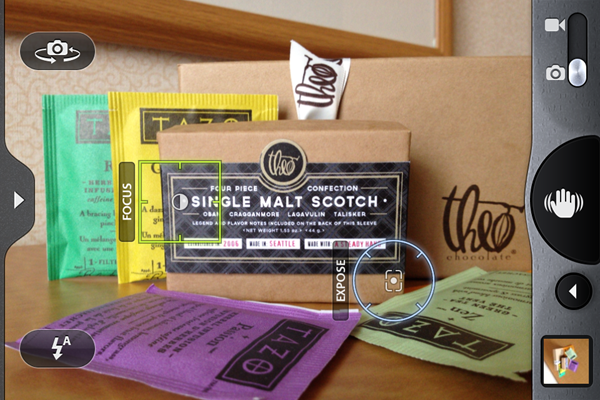 Hitting the triangle to the left of the shutter release (button in the center, currently selected for camera shake reduction)brings up vital shooting options such as; single shot, image stabilization, big button (it makes the entire surface of the iPhone screen into a shutter release button), slow burst, fast burst, self timer and interval shooting. Image stabilization works well and is what I often shoot in. I like that the shutter release button becomes the mode you are shooting in, so you aren?t left confused why you just took 9 images in one second by accidently being on fast burst mode.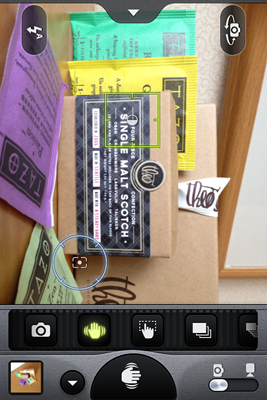 If you want to recombine the focus and metering points, just tap anywhere on the screen. If you want to return the focus and metering points to the middle of the screen, a double tap anywhere will do.
The interval timer is nice and while it won?t create time-lapse films for you, like some apps, it takes the place of other apps which will only run an interval timer for you (but often without the ability to pick focus and metering points).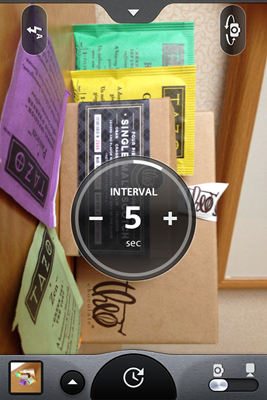 As a side note (without images) Camera Awesome also has the ability to use the front or back camera and to control the flash to be either, on, off, auto or constantly on (as in a flashlight mode) which helps with light modeling.
Shooting with Camera Awesome is fast and responsive. The screen gives a quick flash and a green highlight on the bottom indicates a photo was taken, instantly preparing the camera for the next shot.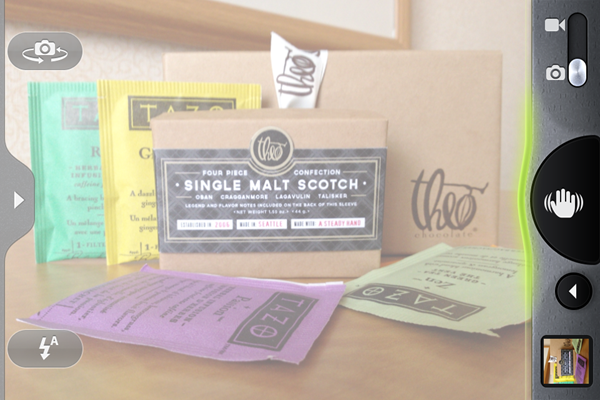 On the video side, the controls are fairly simplistic and the Awesomize feature is not available. But the camera does have the ability to pre-record for five seconds before you hit the record button. This is useful is you are trying to get a child to stand still. The video also allows for splitting focus and metering and will adjust these during recording, enabling simplistic racking functions that current DSLR owners only wish about. The flash can also be controlled while shooting video. The green meter in the image below indicates if the pre-record feature is ready (and it will still pre-record even if not all the way to five seconds).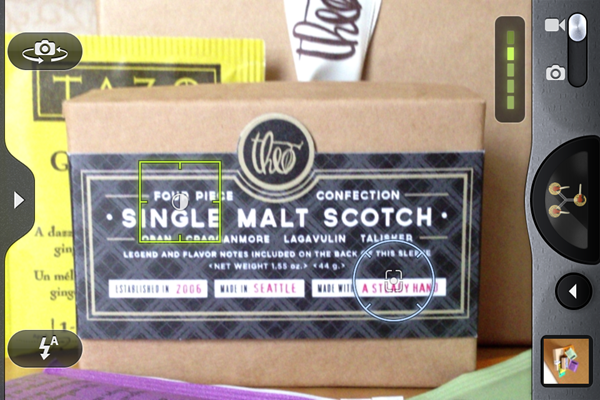 Editing Images
With taking a photo finished, it?s time to have some fun. The ability to control the final image is key to Camera Awesome. From simple, darkroom type edits, to the creative side of filters, Camera Awesome has a lot to offer (and some of it costs money, be warned). Let?s start with image straight out of the camera.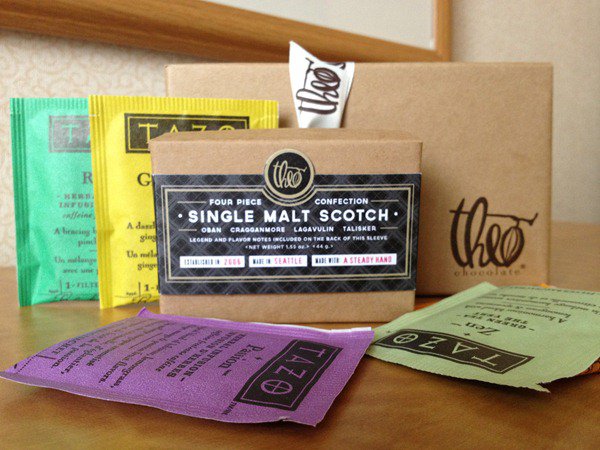 Opening up the image in the editing function brings up a host of options. Whipping around the horn of the image below, from the upper left (going clockwise)is; return to photo album, switch back to image capture, image information, delete, export, Awesomize, and share.
Starting with Awesomzie, there is a on/off button and a Awesomeness slider. This controls the amount of awesome that is applied. What appears to be awesome, is more contrast, light balance and sharpness, from what I?ve experienced. And a bit more vibrant photos. It does help for more images, but is not for all. It makes whites whiter and skies bluer. It makes skin tones more accurate and rainbows shine.
If you want to tweak things even more, there are sliders for sharpness, color temperature (thank you!), vibrance and contrast.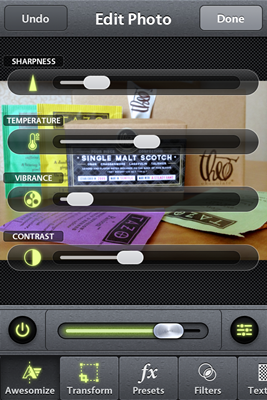 Always present is an ?Undo? button to back out changes. Down below are more useful tools including a transform tool, which crops the image and rotates. I wish there was an arbitrary rotate feature here. But it works well.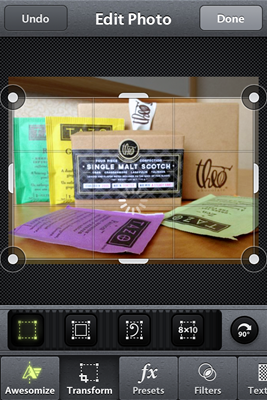 Next up are the Presets. These are ready-made creative overlays which combine filters and texture adjustments. Nine are loaded up for free with Camera Awesome and the others cost $0.99 per nice presets. The presets come in batches labeled: Portrait, Black & White Portrait, Vintage, Black & White, Destroyed, Paper, Kubota I, II and III (from Kubota Imaging Tools). Some may be useful for you, some may not. I?m not much of a preset fan, but I have been finding myself liking them more and more?at least the free ones. Free presets are pictured below.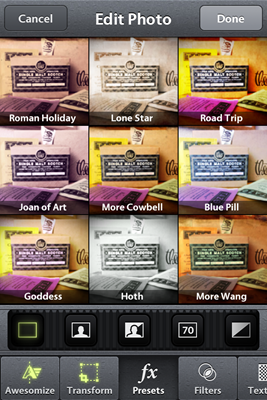 Filters are color corrections and there are less options available here (equals less cost if you want more than the base nine offered for free). Portrait, Vintage, B&W, Kubota I, II and III are the options. One nice aspect of the app is the ability to model with the pay-per filters to see if you want to buy them, so you know exactly what you will be receiving.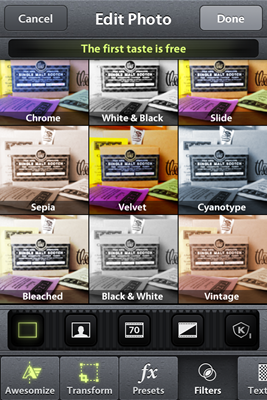 Next up are textures and then frames. Again, the first nine of each are free and then pay-per download. Some of the paper textures can give images a nice look, as if printed and the frames can be a lot of fun depending on how you plan to present your images.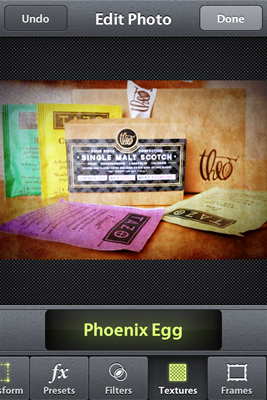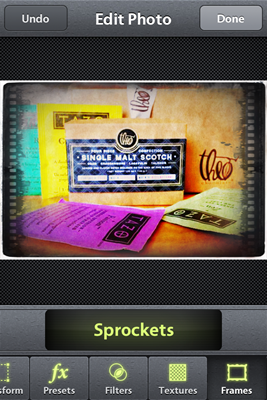 With the editing choices finished, it?s time to hit done and let Camera Awesome do its job. The whacky folks at Smugmug let their humorous side come through in the choice of updates they offer while the process runs, such as?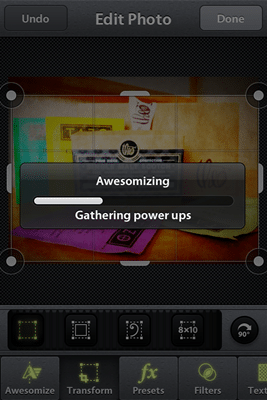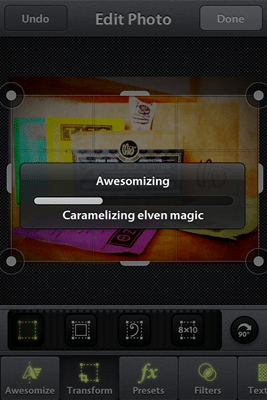 Sharing
Done with edits? Great! Now it?s time to share your masterpiece. The share button brings up a host of options. Smugmug?s own option is first (and allows for resharing to the other options listed) then Facebook, Twitter, Flickr, Picasa, Photobucket and Email. Video mode offers Smugmug, YouTube and Photobucket. There is also a 1-Tap Share button that can be set to just one of the options. It is a bummer that multiple sharing points can?t be selected through this interface, but I guess that is one way for Smugmug to drive users to sign up for its service (which isn?t spendy and that basic level).
With a service selected, the next screen asks for a caption and allows for the addition of tags. If sending to a service with a gallery or album, this can be selected in the screen, as well as location of the shot and ?Faster sharing? which understands not all images on the web need to be the 8MP size of iPhone 4s camera (and can save on data costs).
Below this screen is the option to cross post to other platforms. Crafty on the part of Smugmug?s marketing department (giving away a free product with the option to upgrade to other services the company offers) but annoying if you don?t want to sign up. Note: this option to cross post does not exist with the other services and will simply post just to Facebook, Twitter, etc?  I would like to see the ability to post to Facebook Pages in the future.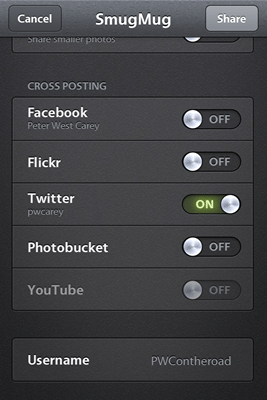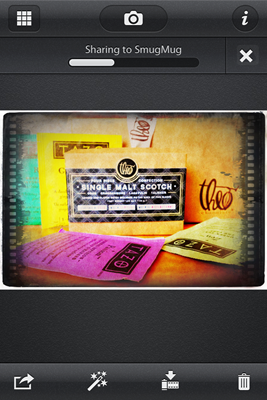 What was on that information page?  Lot?s of stuff. The location of the image, the histogram, the file size and capture data and simple EXIF information. Also, when the file has been shared, there is a link available (awesome!) that can be shared in email, blog posts, etc? so there is no additional chasing needed to integrate the image in other sources. Also note the bar in the middle shows if the image is archived (and can be removed from the phone to save space), edited, exported and shared.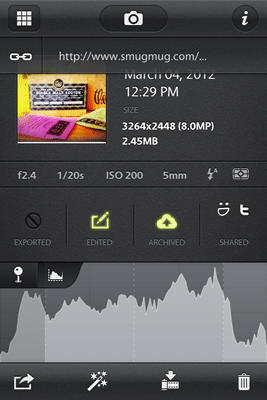 Returning to the main image screen, you will see those shared icons again, which makes for easy referencing what has been shared and what hasn?t. Images can also be scrolled through with a swipe at this point. The image below shows Archived, Twitter and Smugmug shares for this image. Tapping those icons will bring up the links which can further be opened in Safari or even sent via SMS (or email).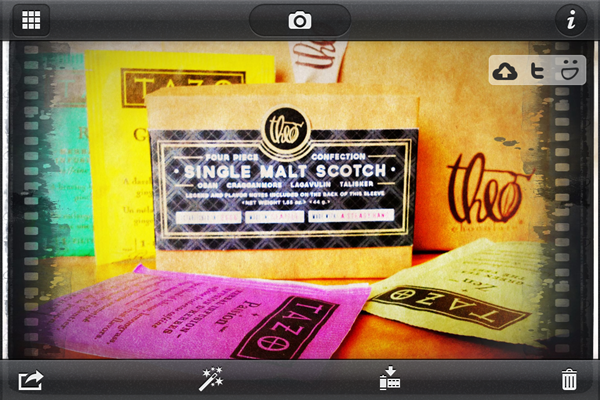 Conclusion
Whew! I know that was a lot to take in, but Camera Awesome is, in my view, awesome. There are still some refinements to be made, but it is a good app especially for a first version. It makes sharing easy as an app should and even more importantly, cross sharing (and referencing so you know what went where). Oh! And Camera Awesome will allow the import of images not already in Camera Awesome. At times the Awesomizing function takes a while to complete and the impatient might not enjoy the wait. But the results are worth the effort, in my book.
If you want a view of some images shot with the iPhone 4s and Camera Awesome, I have a gallery of images taken while my flight from PuertMexico was delayed, canceled and then rescheduled here.
Post originally from: Digital Photography Tips.
Check out our more Photography Tips at Photography Tips for Beginners, Portrait Photography Tips and Wedding Photography Tips.
Smugmug's Camera Awesome App For iPhones [REVIEW]