At the beginning of this ski season, we posted an update introducing you to the 2010 Smith Ski Team and pretty much claimed that they were ready to take over. What followed was a season marked with the highest of highs, and the lowest of lows.
First we have to pay our respects to CR Johnson. CR has been a huge part of the Smith Family ever since he was signed to the team more than 10 years ago. All of us are devastated by his passing and our thoughts and prayers go out to his family every day. CR was one of those people that touched everyone he met and his legacy will live on forever. To learn more about how you can help keep CR's positive spirit alive, please visit http://www.crjohnson.org and make a donation to the High Fives Foundation.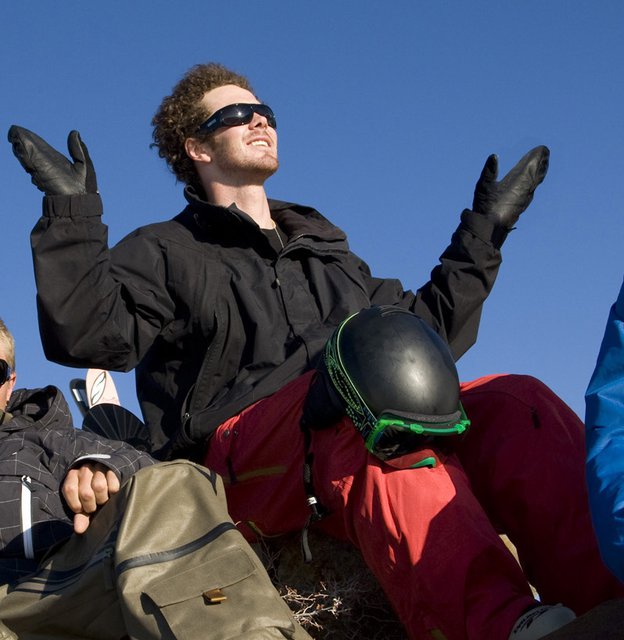 CR Johnson gives thanks and praise for another beautiful day in the mountains.
The first big event this winter was Dew Tour stop #1. Here Mike Riddle dazzled the field with an epic run that landed him in first place, while Bobby Brown took 4th moments after receiving 20 stitches in his leg. What a savage!
Next up was the Red Bull Line Catcher event in France where CR Johnson showed up, threw down, and took 3rd place against some ofthe best skiers on the planet. CR was back on top of his game and STOKED!
Dew Tour stop # 2 showed Sarah Burke return to form and nab first place in halfpipe, while Bobby Brown continued to show his consistency by taking 3rd in slopestyle.
By the time Winter X Games 14 rolled around, the team was firing on all cylinders and completely dominated the entire show. With Bobby Brown's gold medals in slope and big air, and Kevin Rolland taking gold in Superpipe, Smith athletes stole the show and won it all.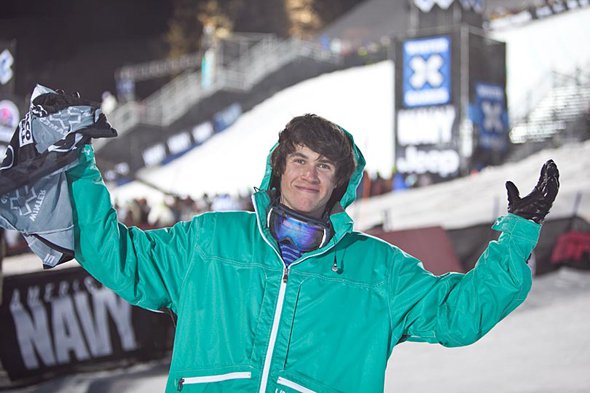 Even Bobby Brown cant believe how well he did at X Games!.
Riding this wave of momentum into Dew Tour stop # 3 was Bobby Brown who uncorked another epic run to win the slopestyle event, taking home 2nd place overall.
The Aspen Snowmass Open was up next and once again it was complete Smith domination, this time coming from Gus Kenworthy who won both slope and pipe. Joining Gus on the podium was Aidan Sheahan who took 2nd in slope and Anais Caradeux and Miyuki Hatanak who went 1-2 in pipe for the ladies.
Gus Kenworthy takes aim at the competition.
A few weeks later in Tignes, France, Kevin Rolland proved that his pipe run in X Games was no joke as he took home another gold medal at the European X Games.
Kevin Rolland caught up in the madness of winning his second X Games gold medal.
With most of the big park/pipe events in the books, it was time for Smith's big mtn skiers to shine, and in the first big comp of the year, Smith athletes Griffin Post and Claudia Bouvier both took home wins in the men's and women's division at the US Extremes in Crested Butte.
The next big mountain comp was held at Kirkwood, CA and despite a change in venue, the results were the same. Smith athletes Dylan Crossman and Janina Kuzma once again nabbed first place for both the men and the women respectively.
A few weeks later the US Freeskiing Championships rolled into Snowbird, UT for the final event of the season long big mountain tour. If you are still reading this update I am sure you can figure out how it ended up. Smith on the podium (1st, 2nd, and 3rd) for the men's and new comer Angel Collinson took charge of the women's division winning both the event and the overall tour.
Angel Collinson slayed it in her first year of competing.
That is the contest round-up, and rest assured that next year's crop of ski films are going to blow minds as Smith Athletes Sage, Abma, Hjorleifson, Durtschi, McIntosh, and Dylan Hood all had outstanding seasons in front of the lens. I would like to thank all of the athletes that represent Smith Optics and Helmets for their hard work, dedication, talents, as well as all of the folks here on NS who followed the team during this crazy season.
Have a good summer, PEACE!