Heading into the winter of 2005-06, CR Johnson was taking the sport of skiing to new levels. With legendary X Games performances, mind blowing film segments, and tons of coverage in every major ski magazine already on his resume, the then 22 year old was on top of the world. All of that changed in an instant when a ski accident left him in a coma faced with a long and difficult road to recovery. 
 
CR worked harder than ever to return to the sport that he loved so much, and with his own undying determination, positive attitude, and the help of his friends and family, CR was able to regain his form and return to the world of professional skiing. When a tragic fall at his home mountain ended his life on February 24th, 2010, the CR Johnson Memorial Fund under the High Fives Foundation was established to help injured skiers receive the same type of alternative treatment that was so instrumental in CR's initial recovery.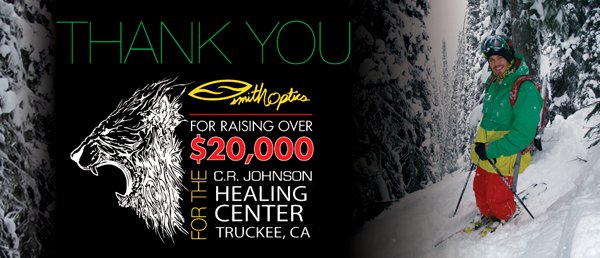 In an effort to keep the memory of CR alive, Smith Optics teamed up with Porters and the High Fives Foundation to promote and sell a limited edition CR Johnson I/O goggle and Maze Helmet. All of the profits from the sale of these products are dedicated to CR's fund and Smith Optics is proud to announce that a donation of over $20,000 has been made to the CR Johnson Memorial Fund. There are only a handful of the CRJ Memorial I/O goggles and Maze helmets still available at http://www.crjohnson.org. 
 
"Creating a memorial goggle and helmet for CR was a way for us to honor an incredible athlete and key member of the Smith family." remarked Gabe Schroder, Smith's ski and outdoor promotions manager. "Being able to donate this much money to his fund will not only keep CR's legacy alive, but more importantly, this donation will play a direct role in getting seriously injured athletes back on their feet and that is the real reward."  
 
With the creation of the CR Johnson Healing Center, a brand new workout and rehab facility in Truckee, CA dedicated in CR's honor, and strong support from The High Fives Foundation, the CR Johnson Foundation has already made a positive difference in helping athletes overcome severe life altering injuries. With this donation from Smith Optics, CR's fund will continue on the path of providing top quality care to athletes in need. To learn more about the CR Johnson Foundation, or to make a donation yourself, just go to http://www.crjohnson.org.