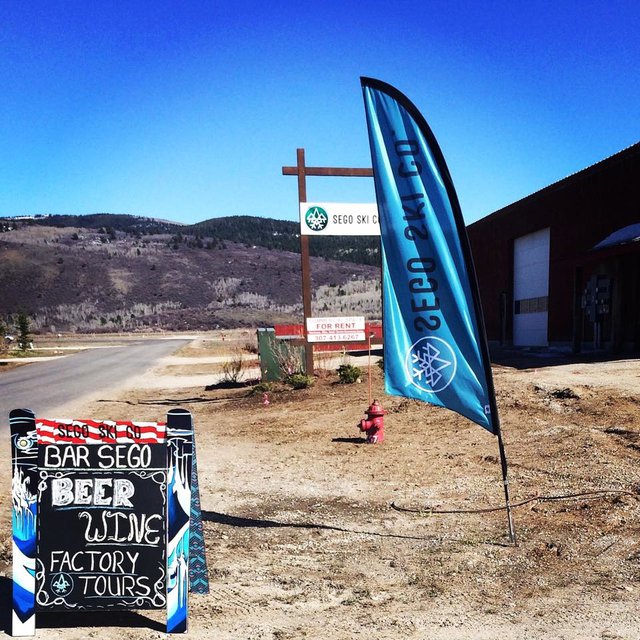 Just a quick trip over Teton pass away from the chaos associated with Jackson Hole lies something special, Teton Valley, Idaho. It's a place where individualism and small businesses rule. From local farms to cheesemakers, to a group of skiers that have exploded onto the Teton ski scene with their new company. That company is Sego Skis, a small company focusing on making high quality big-mountain and powder skis. Founded by brothers Tim and Peter Wells, along with Hannah Van Arsdel, Sego is just finishing its first year of production at the company's headquarters in Victor, Id. Sego has made quite an impact on the Jackson ski scene, starting out by sponsoring numerous events and concerts before snatching up numerous riders local to the area.
Their five-ski lineup covers almost every sort of terrain you could want to tackle in the Tetons. Starting with the Sakatoon, at 124mm underfoot, a ski ready to deliver float in even the deepest snow. Then onto the Ranger, their all mountain/all condition type of ski coming in at 98mm underfoot. The Cleaver (106mm) is next, a big mountain competition ski ready to plow its way down any steep chute or off of any cliff. Another all mountain offering is the Prospect, Segos most playful ski. At 110mm underfoot and featuring an all mountain rocker it'll be just as much fun rallying down steep spines as it is skiing resort powder. Last up will be the Teton BC, a ski coming in at 104mm underfoot and featuring a longer, lower profile rocker, composite core and skin clip friendly tails this ski has been thoroughly tested on Teton Pass.
The Sego guys have set themselves up in the valley for a long time with a huge manufacturing and tuning space, small retail area and even a bar with local beers on tap and a multitude of fine wines. Tim and Peter were kind enough to take an afternoon off to show me the factory, have some beers, as well as sit down for a short Q&A.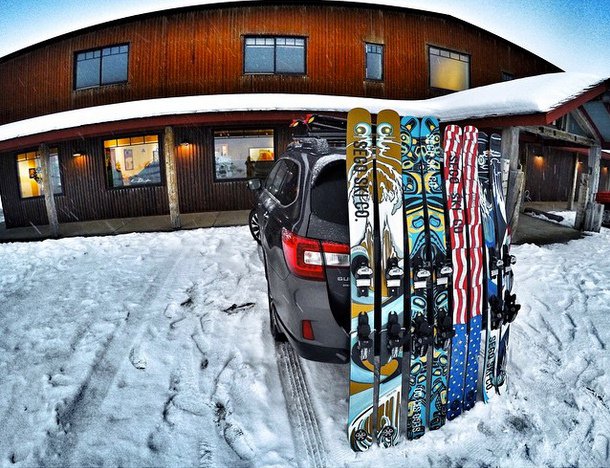 The lineup: Saskatoon, Ranger, Clever, and the Prospect. Photo; @segoskis
1.) To start this off, where did the name Sego come from? What was your history in ski making and the ski industry?
Tim: Sego is the state flower of Utah; it's also an indigenous flower to the area. It's one of the first flowers to come up in the spring through the snow. It's a really robust flower that looks good. But at the end of the day we wanted a short, sharp name that people remember. We've been building skis for about 4 years now. I came from a corporate background and was unhappy with the lifestyle. Peter came from the ski bum background and we kind of met in the middle to start a ski business and the rest is history in the making.
2.) What was your home mountain growing up? Where do you primarily ski now?
Tim: We ski at Targhee mainly, occasionally making it to Jackson. Home mountain was Greek Peak, in upstate New York. Small little mountain but had 46 trails with a little bit of everything. It was around 800' vertical, great little east coast mountain.
3.) Why did you guys pick Victor, ID as a home base?
Tim: The proximity to the mountains, obviously the biggest factor outside of the mountains is the enthusiasm of the community and the business leaders. We came out to visit and met with both mayors (Victor and Driggs) and everyone was just so stoked. We wanted a place that the public could come in and feel welcome, if they're not buying a pair of skis, we could help them with something else. That's what we were working towards in Portland, and it made a lot more sense to do it here. And the community is really focused on that as well. Proximity to Jackson as well, it's a big and busy market.
Peter: Everyone was like, what can we do to help? And we were just excited they were so stoked. We knew this was going to work. When we first visited Jackson it was in July, and of course the shootout on the town square was happening, we tried to go eat and everywhere was full and we were like "get me out of this mad house, get me back over to Victor"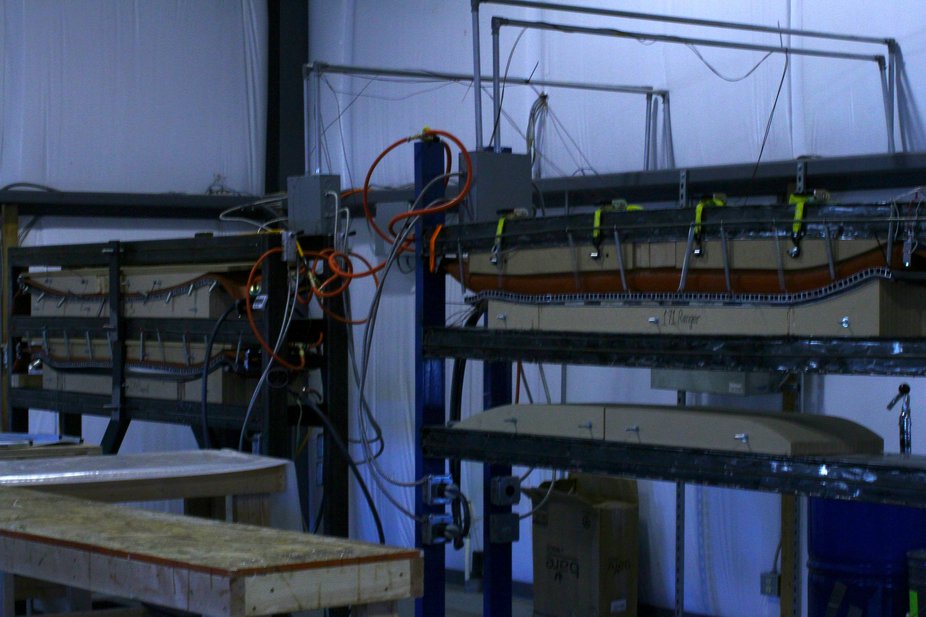 The Presses, you know? Where the magic happens.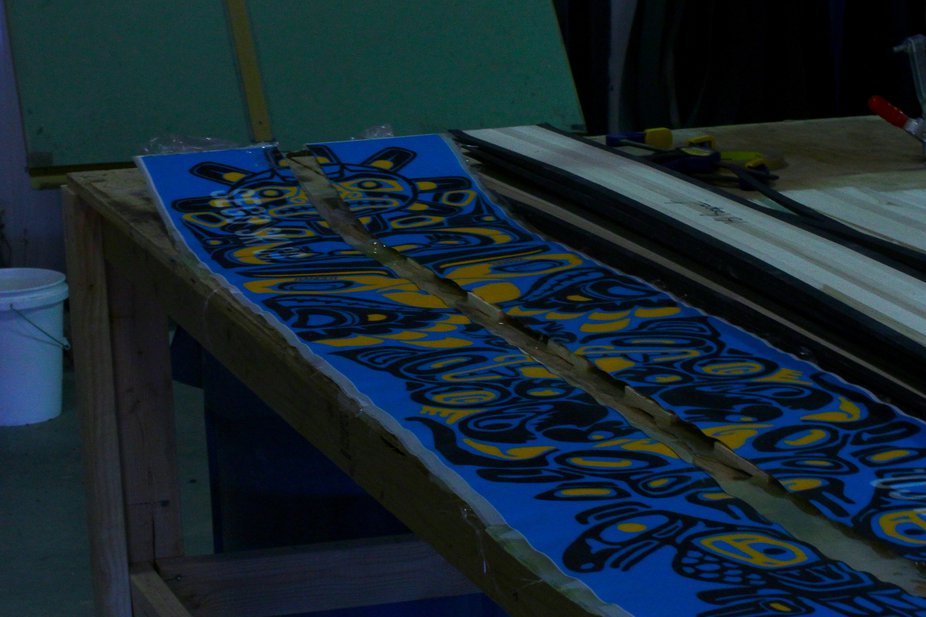 A pair of Rangers waiting to be cut out and finished.
4.)How many skis were you guys expecting to produce this season? How do you maintain consistency within the final product?
Tim: This season is under 200, right now we're still getting orders and we don't have estimate for the season total. We've done this before, so building is kind of a tight process and everyone is kind of hands on. The CNC machine is very consistant, and doesn't leave anything up to chance. The whole process we've put together we're meant to be able to scale. We're setup and have the space to do several thousand skis per year. We really focus on our tuning, and our final tune.
5.) What other activities interest you other than skiing and ski building?
Tim: Honestly, wine. I like to drink to wine and beer. The bike shop in town setup coffee, so why not wine? Mountain bike a lot in the summer. That's another one of the reasons we're here, the active lifestyle.
6.) What factors influence the way you design a ski?
Tim: That's more of a Peter question but I can answer as well. The skis this season are more big-mountain oriented. You know, this first season most people getting on the skis are people in the know and expert skiers so that's what we built this season, a more advanced ski. We want to be known for making a great ski, a stiff ski, bigger radiuses for the area. No beginner skiers are going to be buying from a first year company, and to reach them we have to have that exposure.
Peter: My design is based upon confidence inspiring skis, and for this season especially it is targeting the demographic that I think will buy our skis. My designs will change, as our demographic changes but as a new company. People who are buying Sego skis are going to be expert skiers, who want something different, who want to go fast. All my shapes feature longer turning radiuses and are stiffer but have mellow taper and are built to be really stable, not scary.
7.)Have you guys thought about making a women's specific ski?
Peter: We're designing skis for ladies with Lynsey Dyer, pretty stoked on that. You know, I've made womens skis in the past, and I'm not a woman. Lindsey is a great skier and is very in tune with the market as well and so I'm really excited about that.
8.) What other brands and/or people in the industry influence you?
Tim: Praxis comes to mind the sense of production and quality, obviously they have a different business model. We were in Portland, On3p is in Portland, they're a small brand that's known for quality and they make a good product. We aspire to be a national brand, but through strategic growth, we're not just going to blow up overnight.
9.) What do you see as the greatest areas for improvement after year one of Sego?
Tim: Getting on the mountain more. Continue to develop the product line. We got a late start this season, so just having more skis. This is kind of our second time starting a factory so we're pretty happy with how everything went.
10.) Who does all the graphics for the skis? Who is responsible for the base graphic?
Tim: My brother designed the base graphic and we had friends that were artists that we've met over the course of time. Two of our topsheets were done by a waitress at a wine bar we frequented all the time. People were always interested when they ask what we do, and it kind of goes from there. Art looks good on skis as well. For our womens line next year we're going to the same base but inverse the blue and the pink. We went with screen print instead of die-cut or sublimation graphics and it pops.
The bases used throughout the lineup
11.) How many employees and athletes does the company have?
Tim: Right now 5, and we're sponsoring just under a dozen athletes right now.
12.) What does the future hold for Sego?
Tim: We want to build a national brand, we want to be known for making a quality product.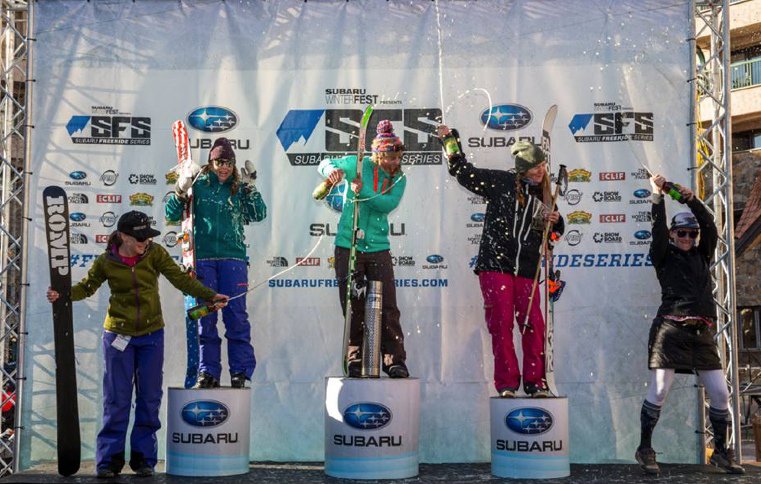 Sego athlete Morgan McGlashon placed second in the SFS event at Telluride.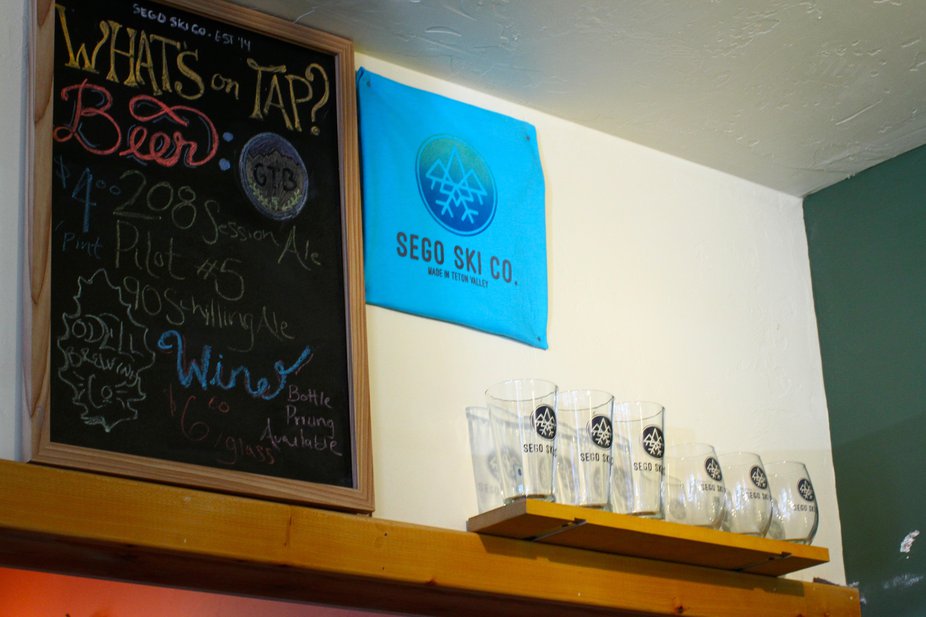 The soon to be famous Sego bar.
Huge thanks to everyone at Sego; Tim, Peter and Hannah.
Instagram: @segoskis
If you have a small brand you'd like to see featured, leave a comment!