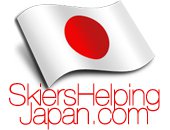 Finals in Lenzerheide are not only about competition now. They're also about a group of skiers who are banding together to make a difference in the lives of people in Japan.
Shredders like Julia Mancuso, Ted Ligety, Akira Sasaki, and many more have pledged to donate half of their prize money to "Skiers Helping Japan. " In addition, many have come together to send personalized messages to Japan.
Here are just a few…
[Show as slideshow]





As if there weren't reason enough to watch World Cup skiing, now you've got racers plunking down big bucks if they win for a worthy charity.