This was a sweet weekend of World Cup Ski action with the women up in Zauchensee, Austria and the men in Adelboden, Switzerland.
A lot of Slytech Nervous Shin and Forearm Guards were out in Adelboden with the men shredding the giant slalom and slalom tech events. Gates slappin' and men tumbling… Adelboden is one of the toughest hills on the tour. A real grind.
Saturday's mens giant slalom saw Ted missing his 4th victory in a row with an unfortunate second run hiccup that sent him flying. Back protector on, 4 Arm guards in place, Ted finished 28th. Swiss Slytech man, Marc Berthod finished an impressive 7th place while his iron man team mate (you may recall his near fatal crash in Kitzbuehel a few years ago) Daniel Albrecht finished 29th.
Sunday's Slalom results:
10th Silvan Zurbriggen
19th Filip Trejbal
21st Marc Berthod
24th Will Brandenburg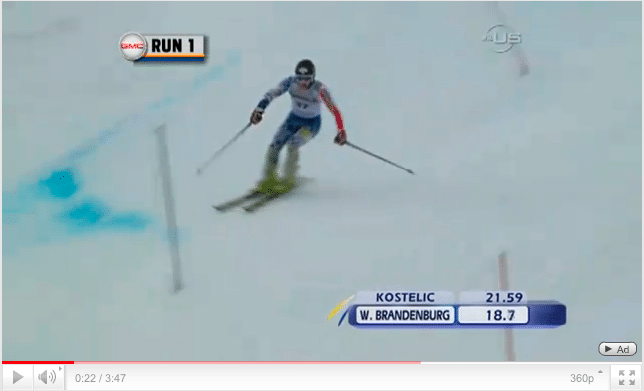 Click the Image above to see Brandenburg's Runs
The women were out in Altenmarkt/ Zauchensee, Austria where they battled in downhill and super g. While not wearing her customary Nervous Shin Guards for speed events (obviously), Lindsey Vonn once again showed her dominance in downhill with a victory. Other top finishing Slytech athletes were:
7th Gisin Dominique
11th Nadia Kamer
12th Fabienne Suter
Sunday's Super G was almost a repeat for Vonn, when out of nowhere a little Swiss Shredette (who also wears Sltyech Nervous Shin and Arm Guards) took first place. What an upset! A lot of Slytech ladies in the bunch:
3rd Dominique Gisin
11th Nadia Kamer
23rd Laurenne Ross
24th Andrea Dettling
32nd Leanne Smith
… and if I'm not mistaken, there was an AUSTRIAN ski racer in the bunch who I swear I saw wearing Slytech Nervous 4Arm Guards in the Super G. If my memory serves me correctly it was Margret Altacher, but I'm not 100% sure. Anyone out there see which Austrian wore Slytech?
Check out tomorrow's Women's night slalom event from Flachau, Austria when Resi Stiegler enters the mix again and Sarah Schlepper looks to keep her red hot skiing going. Next weekend's action comes from Wengen, Switzerland where the men duke it out in Downhill and Super Combined. Women head out to Maribor, Slovenia where it's been a slalom and giant slalom slush-fest the past few years. Should be interesting!