I'm dying.  Everyday I get closer to that final moment of death.  When
and where, I'll never know.  All I know is that someday, we all die. 
So what do you do?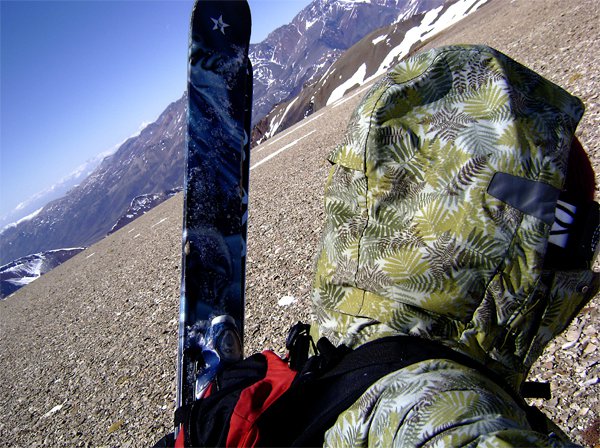 I
believe the meaning of life is to live but why am I driven to put
myself on the edge.  I think it's amazing how close to death we all
are.  It's just not pleasant to think of.   My desire to live a happy
life and maintain individuality led me to discover that skiing &
traveling are the best ways for me to exist in this dying world.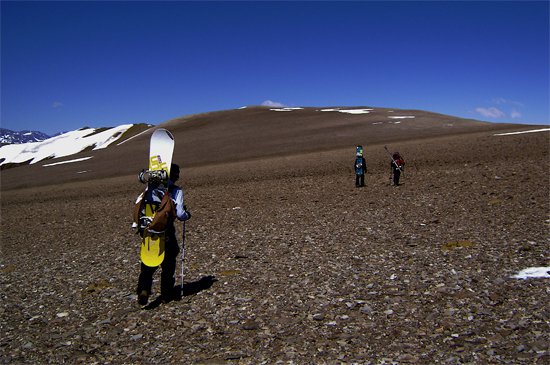 It would appear the same for my friends Skylar Holgate, Matt Anetts, and Alex Hunt.
Skylar
and myself know all to well what we're in for when we roll into Las
Lenas.  You can never imagine what's going on in Skylar's brain. As for
myself, I had the personal goal of using a rope that my brother gave me
for my birthday.   With a pair of super soft LINE EP Pros and my dull
edged jib skis, I was definitely gripped not having big mountain skis
or edges or soft snow.  The conditions were that if you fell, you were
going to wish you were dead.   With a lot less snow than last year, we
knew exactly where we could go to use my rope and get our adrenalin
gushing.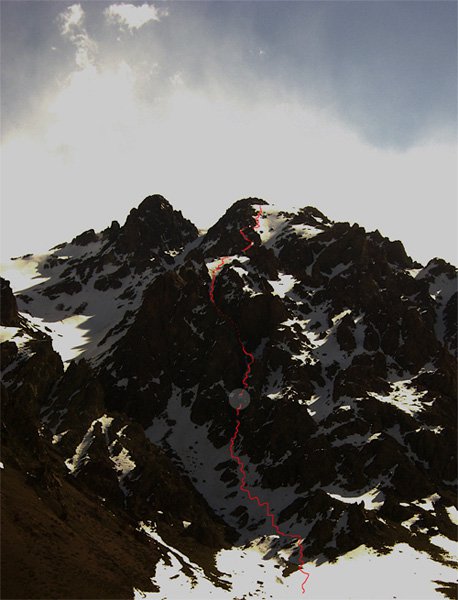 "SLOTS OF FUN" is what Skylar calls this line (light circle=repel zone, and yes, it does go).
Here
in Las Lenas, the overwhelming power of the mountains is a constant. 
It makes the hair on my neck rise and my senses quiver.   I know every
time I am in Lenas there is a strong chance of having one of the best
days of my life or dying!  With the mountain closing soon and a lack of
snow, the atmosphere hung in a lull.  I was stoked though, being back
in LL, not having to coach and be responsible for anyone.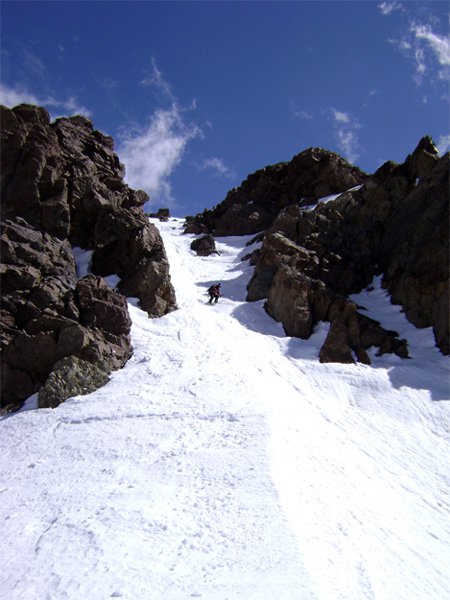 Alex sliding around the top sections
The rest of the line was too gnarly for me to bust out my camera. Sorry.
The
nonexistent powder made the snow very, very interesting, needless to
say.  Instead of skiing we would call it drifting down the mountain.
That's because we were doing a lot of slide slipping.  In this land of
lines you can spend a lifetime and always find new ones.
Alex taking a photo of Skylar down climbing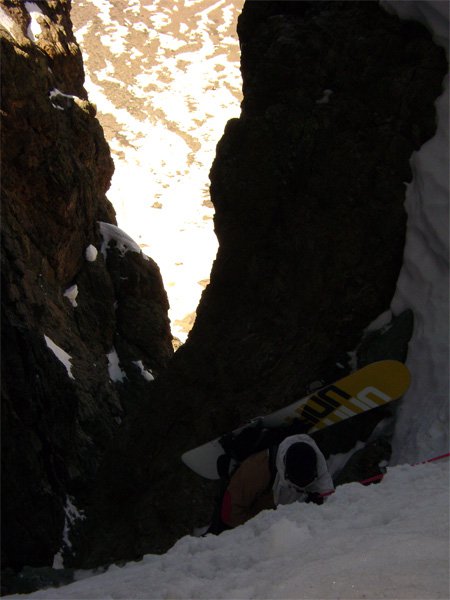 Next was Matt.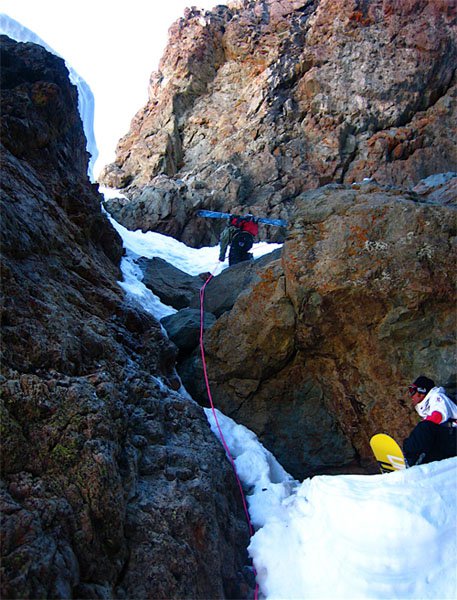 Testing out my new rope
Photo: Skylar Holgate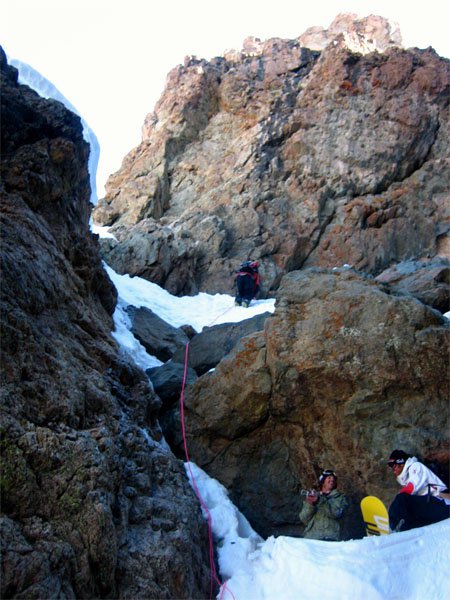 Next, Alex sweeps up the tail.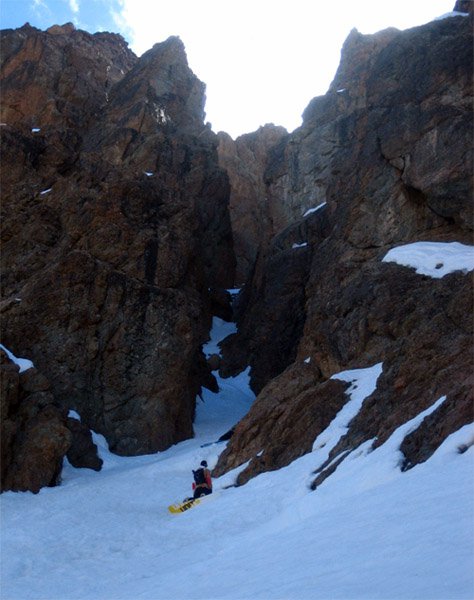 Waiting for Alex to down climb the second cliff
 Photo: Skylar Holgate
When
you drop into a line like this, you know it's on.  It's a lot different
than hitting jumps and jibbing. There is no way out once you commit.
The feeling you get when you're deep in these walls is totally
surreal!  Everything just turns into survival instinct and your life is
in the hands of God.  When you come out of these experiences alive and
unscathed, it's one of the best feelings in life. My desire to make
everyday better pushes me to live on the edge.   With a constant hunger
for experiences like these, you never know what adventures the next day
will bring.
Note: people are skiing shit like this all the time,
not for money, not for fame, just because it's there.  What you see in
the movies is only a fraction of what's going on out there.  My respect
goes out to the people that do this solely for the love of it.  There
are so many accomplishments that go unknown.  Kill ego.
Click here for video of this line and much more