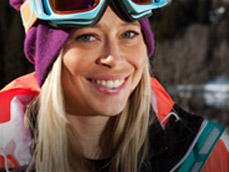 This article is taken from ESPN, but if you scroll to the bottom there is more info and blog posts reagrding Kristi's extensive Slopestyle survey. It has evoked quite a reaction but it seems that some people are missing the point, this is not Kristi's opinion it is a quantifiable study. The point of the study was to progress the sport listening to everyone's opinions and trying to develop Slopestyle to cater to everyone and make the most progressive and safest courses possible. Anyway – here is the original release:
In 2009, freeskier Kristi Leskinen started a women's-only ski slopestyle competition called the Kristi Leskinen Homecoming Invitational at her hometown mountain of Seven Springs in Pennsylvania. Her motivation for hosting the event was a desire to see if a contest featuring smaller jumps built specifically for women, where women felt comfortable throwing their toughest tricks, would encourage progression or stymie the sport. Three years in, she had her answer: "I've seen some of the most progressive women's skiing ever during that contest," she says.
But last season, she says, more than half the invitees were unable to participate because of serious injuries sustained mostly at other contests. That made her question the long-term sustainability of her sport. "I wondered if there were other sports where so many top performers were unable to compete midway through the season," she says. "I think that would make any sport untenable, let alone a sport like ours, with so few world-class participants."
Shortly after the contest, Leskinen sat down with fellow competitors Sarah Burke and Kaya Turski and began creating a survey to send to the top slopestyle riders in the world to gauge their feelings about the current state of slopestyle courses. With the help of We Are Snowboarding and the Association of Freeskiing Professionals, Leskinen sent the anonymous survey to more than 100 top athletes — men and women in ski and snowboard slopestyle — and received 87 responses. Her findings? "A comprehensive survey of the best slopestyle skiers and snowboarders in the world shows that men and women would benefit greatly from having separate courses in competition," she says.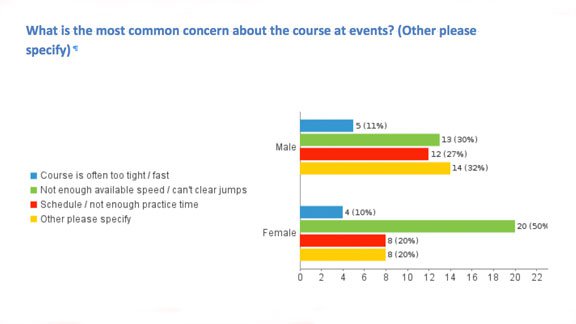 Leskinen has spent nearly a year working on this project with the hope that it helps improve her sport for the next generation of female athletes. We'll leave the breakdown of the survey to her:
At contests, we have riders' meetings, but no one ever asks us what we want to see before we arrive. The riders' meetings don't provide a welcome audience for those with contrary opinions. I wondered if, given the chance to voice their thoughts anonymously, riders would make changes to the current course setups. That was one of the goals of this survey.
 
 
The second goal was to glean information that allowed us to compare injury rates among male and female skiers and snowboarders. We wanted the empirical evidence, and the voice of the majority, to say that we know exactly what athletes wanted in their sport.
 
 
We asked what shape jumps they want to see at competitions. Only 10 percent said their favorite jumps were step-downs, while 74 percent prefer the safer true tables. We asked how many features they want to see in a course and the majority answered six to seven.
The most dramatic differences were found when comparing the course preferences and injury rates of men to women. Men say their ideal jump size is 69 feet, while the women say their ideal jump size is 55 feet. That means women feel most comfortable on jumps 20 percent smaller than men. The majority of women polled (67 percent) said the jumps at current contests are too big and they would be more likely to attempt harder tricks if they were given smaller jumps.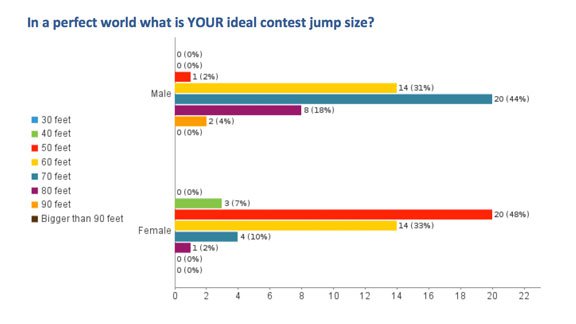 The majority of men had the opposite opinion, saying the jumps were typically on the small side.
The women surveyed say they were injured 3.5 times more often in competition than the men, though the out-of-competition difference is negligible. This may be attributable to women being pushed further past their normal training limits in competition than men. Add in the fact that women say they compete less often, and the pattern very clearly suggests that at current competitions, women are placing themselves at a significantly increased risk of injury relative to the men.
I strongly believe that there should be separate courses or takeoffs for men and women in competition. I think it would be hugely beneficial to the future of our sport. It would allow men to complete their doubles and triples, and at the same time allow women to progress their tricks with less risk of injury and less fear to hold them back.
The women of the LPGA don't hit from the same tees as the men of the PGA. Female gymnasts compete in different events and use completely different equipment. Female basketball players use a smaller ball and play shorter games. Women play softball, not baseball. The women's championship surf tour is separate from the men's. These sports have been around decades longer than ours and I believe it's time we learn from them. Female skiers and snowboarders would progress their sports more quickly given a more suitable field on which to compete.
My hope is that the information found by this survey helps develop our sports into the future and that the next generation of athletes will be happier and safer because of it.
 
Kristi's blog post: http://kristileskinen.com/category/blog/
Spencer O'Briens Response: http://www.spencerobrien.com/blog
Kaya Turski's response: http://www.kayaturski.com/what-do-you-consider-progression-by-kaya-turski/
Krisit's follow up: http://kristileskinen.com/category/blog/
Kim Lamarre's thoughts: http://www.d-structureqc.com/news.php