Skjersaa's is a local ski shop in Bend that has been supporting me since 2003. Every kid starts out with a shop sponsor and thats exactly what Skjersaa's did for me. The name is tricky to pronounce, heres some help (SHEER-shaws). Even I am guilty of calling it Skier-Saas when I was 17, not noticing that it is a J and not an I. Jeremy Nelson is the long time owner of Skjersaa's which he bought in 2003 and worked at since 1998. He has continued to grow Skjersaa's on the snowboard side with the help of Matty Pilger, while still keeping things fresh on the ski side.
Along with the Help of Peter Alport has put on countless rail jams, a few of which I have competed in, and are always a good time. The Rail Jams take place in the parking lot, that used to be alot bigger until the franchise of Dutch brothers decided to move in and take up there real estate. So the rail jams will continue but with some different venues around town.
I headed down there this weekend with some Atomic Blogs and Punx to get mounted up for some park shredding this week. I always put priority on getting my Bentchetler's mounted and then mount up my park skis when I have some free time. Skjersaa's has a nice basement full of tuning equipment, jigs, irons, everything to tune up your skis. I have been getting my skis mounted here always, and its fun to hang out with the staff that I have come to know really well over the years.
A huge thanks to Jonathon Chandler for taking some pictures, bringing out the flashes and joining the party that seems to happen every day at 6:00 when the shop closes. It's hard for me to tell who is actually working on any given day. Some of the shop guys will just drop by after a day of skiing to come chat and have a beer . During the holidays when people are getting skis mounted and waxed by the hundreds, the guys will be pulling all nighters to get all the orders done.
Their snowboard team includes a bunch of locals and big time pro's that call Bend Oregon home. Martin Ciszek, Skylar Thorton, Ashley Thorton, Forrest DeVore, Ross Weaver, Justin Norman, Lucas Wilson, Johnny Malanga, Nick Weiss, Ethan Guggenheimer.
You can check out Skjersaa's on Twitter at http://www.twitter.com/skibend
130 Southwest Century Drive
Bend, OR 97702-1049
(541) 382-2154
Their website is http://www.skibend.com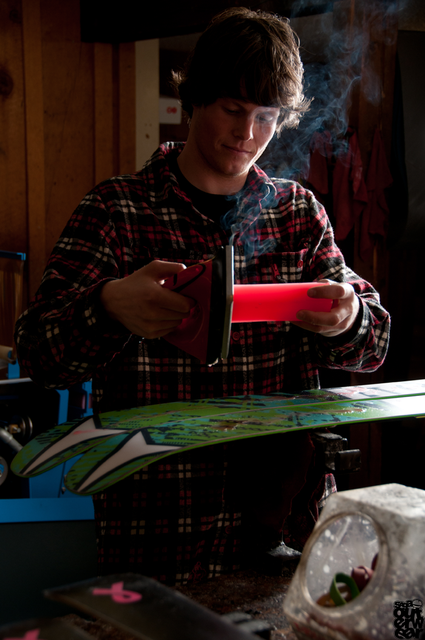 Smoke.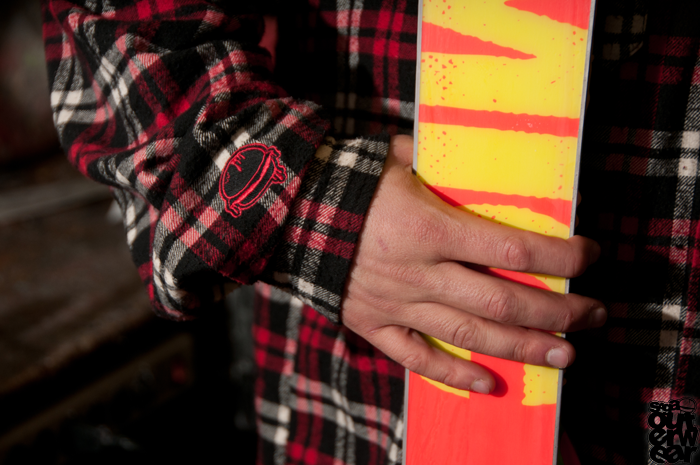 Fresh coat of wax.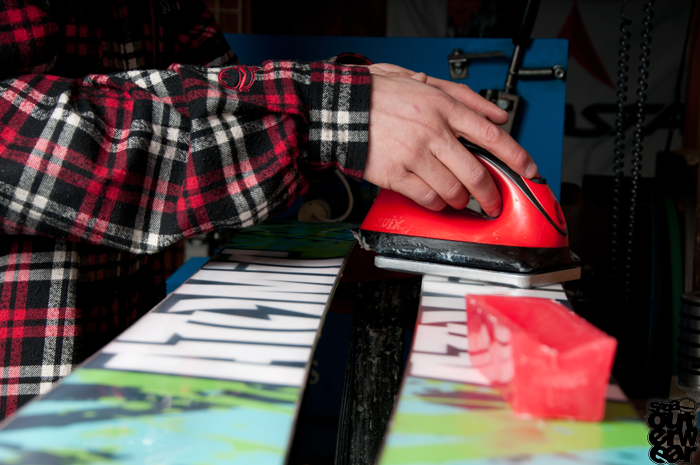 Red wax for speed.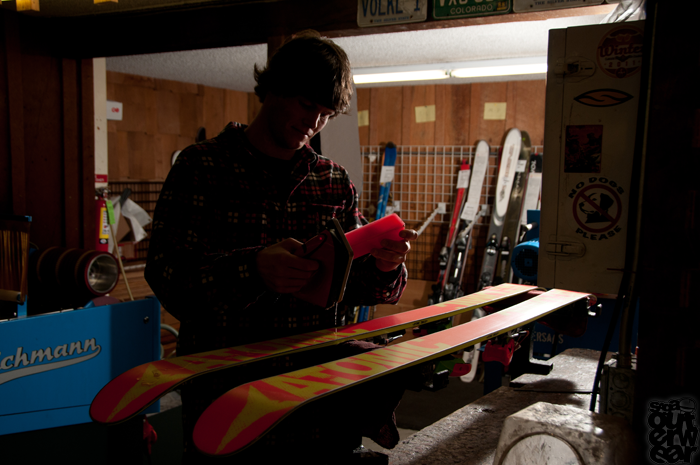 The basement at Skjersaa's is dedicated to round the clock tuning, no windows so you lose track of time.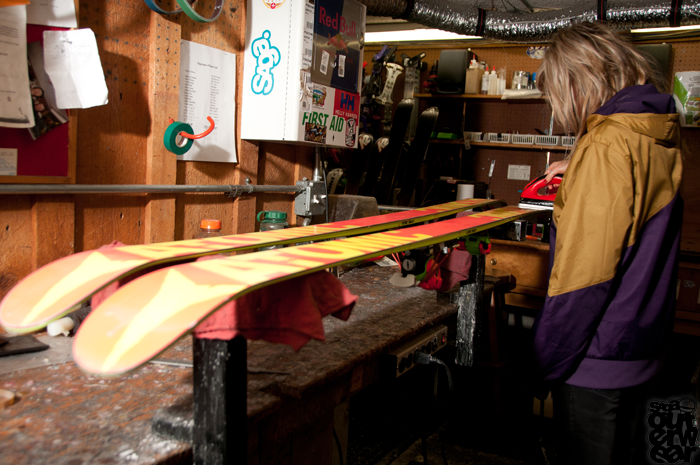 Julie tunes em up.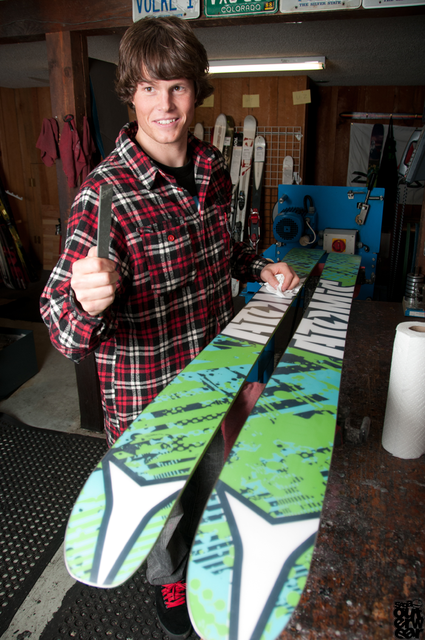 a detune is always in order.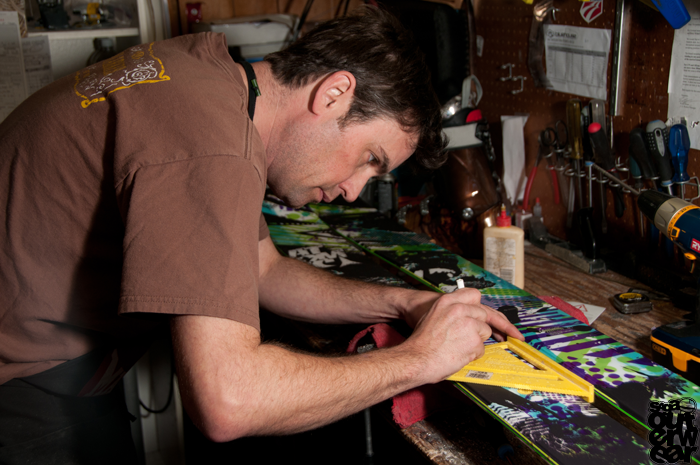 The owner, Jeremy Nelson, getting out the protractor to make sure there mounted dead center!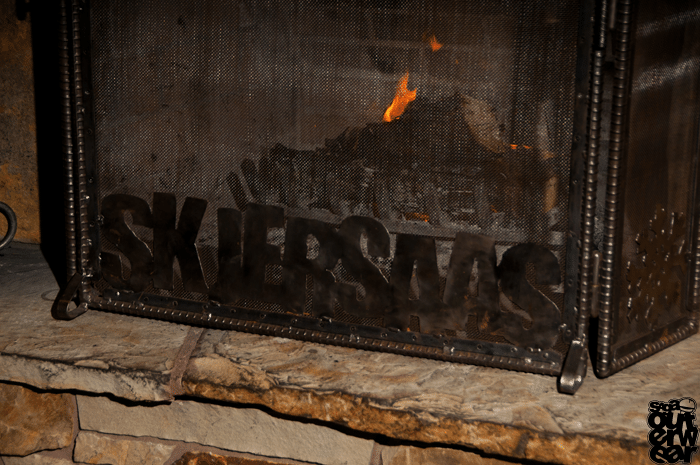 Their website claims, "Best Fireplace in Bend" I fully Agree.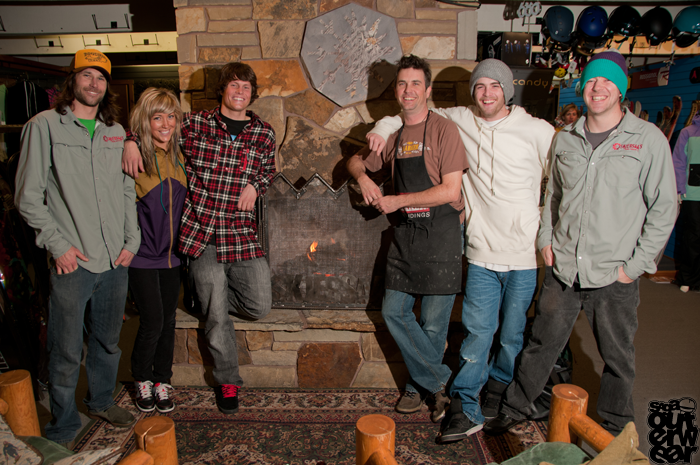 The Skjersaa's Family, from left, Greg Rubin, Julie, Myself, Jeremy Nelson(owner), Taylor Garbutt, and Matty Pilger.