Yo everyone what's good? Matt Heffernan here to tell you about Boone
Skis team doing it big up in Vegas on the 4th. Myself, Matt Cook, Ian
Hamilton, Jeff Neagle, and a handful of sick snowboarders were all
invited by the Galvanic Design Team to come hit a jump they were
building in front of Caesar's Palace on the 4th of July. People were
driving down from Mt. Hood, flying out from the east coast, and cruising
in from the Bay area of Cali. For myself and photographer Ryan
Rudolph, it was a simple drive through the desert from Salt Lake City.
It was an early night for some of the team but for a couple of us, the
night was filled with wondering the strip, chasing honeydips, and many
other things that Vegas has to offer. Huge crowd checking out the jump
on the strip!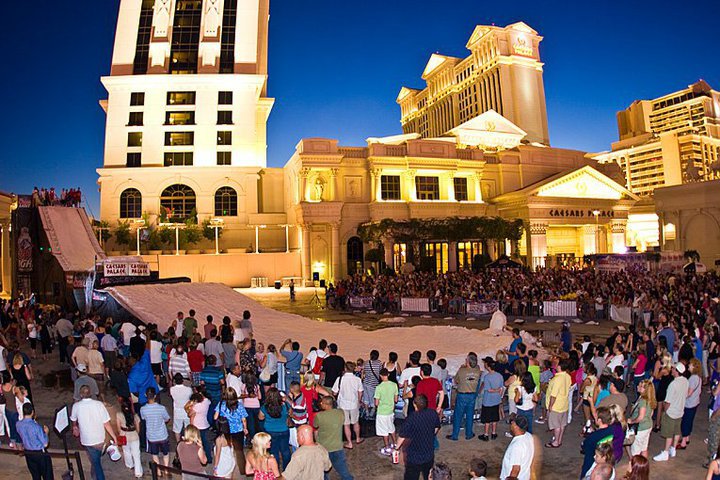 First day we got to go check out the jump and gyead damn it was
hot....106 degree heat did not stop the galvanic team though as they
battled the excessive warmth and murked the drop in with snow...Dan
Genco man handling the snow gun
Luckily Coors was the backer of the event keepin us all cooled down with refreshments and the all exclusive ice lounge
Cody Clemmons, Mike Brokeoff, and Nate Cruise enjoying the 20 degree Coors Light Ice lounge
The event kicked off with numerous flips, spins, corks, and some
old school tricks. Seems like the crowd pleaser was the backflip and
there were plenty to go around! Myself and Matt Cook gettin down tandem
style
Regardless of the size of the jump, it did not stop riders from
busting out huge rodeos and corks...like this one from Jeff Neagle
Ian Hamilton was there..he did a nasty lead tail cork 9
Switch backs were also thrown by Matt Cook
Myself getting a bit blunted
The second day was filled with even more excitement as it was 4th
of July and fireworks were going off right behind us! Keenan Jones!
All in all it was a great weekend and couldn't have been done
without the help of Boone skis, Coors Light, and the one and only
Caesar's Palace. And an ultimate thanks goes out to the Galvanic Design
crew for working their asses off to set up and take down the beast of a
drop in.
Rudolph was kind enough to put together this dope edit! check it out:
Skiing in Vegas on the 4th from Matthew Rudolph on Vimeo.
Hopefully something like this goes down again next year! See you when winter rolls around.
-Heff