"This is what we do. This is who we are. This is no place for fun. This is Strictly Business."
Filmer Andrew Mildenberger along with rippers Ethan Swadburg, Pete "Egg" Koukov, Parker Norvell, Chance Contay, Benny Smith, and homies set out to film a crew movie last winter. Like most amateur productions, there was no money besides their own and very little planning but the boys had plenty of motivation to make shit happen, which paid off when the iF3 awards rolled around last month. Their movie, Strictly Business, premieres this week in Boulder and online soon.
https://www.newschoolers.com/videos/watch/908864/Strictly-Business---Official-Trailer
Roll call! Who's checking in right now and what have you been doing over the summer and now leading up to the premiere?
Andrew: What's up NS, It's Andrew, Pete and Calvin. Pete spent some time in Zermatt on the Glacier and has been working bullshit jobs saving money for the winter. Calvin went to Chile with PK and the Icelantic crew for while and I've just been working on the movie, finishing up stuff for Icelantic and figuring out how to throw a premiere.
For those that are unaware, you guys took home Am. Movie of the Year & Best Cinematography at iF3 this year! Congrats on getting the two for one deal there, it's definitely well deserved. Making something like Strictly Business is no easy feat, what were the most difficult things you encountered while putting this film together?
Andrew: Thanks man, we're so stoked! Dang, honestly everything, kinda the typical issues, we had no money, pretty much no plan, and this was our first time making a movie as a crew so we had to figure everything out on the fly. I definitely underestimated how much time editing would take too, I've had a lot of sleepless nights in the last few months.
On the flip side, what segments were you most stoked on; whether it was the actual filming of it or just how a seg came out after Andrew pieced it together?
Andrew: I'm stoked on every segment, each one has got something special and I hope each person's personality comes through in their part. In terms of trips I'm pretty stoked on how the Alaska segment came out. I never really thought I would make it to Alaska and the scale of everything there is insane. Just getting out to a place where you can ski is 80% of the struggle and Ethan and Ben and I were pretty out of our league. In terms of skiing I'm stoked on Pete's and Ben's segments. I think if you watch skateboarding hopefully you'll be stoked on Pete's intro. He has a crazy vision and he can take such a simple trick and find the weirdest place to do it. The crew just started calling them "egg spots" because no one else could ski there. His part has some unique flavor and it was sick to film street with someone that inventive. Ben's segment is sick because I feel like his skiing is relatively unknown and deserves to be seen. He just gets it done, I've never filmed with anyone with that can check off tricks like Benny can.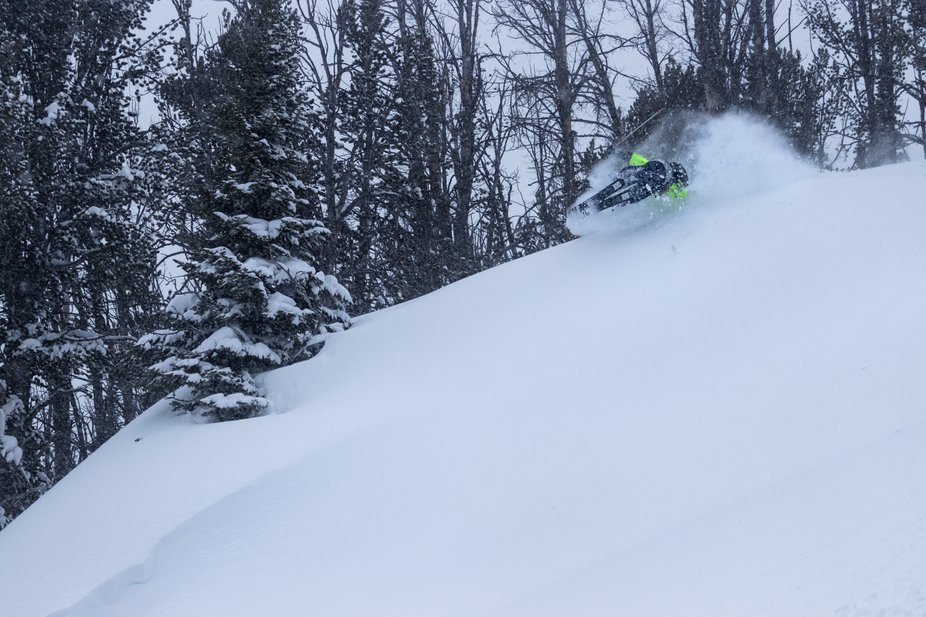 Benny Smith buttering it up for the camera.
With a crew your size, did that have any effect on putting together the movie, for better or for worse?
Peter: We kinda just trusted Drew because we know he's a legend and we all know what he's capable of. At the same time we're all pretty damn good homies so agreeing on shit to put in or take out is super chill. Everyone in the film who has a full part got to work on it with drew whether it was over Facetime or in person so no one feels like their shit isn't their own. We're always ftb tryna make erryone happy.
The premiere in Boulder just got booked at the Fox Theater, a dual show with the Jiberish boys, and I'm expecting quite the rowdy showing. For anyone who's on the fence about coming or hasn't heard of the crew, what should they expect (movie or otherwise)?
Andrew: Yeah it's crazy, the whole idea was a joke at first but then we said fuck it and are going for it. Should be such a good night, if you're thinking of coming you better come to party. We've got a ridiculous amount of raffle prizes to give out: 3 pairs of skis, goggles, poles, a real nice bundle from Jiberish, some one off prints courtesy of Christian Raguse and so much more. A lot of people are gonna be going home with some sweet shit. The format is pretty standard as far as premieres go. Show up, the dj will be spinning records while everyone gets fired up and hangs out. Party. Watch the movies and then party some more.
If you haven't bought a ticket yet you can find 'em here: ns.ski/StrictlyBusinessTix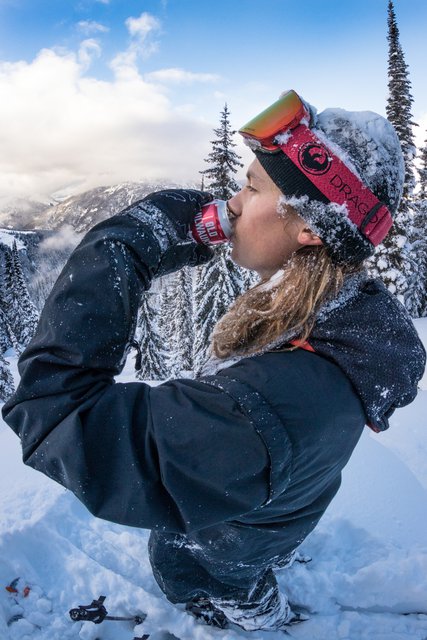 Parker Norvell knows that sticking to a proper hydration routine is important in the backcountry.
Now for the typical, bullshit interview question: what are your plans for the winter? Trips you're stoked on, want to go on, ect.
Calvin: This winter we've decided that were going to link up the Banged Up crew and join the Strictly Business guys to make one project. For the most part were all mainly based out of Colorado so coordinating on trips will be a lot easier, big plans are to make a few more urban trips back east and sticking around Denver and Boulder in between. Personally, I'd like to add some backcountry into the mix and get out there with the Montana boys.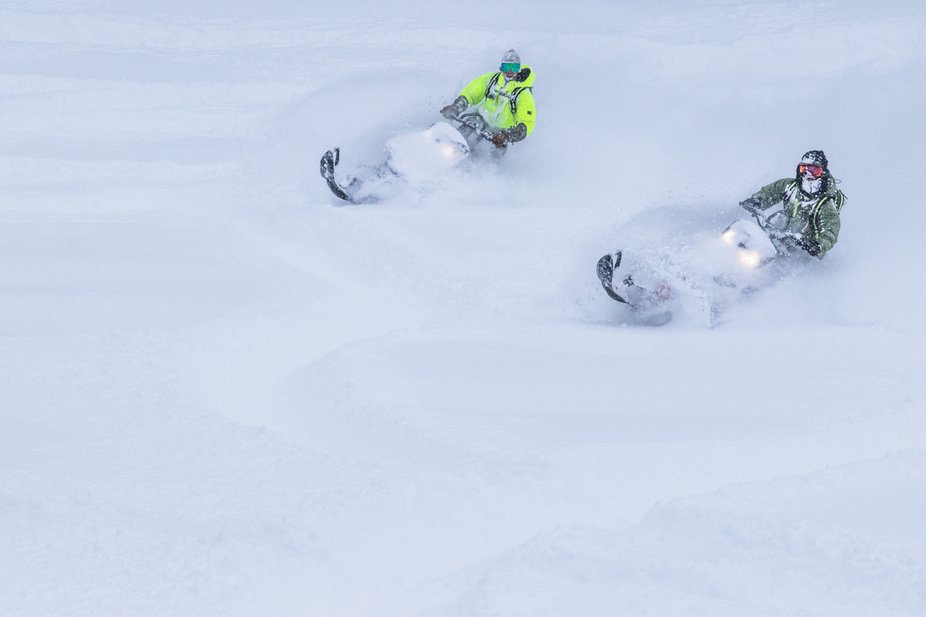 Benny & Swadburglar training for China 2022 synchronized sledding.
Rapid fire: favorite trip, trick, track
Calvin:
Trip: Boston 2018/NYC 2017
Trick: Lip 2
Track: Sin Pijama's - Becky G
Peter:
Trip: The park shoot at Purgatory
Trick: Straight Air
Track: Way Back - Travis Scott