Every year from December to March, many Vail Resorts rely heavily on J1 Visas mostly from South America. One of the reasons is that they can't find enough people to staff many roles. This isn't surprising when in many places, ski area workers, even skilled, could walk into a fast food restaurant and make a comparable wage, many times even get a raise.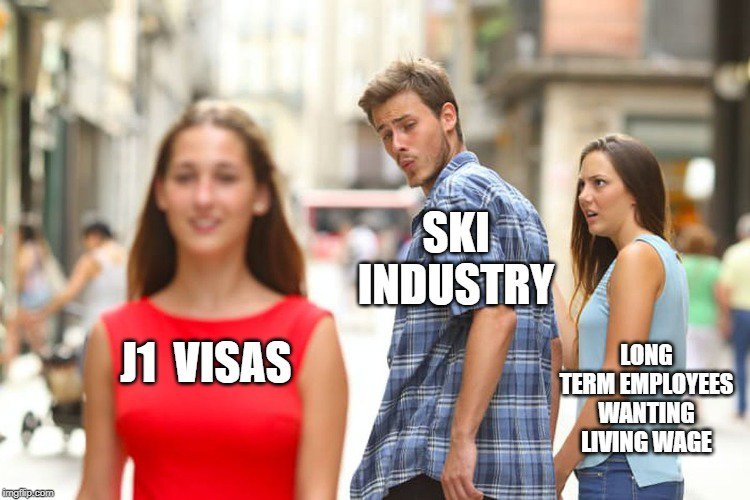 Season after season, large groups of good/longterm employees leave the industry to find jobs where they can earn some sort of a living. When these employees leave, many ski areas struggle to find good employees, or employees at all.
At Vail, a day lift ticket costs $219 at the window, and a 1 day private lesson $1249. Ski areas are in no way cheap to run. Even just the money that goes into snowmaking is staggering. Insurance also not cheap. That said many of these ski areas are not exactly hurting. There are some mom and pop hills out there that are always a bad season or two from going under, and then there's the other end of the spectrum.
The cost of housing and living in general is not at all cheap in many mountain towns. In addition to paying low wages, many of these large resorts have fallen behind or never even started to make progress on affordable employee housing. When taco bell and other fast food restaurants are paying better than some of these ski resorts it really shows the issues. These restaurants pay more in ski towns because it costs more to live across the board. Many of the large ski resorts are paying wages that might be reasonable in a small country town, but are nearly unlivable in the big mountain ski towns.
It's actually insane that the ski industry will drive long term/skilled employees away over a a dollar or two an hour, then struggle to find completely green people to fill the roles, rinse and repeat. When some of these larger mountains are needing to do food drives for employees, it really shows how much of a struggle it is to work in these towns for such low wages.
Regardless of the job, businesses should and generally do pay a little bit more in places where the cost of living is high. They have to, or they will have extreme difficulties finding employees. With the ski industry, there are some highly skilled workers, that could make far more in another industry, but stay around because of their passion for skiing. Unfortunately, the struggle to survive doesn't take long to burn many of these people out and push them into other industries. These aren't people looking for charity, but a wage reflective of the skills and the mountain knowledge they bring to the table. Constantly having to train green employees, or struggling to even find any employees isn't fun. If the wages and working conditions don't improve, this will be a constant battle.
A few corporate donations and some greenwashing to raise public opinion do not cancel out the other issues within. Some places legitimately care about the environment and are looking to do something to make a difference. Many are looking for a way to advertise, and improve public opinion of their company.
In 2017 Vail announced it's journey to 0 campaign. A campaign designed to reduced its net emissions to 0 by 2030. This is not a bad goal, and it's good that companies are looking to go more green, regardless of the motivations. Unfortunately, within a year of their Journey to 0, Vail also reduced it's HR departments to 0. When you have a system that's online based, full of issues, it's nice to have somebody that can help you at the resort, if you have actual issues regarding your employment it's crucial. I watched a guy finally get connected after an hour and forty seven minutes last year. That's just getting connected to the people he needed to reach.
"Vail Resorts is dedicated to delivering seamless guest service by continuously investing in our team and the infrastructure, systems and training programs that support the employee experience."
When people are working 60+ hour weeks struggling to afford housing and groceries it's clear that something is wrong. The mountains have never been a "real job", a get rich quick scheme, or even really a means to any kind of stability. That said it's an issue that massively impacts some of the people keeping the sport you love going and in tip top shape.
Local doesn't always mean things are all fine and dandy but it's worth checking out. While you look for the raddest terrain and cheapest deals(which I still absolutely encourage) look at the local hills and consider supporting one. Being a small business doesn't mean it's a good business, but if you can find a combo of the two, you're fueling your passion and supporting the local economy.
Send Responsibly!!! JK Huck shit or cry trying!!!