Skiing has been an instrumental part of my life for as long as I remember. I actually couldn't imagine what I would do all winter without it. Last winter gave a lot of us a glimpse into what our lives might be like should the snow disappear. For many skiers December had ended and January was half over and still the snow hadn't come. California had one of the worst snowpacks on record.
Comparison of snowpack in California between 12/13 season and 13/14 season. Photo: NASA
Through numerous outlets I have been made aware over the past two seasons of the peril of higher temperatures and their affects on snowpack. The dry season that California had in 2013/14 was a striking reminder of what a small rise in global temperatures could do to our snow. Through research by scores of scientists we can safely assume that the rise in the levels of greenhouse gasses, namely CO2, are responsible for the rise in global temperatures and that humans are responsible. Though many will debate this theory I am not writing to defend this theory but rather to build on the assumption that it is in fact true. If you care to speak your mind on whether or not humans cause climate change or whether it is occurring at all I encourage you to do so here. However I am not writing a scientific article but rather an article to showcase what exactly it is that we engage in every time we head up to the resort.
Ski resorts emit massive amounts of CO2 into the atmosphere, consume large amounts of petroleum based products, and use a massive amount of electricity. Meanwhile they also create waste that must be removed, leading to a more energy consumption. The effects of this are debatable but the bottom line is that this consumption and these emissions exist. If we assume that these emissions cause climate change then skiers are contributing to the very problem that threatens their ability to ski. In a public statement by Park City Mountain Resort (PCMR) describing their carbon footprint they stated that during the 2013 fiscal year their CO2 emissions totaled to 14,637 tons. For the purposes of comparison, idling an average car for one hour creates 9.7 pounds of CO2. Despite many measures to reduce that number and the successful reduction of that amount annually, 14,637 tons of CO2 is a sizable number. Resorts also create solid waste from sources such as disposable plates and utensils that must be trucked off of the mountain.
Park City Mountain Resort. Photo: Lee Benson
These seem like big and unchangeable things. How can we spin lifts without producing carbon emissions, whether at the lift itself or at the coal fired power plant? Multiple resorts such as PCMR purchase clean energy from hydroelectric or wind sources. Others produce their own electricity through building hydroelectric systems. But these aren't things that can be changed by the everyday skier, and are expensive undertakings that must be carefully considered. However if you are interested in skiing greener there are things that you can do.
Composting at Stevens Pass, WA. Bus-bins above for reusable plates and utensils. Photo: Stevens Pass
As a member of the skiing community you have a voice. In 2010 Stevens Pass, WA was recognized by the National Ski Areas Association (NSAA) and given a grant to pursue a composting program on the mountain. One of the main reasons that Stevens Pass cited for pursuing the project was "...the desires of its environmentally-progressive guests from the Seattle Metro region who already enjoy curbside composting..." Skiers like you asked and the resort not only delivered but also won a grant to do so. Stevens pass also uses reusable tableware to prevent the waste created by disposable cups, plates, and utensils.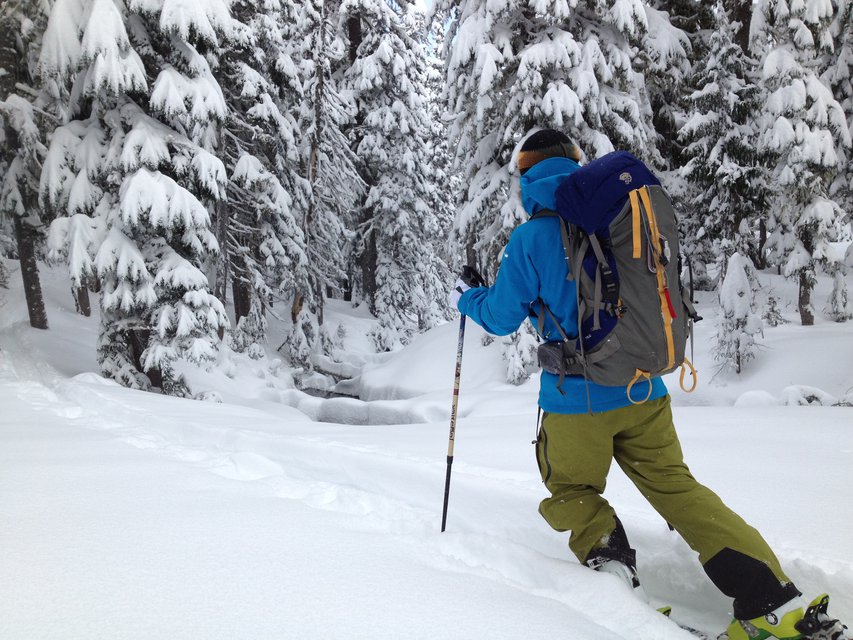 Touring near Crystal Mountain, WA. Skier: David Michalove, Photo: Elliott Hoppe
There are also other ways to ski than at the resort. Alpine touring is a great way to experience skiing in a whole new way. It builds a respect and admiration for the mountains that many people miss within the boundaries of a ski resort. Earning your turns also makes for a fantastic workout because you use only your own power to get up the hill. The fact that you earned those faceshots makes them just that much more rewarding.
Obviously these things aren't a solution to the problems that we face in the push for a healthy planet, but small actions can be the catalyst for big changes. Often once a single resort adopts something many other resorts quickly follow suit. Reusable tableware and composting have spread quickly, as has the installation of water bottle filling stations to replace disposable bottles. More and more resorts are buying or generating electricity from renewable sources such as solar, hydroelectric, and wind. Changes like these aren't made by a single person but they have to start somewhere.
Resources/Further Reading:
PCMR Environmental Statement: http://www.parkcitymountain.com/site/mountain-info/learn/environment
NSAA Sustainable Slopes Annual Report 2010: http://www.nsaa.org/media/20935/ssar-10.pdf
Article on Greener Resorts: http://outdoorsnw.com/2013/ski-green/
Stevens Pass sustainability page: http://www.stevenspass.com/site/footer/environment