There was some pretty spectacular action in Europe on the Alpine Skiing Front. The men were at probably the gnarliest downhill on the World Cup in Bormio. Several guys went down including American Marco Sullivan. We wish him a speedy recovery.
The women were kickin' it in Semmering, Austria tech style with Giant Slalom and Slalom on the 28th and 29th.
In the GS, Slytech user, Julia Mancuso had another good race with a 5th place finish. Her confidence levels are skyrocketing and she sits in the top 10 overall. Good to see her rockin' again. 7th place Lindsay Vonn — using Slytech Nervous Destroyer Shin Guards — was the overall leader, trying to push to get points, but was pushed out of the top spot after Wednesday's slalom crash and Maria Riesch's 2nd place.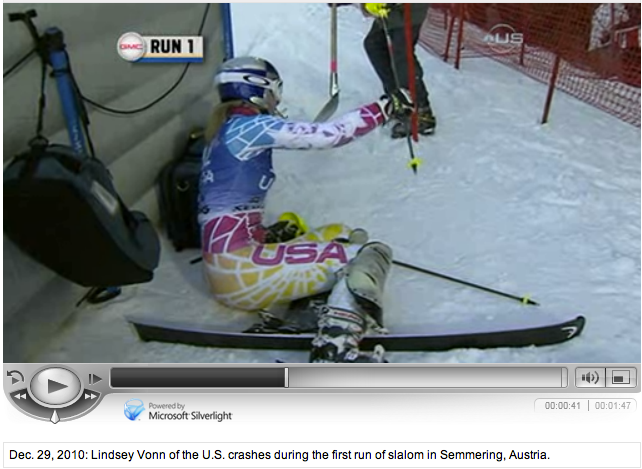 Click the Image above to see the video
Other Slytech GS finishes were:
10th Fabienne Suter
15th Sarah Schleper
Slalom saw a hometown Austrian, Marlies Schield win it again! The place was rockin when she came out ahead of the German Maria Riesch. The almost biggest story is that Slytech's Sarah Schleper is back! She was 6th after the first run, and was just hauling ass in the second run until the last 10 gates when she unfortunately made a big mistake and straddled a gate and was out of the Game. She raced with orange Brain Bucket and Yoni la Tigre red.
The gnarly men's downhill in Bormio, Italy saw Silvan Zurbriggen (SUI) confirming his good shape with a powerful 2nd place finish. Silvan on Slytech 2nd Skin is now one of the best in the World in Slalom and Downhill.
Other notables were 20th Travis Ganong (USA) and 25th Ambrosi Hoffmann (SUI).